Non-invasive Fat Reduction - Ultrashape
Overview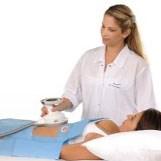 UltraShape is the first and only non-invasive body contouring treatment to use proprietary pulsed focused ultrasound to immediately destroy fat cells—and deliver noticeable results in two weeks. UltraShape emits acoustic waves of focused ultrasound energy, which converge to target subcutaneous fat at a controlled depth. Unlike traditional ultrasound technology, UltraShape's ultrasound energy is pulsed, allowing control over temperature elevation so that fat is destroyed instantly, selectively and mechanically rather than thermally.Cosmetic surgeon, Dr. Craig Jonov, is proud to offer patients in the greater Seattle area this liposuction alternative.

Ultrashape Fat Reduction Reviews
My experience with having an ultrashape treatment today on my inside thigh area was a good one. It was painless and comfortable lasting about an hour. The room was pleasant and relaxing. Renette , the ultrashape technician was very professional yet personal and made me feel completely relaxed, kept me informed on every step she did and wa ...

- K.E.

I had ultra shape done here and am VERY happy with the results! Also, Stephanie is amazing and I will definitely be back to see her for more services! ...

- T.B.
Ultrashape Fat Reduction Video
UltraShape Technology
Using ultrasound energy, UltraShape is able to target fat cells, destroying them instantly, so patients can see visible results within two weeks. Because the ultrasound energy is pulsed and focused, UltraShape is able to target the fat cells mechanically, without heating them and without damaging surrounding tissue. The designated area is treated only once, ensuring a complete and uniform treatment.
Once the fat cell membranes are disrupted, the content of the cells is transported through the vascular and lymphatic systems to the liver. The fat is then processed via the body's natural mechanisms.
UltraShape Example Pictures
Female Abdomenal UltraShape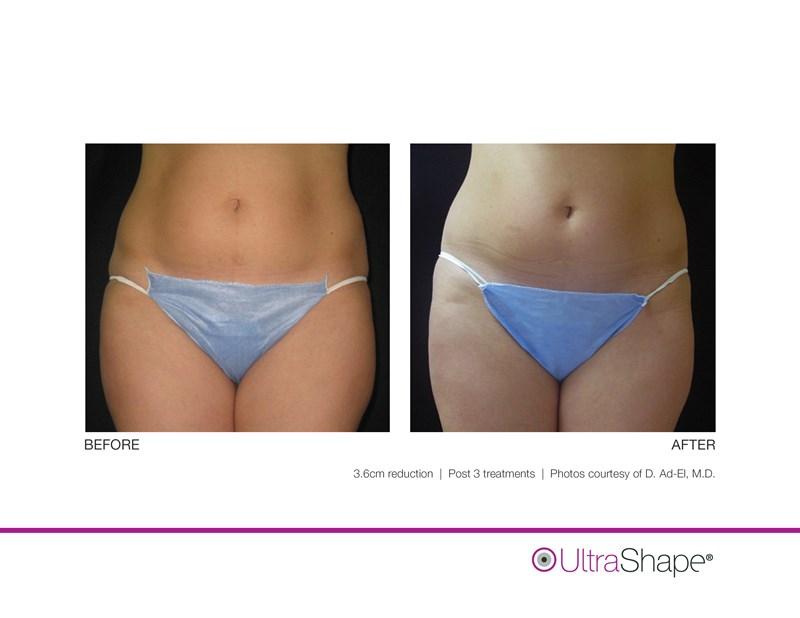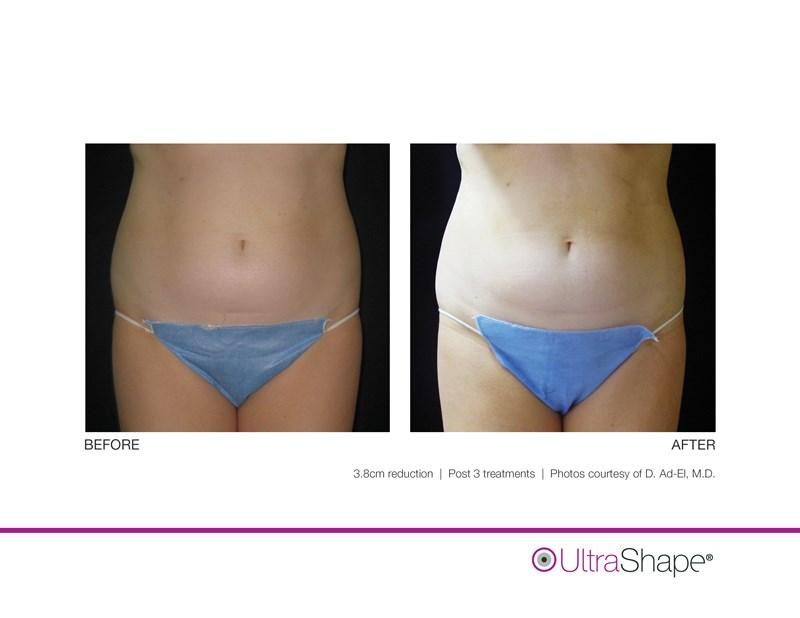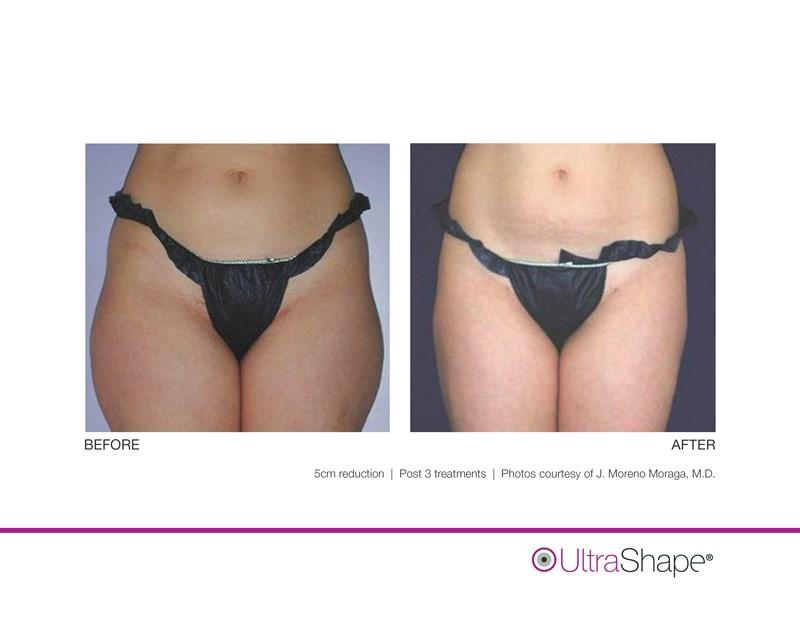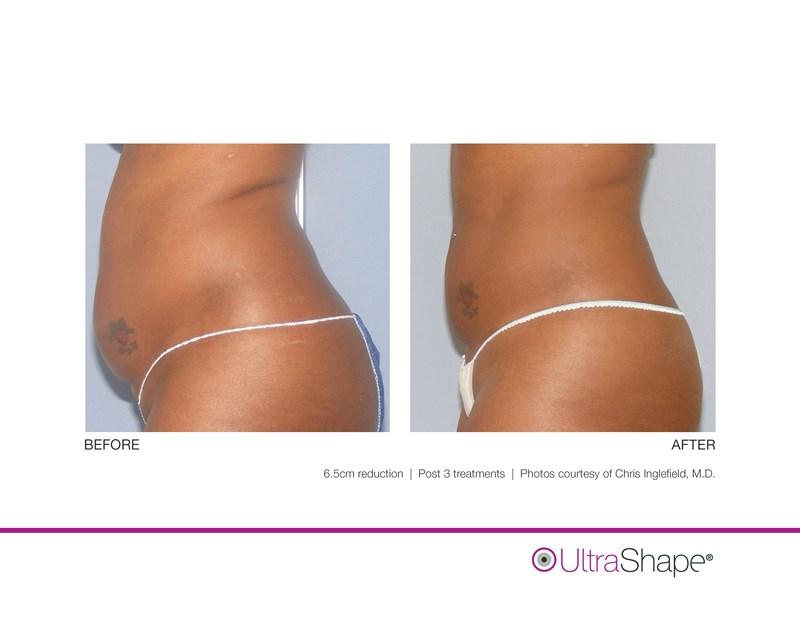 Male Abdomenal UltraShape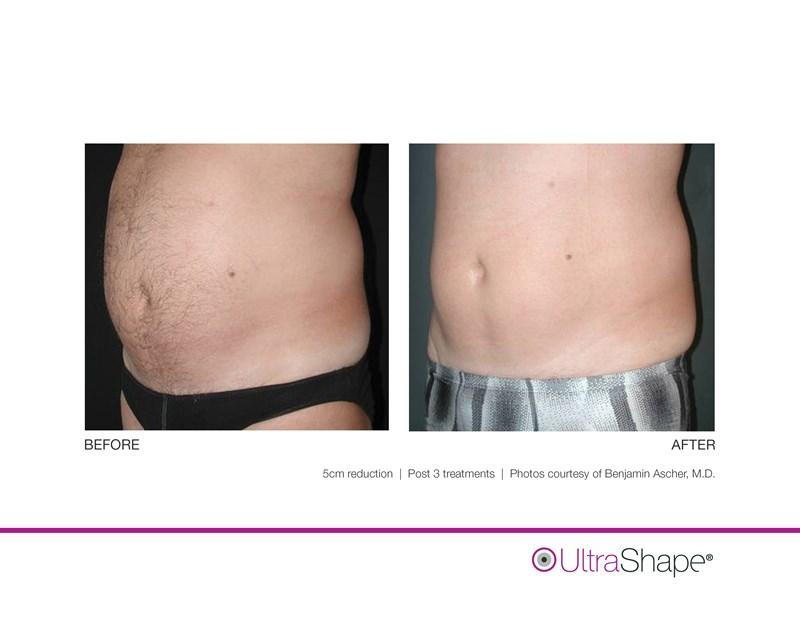 Ultrashape Fat Reduction FAQs
Noticeable Results?
You should see results in as few as two weeks. Clinical results show:
Average reduction of 3.3 cm (1.3 inches)
Up to 6.3 cm (nearly 2.5 inches) after 3 treatments
Is UltraShape Safe?
The UltraShape system has been shown to be safe and effective for patients.
Cleared for abdominal circumference reduction
Clinically demonstrated in multi-center controlled trials
10 peer-reviewed published articles and book chapters
300,000 treatments have been performed worldwide
Are Treatments Painful?
Most patients report a comfortable experience, and side effects are extremely rare. There are no post treatment lumps, bumps, soreness or numbness. UltraShape is also a no-downtime treatment, so you can resume your normal activities right away.
How Many Treatments?
We recommend three treatments spaced two weeks apart. Spacing treatments gives your body time to clear the fat cells from your system.
Long Lasting Results?
Because fat cells are destroyed, you will see a long-lasting effect without maintenance treatments later on. Of course, you should maintain a healthy lifestyle to keep the fat cells from coming back.
UltraShape Differences
UltraShape treatments result in the immediate destruction of fat cells. Measurable results are seen as early as two weeks. UltraShape treatments are also very comfortable and not associated with post treatment soreness, lumps or bumps. 3D mapping of treatments ensures that energy is delivered uniformly, therefore minimizing contour irregularities—a common side effect of liposuction.
Is UltraShape Right for me?
The UltraShape treatment has been designed to help average to moderately overweight men and women achieve an improved body shape and contour. UltraShape offers an effective non-surgical alternative to patients seeking a significant reduction of localized fat deposits without surgery. To optimize the results of the treatments, it is recommended that patients adopt a healthy lifestyle.
Planning Your Procedure
Average Cost
$1,200 - $1,400
Recovery Time
0 Days
Average Procedure Time
1 Hour
Post-Op Follow Up
10 Days
Procedure Recovery
Out-Patient
Location
Contact Us
* All information subject to change. Images may contain models. Individual results are not guaranteed and may vary.