Mounjaro For Weight Loss
Bellevue & Kirkland
at The Gallery of Cosmetic Surgery
(includes medication, all supplies necessary, diet & exercise plan, and the consultation with monthly follow up appointments)
Weight loss supplements and medications of the past have largely been discredited or are only used in specific circumstances. However, with the FDA approval of semaglutide for weight loss, many have questioned whether similar medicines will also become an option for weight loss treatment. One medication, Mounjaro, has recently received FDA approval as a weight loss medication. The Gallery of Cosmetic Surgery is proud to be one of the first to offer the best tirzepatide for weight loss in Bellevue, and Kirkland.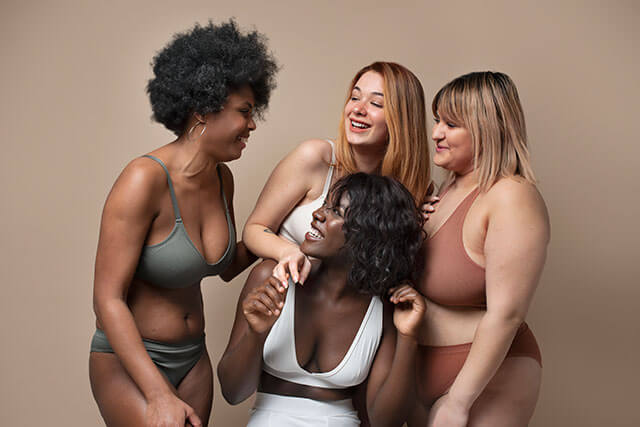 Understanding Mounjaro For Weight Loss
Tirzepatide—like semaglutide—works with glucagon-like peptide-1 (GLP-1), a hunger and appetite hormone, to create an increased feeling of fullness. However, unlike semaglutide, it is not a GLP-1 agonist and also works with glucose-dependent insulinotropic polypeptide (GIP). As a GIP analog, tirzepatide activates both the GLP-1 and GIP receptors. 
In diabetic patients, this mechanism helps control blood sugar. It can also result in weight loss, which usually benefits diabetic patients. However, for patients without diabetes who want to lose weight, tirzepatide may offer an option. Like semaglutide, it is also an injectable. Though, because it mimics two hormones, patients often find it more effective and/or that it comes with fewer side effects. As a second-generation GLP-1 drug, these are two frequently noted benefits.
The weight loss providers at The Gallery of Cosmetic Surgery recommend also following a general diet and exercise plan that will be provided to you. Not only will this quicken and improve the results of Mounjaro Bellevue, but it also cultivates a healthier lifestyle.
Tirzepatide vs. Semaglutide
Tirzepatide for weight loss and semaglutide are two similar medications. They both treat type 2 diabetes and have shown results during weight loss studies. Additionally, they also both promote weight loss by mimicking the hunger hormones.
Some patients may find that they prefer one over the other. One may not have as many side effects for them, or one works better for them. These are individual differences, though, and will naturally vary between patients. The table below compares the two medications.
Tirzepatide
Semaglutide

Injection only

Off-label use

Mimics two hormones

Early studies may show more effective results

Potentially more cost-effective

Can help improve digestion

Often administered in higher doses than semaglutide

Second generation of GLP-1 drugs

Injection and tablet available

FDA-approved for weight loss

Mimics one hormone

Several studies have shown semaglutide to be effective

Cost-effective option

Slows stomach emptying

Often administered in lower doses than tirzepatide

First generation of GLP-1 drugs
The right weight loss medication for each patient will depend on factors like their medical history, other medications they take, and their goals. Patients can discuss these and other factors with a weight loss provider during a consultation at The Gallery of Cosmetic Surgery.
Mounjaro For Weight Loss Before & After
Consultation
The Gallery of Cosmetic Surgery offers in-person and virtual appointments for their weight loss consultation. Patients who choose a virtual consultation have the option to come into the office for instruction on how to correctly administer the medication. Alternatively, patients can also learn virtually. Otherwise, there is no major difference between the bulk of the appointment.
At the consultation, a weight loss provider will discuss the patient's current and past medical history. They may also want insight into other weight loss methods the patient may have used in the past. The patient and provider will also review the patient's diet and exercise habits.
If the weight loss provider at The Gallery of Cosmetic Surgery determines that Mounjaro Kirkland is best, they will start the patient on the medication. They may also discuss the diet and exercise plan during the appointment. Finally, if an in-person consultation, the provider will show the patient how to administer the tirzepatide injections.
Treatment
The Mounjaro injections Bellevue schedule and dosage will likely vary between patients. Patients can perform their own tirzepatide injection. The medication is easy to administer and requires little precision or knowledge to administer. At both in-person and virtual appointments, the provider will walk patients through the injection process. We understand that some patients are scared of needles and may be hesitant to inject themselves. To this end, not only do providers work with patients to ensure their confidence in giving injections, but The Gallery of Cosmetic Surgery's doctors are also on call 24/7.  If patients do not want to inject themselves, our team is happy to do so at one of our practices.
Patients local to the area can come to one of The Gallery of Cosmetic Surgery's local medical practices and receive their injections there. Like other similar weight loss drugs, patients typically rotate the injection sites between their upper arm, stomach, and thigh.
Diet & Exercise
The Gallery of Cosmetic Surgery provides general diet and exercise recommendations to Mounjaro Bellevue patients. However, this is monitored—not managed—by the provider and the patient can work to find the balanced diet that works best for them. Below is an example of The Gallery of Cosmetic Surgery's diet and exercise plans.
There is no single "best" weight loss diet for all people. However, any balanced diet will help you to lose weight if you are able to stick with it. Following very restrictive diets, such as those that limit a specific nutrient (fat, carbohydrates, or protein), is not recommended. While these types of diets may help you lose weight quickly, it is easy to regain the weight once you stop following that diet. Therefore, it is important to choose an eating plan that includes foods you enjoy and can be followed long-term. 
One commonly recommended diet is a Mediterranean diet, which includes: 
High levels of monounsaturated fats (from foods such as olive or canola oil, walnuts, pecans, and almonds) and low levels of saturated fats (from butter). 

High amounts of vegetables, fresh fruits, legumes, and whole grains (7 – 10 servings of vegetables and fruits per day). 

A moderate amount of lower-fat dairy products, mostly in the form of cheese. 

A relatively low amount of red meat and meat products. It is recommended to substitute fish or poultry for red meat.
When it comes to exercise, as long as you are using more calories than you eat, you will sustain or lose weight. Since muscle mass uses more calories than any other type of tissue, it is recommended that you include weight-based exercises that progressively challenge your muscles. It is typically recommended not to challenge the same muscles on back-to-back days because muscles are built during rest and repair after they have been challenged. 
On your non-strength training days, you can mix it up with walks, other activities (see list below), or rest. You may also elect to work certain muscle groups on particular days so you can strength train on more days. Finding what works best for you is a journey, and it is important to remind yourself that what works for you may be completely different than what works for someone else.
Results
The results of Mounjaro for weight loss depend on many factors. However, studies have shown that patients have lost up to 20% of their body weight when following the basic tirzepatide regimen. However, tirzepatide is likely more effective than semaglutide and offers fewer side effects because it is a second-generation drug. The FDA has granted a fast track to approval since semaglutide received approval recently.
The amount of time it takes to see Mounjaro weight loss results differs between patients. Usually, patients should see notable weight loss around twelve to sixteen weeks into treatment. However, many patients notice weight loss long before this, especially if they follow the diet and exercise plan.
Frequently Asked Questions
What Are Possible Side Effects Of Mounjaro Injections?
Like all medications, tirzepatide does come with possible side effects. While generally mild, patients may experience side effects including:
Sour stomach

Nausea

Changes in bowel movement frequency or consistency

Swelling or redness at the injection site

Stomach discomfort

Shortness of breath (rare)

Swelling of the face, lips, or tongue (rare)

Allergic reactions (rare)
Is Mounjaro Available For Weight Loss?
Yes, Mounjaro has recently received FDA approval as a successful weight los treatment. Tirzepatide for weight loss is available following a consultation with a qualified medical provider who can then start the patient on the medication.
How Much Does Mounjaro Cost?
The cost of Mounjaro Kirkland injections varies. At The Gallery of Cosmetic Surgery, the weight loss program has a flat cost of $750 per month, which includes medication, monthly in-person or virtual visits, and 24/7 on-call doctors. 
Which Is Better, Semaglutide Or Tirzepatide For Weight Loss?
Tirzepatide and semaglutide are both highly effective for weight loss. However, Mounjaro looks like it may be a stronger and better medication overall. This is likely because it mimics two hormones instead of only one.
Variances in efficacy do exist based on a patient's medical history, composition, genetics, and many other outside factors. A weight loss provider may choose to prescribe one medication over another based on a specific patient's needs. Ultimately, choosing tirzepatide or semaglutide is a personal decision to make in consultation with a medical professional.
The Best Mounjaro For Weight Loss Bellevue & Kirkland
The Gallery of Cosmetic Surgery serves the Bellevue and Kirkland communities as well as surrounding areas. With a full team of medical providers, including cosmetic surgeons, physician injectors, master estheticians, physician assistants, and several others who work together to provide high-quality care. For patients interested in weight loss options in Bellevue, The Gallery of Cosmetic Surgery is a welcoming and understanding place to start. The Gallery of Cosmetic Surgery provides the best Mounjaro injections Bellevue and Kirkland offer.
To learn more and schedule a consultation, call us at 425-775-3561. Patients can also reach out online via chat, scheduling portal, Price Simulator, or the contact form.