REVERSE TUMMY TUCK BELLEVUE, KIRKLAND, AND LYNNWOOD
Many forces impact the look of the abdomen. By far, the two that most frequently contribute to extra skin and uneven fat distributions on the stomach are age and pregnancy. Normally, this creates a "pooch" like appearance where the stomach may sag or hang. Patients may also see crinkly, loose skin or stretch marks in the area. While the lower abdomen is usually affected, occasionally some patients may see the majority of their extra skin and sag in the upper abdomen. When this is the case, a procedure known as a reverse tummy tuck can correct the concerns. Dr. Craig Jonov at The Gallery of Cosmetic Surgery provides the best reverse tummy tuck Bellevue, Kirkland, and Lynnwood offers.
OVERVIEW: REVERSE TUMMY TUCK SURGERY EXPLAINED
A reverse tummy tuck–like a traditional tummy tuck–creates a slimmer abdomen through skin removal, liposuction, and sometimes the correction of diastasis recti. This addresses an upper abdomen that carries extra fullness as well as possible upper abdominal muscle separation. 
Abdominal muscle separation–known as diastasis recti–can occur for many reasons including pregnancy, injury, and age. Diastasis recti can occur in any of the abdominal muscles and be concentrated to purely the upper or lower abdomen. Therefore, a reverse abdominoplasty can address muscle separation in the upper abdominal muscles.
The goal of a reverse tummy tuck surgery is to provide a flat, lithe abdomen that will make it easier to exercise, achieve muscle tone, and fit better into clothing. Other abdominoplasty surgeries like a mini tummy tuck and extended tummy tuck are more commonly performed but often accomplish the same goals.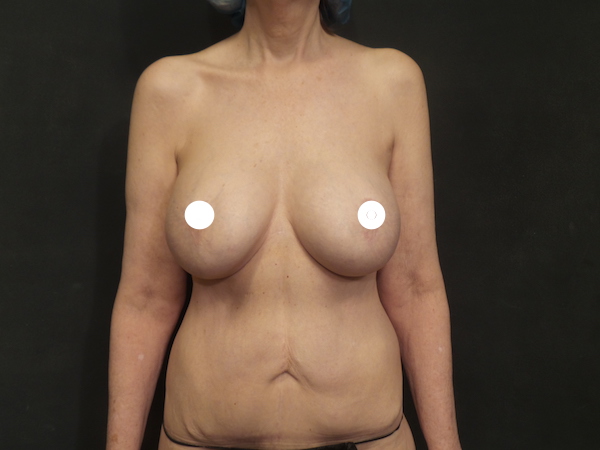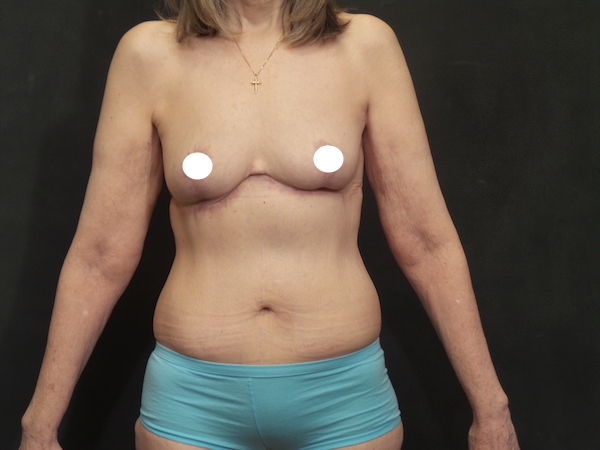 Before & After Reverse Tummy Tuck
Benefits
A reverse abdominoplasty in Bellevue comes with many benefits. The surgery itself is performed on an outpatient basis. This means that you will go home the same day as surgery which increases overall comfort during recovery. Among some of the other benefits of the procedure include:
Removal of extra skin

Correct sagging skin on the upper abdomen

Repair upper abdominal muscle separation

Improve body contours

Create a smaller waist

May aid in the correction of sagging breasts

Provide a tighter, more toned look to the tummy

Does not reposition the belly button

Incisions are well hidden in the inframammary fold (breast crease)

Easy to combine with a breast surgery

Can reveal true body contours after massive weight loss

May remove stretch marks present in the area

Exercising may become easier

Clothing often fits better following surgery

Create a brand new abdomen contour
Candidates
First off, the most important factor in being a good candidate for a reverse tummy tuck is that you are a good surgical candidate. An ideal candidate for plastic surgery is someone who is in good health, has well-managed major health conditions, and possesses realistic expectations for surgery.
Next, to be a viable Bellevue reverse tummy tuck candidate you will likely have significant extra skin in the upper abdomen. You may also notice uneven fat deposits that liposuction alone may not adequately treat. Diastasis recti may also be present.
Finally, at a consultation, Dr. Jonov can determine whether a reverse abdominoplasty is best to address your goals. He will review your health, medical history, and anatomy to make the best recommendation to achieve your goal results.
"This staff is amazing. They are so professional and kind. - Jennifer
REVERSE TUMMY TUCK TIMELINE
Every patient's reverse abdominoplasty journey is unique. Some may take years and others less than a year. Regardless of how long it takes, The Gallery of Cosmetic Surgery advocates for patient education and will always be available to answer questions. We also are happy to schedule a consultation whenever you are ready.
Months Before
After determining you want to make a change in your appearance, a consultation is the first step to obtaining the abdomen you desire. At a consultation appointment, you will sit down with Dr. Jonov and discuss your concerns, goals, and questions. He will take his time to review your medical history and goals. Following this, he will physically examine the area to determine the best course of action for achieving your goals.
If he believes a reverse tummy tuck will meet your goals and your health is compatible, he will determine you are a good candidate for surgery. After this, he will describe the procedure and the expected results. Before you leave, you will receive a finalized price quote and financing information.
Three Weeks Before Surgery
Roughly three weeks before your Bellevue reverse tummy tuck, you will attend a pre-operative appointment. At this appointment, your pre-operative coordinator will meet with you to discuss and review the surgical procedure and handle the paperwork. You will also have the opportunity to ask questions if you have them. 
Most importantly, you will receive instructions for the coming weeks before surgery. Following these instructions will promote healthy recovery and reduce overall risk. Some of these instructions may include:
Stopping or starting certain medications

Instructions for surgery day

Discussion of what arrangements to make

Any instructions specific to you

When to stop eating and drinking before surgery

Basic postoperative instructions
Day Of Surgery
On the day of your reverse tummy tuck in Bellevue, you will come to our state-certified ambulatory surgery center. The Gallery of Cosmetic Surgery team will greet you and help you prepare for surgery. You will change and have your vitals taken to clear you for surgery. Next, Dr. Jonov will meet with you to review the surgery and make surgical markings. Following this, a licensed anesthesia provider will place you under general anesthesia.
Dr. Jonov will begin the surgery by making an incision along the inframammary folds. The length of the incision will depend on the amount of correction you need and determined before surgery. Using this incision, Dr. Jonov will perform liposuction and repair separated muscles if necessary. He will then tighten the underlying muscles and tissues for a toned and smooth appearance. Finally, he will pull the skin tight and remove extra skin. 
The entire procedure usually takes around the same amount of time as a traditional tummy tuck. Surgical time will range based on the procedure and if you are combining any procedures. Normally, patients can expect around one to three hours of surgical time. 
When you wake up, you will spend a short time recovering in the office. Once you have fully woken up and are cleared for release, your caregiver can drive you home. You will likely see some immediate difference in the look of your abdomen. In the coming hours and days, this may become distorted by swelling and bruising.
Day After Surgery
The day after surgery you may still feel groggy and experiencing side effects. Dr. Jonov will prescribe medications to manage pain and prevent infection. You may experience side effects like pain, swelling, bruising, itchiness, redness, and general discomfort. During the first few days of surgery, you should focus on resting. To promote good circulation, you should get up every couple of hours and walk carefully.
Your caregiver will need to stay with you for 24 hours after surgery. You will also attend your immediate post-operative appointment to ensure you are healing well and properly.
One Week After Surgery
At one week following surgery, you will likely feel more like yourself and likely getting around better. Most reverse tummy tuck patients in Bellevue will not return to work until about two weeks after surgery. If you have a relatively low energy job or one you can do from home. Dr. Jonov may clear you to return to work before then.
At this point, you will likely have another post-operative appointment. Patients have discontinued prescription painkillers at one week, or will soon. It is still important not to return to full activity yet because this can worsen swelling and discomfort.
Most bruising and major swelling will have resolved or improved at one week. They should dissipate almost fully within two weeks. Some residual swelling may remain for a few months, but this is not obvious.
One Month After Surgery
By the one month after surgery, most patients have returned to work. They may have also begun low impact exercising, but have not yet returned to their full exercise routine. Patients should no longer experience any major, uncomfortable side effects. 
You will attend a reverse tummy tuck post-operative appointment at one month to monitor your results. Dr. Jonov can also then clear you for more activity on a case-by-case basis. In general, most patients return to their full routines within two months.
I have been coming to The Gallery for a couple of years now and I'm very happy with the quality of treatment and customer service attention. I recommend it!

Ido
If you are looking for top notch service this where you need to go. Doctor Jonov and his team were hands on and provided the best service. Highly recommend!

Cortney
FREQUENTLY ASKED QUESTIONS
What Happens If I Get Pregnant After A Reverse Tummy Tuck?
Like the other types of tummy tuck, future pregnancies can reverse or damage reverse tummy tuck results. Therefore, it is recommended that patients wait until they no longer plan any future pregnancies. If you do get pregnant, it may cause the need for future surgeries to restore your results.
Can I Have Other Procedures At The Same Time?
Yes, most reverse tummy tuck patients are good candidates for combining procedures. Due to the incision in the inframammary fold, it is easy to combine the procedure with breast surgery. Common breast surgery combinations include:
En Bloc Breast Implant Removal
Additionally, other procedures may improve the results of your reverse tummy tuck. Other common plastic surgeries patients combined with a reverse abdominoplasty include:
Will The Scar Be Visible?
In most everyday clothing, a reverse tummy tuck scar is completely hidden. The scar itself is in the inframammary fold. For patients with larger breasts, this may completely conceal the scar. Most will find that a normal bra will obscure their scars. For men who undergo the procedure, the scarring can be compared to gynecomastia incisions. 
Scars fade over time and Dr. Jonov can discuss proper scar care with you to promote the least visible scarring possible. He will also evaluate your risk for keloid and hypertrophic scarring during a consultation. If you are at a high risk of these types of scars, he may recommend other procedures.
What Are The Risks Of A Reverse Tummy Tuck?
Like all types of surgery, a Kirkland reverse tummy tuck comes with some risk. This includes the typical surgery risks associated with general anesthesia. Other risks can include:
Infection

Temporary or permanent loss of sensation

Thick scarring

Seroma

Necrosis

Bleeding

Prolonged swelling or bruising
Dr. Jonov takes every possible precaution to reduce the risk of reverse tummy tuck surgery in Kirkland. This involves thorough patient screening, refined surgical technique, and careful post-operative care.
THE BEST REVERSE TUMMY TUCK IN BELLEVUE, KIRKLAND, AND LYNNWOOD
The Gallery of Cosmetic Surgery is a premier plastic surgery practice located in Lynnwood, Washington. With a JCAHO-accredited surgery center just across from Alderwood Mall, The Gallery of Cosmetic Surgery offers a friendly and safe environment for your reverse tummy tuck surgery. 
Dr. Craig Jonov is a plastic surgeon with two decades of experience. Performing multiple tummy tucks of all types every week, Dr. Jonov is extremely capable and skilled at abdominoplasty surgery. Along with his experience, Dr. Jonov is often called upon to share his skills and expertise. For example, Dr. Jonov was chosen by the makers of Radiesse to educate other surgeons on the correct injection techniques. 
To learn more about reverse tummy tuck surgery and schedule a consultation, call us at 425-775-3561. You can also contact us online using our chat, forms, or Price Simulator™ app.
Watch Dr. Jonov discuss the recovery after tummy tuck surgery and answer the frequently asked question, "What is the recovery time for a tummy tuck?"