CHEEK FILLER IN SEATTLE, BELLEVUE, AND KIRKLAND 
The cheeks and cheekbones are a prime structural component of the face. They help make up our facial profile and the look of our face. For people who experience hollowing of the cheeks due to aging or weight loss, or those who have genetically lesser defined cheekbones, cheek fillers can help fill out the cheek area and provide more definition to the face. Fillers are known to be a safe and non-invasive way to provide fullness to the face. Dr. Jonov at The Gallery of Cosmetic Surgery offers a variety of cheek fillers to patients in the Seattle, Bellevue, and Kirkland areas.
WHAT ARE CHEEK FILLERS?
Cheek fillers are injectable treatments that add volume to the area of the cheekbones and the immediate surrounding area. There are a variety of filler products to choose from at The Gallery of Cosmetic Surgery. In addition to adding volume to the face, cheek filler can smooth fine lines and wrinkles, provide a contoured look, and provide an all around younger look to the face.
Why Get Cheek Fillers In Bellevue?
There are a variety of reasons patients seek out cheek fillers. Many come to our office hoping to address the early signs of facial aging. Regardless of your reasoning for seeking cheek fillers, Dr. Jonov can help you find the option that will address your cosmetic needs. Some reasons that Bellevue patients seek cheek filler include: 
Fine lines and wrinkles

Hollowing of the cheeks due to aging

Substantial weight loss

Improve the look of smile lines

Genetic predisposition to hollowed or undefined cheeks

Desire to lift the cheeks

Non-surgical alternative to cheek augmentation surgery

Desire for a more contoured/more prominent cheekbones 
THE PROCEDURE:
The injection technique for cheek fillers is quick and simple. First, your provider will disinfect your cheeks. Next, they will apply a topical anesthetic to make sure your cheek filler injections are not overly painful. Finally, they will inject the filler into your cheeks. Depending upon your choice of filler and goals, they may gently massage the area to move the filler into place. 
Once the filler is in place, your provider will give you a mirror so you can examine your results. Fillers are temporary and dissolvable, so if you do not like your results, they are easy to reverse. Our skilled providers will help you choose a filler and injection technique that achieves your goals so this should not even be an issue.
HOW MUCH ARE CHEEK FILLERS?
The price of cheek fillers is dependent upon the product and provider you choose. At The Gallery of Cosmetic Surgery, we offer multiple filler options with the choice of Dr. Jonov or a Nurse Injector. Nurse Injector cheek filler injections typically cost less than those with Dr. Jonov and they often have more openings available because their schedules are more dedicated to injectables. For more information on cheek filler prices, check our price list.
| | | |
| --- | --- | --- |
| Product | Price | |
| Restylane-Lyft | $525 | |
| Restylane-Defyne | $550 | |
| Juvederm Voluma | $850 | |
| Sculptra (Each vial) | $700 | |
These prices can vary depending upon your specific needs. Our prices include not just the price of the injections and product, but also, the topical anesthetic and all materials needed for the procedure. 
Types of Cheek Fillers in Kirkland:
There are many filler products that your provider can use to plump your cheeks or fill in fine lines and wrinkles. Some filler products are thicker than others and may be better suited for certain cosmetic goals. In consultation with your provider, they can recommend the products that will work best for what you want to achieve. 
The majority of our filler products are made of hyaluronic acid. Hyaluronic acid is found naturally in the body and helps your cells retain water, contributing to plump, healthy looking skin. It is often used in esthetic services like microneedling and chemical peels. Because hyaluronic acid is part of the body already, it has a low rejection rate and is safely absorbed into the body over time. 
Hyaluronic acid remains one of the safest and most popular filler options around the world. With relatively few side effects and complications, HA fillers are a great choice for your Kirkland cheek filler. 
We do offer other types of filler options containing poly-L-lactic acid or other components that typically last longer than HA fillers. Depending upon your cosmetic goals and the look you want to achieve, your provider may recommend one of these options.
Restylane-Lyft:
This product helps add volume and lift the cheeks. It is meant to treat more prominent wrinkles or volume loss than Restylane-L. Restylane-Lyft may be the correct product for you if you are looking to add significant volume or lift to your cheeks or cheekbones. Results can last for up to 12 months.
Restylane-Defyne:
Like Restylane-Refyne, this filler is mainly used to treat wrinkles and fine lines. However, this formula is thicker and can target deeply set laugh lines and wrinkles. Typically, Restylane-Defyne lasts for around 12 months before needing a touch up treatment.
Juvederm Voluma:
Juvederm Voluma is designed specially to add volume to the cheeks. It contains lidocaine to make your cheek injections more comfortable. This product can keep your cheeks plump and sculpted for up to 2 years.
Sculptra:
Sculptra works similarly to Radiesse by stimulating collagen growth in your cheeks. It consists of poly-L-lactic acid which the body produces after exercise. This means that Sculptra has a low rejection rate like hyaluronic acid fillers. Sculptra often requires multiple vials or treatments, but results last considerably longer than other fillers, normally around 2-3 years.
These are the most common fillers chosen and applied to the cheek area. However, depending upon your goals, a thinner filler may be more appropriate. Such as, if you only want to target fine lines and wrinkles in the area and not change the size of the cheeks or cheekbones, a thinner formula like Restylane-L may better suit your needs 
Interested In Cheek Fillers?
Fill out the form below to schedule an appointment or ask any questions you may have.
HOW CAN I MAINTAIN MY RESULTS?
After receiving your Bellevue cheek filler, it is likely that you want it to last as long as possible. While you cannot control certain factors that contribute to how long your cheek filler lasts, there are many aspects of your lifestyle that will help you maintain your filler results.
First, maintaining a healthy diet and exercise routine will only benefit your filler injections. This ensures that your body is in good condition and you look your best overall. It is much better for the overall look of your results if you continue leading a healthy lifestyle. 
Secondly, a good skin care routine keeps your skin elastic and youthful looking. Healthy skin not only improves the look of your cheek fillers on the outside, but also enhances their overall effect. Using moisturizer daily and drinking plenty of water, allows your skin to stay naturally plump and maintain its youthful glow.
Finally, part of any daily skin routine should be wearing sunscreen, or SPF daily. This helps reduce sun damage to the skin, but can also prevent the formation of fine lines and wrinkles. UV rays can compromise your filler results, cause them to break down quicker, and damage your skin.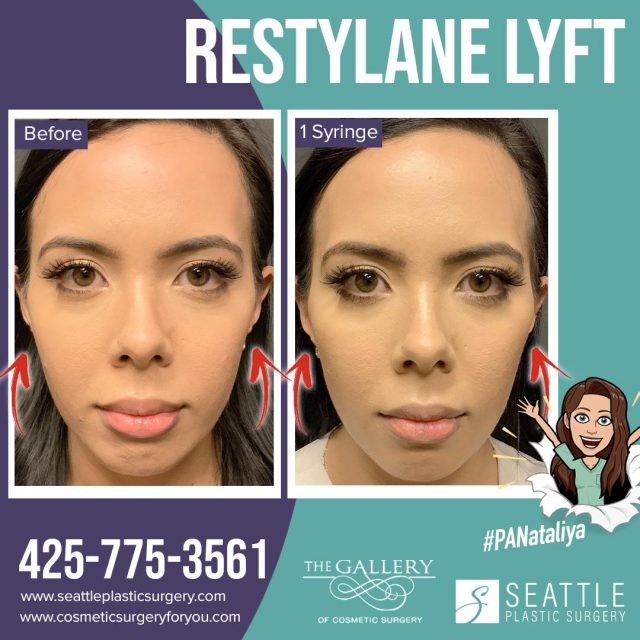 Does Getting Cheek Filler Hurt?
With the use of a topical anesthetic, your Bellevue cheek filler injections should not hurt. You may still feel some pressure or mild discomfort, but most patients are perfectly comfortable during treatment. Some filler options, such as Restylane-L, contain lidocaine or other anesthetics, which eases pain as your provider injects the filler.
THE BEST CHEEK FILLER RESULTS IN SEATTLE, BELLEVUE, AND KIRKLAND
The Gallery of Cosmetic Surgery offers the best of Greater Seattle area cheek filler. In a consultation with Dr. Jonov or one of our Nurse Injectors, they will listen to your concerns, answer questions, inquire about your medical history, and finally, ask about your goals and expectations for the procedure. Before determining if you are an ideal cheek filler candidate, they will examine your face and cheek area to help them visualize how cheek filler could help you. 
If your provider decides that cheek filler injections are right for you and can help you reach your cosmetic goals, they will guide your through choosing a filler option. Often, it is possible to receive your cheek filler the same day as your consultation.
We provide private treatment rooms where we will quickly and safely administer your cheek filler injections. Your results will be immediately noticeable and you can feel confident in your results before leaving our office.
Board Certified Surgeon And Qualified Nurse Injectors:
Administering cheek filler requires a careful and skilled hand, the providers at The Gallery of Cosmetic Surgery all have extensive experience and training in filler injections. Combined, our providers have thousands of satisfied filler patients.
Dr. Jonov is a board-certified cosmetic surgeon who has refined his injection techniques over his successful career. He was chosen by the makers of Radiesse to educate other cosmetic and plastic surgeons on the west coast about his filler injection techniques. 
Along with Dr. Jonov, we have qualified Nurse Injectors who, for a lesser cost, can help you regain fullness in your cheeks. Our Nurse Injectors underwent intense training and supervision under our board certified physicians. Many of our Nurse Injectors are known for their gentle, careful touch and the fantastic results they provide. 
To schedule a free cheek filler consultation with a provider at The Gallery of Cosmetic Surgery, call 425-775-3561, chat using the icon on the lower left, or contact us using the form above.