Lash & Brow Services Bellevue & Kirkland
Outside of the hair and nails, the brows and eyelashes account for the highest number of esthetic services in the United States. Since thick, defined brows and voluminous lashes are the current trends, many women and men find themselves seeking out professionals for lash and brow services. At The Gallery of Cosmetic Surgery, our master estheticians and providers offer the best lash and brow services Bellevue and Kirkland provide.
Overview: Non-Surgical Lash & Brow Artistry
Non-surgical lash and brow enhancements come in many different forms. From temporary enhancements that last around four to six weeks to semi-permanent enhancements that can last between two and three years. While many people seek out lash and brow services purely for cosmetic reasons, some of these services can also benefit people with certain medical conditions. For example, those with alopecia of the lashes of brows.
The lashes and brows can also thin and lighten with age. This makes some lash and brow treatments obtain an anti-aging effect for some clients. Our providers consist of master estheticians and tattoo artists who all have experience performing high quality lash and brow services. Regardless of your goals, they can help you determine what the best treatment is for you.
Motivations & Goals
The reasoning and goals behind why someone seeks lash or brow enhancement in Bellevue are personal and will vary. However, there are some commonalities between many patients. Some of the motivations and goals may include:
Obtain thicker lashes or brows

Achieve the ideal eyelash curl

Darken the lashes and/or brows

Improve overall eye appearance

Address thinning eyebrows and/or lashes

Look younger

Address graying

Get a more dramatic lash look

Cover scars, gaps, and hair loss
Correct sparse, over-tweezed, over-waxed, or thinning eyebrows

Reduce the amount of time it takes to get ready in the morning

Lessen the need for makeup

Save time and money
Benefits
As far as benefits go, many are similar to the motivations for seeking out brow or lash services in Bellevue. Similarly, they will vary between people. Some of the benefits of lash and brow services include:
More prominent lash and brow appearance

Treatment of lash or brow hair loss

Darker lashes and/or brows

Longer lasting results

Brows and lashes that do not require makeup every day

Save time and money

Little to no pain during or after treatment

Results are low maintenance

Customizable and personalized to each patient

Precise color match prevents unnatural fading (no green brows)
Complements the symmetry of your face

Does not stain or run (once healed or dried, sometimes takes a few days to a week)

Low risk

Can still exercise play sports
Do not need to worry about sweat smudging their brows (after initial healing/setting period)

Downtime unnecessary for most non-surgical enhancements

Performed by a licensed master esthetician or certified tattoo artist (depending on the procedure)
Lash & Brow Services Offered At The Gallery Of Cosmetic Surgery
The Gallery of Cosmetic Surgery offers a variety of lash and brow artistry services for patients wanting a longer lasting way to enhance their brows and eyelashes. With various options, our providers can help you determine the best treatment based on your goals. This is best accomplished during a consultation appointment which can be performed on its own or prior to treatment.
A lash lift and tint is the most basic way to increase the length and darken the color of your lashes. While most dramatic on people with blonde or red lashes, it can provide great results on people with any lash color. The treatment involves perming the natural lashes into their longest position. This also creates the desired curl usually obtained with an eyelash curler.
From there, the lashes are tinted. Tints come in different shades, however, most people chose to go for black or dark brown. After the procedure, the lashes will look like you are wearing mascara and lash makeup. This lasts around four to six weeks for most people depending on lash growth.
Eyelash extensions use individual faux lashes to extend the length, volume, and prominence of the eyelashes. They can result in both extremely natural and extremely dramatic looking lashes depending on the client's individual needs. The lashes will naturally fall out over time but can be filled as needed to maintain the look permanently. If left to fall out, it will usually take four to eight weeks.
Lash Extension Removal
Removing eyelash extensions should occur in one of two ways. Either naturally, by allowing the lashes to fall out on their own, or they should be removed professionally. Pulling out your lashes yourself or having an untrained person do it for you can damage your natural lashes. Therefore, our master estheticians offer lash extension removal services to prevent this lash damage from occurring.
Brow waxing is arguably the simplest form of brow shaping. It removes unnecessary hair and can also remove hair in a way that creates the desired shape. Even if you like the natural shape of your brows, a brow wax can keep thick brows looking neat and cared for. Waxing and tweezing by a professional can help you see the best possible results with permanently damaging your brow or the growth pattern.
Waxing and caring for the eyebrows is a true art that requires a trained professional. Our master estheticians and brow artists create highly stylized brows that enhance the overall shape and brow arch.
A brow tint is often performed alongside a brow wax or brow lamination treatment. It darkens the eyebrows for a moderately enhanced look. Normally, a brow tint only goes one to two shades darker than your natural hair color. This accentuates the brows without looking unnatural or like you have done anything but put on makeup. Similar to a lash tint, eyebrow tinting tends to last around four to six weeks for most people.
Brow lamination is comparable to a lash lift. It essentially perms the brow hairs into a certain direction or shape. For people with thick or unruly brows who do not want to thin them too much, this may be a fantastic option. Additionally, brow lamination is great for a subtle brow enhancement and can be combined with a brow tint for the ultimate, quick brow enhancement.
Microblading is a form of semi-permanent tattoo that is the longest lasting brow enhancement available. It lasts for an average of two years with some results lasting three or four years. Microblading tends to look natural, though it depends on the type of microblading you get. The three microblading techniques The Gallery of Cosmetic offers are:
Traditional Microblading

: This involves using a small single blade dipped in semi-permanent tattoo ink to create hair-like strokes to fill in the brows and create the desired shape. Precise and requiring artistic skill, traditional microblading helps accentuate your natural facial features and symmetry.
Powder Brows

: Also known as ombré brows, this technique focuses on creating brows that look like makeup. The powder brows technique uses small dots of ink to fill in and shape the brows into their desired appearance. This boosts the density of the brows and can disguise scarring or gaps in the eyebrows.
Combo Brows

: Combination brows use both the traditional microblading and powder brows techniques to create natural looking brows. Using this combination of artistic techniques, combo brows account for all aspects of your natural brow hair growth and anatomy. This is one of the newest and most in-demand forms of microblading currently available.
Sometimes–due to poor quality materials, provider inexperience, or simply bad luck–microblading results can turn out less than ideally. Thankfully, most issues are correctable with a customized revision microblading.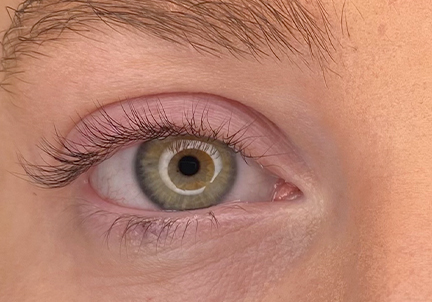 Combo Brow Microblading Before & After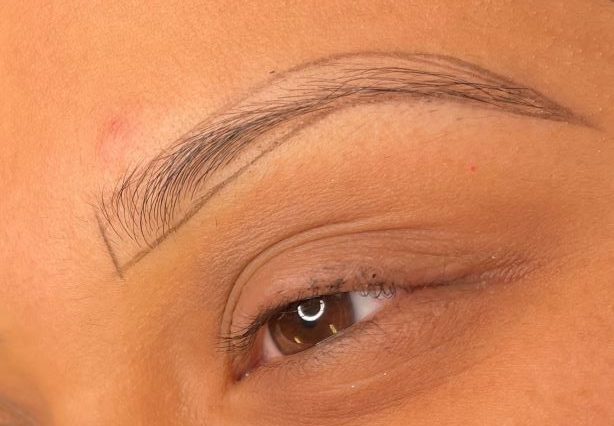 Frequently Asked Questions
Which Is Better Lash Lift Or Lash Extensions?
Determining whether a lash lift or lash extensions are best for you, the first thing to consider is your natural lashes. If you have naturally short lashes, a lash lift may not be recommended or possible. While you do not need long lashes, it cannot be performed on lashes that are too short. Similarly, if you have brittle, thin lashes, they may not be able to hold up even the most basic lash extensions.
Next, you must think about what you want from your results. Do you want natural results? Something more dramatic? Do you care if they look fake? Answering these questions can help you determine whether the more natural lash lift or the more dramatic lash extensions are right for you.
Finally, discuss both options with your master esthetician. Based on an examination of your lashes and your goals, they can recommend the treatment that will provide you the results you want and which is most viable for you.
What Are The Benefits Of Brow Lamination?
Brow lamination carries many benefits. Among the benefits of brow lamination include:
Fuller looking brows

Disguises patchiness

Create a cleaner shape

Correct unruly brow hairs

Does not involve any sort of extensions

Quick procedure

Painless

Viable for brows of all types

Can be combined with a brow tint
Does Tinting Damage Your Eyebrows?
Tinting is unlikely to damage your eyebrows when performed by a professional. The tints are gentler than traditional hair dyes and bleaching is not performed during the procedure. The eyebrow dyes at The Gallery of Cosmetic Surgery are unlikely to cause any permanent or long lasting damage. Though some dyes on the market can, it is best to see a professional. 
If you have concerns about allergic reactions, your master esthetician can perform a patch test before your Bellevue brow tinting appointment to ensure a low risk of allergic reaction.
Who Should Not Do Microblading?
Microblading is among the best brow enhancement options available. However, it is not recommended to everyone. Traditional microblading is not recommended for those with overly oily skin. Though powder brows are okay for oily skin. Otherwise, people with certain skin conditions such as eczema may risk increased irritation, flare-ups, or damage to their skin Therefore, in most cases, it is not recommended to these patients. 
Ultimately, your microblading artist is the best person to help you determine if microblading is right for you. They can discuss your recent treatments, medical history, and lifestyle to determine if you are a microblading candidate and the right technique.
How Many Lashes Are In A Full Set?
It depends on the type of lash extensions you opt for, but in an average set of eyelash extensions, there are around 180 to 300 individual extensions between both eyes. If you get lower lash extensions, this will involve at least another 140 extensions.
What Is The Cost Of Lash & Brow Enhancements?
The following are the prices for the most basic lash and brow enhancements at The Gallery of Cosmetic Surgery. See our price list for more detailed pricing information.
Lash Lift & Tint $160

Classic Lash Extensions $75

Eyebrow Wax & Tint $99

Microblading $145

Brow Lamination $50
The Top Lash & Brow Services In Bellevue & Kirkland At The Gallery of Cosmetic Surgery
The Gallery of Cosmetic Surgery is a leading plastic surgery practice and medical spa in Lynnwood, Washington. Located near the junction of I-5 and I-405, the facility sees patients from across the Bellevue, Kirkland, and Seattle areas. Combining a medical atmosphere with world-class aesthetics, we offer the best lash and brow services Bellevue and Kirkland provide.
The providers at The Gallery of Cosmetic Surgery consist of master estheticians and certified tattoo artists who completed years of training in microblading. They understand how to identify the best candidates for each procedure and how to obtain the best results. Along with their years of experience, our providers are friendly and passionate about what they do. 
To learn more and to schedule a consultation, call us at 425-775-3561. You can also reach out online via Price Simulator, chat, or contact form.
I have been very pleased with the services that I have received at The Gallery of Cosmetic Surgery. There is never any pressure to spend money on other services and everything is explained fully. I highly recommend going there for any treatments you feel are necessary.

Grace
Dr. Jonov and staff are very caring and professional. They care about the quality of their work and well being of their patients. I am pleased with my results and the care I received 😊

Melissa
Staff very pleasant, professional and nice. This was my first time visiting a cosmetic provider and they made me feel very comfortable.

Deidra
Always a pleasant and professional experience.

Melanie