Breast Augmentation
(Silicone Implant)
$6,495
Breast Augmentation
(Gummy Bear Round Implant)
$7,495
Breast Augmentation
(Gummy Bear Anatomical Implant)
$8,495
SILICONE BREAST AUGMENTATION BELLEVUE, KIRKLAND, AND LYNNWOOD
Silicone breast augmentation is consistently one of the most popular plastic surgeries in the United States. The rate of breast augmentation surgeries has more than tripled since 1997 and tends to continue upward every year. In over half of breast augmentations, plastic surgeons place silicone breast implants. Silicone breast implants are favored by surgeons and patients alike because of their dependable and natural looking results. Dr. Craig Jonov at The Gallery of Cosmetic Surgery performs the best silicone breast augmentation Bellevue, Kirkland, and Lynnwood offers.  
BELLEVUE BREAST AUGMENTATION WITH SILICONE BREAST IMPLANTS
Silicone breast implants consist of an outer silicone shell and are filled with silicone gel. This silicone gel creates a natural look and feel to the breasts. Using these implants, cosmetic surgeons like Dr. Jonov can increase breast size and enhance breast shape. They may also address concerns like breast asymmetry, tuberous breasts, and breast reconstruction.
Breast augmentation in Bellevue comes with many choices. Deciding on the right breast implant, incision, and placement can be overwhelming. At The Gallery of Cosmetic Surgery, Dr. Jonov can lead you through all of your options and makes the breast augmentation experience pleasant.
Benefits Of Silicone Implants
Silicone breast implants come with many benefits and advantages. Women often choose silicone implants because they offer more variety and genuine looking results. A few of the benefits of silicone breast implants in Bellevue include:
Not likely to wrinkle or ripple

Most women note soft, natural results

Complication rate lower than saline implants

Better for petite patients or those with little breast tissue

More options and variety

May have lower capsular contracture rate than saline implants

A great option for breast reconstruction surgery

Can correct asymmetry

Risk of leakage much lower than older silicone implants or saline implants

Usually shifts less than saline breast implants

Most manufacturers offer lifetime warranties on silicone implants 
BREAST IMPLANT OPTIONS
There are endless breast implant options. From choosing between saline, silicone, and gummy bear breast implants, patients also get to decide on the size, shape, profile, and other specifications. Dr. Jonov can help you visualize how each implant would affect your body and breasts.
In the table below, you can find a comparison of the three types of breast implants. Dr. Jonov can further aid in choosing the right breast implant for your body and goals.
Silicone

Sterile saline filling

Requires smaller incision

Can be placed using any breast augmentation method

Rupture usually immediately evident and poses no health risk

Silicone gel filling

Soft, natural results

Most popular implant choice

Can benefit most patients with varying amounts of natural breast tissue

Less likely to rupture

Low complication rate

Cohesive silicone gel filling

Many patients believe gummy bear implants provide the most natural results

Less likely to shift

Lower capsular contracture rates

Less likely to leak if rupture occurs
SILICONE BREAST AUGMENTATION INCISIONS
Once you select your preferred silicone breast implant, you will then have the option of where to place your incision. Based on your anatomy and other factors, Dr. Jonov may have a recommendation. For placing silicone implants, you have three incision location choices: the inframammary fold, areola, and armpit.
There is one other incision option known as the transumbilical technique. During this technique, the breast implants are placed via a small belly button incision. Currently, only saline breast implants can be used with this approach.
Inframammary:
The inframammary fold (IMF) incision places the incision in the breast crease. This is the preferred method for most breast augmentation surgeries. It gives Dr. Jonov access to the breast tissue and chest muscle. The incision and future scarring is hidden naturally in the breast crease and normally unnoticeable in most clothing.
An IMF breast augmentation is among the most utilized technique. This procedure is often favored because it can provide predictable results in most cases. It also complements other procedures like a breast lift which already consists of an incision in the inframammary fold.
Periareolar:
The periareolar incision uses an incision along the bottom half of the areola. The areola is the darkened patch of skin that surrounds the nipple. This change in pigment on the breast is perfect for disguising a periareolar incision. 
This breast augmentation technique is beginning to fall out of popularity because women want to keep the incisions off the breasts. This method may be right for some patients who are not concerned about possible risks to the nipple.
Many women breastfeed successfully following a breast augmentation procedure and the general risk to the milk ducts is low. This method does pose some extra risk to nipple sensation and future breastfeeding. 
Generally, the periareolar incision heals well and offers Dr. Jonov adequate access to the structures of the breast he needs to place the breast implant. 
Transaxillary:
The transaxillary breast augmentation incision situates the incision in the armpit. This placement usually heals well and carries little risk of major scarring. It also keeps scars off the breasts. 
Patients like transaxillary breast augmentation because it can also lead to a decreased recovery time. If placing the implants behind the muscle, the transaxillary incision lets Dr. Jonov access the space behind the chest muscle without cutting through it. Other methods like the inframammary and periareolar incisions require excision of the muscle for submuscular placement.
The armpit also carries a significantly lower risk of producing keloid scars. Many surgeons believe that silicone implants cannot be placed through an armpit incision. This is not true. It simply requires a specially trained plastic surgeon like Dr. Jonov.  
SILICONE BREAST IMPLANT PLACEMENT
The lesser known choice that women have when deciding to undergo Kirkland breast augmentation is that of breast implant placement. During nearly all breast augmentation surgeries, the implants are placed either: behind the glands (subglandular) or behind the pectoral muscle (submuscular). 
A subglandular placement used to be the standard. However, this method has largely fallen out of favor because it may have a higher risk of capsular contracture. For some patients, a subglandular placement may still be favorable depending on their anatomy and lifestyle. Dr. Jonov can guide you through the options and which would best serve your goals.
Subglandular:
The subglandular placement puts the breast implant behind the glands of the breast but keeps them above the muscle. Dr. Jonov places most breast implants behind the muscle. He may recommend a subglandular placement in certain situations. Benefits of the subglandular placement include:
Easier recovery

Less distortion of the implant during certain movements

May benefit women with a good amount of breast tissue already
However, subglandular breast implant placement often carries a higher risk of capsular contracture and rippling. Since only your skin and natural tissue cover the implant, it is much more likely to be seen through these structures.
Submuscular:
The submuscular breast implant placement involves Dr. Jonov lifting the lower portion of the muscle so that it covers the implant. This is known as the "under the muscle" placement. The majority of plastic surgeons perform this type of breast augmentation because it offers many advantages. Benefits of the submuscular placement include:
Lessened risk of capsular contracture

Reduced chance of rippling or wrinkling

More natural curve of the breast
The submuscular placement usually results in a longer recovery time and more post-operative pain. It may also lead to some minor distortion during exercise or certain movements. Even with submuscular placement, most patients recovery fairly quickly and see a notable reduction in risks.
Dual Plane:
A dual plane breast implant placement involves covering the implant partially with the muscle and partially with the glands. It is not fully behind the muscle nor over it. Overall, this means that the breast implants sit slightly lower. In the right candidate, this placement offers many benefits like:
A slight lift to the breast without the need for a surgical breast lift (only effective in mild cases of ptosis)

May provide longer lasting results

Natural looking

Mitigates many of the drawbacks of the subglandular and submuscular approaches
Dual plane implant placement is a middle ground between over and under the muscle placement. For many patients, this placement option offers the best results. It also complements silicone breast implants well.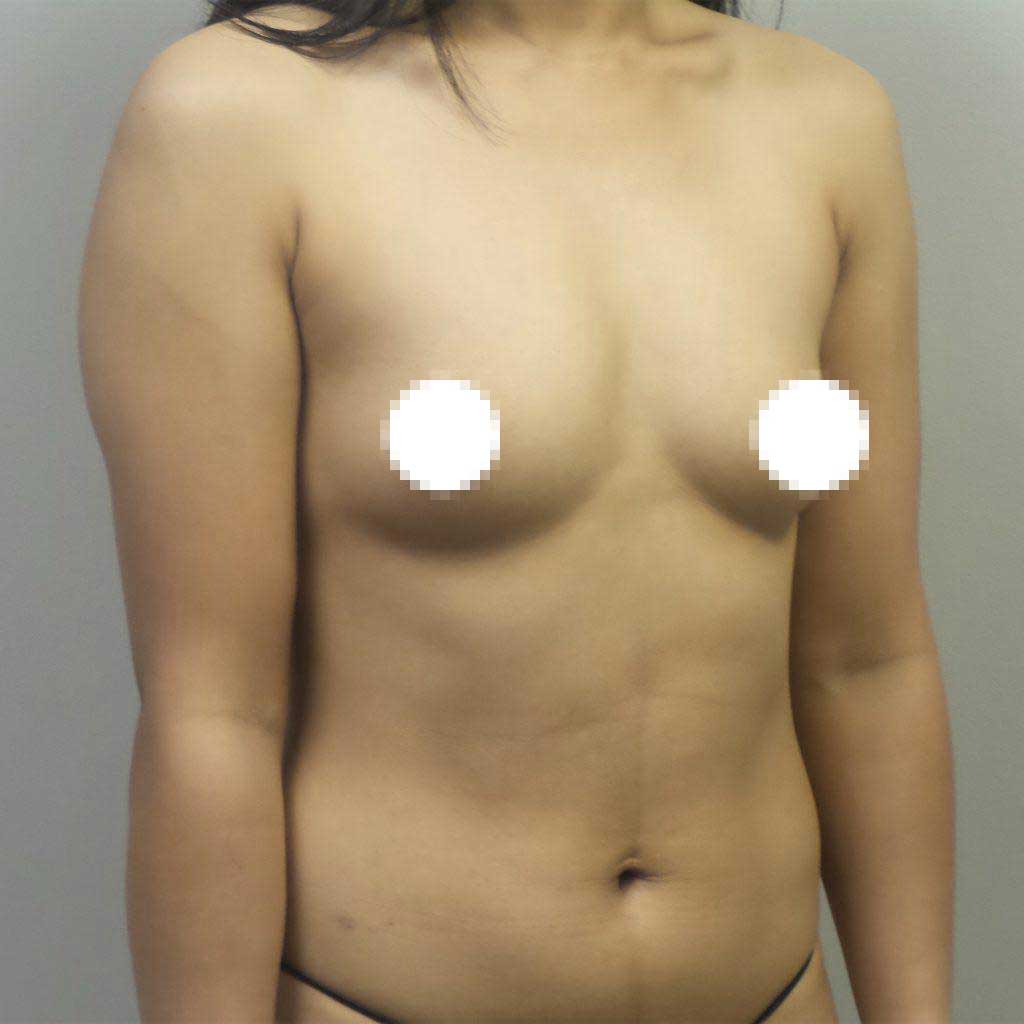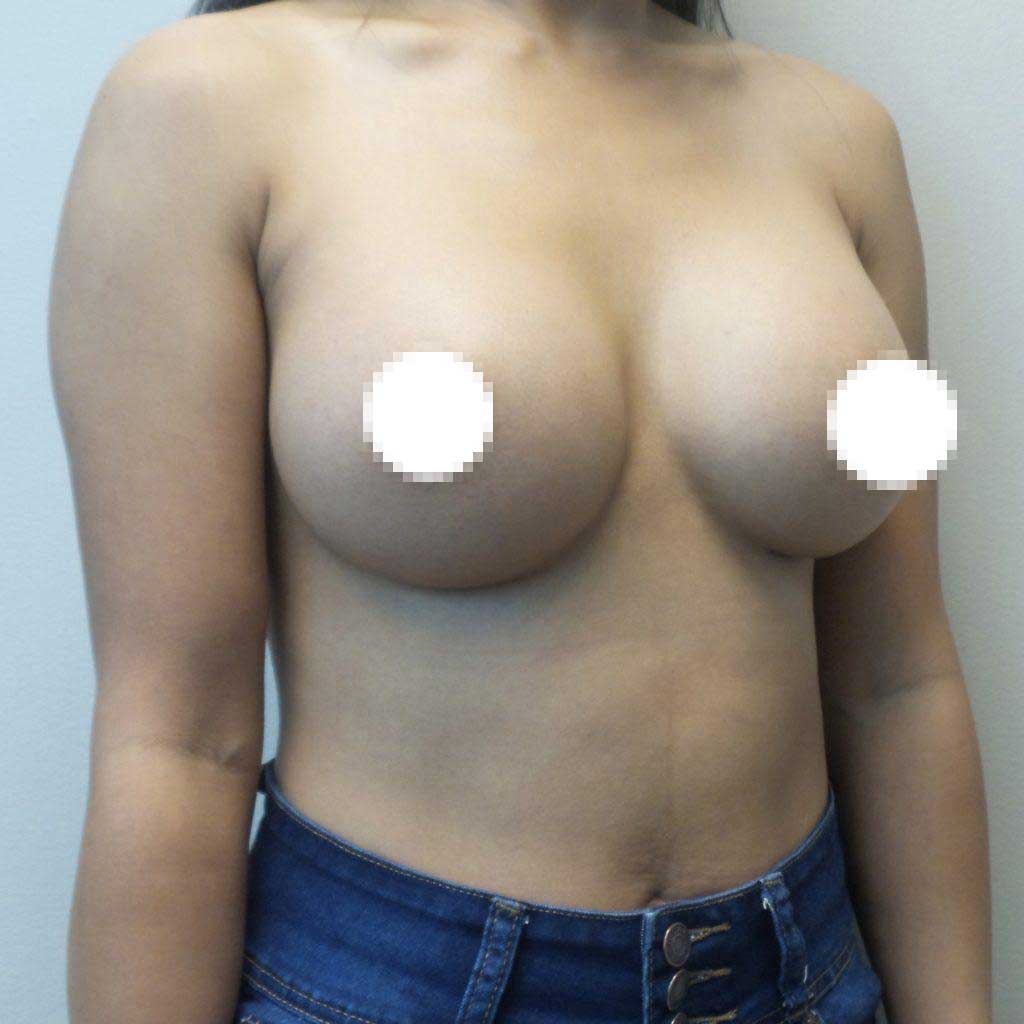 BELLEVUE SILICONE BREAST AUGMENTATION SURGERY
Dr. Jonov will place your silicone breast implants based upon the surgical technique you decided on. First, he will make an incision in the chosen area. Through this incision, he will create a breast pocket. Depending on the placement and incision, this may require separating the muscle to place it over the breast implant.
Once he finishes creating the pocket, Dr. Jonov will carefully insert the silicone breast implant. Prioritizing safety, Dr. Jonov uses the no-touch method and a Keller funnel. This method reduces the chances of contamination of the breast implant. The no touch method may contribute to lower infection and capsular contracture rates. It has become the highest standard for breast augmentation surgery.
Placing the breast implants, Dr. Jonov will adjust them so they lay securely in the created breast pocket. When placed optimally, Dr. Jonov will observe your Bellevue silicone breast implants from various angles to ensure good results. He will then stitch the incision.
Contact Us
To schedule a complimentary consultation with Dr. Jonov or with questions Breast Augmentation at The Gallery of Cosmetic Surgery serving Kirkland, Bellevue & Lynnwood, WA.
THE BEST SILICONE BREAST AUGMENTATION IN BELLEVUE, KIRKLAND, AND LYNNWOOD
Dr. Craig Jonov at The Gallery of Cosmetic Surgery utilizes a range of techniques and breast implants to offer the best breast augmentation in Bellevue, Kirkland, and Lynnwood. With years of experience placing silicone breast implants, Dr. Jonov is the best Bellevue plastic surgeon performing silicone breast augmentation.
The Gallery of Cosmetic Surgery sees multiple breast augmentation patients every week. Our patients seek out every type of breast augmentation technique and all breast implants. Located just off I-5 in Lynnwood, our office conveniently serves the Bellevue and Kirkland areas. 
To schedule a consultation with breast augmentation expert, Dr. Craig Jonov, call us at 425-775-3561. You can also reach us online via our contact form, Price Simulator™ app, or chat.