MONSPLASTY BELLEVUE AND KIRKLAND | MONS PUBIS LIFT BELLEVUE AND KIRKLAND
The mons pubis region is the small, triangular shaped region between the lower stomach and genitals. For many men and women, the mons pubis is the cause of cosmetic concern due to extra fullness that may be visible when wearing fitted clothing. For women especially, this extra fullness can cause distress and feelings of self-consciousness. Not many people know that there is a relatively simple procedure that can remove mons pubis fullness. The Gallery of Cosmetic Surgery performs the best monsplasty Bellevue and Kirkland offers. 
WHAT IS A MONSPLASTY?
A monsplasty, also called a mons pubis lift, is a body contouring procedure that removes extra skin and fat from the mons pubis area. The mons pubis consists of the area above the pubic bone that can collect extra fat or skin for a variety of reasons. The surgery results in a flatter, more proportionate upper pubic area.
Often, patients will see the best results from combining a tummy tuck with their mons pubis lift. However, sometimes even a monsplasty by itself will provide patients with the results they want.
Monsplasty Before & After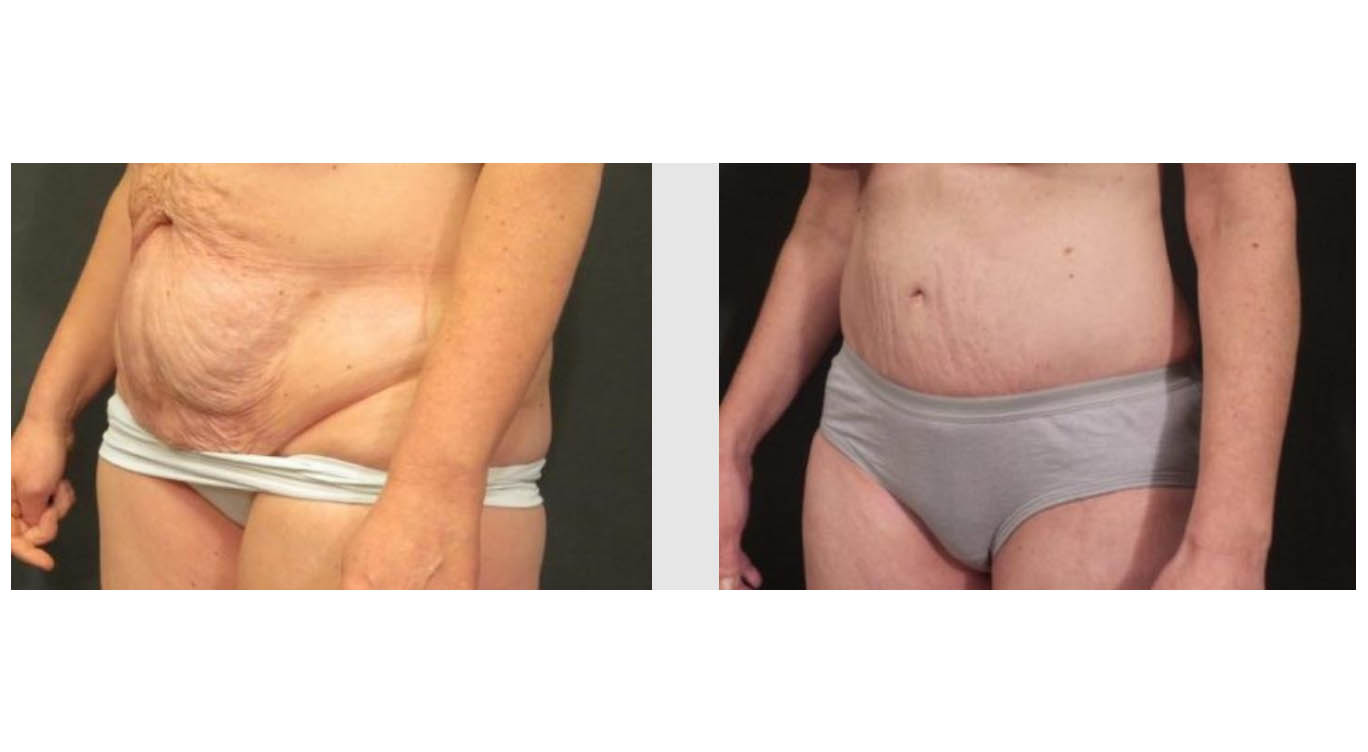 "I had to have a procedure done on my legs that I was super hesitant about. Meeting with Dr. Jonov I knew right away that I was in good hands. He was confident he could help me and it forever changed my life!

Sefra
Causes Of Mons Pubis Fullness
There are many possible causes or contributing factors to fullness in the pubic region. While weight does play a role, it is possible to be fit or have little fat and still have fullness in the mons pubis. Generally, there are three main reasons why you may have fat in the upper pubic region:
Genetics

: Likely the largest factor, some people are genetically predispositioned to carry fat in the lower abdomen and pelvic regions. While this does not guarantee you will, combined with other factors, and if you do develop it, getting rid of it with weight loss can be nearly impossible.

Hormones

: Certain hormonal factors, especially those associated with pregnancy and menopause can cause you to carry or develop extra pelvic fat. If you have increased estrogen levels, this may contribute.

Previous C-sections

: If you have had one or more C-sections, this can cause a bulge to form near the scar. C-sections can also leave behind extra skin or otherwise lead to irregularities in the area.
While the factors listed above are some of the most common factors, there are many other aspects of your health, lifestyle, and anatomy that can cause fullness in the mons pubis. Among some of the other factors include:
Weight changes

Childbirth

Pregnancy

Aging

Stress
With so many health and outside contributors, getting rid of upper pelvic fat can be extremely difficult using traditional methods. This is where Bellevue monsplasty surgery can aid in providing the ideal contours that may be unachievable otherwise.
Benefits
There are countless benefits and advantages of monsplasty surgery for ideal candidates. Some of the benefits include:
Excess fat removal

Extra skin removal

Flatter pubic area

Relief of pain during intercourse (in some cases)

Treatment of some urination problems

Short procedure

Low risk

Easy to combine with other procedures

Improve the way clothing fits

Better self esteem

Fairly short and easy recovery

Manageable post-operative pain

Long lasting results
MONSPLASTY: WITH TUMMY TUCK OR WITHOUT
A mons pubis lift is frequently combined with a tummy tuck surgery. This is usually because extra skin and fat in the pubic region often extend to the lower abdomen and vice versa. Is it better to have a tummy tuck and monsplasty at the same time? The answer ultimately depends on your anatomy and goals. The table below shows some indications you may need a tummy tuck with your monsplasty surgery in Bellevue.
With Tummy Tuck
Without Tummy Tuck

Extra skin extends onto the abdomen

Diastasis recti is present

If a tummy tuck may make the pubic area more prominent

Only treating a small amount of extra fat

No extra skin or it does not expend onto the abdomen

Patient does not want a tummy tuck
Ultimately, during a consultation at The Gallery of Cosmetic Surgery, Dr. Jonov can evaluate your anatomy to determine whether combining a tummy tuck with a monsplasty would provide you the best results. Also, undergoing a tummy tuck with a monsplasty is the patient's choice. Some patients may not desire a tummy tuck along with their mons pubis lift.
BEFORE AND AFTER MONS PUBIS LIFT
Consultation
The first step to undergoing a Bellevue mons pubis lift is to schedule a consultation with Dr. Craig Jonov at The Gallery of Cosmetic Surgery. At your consultation, you will meet one-on-one with Dr. Jonov to discuss your goals, concerns, and questions. After understanding what you want to achieve with surgery, Dr. Jonov may inquire about your medical history and lifestyle. 
Finally, Dr. Jonov will perform an exam of the area and determine whether extra skin, fat, or a combination of both are contributing to the appearance of your pubic area. Based on this exam and your goals, Dr. Jonov will recommend a surgical plan custom catered to you. 
At this point, you will receive a personalized price quote and financing information. Once receiving your quote, you can usually schedule surgery.
Surgery
On the day of your Bellevue monsplasty, you will come to our outpatient ambulatory surgery center. The Gallery of Cosmetic Surgery team will help you prepare for surgery and take your vitals. After initial tests, you will meet with Dr. Jonov. He will review the surgical plan and make markings for surgery.
A licensed anesthesia provider will place you under general anesthesia. Once fully sedated, Dr. Jonov will begin surgery. A monsplasty can encompass many different techniques depending on your anatomy and cause of upper pelvic fat. 
In the simplest cases, Dr. Jonov may only perform a short liposuction procedure to remove collected fat in the area. This requires only a few small incisions hidden in the natural contours of the body. If large amounts of extra skin are present, Dr. Jonov may make an incision in the area between the stomach and mons pubis. Through this incision, Dr. Jonov will remove extra tissue before pulling remaining skin tight. 
A monsplasty procedure takes around one to two hours to complete. If you are also undergoing a tummy tuck, this will likely increase surgical time. Once finished, Dr. Jonov will stitch the incision and you will slowly begin to wake up.
Contact Us
Recovery
When you wake up after surgery, you will stay in recovery until fully awake and cleared to go home. This is generally around an hour or two. Your caregiver will then take you home to start your recovery the same day. At this time, you may notice some difference in the look of your mons pubis. This will likely change over the next few days as swelling and bruising may settle in.
Patients usually find recovery after a monsplasty fairly easy. Dr. Jonov will prescribe medications to manage pain and prevent infection. Patients typically return to work in around a week. You will need to avoid exercise for at least two weeks, though light walks are encouraged during recovery. 
If you underwent a tummy tuck at the same time, your recovery instructions will vary and you will likely need more time to recover. You will receive post-operative instructions based on your specific procedure.
FREQUENTLY ASKED QUESTIONS
Can Men Get A Monsplasty?
Yes, while the surgery is more popular among women because more of the mons pubis is visible, men can get a monsplasty. Fullness in the pubic area of a man commonly causes issues urinating or other functional issues. Performing a mons pubis lift can often address these concerns.
How Much Does A Mons Pubis Lift Cost?
At The Gallery of Cosmetic Surgery, the price of a Kirkland mons pubis lift starts at $3,500. The cost can fluctuate depending on specifics of your procedure. Following a consultation, you will receive a full, personalized price quote. 
To get an idea of the costs of all your procedures, visit our Price Simulator™ and price list. You can also find more information about financing options on our financing page.
Does A Tummy Tuck Lift The Mons Pubis?
Occasionally, a tummy tuck may provide enough lift to the mons pubis. However, generally, if there is significant extra skin or fat in the pubic area, Dr. Jonov will address this with a monsplasty. Luckily, if you are already having a tummy tuck, he can usually perform your mons pubis lift through the same incision.
Can You Naturally Get Rid Of FUPA?
Depending on the causes of your pubic fat, there may be ways to improve its appearance without surgery. Weight loss, certain exercises, and living a healthy lifestyle may decrease fullness in the area. However, if extra skin contributes, surgery is likely the only way to permanently remove it.
Are There Medical Benefits To A Mons Pubis Lift?
Yes, there are times when a mons pubis lift may supply medical benefits. As previously mentioned, occasionally sagging in the pubic area may cause issues urinating or participating in intimacy. Removing this sagging and fullness can relieve or help these issues. It is especially common for men to undergo a monsplasty for medical reasons. 
THE BEST MONSPLASTY IN BELLEVUE AND KIRKLAND
Dr. Craig Jonov is a top rated cosmetic surgeon in the Bellevue and Kirkland areas. He offers over a decade of experience and expertise in cosmetic surgery, including monsplasty. Having worked with patients from all backgrounds, he understand how to create a customized result and that patients will have their own goals for the procedure. He aims to provide the best monsplasty Bellevue and Kirkland offers.
The Gallery of Cosmetic Surgery is a premier cosmetic surgery center that accomodates patients from all around the world. Located centrally in Lynnwood, Washington, The Gallery of Cosmetic Surgery is easily accessible from the Eastside and Seattle areas.
To learn more and schedule a consultation, call us at 206-787-0784. You can also reach us online using Price Simulator™, chat, or contact form.