$650 Per Vial
With Surgeon
JAW FILLER IN SEATTLE, BELLEVUE, & KIRKLAND
A sharp, defined jawline is a highly sought after facial aesthetic for men and women. Men tend to want a strong, defined appearance while women often want a more subtle, contoured look. As a crucial feature to the facial profile, an undefined jawline can affect the other features of the face. Many methods of addressing the jaw exist, including surgical and non-surgical options. One of the less invasive options is jawline filler. Using dermal fillers, a board-certified cosmetic surgeon or qualified injector can help you achieve your desired look. The Gallery of Cosmetic Surgery offers jaw filler to the Seattle, Bellevue, and Kirkland areas.
WHAT DOES JAW FILLER DO?
Depending on where the filler is injected, the type of filler you choose, and your specific goals for your jawline, jaw filler can achieve many corrections and enhancements. While filler can provide a stronger jawline, it can also soften an over prominent jawline. Utilizing state-of-the-art fillers and technique, the cosmetic surgeons and injectors at The Gallery of Cosmetic Surgery can customize your jaw filler injection plan. Ensuring it matches your anatomy and ideal jawline.
Among some of the improvements you may see from jawline fillers include:
Stronger, chiseled appearance to the jaw

Wider projection of the jaw

Add volume to the face

Slimmer, thinner appearance 

Improved facial profile

Softer, more rounded jaw (when desired)

Correction of a double chin

Smoothing of chin or lower face wrinkles
These are just some of the benefits and cosmetic corrections that non-surgical jaw enhancement with fillers can provide. During your consultation, you and your injector can cover exactly what you want your jawline to look like and how fillers may achieve that. Depending on your goals, masseter BOTOX may offer another option.
Interested In Jaw Fillers?
Fill out the form below to schedule your appointment or ask us any questions you may have.
TYPES OF JAW FILLER IN BELLEVUE
There are many hyaluronic acid fillers options for your jaw filler procedure. Multiple Juvederm and Restylane fillers can serve as effective augmentation tools. Fillers differ in thickness and the amount of time they last. On average, you can expect jaw filler to last anywhere from a few months up to two years depending on the filler product. Your injector can help you choose the correct jaw filler for your Bellevue non-surgical jaw enhancement. 
Juvederm:
Juvederm makes multiple facial fillers for a variety of locations on the face. Perhaps best known for their lip and cheek fillers, Juvederm fillers can effectively treat and augment the jawline. Juvederm Voluma is often a popular choice because it is a thicker filler, which is important for achieving that sharp look. It can also last up to two years, making it one of the longest lasting hyaluronic acid filler options.
Restylane:
Nearly any Restylane filler is a good option for Bellevue jaw filler. Restylane fillers are versatile and moldable, which can help you achieve the specific chisel and contour you want. Restylane Refyne and Restylane Defyne are the thicker fillers offered by Restylane and can work well for jawline enhancement.
Radiesse:
Radiesse is a non-hyaluronic acid based filler option that uses calcium hydroxylapatite spheres–a substance found in your bones–to augment the jaw. Additionally, Radiesse stimulates collagen production in the area to encourage a long lasting result, even after the filler absorbs. 
JAW FILLER VS. CHIN IMPLANT
In the cosmetics world, there are many procedures that can help define the jaw. Among one of the most effective is a chin implant or augmentation. Extending the chin with a silicone implant or filler, can make the jawline look slimmer and naturally more contoured. For some, this may provide optimal results. 
When it comes to choosing between chin augmentation or jawline filler, ultimately it hinges on the results you want to see, anatomy, and the specific issues with your facial balance. Your qualified injector can help you choose the option that matches your goals and preferences.
Jaw Filler
Chin Implant

Non-surgical, non-invasive procedure

Can address small issues on or around jawline

Filler will need refreshed eventually

Can widen the outward projection of the jaw

Malleable and your injector can form the filler after injected

Requires surgery to place (although non-surgical chin augmentation is possible with fillers)

Permanent results

Cannot address issues towards the back of the jaw

Provides augmentation to the chin, while slimming the look of the jaw
Other Procedures To Consider With Kirkland Jaw Filler
Like mentioned above, the treatment for an undefined jaw depends greatly on the causes and your facial anatomy. Sometimes a combination of jaw filler and another procedure may yield the best results. However, in other cases a non-surgical chin augmentation may give you the look you love. 
Some procedures may correct issues with your jawline that filler cannot, such as sagging of the jowls or a recessed chin. Other procedures that may lead to a more defined jawline and you can combine with jawline filler in Kirkland include:
REFINED JAW FILLER TECHNIQUES: YOUR PROCEDURE
Jaw filler is a simple, yet, highly customizable procedure performed in-office at The Gallery of Cosmetic Surgery. Once your injector determines you are a fit for Kirkland jaw filler, they will run you through your filler options. As well as help you decide on the one for you. 
Next, your injector may apply a topical anesthetic to make your injections more comfortable. Once you are fully numb, they will inject the filler at specific points along your jawline. When putting together your jaw filler plan, your injector will help choose injection sites that will give you the best filler results in Bellevue. Our injectors often use a cannula to inject filler because it allows for more control and smoother results. Cannulas can reduce the side effects you experience.
For some, the filler injections may be focused towards the back of the jaw to provide that sought after angle and projection. Others may need filler along the jawline to smooth out bumps or to provide the perfect contour. Your injector may gently massage the filler into place and to give it a shape that flatters your facial features.
All of your jaw filler injections should take no more than 20 minutes to half an hour. You should see an immediate difference in the shape and size of your jaw. However, because the filler needs time to settle, and you may experience some swelling, your results will continue to improve over the coming days and weeks.
The Right Candidate
Because dermal fillers are safe and non-invasive, most people are good candidates for jaw filler in Bellevue. During your consultation, your injector will decide if you are a good candidate for non-surgical jaw augmentation. First, you and your injector will discuss your motivations for jaw enhancement, expectations for the procedure, and the results you want. Next, they will want to know your full medical history to determine if filler injections are viable for you. While most healthy people are candidates for fillers, you should disclose certain medical conditions. For example, blood or bleeding disorders, major medical illnesses, previous injury to the injection area, or if you've had a negative reaction to a filler in the past.
Finally, they will examine your jaw and chin area to determine the proper treatment that will get you your desired results. Often, if they believe you are right for jaw filler they can commence your injections during the same appointment.
HOW MUCH IS JAW FILLER?
The price of jaw filler in Seattle will depend on the filler you choose, the amount you need, and your provider. At The Gallery of Cosmetic Surgery, we offer filler with board-certified cosmetic surgeon, Dr. Craig Jonov, or one of our highly trained injectors. Along with this, our filler prices vary by product and amount. For example, Juvederm Voluma injected by one of our injectors is $850 per vial, while with Dr. Jonov the cost is $950. Restylane Defyne with an injector is $550 and with Dr. Jonov is $650. You can find a comprehensive list of our filler products and their cost on our price list.
The Gallery of Cosmetic Surgery works with outside financing companies like Care Credit to finance for your procedure. To find out all of your financing options and links to apply, visit our financing page.
Recovery
As an injection treatment, jaw filler has no specified recovery time. Usually, patients do not require time off work and can return immediately after the procedure. It is normal to experience some redness, swelling, and other mild symptoms. In some cases, bruising occurs, but it should go away on its own and is possible to cover with makeup.
You will want to use relative caution for the first 24-48 hours after your non-surgical jaw enhancement. Our injectors typically recommend refraining from any strenuous exercise for this time period. Also, temporarily discontinuing the use of Ibuprofen or Aspirin painkillers (NSAIDs) before and after because this can limit bruising. You can take Tylenol to compensate.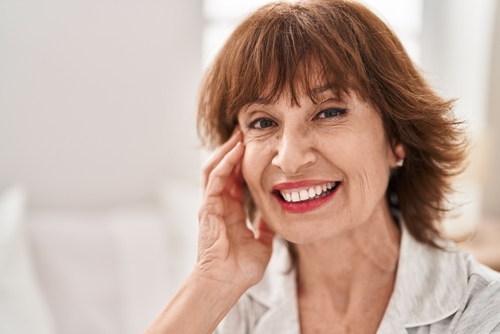 The marionette lines are vertical lines that run between the corners of the mouth and the lower face. They typically occur due to age-related volume loss and skin sagging. Therefore,…
SEATTLE'S LEADING JAW FILLER AT THE GALLERY OF COSMETIC SURGERY
Filler injections require a well trained expert like those at The Gallery of Cosmetic Surgery to achieve optimal results. Dr. Jonov has provided a wide range of filler to the Greater Seattle area for two decades. He continues to refine his injection techniques. Additionally, he was chosen by the makers of Radiesse to educate other cosmetic surgeons and injectors about the best injection techniques. Each filler product and area requires a different, specialized technique. Dr. Jonov understands this and uses only the most effective and newest techniques.
Along with Dr. Jonov, our team of injectors consist of qualified Registered Nurses and Physicians Assistants trained in office and work under doctor supervision. They have developed individualized talents for injectable products that make them uniquely knowledgeable in the most modern fillers and injection techniques.
The Gallery of Cosmetic Surgery offers hot coffee, premium water, and fresh cookies at every jaw filler appointment. We aim to keep you comfortable and not interrupt your daily schedule. Located just off the freeway, The Gallery of Cosmetic Surgery makes your filler injections quick and easy. Only offering the safest and premier injectable products, The Gallery of Cosmetic Surgery is the premier destination for jaw filler in Seattle, Bellevue, and Kirkland.
To schedule a jaw filler consultation, call us at 425-775-3561 or contact us using the form above.