Overview: Breast Lift
Over time, and due to numerous factors, breast skin can become lax, and breast volume can be lost, causing breasts to lose their firm tone and youthful position. For women in Seattle, mastopexy surgery with cosmetic surgeon Dr. Craig Jonov, can address these issues and restore a more youthful appearance. Good candidates for breast lift surgery are women who wish to address issues of drooping caused by breast-feeding, weight loss or age. During this procedure, Dr. Jonov removes excess skin and he repositions the breast to a higher position. In most cases, the nipple is also repositioned so that it maintains a natural look. The Gallery of Cosmetic Surgery offers breast lift plastic surgery to the Seattle, Bellevue, and Kirkland areas.
Surgical Technique
The type of incision used during a breast lift procedure will vary depending on the degree of lift and whether implants will be placed during the surgery. If implants are a part of the procedure, whether silicone or saline, they are placed under the pectoralis muscle. This method provides additional support and helps to keep the breasts in a higher position for a longer period of time. In situations where a larger implant is desired, a supportive tissue matrix may be used as a sling to hold the implants in place.
Types Of Breast Lift
A breast lift is not a one-size-fits-all procedure. While the end goal is usually the same, the surgical method that Dr. Jonov uses will vary based on your anatomy, preferences, and goals for the surgery. Among the most commonly performed types of breast lift include:
Standard:
This is the basic breast lift procedure. This procedure utilizes an incision around the areola, down the breast, and along the breast crease. Usually, anchored shaped, this incision allows Dr. Jonov to remove the most excess skin and repair droopy breasts.
Doughnut:
Like the name implies, this type of breast lift only includes an incision around the areola. A doughnut breast lift is ideal for those with smaller breasts and who have only a moderate amount of sagging. The incisions are typically well hidden in the areola and in good candidates can provide a natural looking lift to the breasts.
Lollipop:
The happy medium between a standard lift and doughnut lift, the lollipop breast lift features an incision around the areola and down the breast. Unlike the standard lift, the incision does not extend along the breast crease. One of the most popular Seattle breast lift options, a lollipop lift allows for less visible scarring than a standard lift, but more removal and lifting capabilities.
Which One Is Right For Me?
The type of breast lift that will give you the best results will depend on the amount of breast ptosis you have. Additionally, your health, end goals, and other factors all affect which lift option will suit you.
During a consultation at The Gallery of Cosmetic Surgery, Dr. Jonov will examine your medical history, goals for the procedure, and breasts to determine which technique will offer you the best results.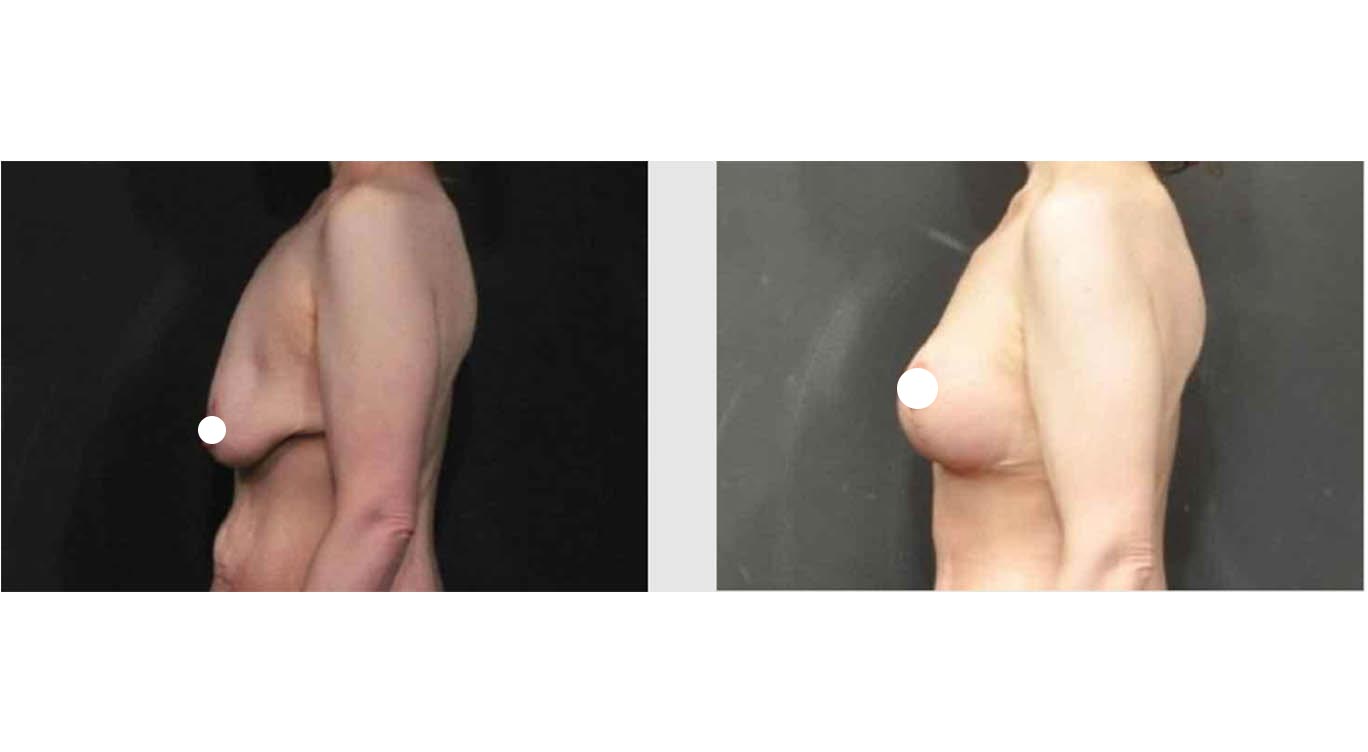 Before & After Breast Lift
Benefits Of A Breast Lift In Bellevue
For those with severe breast sagging, a breast lift can improve quality of life and the way a patient feels about their body. Individual benefits will vary between patients. Some of the common benefits that Bellevue breast lift patients enjoy include:
Correction of sagging breasts
Customizable procedure
Increase in self esteem
Improvement of breast shape
Correction of breast asymmetry
Repositioning of drooping nipples
Easy to combine with nipple correction, breast augmentation, or reduction
Maintaining Results
The breasts are subject to changes throughout your life in response to lifestyles, medical conditions, hormones, and pregnancies. This means that before you undergo your procedure you should discuss your full medical history with Dr. Jonov, so that he can account for your needs.
In addition, large weight fluctuations and pregnancy can eliminate or compromise your breast lift results. In most cases, Dr. Jonov prefers that all planned pregnancies and weight loss are completed prior to undergoing a breast surgery in Bellevue.
Otherwise, the best way to maintain your results is to practice a healthy lifestyle that includes a varied diet and frequent exercise.
Questions about Breast Lift Augmentation
Breast Lift or Implants?
Breast augmentation surgery with implants will help with size, but it will not help women if their breasts sag or droop downward past a certain point. Some doctors may use implants to help with sagging. With this approach, the immediate results may look better, but the additional weight causes the breasts to sag further. Some women find a breast lift is the only procedure they need to obtain the fullness they desire and determine implants aren't necessary. During the consultation, we will discuss whether a breast lift, breast augmentation, or a combination of both will attain the best results.
Nipple/Areola Placement?
During a breast lift procedure, the nipple and areola will be placed in a location on the breast that is natural and proportionate. The goal during this surgery is to reduce the size of the areola (the area surrounding the nipple) so it looks balanced with the new breast size and shape.
What About Scarring?
There is no way to avoid making the necessary incisions to complete the surgery. Therefore, some scarring will result from this procedure. Every effort is made during surgery to minimize scarring. Most women feel that the physical results following the procedure are worth the scars left behind. During the consultation, we will provide detailed post-operative scar care instructions.
Additionally, we will prescribe our proprietary scar protocol that helps reduce the appearance of scarring as you heal. Starting around a week after surgery, our scar treatment was designed specifically to minimize scarring in cosmetic surgery patients.
Breast Reduction?
You can combine a breast reduction surgery with a lift to help achieve the size and shape you desire. The breast reduction surgery procedure is very similar to a lift, but with the added step of removing more breast tissue in conjunction with excess skin.
Contact Us
To schedule a complimentary consultation with Dr. Jonov or with questions about breast plastic surgery at The Gallery of Cosmetic Surgery serving Kirkland, Bellevue & Seattle, WA.
Your Consultation
At your consultation with Dr. Jonov, he will want to understand your goals and concerns. This will help him gauge the best surgical technique and procedures. After this, he will want to know your medical history and conditions. Finally, he will physically examine you and your breasts to determine if you are a candidate for a breast lift at The Gallery of Cosmetic Surgery.
If he believes the procedure would benefit you and can achieve your cosmetic goals, he will work with you to create a personalized plan for your breast lift.
During/After Breast Lift Surgery
Breast lift surgery is performed under general anesthesia and is considered an outpatient procedure. Operative time in most cases is between 1-2 hours. Recovery following a breast lift will vary depending on whether it was a stand-alone surgery or if it occurred in conjunction with another body contouring procedure. Most patients are able to resume their normal work schedules within a few days. Exercise will be a gradual process. Most women are able to resume their normal routines within 6-8 weeks. This includes running and weight training.
Can I Combine It With Other Procedures?
Breast surgery patients often combine their breast lift with another procedure to enhance and improve their results. Most commonly, a breast lift is performed at the same time as a breast augmentation. This allows for an increase in breast size, improvement of shape, and can resolve other issues with the breasts.
Conversely, as mentioned above, for those with breasts too large for their frame, a breast reduction and lift can improve the appearance of the breasts and sometimes provide relief from pain caused by overly large breasts.
You do not have to combine your breast lift with another breast procedure. A tummy tuck, Brazilian butt lift, or even a facial plastic surgery, Dr. Jonov can usually perform at the same time. If you are interested in combining procedures with your Kirkland breast lift, tell Dr. Jonov at your consultation and he can determine whether you are a good fit for combining plastic surgeries.
Premier Breast Lift Surgery in Seattle, Bellevue, and Kirkland
Dr. Jonov at The Gallery of Cosmetic Surgery is a double board-certified cosmetic surgeon who specializes in breast surgery. He has two decades of experience providing the Seattle area with the best breast plastic surgery procedures. Dr. Jonov values the outcome-oriented aspect of cosmetic surgery and understands breast symmetry and proportions.
Along with breast lifts, Dr. Jonov has performed hundreds of breast surgeries and keeps you involved at every step of the process. From determining the best technique, deciding if you want to combine procedures, and outlining your goals, Dr. Jonov makes sure that he works with you to create an individualized plan that suits your needs.
The Gallery of Cosmetic Surgery offers a comfortable atmosphere for all of your appointments. From consultation to surgery day to post-operative appointments, our office always offers amenities like water, hot coffee, tea, and freshly baked cookies. Our team will ensure you are comfortable and well cared for during all of your appointments.
To schedule a consultation with Dr. Jonov, call The Gallery of Cosmetic Surgery at 425-775-3561 or contact us using the form above.
"From the beginning I've been very please with the outcome of my breast augmentation surgery. Even while I was in the beginning stages of healing I could tell that things were going to look great once I was healed, and I was right. I'm very thankful that I found Dr. Jonov to perform my surgery. I get a lot of compliments of how great my breasts look, and even how they look natural.

Jessica

I still am amazed just how great they look!