Brow Lamination Bellevue & Kirkland
For thousands of years, people have altered the look of their eyebrows. From completely plucking them out to dyeing them, the brows have seen many beauty standards come and go. Some of these alterations have to be made daily or could permanently damage the eyebrows. However, with today's techniques and technology, we can now provide longer lasting results with less risk. One of the best brow enhancement options is brow lamination. The Gallery of Cosmetic Surgery provides the best brow lamination Bellevue and Kirkland offers. 
Understanding Brow Lamination
In the simplest of terms, brow lamination is a perm for your eyebrows. It forces the eyebrow hairs to sit neatly in the desired direction and position. It gets the name "brow lamination" because of the plastic wrap used when the various lotions are applied throughout the process. Thus, it can look like the brows are being "laminated."
Brow lamination is a non-surgical procedure that takes about half an hour to forty-five minutes to perform on average. While this is probably longer than doing your brows in the morning, it lasts for about four to six weeks. Also, it can achieve more refined results than makeup can. 
For example, some people with thicker, bushier brows can find that their brow hairs become unruly. Professional lamination can neaten this up, sometimes in combination with a gentle wax or basic plucking. Since the brow hairs all go in the same direction, it can make a major difference in the look of the eyebrows. It also maintains a fluffy brow for definition and prominence.
Brow Types During Lamination
No two people have the same eyebrows. The ideal lamination technique will depend on several factors such as the thickness of your brows, skin type, the direction of hair growth, and type of hair. Each will react slightly differently to lamination. Below is a comprehensive guide to how each type tends to respond to brow lamination.
Straight:

Brows comprised of straight hair–whether thick or thin–tend to respond well to brow lamination. Thicker brow hairs may require the solutions to set longer or a higher concentration of them.
Curly:

Curly brows will respond to brow lamination, though initially, the results will not look as good as with straight hair. However, after a few sessions, the hair will start to respond more and more to the lamination process.
Thick:

Thick hair may require your master esthetician to leave the solutions on for longer than average. It can take more of the solutions to penetrate the hairs and loosen them so that they can be manipulated into the desired position.
Thin:

If a patient has thinner brow hairs, they may leave the solution on for only a few minutes. Usually, it is left on for about five minutes, but they may leave it on for as little as two or three minutes in some situations.

Sparse: If you have sparse eyebrows–whether naturally or due to a medical reason–brow lamination may not be the best treatment. In these cases, microblading may be recommended. However, if you are growing out your eyebrows, a brow lamination can help once you reach a certain point of growth.
Benefits
Having the brows professionally laminated does come with many benefits. For people who are busy, but still want to look their best, this is an ideal treatment. Some of the advantages and benefits of brow lamination in Bellevue include:
Fuller looking brows

Neater brows

More defined brow shape

More even eyebrows

Corrects unruly brow hairs

Disguise patchiness

Non-invasive and non-surgical

Semi-permanent, allowing you to keep up with brow trends

No associated pain

Takes less than an hour

Lasts a few weeks on average

Few risks

Safe and viable treatment for most people

Saves time and money

Reduced need for brow makeup

Performed by an experienced master esthetician
Brow Lamination vs. Brow Tint
Another popular non-surgical, temporary brow enhancement is a brow tint. This procedure is sometimes combined with brow lamination. While they have different core goals, the two often achieve similar results. Understanding the difference between these two procedures can help you determine which will best suit your goals and brows. The table below provides some of the major differences between brow lamination and a brow tint.
Brow Lamination
Brow Tint

Focuses on the position of the hair

Involves two solutions to move the hair into the right position

Can hide patchiness or other mild hair loss

Cannot treat overly sparse brows

Can last four to eight weeks on average

May make subtle changes to the shape and arch of the brow

Focuses on hair color

Involves only the application of the brow tint dye

Does not disguise hair loss, only enhances the look of the brows

Brow volume and thickness not important to treatment

Last around four to six weeks

Does not alter shape or brow arch at all
If you have fairly neat brows and are happy with the shape, then a brow tint may be the ideal option. For those with unruly brows, then brow lamination may yield better results. Additionally, in some cases, your master esthetician may recommend performing both treatments for optimal eyebrow enhancement.
Brow Lamination From Start To Finish
Consulting With A Master Esthetician
The first step to undergoing brow lamination in Bellevue is to schedule a consultation with a master esthetician. At this appointment, they will ask you about your goals for the appearance of your brows, relevant medical history, and your preferences. From there, they may perform a brief examination of your eyebrows and the surrounding skin.
If your master esthetician believes you are a good candidate for brow lamination, they will describe the procedure in-depth as well as the specifics. For example, if you want to add a tint, a specific shape you want to achieve, or if the solutions need to be left on longer.
Before leaving The Gallery of Cosmetic Surgery, you will receive a finalized price quote and can schedule your brow lamination appointment. In some cases, you may be able to schedule the appointment at the same time as your consultation.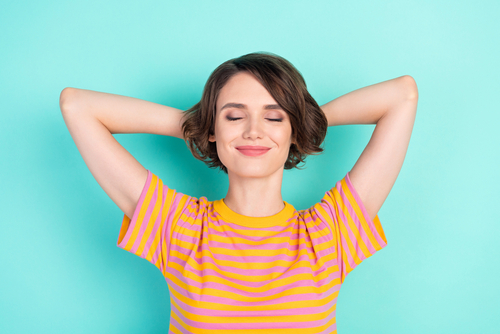 Botox has many incredible uses aside from anti-aging. It can help prevent excessive sweating, promote TMJ healing, muscle spasms, and more. One of the top medicinal uses of Botox is…
Laminating The Brows
Brow lamination begins with a thorough cleaning and disinfection of the eyebrows. This removes surface debris and built-up makeup. This promotes a better result. While it does not break the skin, it does have a small chance of causing an infection or breakout. Disinfection helps prevent this.
After this, your master esthetician will apply the lifting lotion–or perm solution–which makes the brow hairs malleable. This sits for about five minutes and is covered with plastic wrap. Your master esthetician will then remove the wrap and brush the brow hairs into the desired position. Next, they will apply the setting solution. This sets the hairs into the desired position. Again, this will sit for roughly five minutes depending on the thickness of your hair.
At this point, your master esthetician will clean up the eyebrows and the lamination process is finished. If you are going to have a tint at the same time, this will typically follow the brow lamination. Otherwise, your treatment is complete.
Aftercare
Brow lamination does not require downtime and has few, if any, side effects. However, it will take one to two days for your brows to fully settle. This means that you should follow some basic instructions your master esthetician gives you. These may include:
Do not get the brows wet for at least 24 hours

Avoid sun exposure as much as possible

Do not apply makeup in the area

Use only approved skincare and cease all skincare temporarily

Schedule other facial cosmetic treatments (chemical peels, facials, injections) for two weeks before or after your brow lamination
I have been very pleased with the services that I have received at The Gallery of Cosmetic Surgery. There is never any pressure to spend money on other services and everything is explained fully. I highly recommend going there for any treatments you feel are necessary.

Grace
Staff very pleasant, professional and nice. This was my first time visiting a cosmetic provider and they made me feel very comfortable.

Deidra
I just wish there was a gallery on my side of the Sound! Thanks for keeping everyone astonished when I tell them my real age.

Robin
Always a pleasant and professional experience.

Melanie
Frequently Asked Questions
What Should I Not Do Before Brow Lamination?
Do not have any other brow treatments performed for at least a week before your brow appointment. If you need waxed or plucked, your master esthetician will do it during the treatment. Also, as mentioned before, schedule any non-related procedures such as cosmetic injections about two weeks before or after brow lamination. This prevents either treatment from interfering with the other or causing complications.
You should also avoid retinoids and some more abrasive forms of skincare in the twos weeks leading up to brow lamination. In some cases, such as if you have thinner or sparser brows. Your master esthetician may recommend letting the brows grow out a bit before lamination for the best results.
Is It The Same As A Lash Lift?
It is the eyebrow equivalent, yes. Brow lamination works in basically the same way, though the goals are slightly different. A lash lift–while it can untangle lashes–cannot completely neaten the lashes in the same way as eyebrow lamination does.
Can Brow Lamination Cause Eyebrows To Fall Out?
In rare cases, it can cause the natural brows to fall out. However, this is exceptionally rare. Normally, it only occurs when brow lamination is performed too soon after previous treatment or as an allergic reaction. These situations are usually preventable. Your master esthetician and brow expert will screen you to determine if you are a good candidate.
Does Laminating Eyebrows Hurt?
No, brow lamination is actually quite relaxing for most people. Occasionally, waxing or plucking may be performed. This is minimal, temporary pain and does not constitute the majority of the procedure.
How Much Is Brow Lamination In Bellevue?
Brow lamination in Bellevue and Kirkland at The Gallery of Cosmetic Surgery starts at $75. Adding a tint or additional procedure may change the cost. To find more about our pricing visit our price list or Price Simulator app.
The Top Master Estheticians For Brow Lamination At The Gallery Of Cosmetic Surgery
The Gallery of Cosmetic Surgery is a premier plastic surgery practice and medical spa located off I-405 in Lynnwood. With a welcoming and luxurious atmosphere, The Gallery of Cosmetic Surgery includes top-of-the-line providers and uses medical-grade ingredients for all procedures. With two additional locations in Seattle and Kirkland, our team is here to help you achieve all of your cosmetic goals. The Gallery of Cosmetic Surgery offers the best brow lamination Bellevue and Kirkland provides.
Our master estheticians have undergone esthetic and basic medical training. This allows them to perform brow lamination in a safe and medically focused environment. With medical personnel always on-site, you can feel reassured during your brow lamination. 
To learn more and schedule a consultation, call us at 425-775-3561. You can also reach out online via Price Simulator, chat, or our contact form.