$119
Small area
(such as upper or lower lip)
$299
Medium Area
(Neck, Underarms or Bikini)
$429
Large Area
(Upper Leg or Lower Leg)
TRANSGENDER LASER HAIR REMOVAL BELLEVUE & KIRKLAND
Body hair removal is one of the regular grooming rituals most people undertake. For many, missing a day or annoyance with shaving is commonplace and not considered a big deal. However, for transgender individuals, especially transwomen, body hair may cause painful feelings of dysphoria. While easily removed, the amount of hair removal necessary makes it a daunting task that may take up hours every day. Luckily, laser hair removal is a great option for patients wanting to permanently remove hair as part of a transgender transition. The Gallery of Cosmetic Surgery provides the best transgender laser hair removal Bellevue and Kirkland offers.
LASER HAIR REMOVAL DURING TRANSGENDER TRANSITION
Top surgery and other gender affirming surgeries are better associated with transitioning. However, for many transgender people, non-surgical procedures play just as important of a role. Fillers, skincare procedures, among others all can aid in a transition. Whether that be treating hormone related acne or removing unwanted hair, The Gallery of Cosmetic Surgery serves all the needs of our transgender patients.
Where body hair grows, its growth patterns, and thickness have a relation to a person's gender assigned at birth. Male assigned at birth people tend to grow more body hair. They may have hair on their chest, back, face, and stomach. The hair on their legs and arms also tends to be coarser and thicker. 
Women assigned at birth people tend to have less body hair overall. The hair on their arms and legs is typically thinner and less coarse. They often have very little hair on their chests, stomach, back, and face. Hair present in these areas is comparable to peach fuzz and not always easily visible.
Therefore, when a transgender person decides to transition, removing or altering their body hair is often an important aspect. For transwomen, permanently removing the hair on their face and body would significantly improve their quality of life. Conversely, transmen normally want to induce hair growth which is achieved via hormones.
Benefits
There are many benefits to transgender laser hair removal. Not only can it significantly increase quality of life, but it can also quite literally change the life of someone with gender dysphoria. Some of the benefits include:
Lessens and treats gender dysphoria

Permanent removal of unwanted hair

Minimal maintenance required

Can treat any body area (with exception of the eyebrows)

Little aftercare

Cuts down on razor burn and injuries due to at-home hair removal

Allows for less or no shaving

Lessens grooming time required to fit ideal appearance

Little to no pain

Low risk

Can treat skin of any type and tone

Minimally invasive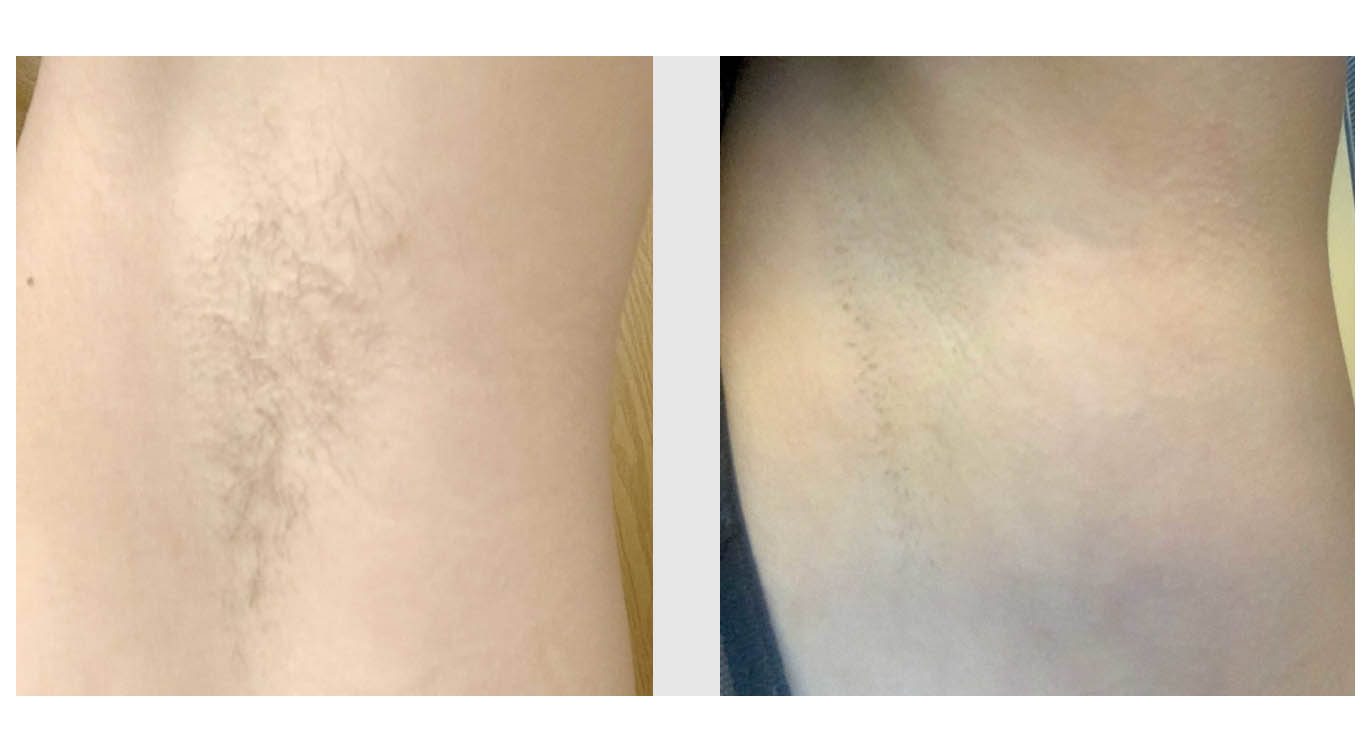 Before & After Of Underarm Laser Hair Removal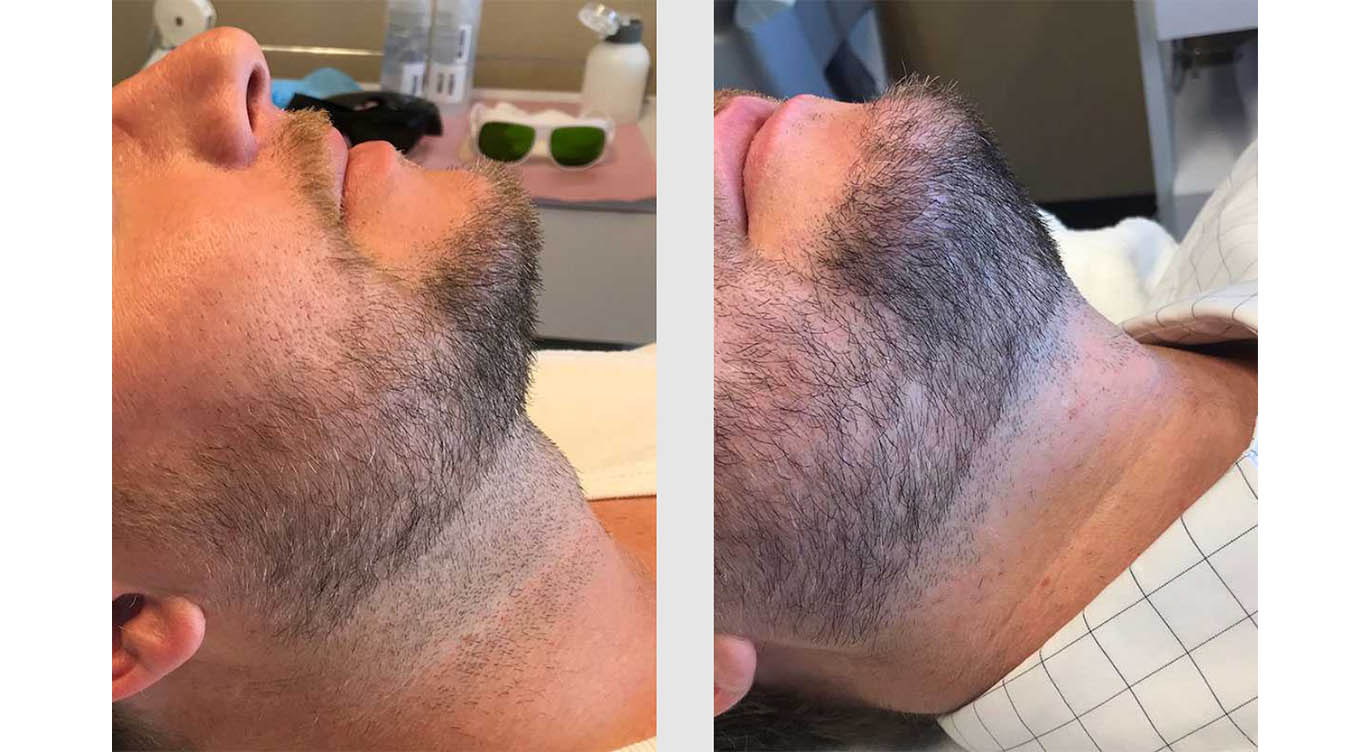 Before & After Of Neck Laser Hair Removal
I've been coming here for laser hair removal. They are always nice and courteous. My esthetician is very nice and always answers all my questions.

Karen
My master esthetician is so sweet and patient. She does a great job and I've been very pleased with the laser hair removal proccess. Painless and effective 😊

Adina
They do a great job explaining the process and takes the time to educate patients about how their hair laser equipment works. I'm looking forward to less shaving. Warm staff, very welcoming.

Kathleen
Had a great consultation for laser hair removal. Very informative.

Nilly
Laser Hair Removal For Transmen vs. Transwomen
Transmen and transwomen usually take different approaches to laser hair removal in Bellevue. As previously noted, transmen often want to grow hair, not remove it. However, if they plan to undergo bottom surgery, they may need to get rid of hair on their thigh or forearm. In this case, laser hair removal is a great option.
Every transwoman will have different goals concerning their laser hair removal. Some may only want to do their face while others may want to do their entire body. Our master estheticians can accommodate any treatment plan based on the patient's preferences. Common places transwomen seek laser hair removal include chest, stomach, chin, and neck.
LASER HAIR REMOVAL vs. ELECTROLYSIS
Electrolysis is another permanent hair removal option offered to transgender people. The Gallery of Cosmetic Surgery does not offer electrolysis, but may recommend it to you in certain situations. For example, if you have light colored hair (typically blond, gray/white, or red), electrolysis is your best option. The table below shows the main differences between the two hair removal procedures.
Laser Hair Removal
Electrolysis

Uses lasers

Cannot treat light hair

Better at treating larger areas

Minimal procedure time

Make the skin more sensitive to the sun

Higher risk of pigmentation issues

Touch up treatments once a year may be needed

May treat coarse hair better

FDA approved for hair reduction

Uses electrical currents

Can treat hair of any color

Cannot cover large treatment areas

Longer procedure time

Considered more painful overall

Higher risk of scarring

Less likely to see residual hair growth once finishing treatments

May require double the treatments compared to lasers

FDA approved for hair removal
The two procedures also have many similarities. Some of the commonalities between laser hair removal and electrolysis include:
Minimal risks

Requires a licensed professional to perform

Little to no downtime

Few side effects

Require multiple treatment sessions

Can be used on any area of the body (you just have to avoid too near the eyes with lasers)

Provide long lasting hair removal
BEFORE & AFTER LASER HAIR REMOVAL
Consultation
The first step in undergoing transgender laser hair removal in Kirkland is to schedule a consultation with a master esthetician. At this appointment, your master esthetician will ask about the areas you want to treat, your medical history, and other relevant information. They may examine the treatment areas in some cases. 
If they believe you are a good fit for laser hair removal treatments, they will explain the procedure and create an individualized plan. At this point, you will also receive pricing information and instructions to follow before and after the procedure.
Procedure
On the days you have laser hair removal, you will need to come in clean shaven in the treatment areas. This allows the laser to better penetrate the hair follicle. It also reduces discomfort and the risk of burns.
First, you will change if necessary and get comfortable. Your provider will start by disinfecting the treatment areas. They may apply numbing cream, though if it is a small area it may not be necessary. After wiping away the numbing cream, they will apply ultrasound gel to smoothly guide the laser.
Your master esthetician will then begin gently touch the laser to your skin. Activating the laser, there will be a quick pulse of light. Many patients describe the feeling of laser hair removal as a rubber band snapping against the skin. Therefore, most do not find it overly painful or unbearable.
Depending on the number and size of the areas, the treatment can take anywhere from fifteen minutes to close to two hours. Your master esthetician can provide a better estimate of how long each session will take during your consultation.
Contact Us
To schedule a complimentary consultation with Dr. Jonov or with any questions about Laser Hair Removal at The Gallery of Cosmetic Surgery serving Kirkland, Bellevue & Lynnwood, WA.
Aftercare
Laser hair removal requires little aftercare. Patients can return to work and the majority of their activities the same day. Your master esthetician may give a few instructions such as:
Avoid exercising or raising your body temperature for at least a day

Keep the treated areas out of the sun as much as possible

Wear broadband SPF

Do not apply any products (including makeup, lotions, and deodorant) for a day

Avoid picking at the area

May begin light exfoliation after about five days to a week
Aftercare instructions may vary depending on your specific treatment, medical history, and other aspects of your procedure. Your master will describe all of the required aftercare protocols after finishing your Kirkland transgender laser hair removal service. Furthermore, following the instructions your master esthetician gives you will give you the best chance of optimal results.
FREQUENTLY ASKED QUESTIONS
Will Insurance Cover Transgender Laser Hair Removal?
Unlike other gender affirming procedures, laser hair removal is not usually covered by health insurance. Though, our insurance coordinator and team are happy to work with you to answer questions about insurance coverage. Additionally, The Gallery of Cosmetic Surgery does work with outside medical financing companies. You can find more information and direct links to apply on our financing page.
How Long Does MTF Laser Hair Removal Take?
The number of sessions to see near permanent results will vary for every individual. The face–one of the most common areas for transwomen to treat–is one of the most stubborn hair removal areas. Generally, patients begin seeing meaningful results after about four to six sessions.
Even after finishing your initial round of sessions, you may still need to come in occasionally to touch up. Though, even if you see hair growth following laser hair removal, the hair is usually thinner, sparser, and easier to manage. Moreover, your hair should never return to the full extent of what it was before treatment.
Does It Matter If I'm Taking Hormones?
No, you can have laser hair removal performed whether or not you are on hormone therapy. You should inform your master esthetician of the specific hormones you are taking as this can affect your treatment. Otherwise, it is perfectly safe to undergo laser hair removal while taking or having taken hormones.
Do I Have To Have Laser Hair Removal To Transition?
Not at all! A transgender transition is an extremely personal process that should only be dictated by the individual. Whether or not a person undergoes laser hair removal as part of their transition is totally up to them. 
Some transwomen never experience gender dysphoria concerning their body hair. This is completely normal and does invalidate a transgender person's identity or experiences.
Do The Providers Have Experience With Trans Patients?
Yes, our master estheticians who perform laser hair removal in Kirkland have extensive experience with transgender clients of diverse backgrounds. Additionally, our plastic surgeons perform many gender affirming surgeries like facial feminization, FTM top surgery, and MTF breast augmentation. We are one of the top clinics for transgender laser hair removal in Washington State.
How Much Is Laser Hair Removal In Bellevue?
The cost of laser hair removal is determined by the size of the treatment area(s) and the number of sessions. You can find more information about what constitutes small, medium, and large areas on our price list. Below are the starting packages for laser hair removal.
Small Area (four sessions) $119

Medium Area (four sessions) $299

Large Area (four sessions) $429
THE BEST TRANSGENDER LASER HAIR REMOVAL IN BELLEVUE AND KIRKLAND
Laser hair removal is an important step for many transgender people during their transition. At The Gallery of Cosmetic Surgery, we have worked with the trans community for years. Creating a friendly, affirming, and welcoming environment we treat all of our patients with the utmost respect and courtesy. Our master estheticians have years of experience performing the best transgender laser hair removal Bellevue and Kirkland provide.
Having trained beyond traditional esthetician education, our master estheticians combine knowledge of the skin and beauty with proven medical techniques. They will craft a plan personalized to your needs. 
To schedule a consultation at The Gallery of Cosmetic Surgery, call us at 425-775-3561. You can also reach out online via Price Simulator®, chat, or contact form.