$119
Small area
(such as upper or lower lip)
$299
Medium Area
(Neck, Underarms or Bikini)
$429
Large Area
(Upper Leg or Lower Leg)
Overview: Laser Hair Removal
Laser hair removal is a cosmetic procedure that uses a laser beam of light to target and remove unwanted hair. This light travels through the skin to hit the hair follicle, permanently destroying it. This procedure can remove up to 80-100% of the hair in a specific area. Both men and women are candidates for laser hair removal. The most common treatment areas include the legs, bikini area, underarms and face for women, and back, chest, legs, arms and face for men.
About Laser Hair Removal Bellevue & Kirkland
Throughout the procedure, patients will feel slight pressure as the device is pulling up the skin. However, the laser beam itself only feels like a light sting. Most devices are made with a cooling sequence that occurs between the laser pulses, which helps ease discomfort and reduce the chance of unwanted side effects. There are multiple laser hair removal vacuum devices on the market today that come in different sizes depending on the size of the area being treated. The laser technology will depend on what works best with your hair texture and skin type.
Diode Laser Technology: The Best For Laser Hair Removal
At The Gallery of Cosmetic Surgery, we use a diode laser for our laser hair removal procedures. A diode laser is designed to target only specific types of melanin and structures. This makes it ideal for procedures such as laser hair removal and laser tattoo removal where the treatment is meant to target the hair or tattoo respectively.
Compared to lasers of the past, the newest diode lasers are especially gentle. Patients rarely feel unbearable pain during treatment. They are also less likely to cause hyperpigmentation or hypopigmentation which makes our laser hair removal in Bellevue and Kirkland safe for people of all skin tones. Still, a patch test can be performed before treated if desired.
Some of the benefits of diode lasers for laser hair removal include:
Gentler and less painful
Better at absorbing and targeting melanin
Can target coarse and stubborn hairs
Safe for all body areas
More effective, often requiring fewer sessions
Shorter session time
Specifically targets hair follicles to leave skin undamaged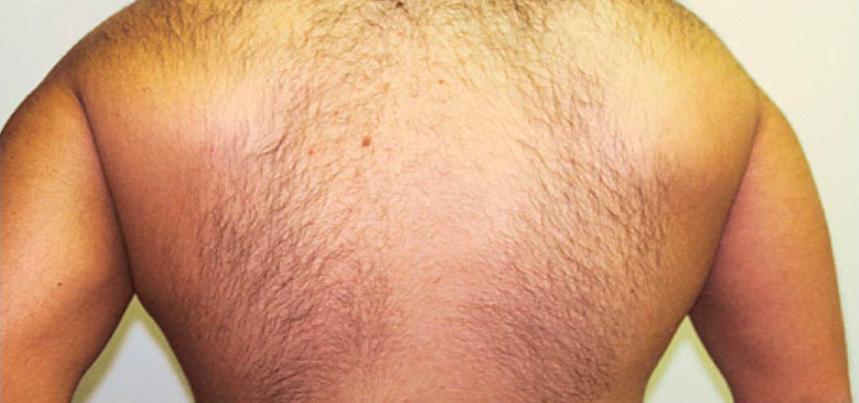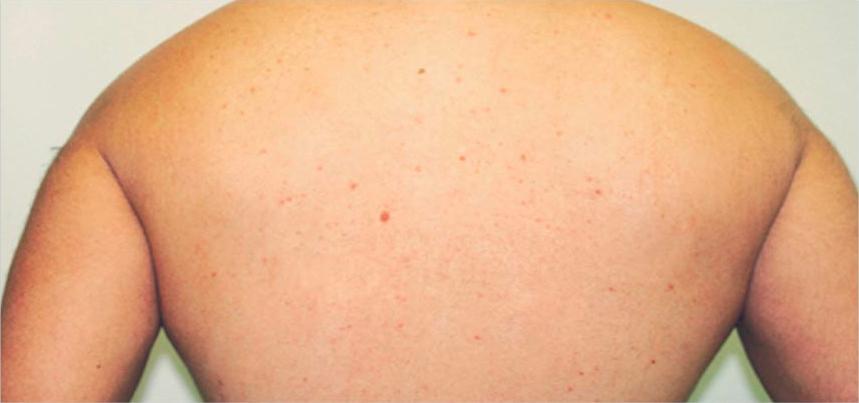 Lip
Chin
Areola
Armpit
Bikini line
Brazilian
Neck
Cheeks
Feet
Lower leg
Upper leg
Lower back
Upper back
Chest
Other body areas are possible to treat in certain situations. Ask your master esthetician about all the areas you want to treat.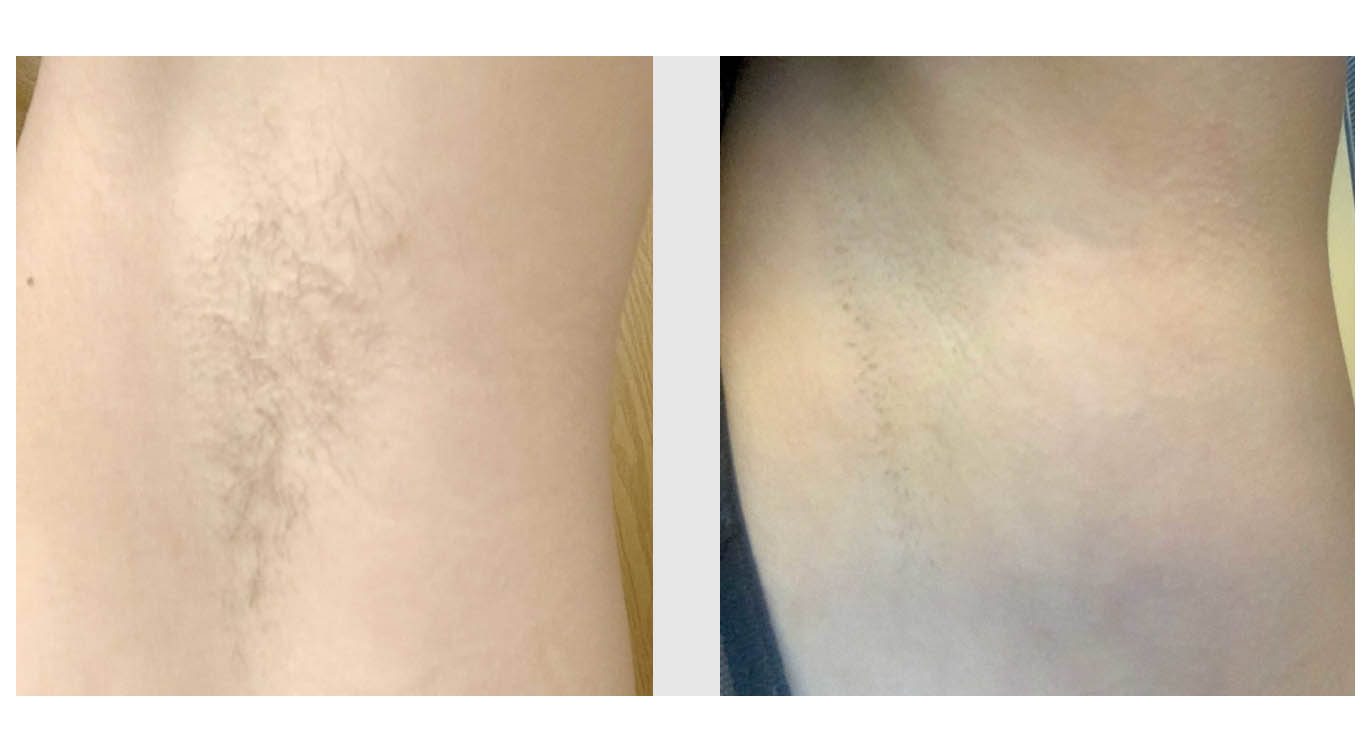 Before & After Of Underarm Laser Hair Removal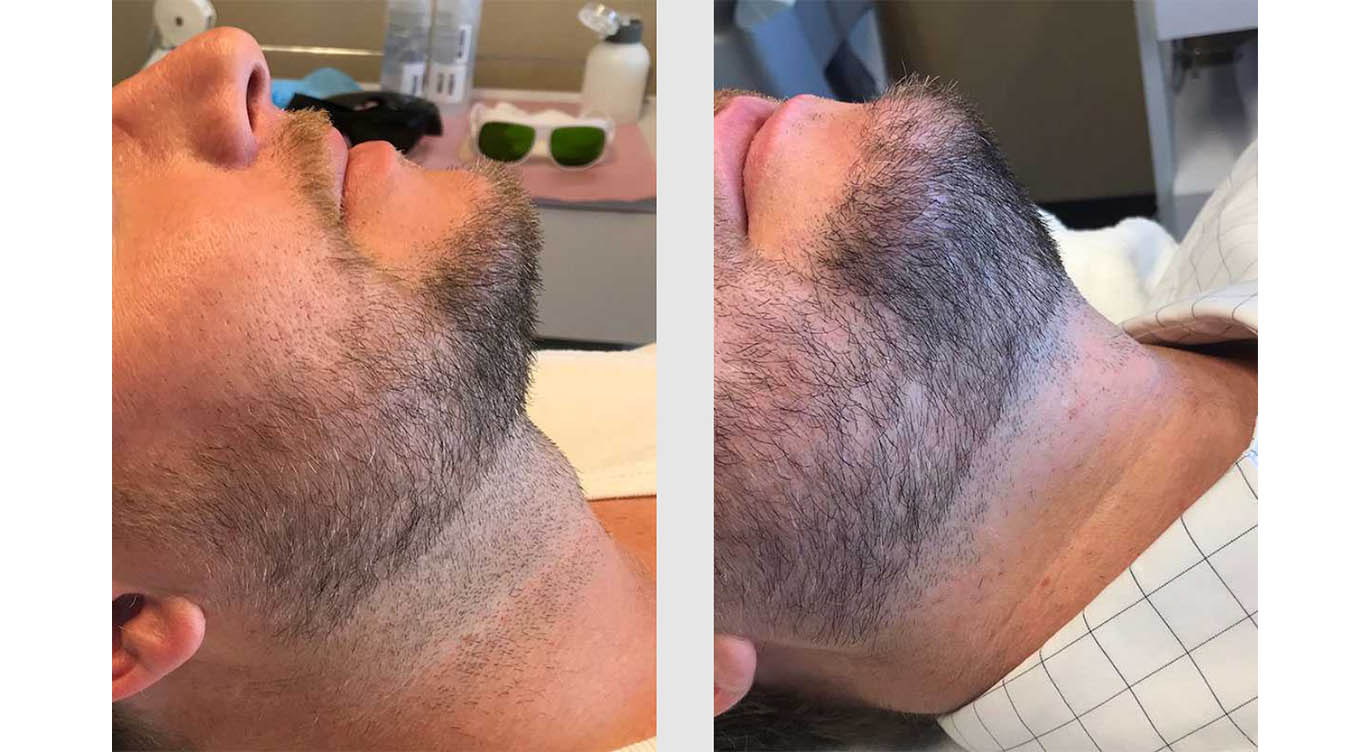 Before & After Of Neck Laser Hair Removal
During Laser Hair Removal
During Bellevue laser hair removal, your master esthetician will place the laser directly on top of the skin where the hair resides to draw the skin into the handheld piece of equipment. The device stretches and pulls the skin thin so the energy source can target the melanin in the hair.
Your master esthetician will then trigger the laser and it will emit a quick pulse of light and heat. The melanin in your hair absorbs this and makes it difficult for it to grow back. When performed over the course of the different growth cycles, this can create long lasting, if not permanent results. Most patients see long last results after four to six sessions.
Aftercare
After laser hair removal, you will want to keep the treatment area covered. Your skin will be more sensitive to the sun and optimal results rely on staying out of the sun. Our master estheticians also recommend avoiding strenuous exercise, saunas, or any other situation where you may sweat excessively. Usually, you only need to avoid these activities for a day or two.
You may notice some redness or bumps. These are normal and should go away on their own. If treated on the face, it is best to avoid wearing makeup for 24 hours. Eventually, you may notice some of the dead hairs fall out and shed. This can happen as soon as a few days afterward to a month.
Contact Us
To schedule a complimentary consultation with Dr. Jonov or with any questions about Laser Hair Removal at The Gallery of Cosmetic Surgery serving Kirkland, Bellevue & Lynnwood, WA.
Our Master Estheticians
The master estheticians at The Gallery of Cosmetic Surgery trained extensively in laser hair removal and other laser procedures. Having undergone additional training following esthetician school, our master estheticians are experts in bridging the gap between cosmetics and medicine. Their training consisted of facial anatomy, skin diseases and conditions, and learning how to use medical grade lasers.
Along with the best laser hair removal in Bellevue and Kirkland, our master estheticians perform procedures such as chemical peels, microneedling, IPL treatment, dermaplaning, and medical grade facials.
With appointments available at three locations across Seattle, Kirkland, and Lynnwood, our master estheticians are here to serve the Greater Seattle area's cosmetic needs.
Questions About Laser Hair Removal
Ideal Candidates?
Anyone with unwanted hair is a candidate for laser hair removal. However, individuals with darker hair and lighter skin often experience better results. The number of sessions that will be required to produce the desired results will depend on the thickness of hair, how much hair exists in an area, color of the hair, and what the ultimate goal is. Individuals with lighter colored hair may require more treatments.
Transgender laser hair removal is growing in popularity. Given the high number of candidates, many transwomen and transmen seek out laser hair removal to achieve their ideal look.
What Is The Recovery?
Laser hair removal results in zero downtime. The skin will be pink and a tingling sensation may reside on the treated area for a couple of hours after treatment. Patients can leave their appointment and go directly back to work.
Will The Hair Grow Back?
Laser hair removal is considered a solid solution for hair removal, however it is referred to as semi-permanent. There can still be some hair growth that occurs where the laser technology did not hit. Therefore, even though the majority of the hair will be gone, some hairs can still pop up. Patients find that these are tremendously easier to manage than before the original treatments. Additional laser hair removal treatments can also be scheduled to take care of these as well.
Often these hairs can easily be plucked or shaved as they appear and do not require regular maintenance as shaving or waxing does. In turn, this can save you money on razors, shaving creams, and other shaving supplies following your laser treatments.
Why So Many Sessions?
Hair growth occurs in cycles. Some hairs may be in the middle of their growth phase during the treatment session, while others may be dormant. Spreading out the treatment allows the dormant hairs to grow and gives the area time so that all of the hairs are eventually targeted during treatment. Between treatments, the hairs that do grow can be shaved because the follicle is not affected.
Do You Shave Before Laser Hair Removal?
Yes, your master esthetician will instruct you to shave either the night before treatment or the morning of. Shaving allows the laser to precisely locate and target the follicles themselves, not just the hairs. Overall, this makes laser hair removal in Bellevue more effective.
How Long Is It Between Sessions? Can I Do It Every Week?
On average, it is four to six weeks between laser hair removal sessions. This is because the hair growth cycles typically operate in four to six week rotations. At the very least, there will be two weeks between sessions.
Undergoing a laser procedure every week or otherwise too often, risks damaging the skin and puts you at a higher risk of complications such as burns or pigmentation issues. It is best to listen to your master esthetician's recommendations on how often to undergo laser hair removal sessions.
Will I Need More Sessions Later?
Potentially, yes. Even though laser hair removal results are often permanent, you may need to undergo occasional maintenance sessions to keep up your results. These typically happen on a yearly or bi-yearly basis. If hair does grow back, it usually comes in thinner and lighter than before. This largely depends on the treatment area, your hair type, and other factors.
I've been gotten laser hair removal for my underarms and legs... This was helpful removing ingrown hairs and little black dots on my legs. They are the smoothest I have ever felt in my life.

Gizelle
I've been coming here for laser hair removal. They are always nice and courteous. My master esthetician is very nice and always answers all my questions.

Karen
They do a great job explaining the process and takes the time to educate patients about how their hair laser equipment works. I'm looking forward to less shaving. Warm staff, very welcoming.

Kathleen
Had a great consultation for laser hair removal. Very informative.

Nilly
Top Laser Hair Removal In Bellevue & Kirkland
The Gallery of Cosmetic Surgery utilizes the high standard and most advanced lasers available. Paired with highly trained individuals with years of experience performing laser hair removal, we provide the best laser hair removal Bellevue and Kirkland offers.
Our facility offers private treatment rooms and a comfortable environment. Our master estheticians understand that laser hair removal can be uncomfortable both physically and mentally when treating a private area. They aim to make every patient as welcome and comfortable as possible.
To schedule a consultation, call us at 425-775-3561. You can also reach out online via Price Simulator™, chat, or contact form.