Blepharoplasty
(Upper OR Lower Eyelids)
$4,285
Blepharoplasty
(Upper AND Lower Eyelids)
$6,595
What is Blepharoplasty / Eyelid Surgery
Blepharoplasty is a surgery offered by Seattle cosmetic surgeon, Dr. Craig Jonov. This procedure helps decrease the appearance of dark circles under the eyes, as well as lifts a sagging eyebrow. While it does not remove "crow's feet" or fine surface wrinkles, you may consider BOTOX for this.We customize each cosmetic eyelid surgery for every patient. It can be performed alone, involving upper, lower or both eyelid regions, or in conjunction with another procedure of the eye, face, brow or nose. Blepharoplasty cannot stop the process of aging, but it can diminish the tired look of loose skin and bagginess in the eye region.
Surgical Technique
Upper Eyelid Surgery
During upper eyelid surgery, Dr. Jonov makes an incision in the natural fold of the lid and extended outward. The incision goes out as wide as possible to address additional skin folds on the outside of the upper eye. Once the incision is made, excess skin, tissue and, in some cases, a small portion of the orbicularis occuli muscle are removed. The doctor closes the incision with absorbable sutures and the scar remains almost completely hidden because of where it resides in the natural crease.
Lower Eyelid Surgery
During lower eyelid surgery, an incision is made along the bottom of the lash line. This allows the surgeon to remove excess fat and tissue. In patients who have puffy lower eyelids but good skin tone, he can perform an approach known as transconjunctival blepharoplasty. This technique puts the incision inside the lower eyelid rather than outside. Patients who have dark circles under their eyes sometimes have a deficiency of fat in these areas. You can use injectables to help fill these soft-tissue deficiencies and improve the appearance of these circles.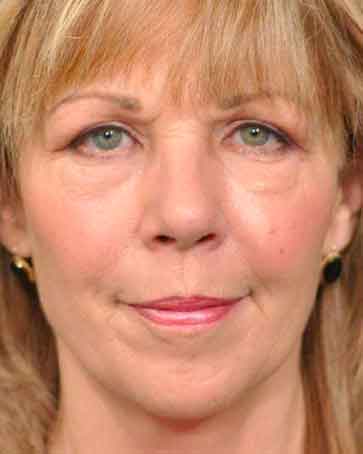 Questions about Eye Surgery
Visible Scars?
After surgery, scarring will not be visible because of where the incisions are placed. In the upper eyelid, the incision follows the natural crease of the eye. The lower eyelid incision will run just under the eyelashes or inside the eyelid. Scarring will be inconspicuous.
Crow's Feet?
Eyelid surgery reduces puffy bags and excess skin and may help contribute to some minimization of crow's feet. However, to truly treat crow's feet, one will need a different approach. BOTOX® injections and procedures such as a browlift, are better options to help eliminate crow's feet.
Irritation After Surgery?
Some patients experience dryness and minimal irritation following surgery. If these occur, we can recommend ointments and eye drops to assist during the healing phase. Patients should protect their eyes against wind and sun irritation for the first several months by wearing dark sunglasses.
Vision Improvement?
If anything, eyelid surgery actually helps improve the vision for many patients. Not only does it restore a fresh, younger look from a cosmetic standpoint, it eliminates the excess skin that may have impaired vision. It is important to select a skilled surgeon who has expertise with eyelid surgery. We take great care during this surgery so that the eyes themselves are left untouched and unharmed.
Contact Us
To schedule a complimentary consultation with Dr. Jonov or with questions Eye Surgery at The Gallery of Cosmetic Surgery serving Kirkland, Bellevue & Lynnwood, WA.
During/After Eyelid Surgery
Dr. Jonov performs eyelid surgery under general anesthesia as an outpatient procedure in an accredited surgical facility. It generally takes up to 2 hours to address both the upper and lower eyelids. Following surgery, the area around the eyes will be bruised and swollen. Patients should apply ice packs, keep their heads elevated, and apply medicated eye ointment for a few days. Patients comment on the fact that friends and family tell them they look great, but often can't put a finger on what is different. These subtle, yet dramatic results restore a softer, more youthful appearance.
After blepharoplasty surgery, you should not undergo any lash services including lash lifts, last tints, or eyelash extensions for an extended period of time. For some, it may be recommended that you cease lash services altogether.
"Great doctor with awesome nurses and staff. Just a great experience with the perfect outcome. I look years younger now!

Beth

Great Job Dr. J!