Pre-Event Glam Package
(4 full treatments; 1 Chemical Peel, 1 Microneedling, 1 Dermaplaning, Choice of 1 Rain Facial OR Oxygen Facial)
$599
Glow Up Package
(3 peels & 3 Microneedling Sessions)
$950
Make It Rain Package
(5 full treatments; 3 Rain Facials, 1 Dermaplaning, Choice of 1 Enzyme Peel OR 1 Zombie Carbon Laser Peel)
$699
Procedure Time: 30 Min - 1 Hr
Recovery Time: Little to None
BELLEVUE & KIRKLAND FACIAL SPECIALS: THE PRE-EVENT GLAM PACKAGE
Before a big event, people often prepare and care for their skin hoping that it looks glowing and healthy in time. Daily skincare is important to healthy skin, but achieving glowing skin that is red carpet ready, can be a difficult endeavor. The master estheticians at The Gallery of Cosmetic Surgery have designed a pre-event facials protocol to get your skin glam and glowing for your event. Using some of the same celebrity skincare treatments do before the red carpet, our Pre-Event Glam package offers the best facials Bellevue, Kirkland, and Lynnwood offer.
CUSTOM MEDICAL FACIAL SPECIALS IN BELLEVUE
Unlike a traditional spa facial, our Bellevue facials focus on the treatment of skin concerns using medical grade skincare. Each facial is customized to fit your skin tone, type, and address your specific needs. Our master estheticians have extensive experience performing a variety of esthetic procedures with the know-how to personalize your treatment. 
For convenience and to better serve our patients, our master estheticians assembled two facial packages that address common needs and combinations. The Make It Rain package and Pre-Event Glam package are more cost effective than individually purchasing the included procedures. 
Make It Rain Package
The Make It Rain package is a facials package focused on moisturization. Consisting of three rain facials, dermaplaning, and your choice of an enzyme peel or zombie carbon laser peel, this package can suit most skin needs. Safe for all skin types, this package may especially benefit patients who often experience dry skin. As well as those who simply want to improve the overall quality of their skin.
Pre-Event Glam Package
Concentrating on achieving glowing skin, the Pre-Event Glam package uses medical grade skincare to glow up your skin. The package can also benefit patients not going to a large event. However, the package was specifically designed to deliver red carpet worthy skin within a condensed timeline. The package includes one chemical peel, a microneedling session, dermaplaning, and your choice of a rain or oxygen facial.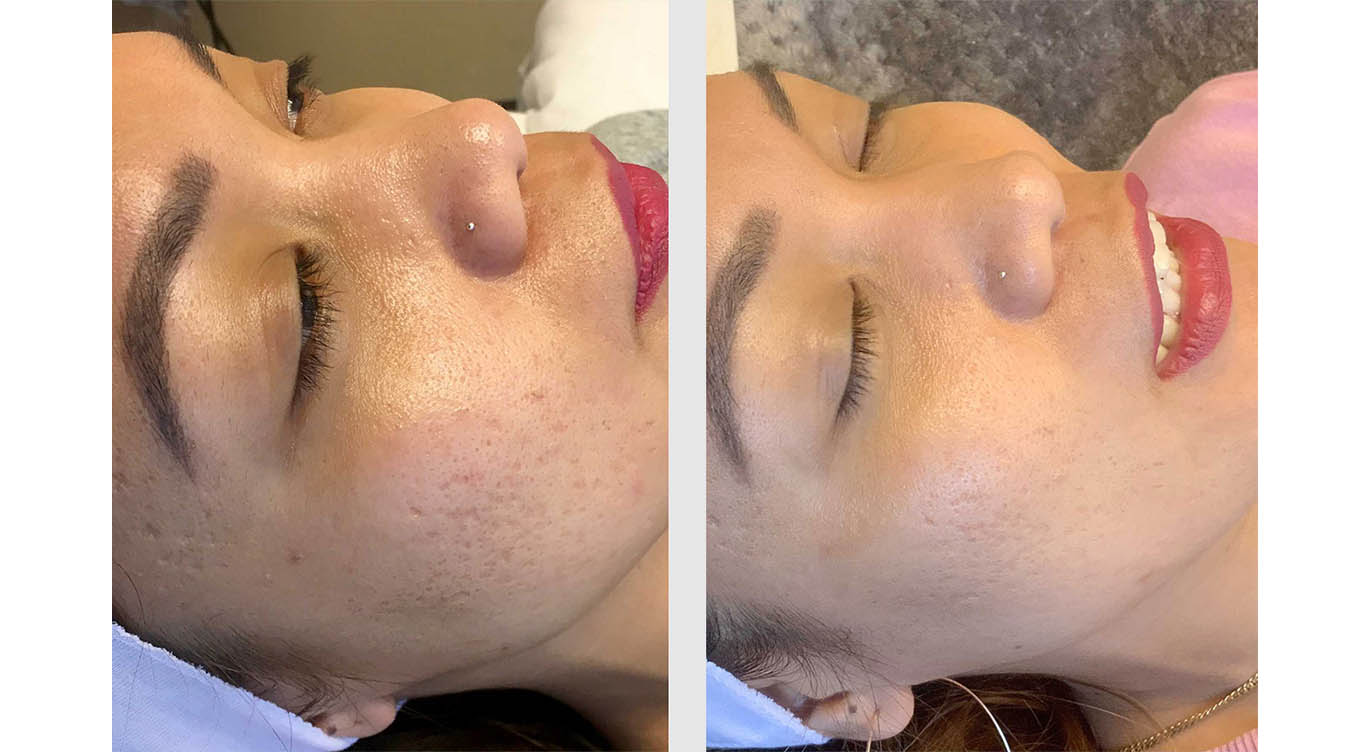 Before & After Bellevue Facials Package
TYPES OF FACIALS
There are many different types of facials. The most basic facial is a spa facial that you can find at most spas and salons. Usually, this kind of facial includes cleansing of the skin, steaming, light exfoliation, face masks, and possibly a massage. A spa facial can even be performed at home and does not require a professional with medical training to perform.
Next, there are manual exfoliation facials like dermaplaning and microneedling. While these procedures use the term "facial" loosely, they are often used as or during a medical facial in Kirkland. These procedures remove dead skin to reveal the freshest layer of surface skin. This can deepen the depth which other treatments penetrate. A licensed professional should administer these treatments.
Finally, medical facials can encompass a wide range of facials including chemical peels, oxygen facials, and our zombie carbon laser peel. Medical facials use higher concentrations and better quality ingredients. They require a medically trained professional like our master estheticians to administer. The goals of these procedures vary from patient to patient. However, they can provide better results than a traditional spa facial.
Master Esthetician was extremely informative. I felt very comfortable and I learned a lot. I'm excited for the results I receive in the future to come.

Heather
This office is wonderful. I have been here for invasive as well as noninvasive procedures and the staff and providers are excellent. They provide a variety of services with the upmost professionalism. Highly recommend.

Marie
PRE-EVENT GLAM FACIALS PACKAGE: BEFORE & AFTER
Consultation With A Master Esthetician
Before booking a Pre-Event Glam facials package, you should consult with a master esthetician at The Gallery of Cosmetic Surgery. At this consultation, your master esthetician will review your skin goals, conditions, and medical history. They may then also physically examine the skin. 
Your master esthetician needs to ensure that you are a good candidate for every procedure in the Pre-Event Glam package. If you are not, they can then make changes to the plan to best serve your needs. This process not only keeps patients safe but ensures the beautiful, glowing skin you want in time for your event.
If your master esthetician determines you are a good candidate, they will explain the procedures and the basic protocol for treatment. Your master esthetician will describe any changes made to the typical routine and the results you can expect. At this point, you will receive a price quote and can feel free to book your procedures.
Beginning The Pre-Glam Facials Protocol
The first treatment in the Pre-Event Glam facials special is a chemical peel. Chemical peels are a resurfacing procedure that removes the surface layers of skin. This can treat a variety of skin concerns like acne scarring, rosacea, acne, hyperpigmentation, and aging. A skin peel serves as the first treatment because it takes the longest to heal from. It reveals the new, deeper layers of skin. Treating this new skin ultimately provides a fresh slate for treatment which is what creates a beautiful, refreshed glow.
Microneedling Bellevue
About two weeks after your microneedling session, you will come in for microneedling. Combining chemical peels and microneedling is a common practice. You can also see this in some of our other packages like the Glow Up package. 
Microneedling uses a medical grade device to create microscopic punctures in the face. These tiny injuries stimulate your body's healing response which induces collagen and elastin production. When your body creates more of these nutrients, it can improve the look, feel, and overall quality of the skin.
Performing microneedling at about four weeks before your event allows your body to respond to the treatment and build up collagen. Microneedling is a powerful procedure that is safe for all skin types and tones. You can upgrade to RF microneedling for an extra cost if desired.
Dermaplaning Bellevue
The Pre-Event Glam package will then commence the week of the event with dermaplaning. Dermaplaning uses a surgical blade to remove dead skin cells from the surface of your face. It also will remove peach fuzz. This allows makeup to go on smoother. Dermaplaning is also known for creating what is known as a "dermaplane glow" which is a natural skin glow after treatment.
Dermaplaning causes little to no skin irritation and provides the ultimate skin environment for your event. With refreshed skin that is makeup ready, dermaplaning is the perfect pre-event treatment.
Finishing The Pre-Event Glam Facials Protocol
After dermaplaning, you will finish off the Pre-Event Glam facial with your choice of a rain facial or oxygen facial. Each type of medical grade facial infuses nutrients and moisture into the skin. This creates a healthy, supple look to the skin. The treatments can also reduce redness and irritation. 
The type of facial in Bellevue you choose to end with is totally up to you as both the rain facial and oxygen facial are suitable for most people. Also, dermaplaning before the procedure enhances the results of both Bellevue facials.
Rain Facial

: The rain facial consists of a highly customizable facial experience. With nine heads that each provides a unique treatment. At its core, the rain facial uses a rush of water to clean and moisturize the skin. It blasts nutrients deep into the pores and skin for a refreshed, vibrant look following treatment. The Bellevue rain facial can also treat acne, fine lines, and aging.
Oxygen Facial: The oxygen facial uses highly pressurized oxygen to deliver nutrients directly to the skin. While the skin cannot process outside oxygen, the oxygen facial's method causes the skin to produce more oxygen. This can treat aged, dull skin and lead to healthier skin over time. It also is known to provide a noticeable glow for about a week or two following treatment.
FREQUENTLY ASKED QUESTIONS
How Long Before The Event Should I Start The Pre-Glam Facials Package?
Generally, our master estheticians recommend starting treatment about six weeks before your event. This gives your skin time to receive the full effects of each treatment. If you have particularly sensitive skin or are adding treatments to the package, they may recommend starting earlier than six weeks.
Will I See Immediate Results?
A few of the treatments include in the pre-event facials package may provide results or effects that are noticeable immediately. For example, many patients may see a glow develop after dermaplaning the same day as treatment. Treatments like chemical peels and microneedling may take longer to see results. 
Some patients may see results quickly while it may take others longer. Generally, this is more true of chemical peels and microneedling. Patients usually see results from their treatments within two weeks. The concept behind the pre-event facial protocol is to achieve the optimal results for your event.
Are There Any Possible Add-Ons?
Yes, patients are always welcome to add on upgrades to their procedures. For example, upgrading from a standard chemical peel to a VI Peel or adding plasma to microneedling. Depending on your goals and the amount of time you have, you may be able to add on additional treatments.
What Makes Medical Grade Facials Different From Spa Facials?
Medical grade facials have two major differences from spa facials. First off, medical grade facials in Bellevue use better quality and more potent ingredients. Medical grade facials may use prescription strength ingredients. Secondly, medical grade facials require a professional with medical training to apply.
The master estheticians at The Gallery of Cosmetic Surgery underwent basic esthetic training before furthering their education in medical skincare. This includes the ability to administer more potent procedures, understanding of medical terminology, and knowledge of skin conditions. 
Are The Results Long Lasting?
The results of the Pre-Event Glam package improve the quality of your skin. Therefore, you will likely see a long term improvement in your skin. The glow supplied by dermaplaning and the finishing facial will wear off in a couple of weeks. However, you can maintain this glow with subsequent Kirkland facials. 
Once the glow wears off, you will likely still notice that your skin looks better than it did before treatment. Your master esthetician can discuss more options for treatment aimed at addressing specific concerns.
Contact Us
To schedule a complimentary consultation or with questions about facials at The Gallery of Cosmetic Surgery serving Kirkland, Bellevue & Lynnwood, WA.
THE BEST PRE-EVENT FACIALS BELLEVUE, KIRKLAND, & LYNNWOOD OFFER
The Gallery of Cosmetic Surgery is a leading plastic surgery practice and medical spa in Lynnwood, Washington. Providing the gold standard in esthetic treatments, our master estheticians focus on the ways you can see permanent improvements in skin quality. Whether you want to glow up before an event or want to treat acne, our master estheticians have the expertise and experience to address your concerns and goals. The Gallery of Cosmetic Surgery provides the best facials Bellevue, Kirkland, and Lynnwood offer.
The master estheticians at The Gallery of Cosmetic Surgery offer a variety of treatments to offer personalized skincare to patients of every skin type, tone, and those with skin conditions. Some of our services include microneedling, laser resurfacing, medical grade facials, and laser hair removal. 
To learn more about our Bellevue facials and schedule a consultation, call us at 425-775-3561. You can also contact us online via our contact forms, chat, or Price Simulator™.