RADIOFREQUENCY MICRONEEDLING BELLEVUE AND KIRKLAND
Almost no one has perfect skin. Acne scars, stretch marks, aging, and sagging skin can all plague the skin, regardless of skincare routine or lifestyle. Many professional, non-invasive procedures can treat these concerns such as laser resurfacing and chemical peels. However, not all of these options are safe for all skin types and tones. RF microneedling is different. The master estheticians at The Gallery of Cosmetic Surgery offer the best RF microneedling Bellevue and Kirkland provide.
OVERVIEW: WHAT IS RF MICRONEEDLING?
RF microneedling is an advanced form of microneedling that can offer results comparable to laser resurfacing treatments without recovery or downtime. A non-invasive procedure, it combines microneedling with radiofrequency waves to penetrate deeper into the skin than a traditional microneedling treatment. This means that RF microneedling can better treat many skin conditions as well as treat more concerns than other similar treatments.
Skin conditions and concerns that RF microneedling may improve include:
Fine lines and wrinkles

Sagging and loss of skin elasticity

Stretch marks

Acne scars

Surgical and injury scars

Uneven skin tone

Sun damage

Rough texture

Hyperhidrosis
Overall, RF microneedling is renowned for its skin tightening abilities. Sometimes touted as a non-surgical alternative to a facelift. For some patients with minor sagging, this may work. Even for patients who undergo a surgical facelift, RF microneedling can enhance their results and treat scars. Its general anti-aging properties, however, are well documented
How Microneedling Works
Microneedling uses a medical device containing multiple small needles to create microscopic punctures across the skin. These abrasions will ignite your body's healing response. This produces new collagen and elastin–two proteins vital to keeping your skin youthful and supple. 
For the weeks following your Seattle microneedling treatment, your body will continue to produce collagen and other healing components. This forms new skin over the tiny abrasions. Your master esthetician will also use different depths to treat troublesome areas deeper to promote a larger response.
With regular microneedling treatments, you may begin to notice a difference in the look and feel of your skin. These results are often long lasting and only require occasional touch-up treatments to maintain skin quality.
What Radiofrequency Adds To Microneedling
Radiofrequency is a type of radiation that delivers heat energy to the skin. There are few risks associated with radiofrequency because the radiation is extremely low level and less powerful than an X-ray. The heat it delivers is precise and customizable based on your skin.
Radiofrequency therapies are commonly used for skin tightening which is the main advantage of adding radiofrequency to microneedling treatments. While microneedling does carry some moderate skin tightening ability, radiofrequency enhances these abilities as well as promotes more collagen production.
The radiofrequency also penetrates into deeper layers of the skin than microneedling can. Therefore, RF microneedling is often more effective, especially when it comes to treating sagging skin, sun damage, and acne scars.
RF MICRONEEDLING vs. TRADITIONAL MICRONEEDLING
Traditional microneedling and RF microneedling have many similarities. Both can treat similar concerns, take around the same amount of time to perform, treat the same areas, and tend to have the same candidate pool. However, there are also some notable differences between the two procedures that may make one more beneficial for you. The table below details some of these differences.
RF Microneedling
Traditional Microneedling

Uses heat

Penetrates deeper into the skin

Accesses these deeper layers without causing damage to top layers

May be better for severe wrinkles and acne scarring

Has more uses on the body (such as stretch mark treatment)

May require fewer treatments to get desired results

Can have more or longer lasting side effects

Microneedling only

Typically only reaches just beneath the surface

Creates micro-injuries in all the skin it reaches

Best for the face, but can be used on the body

May require more sessions for desired results

Better for patients who have never had microneedling before

Side effects usually subside within three days
Overall, both types of microneedling are highly effective and can make major differences in the skin. The best one for you will likely depend on the type of skin you have and your goals. Your master esthetician can explain the right one for you and your skin during a consultation.
Adding Plasma To Radiofrequency Microneedling
Applying plasma during and/or after RF microneedling improves and complements microneedling results. Patients who add plasma to their session(s) often see benefits like:
Increases collagen production and cell turnover
Helps improve skin quality
Ideal for wrinkles and acne scars
Unlikely to cause an allergic reaction or irritation (from the plasma)
Speeds up the healing process
Many patients experience fewer and less severe side effects
Often provides better results for patients than traditional microneedling
I've been coming here for six months and my skin has improved tremendously! Thank you!

Monique
The Gallery is a professional clinic that provides great service. They address concerns and talk with you about a plan that would best suit you. All staff is courteous and helpful. I am happy with the treatments I receive from them.

Rainee
I have been coming to The Gallery for a couple of years now and I'm very happy with the quality of treatment and customer service attention. I recommend it!

Ido
Excellent service, and knowledgeable. I've been coming here for years! Highly recommended.

Francine
BEFORE AND AFTER RF MICRONEEDLING
Consultation
Before undergoing RF microneedling in Bellevue, you will meet with a master esthetician to determine if you are a good candidate. At this consultation, you will discuss your skin concerns and goals. Next, they may ask you a few questions about your medical history and lifestyle. Finally, your master esthetician will examine your skin.
If they believe you are a good candidate for the procedure, they will describe the process and results. Sometimes it may be possible to treat you the same day. If your master esthetician does not believe RF microneedling would benefit you, they will explain other treatment regimens to help you meet your goals. 
In addition to RF microneedling, your master esthetician may recommend include: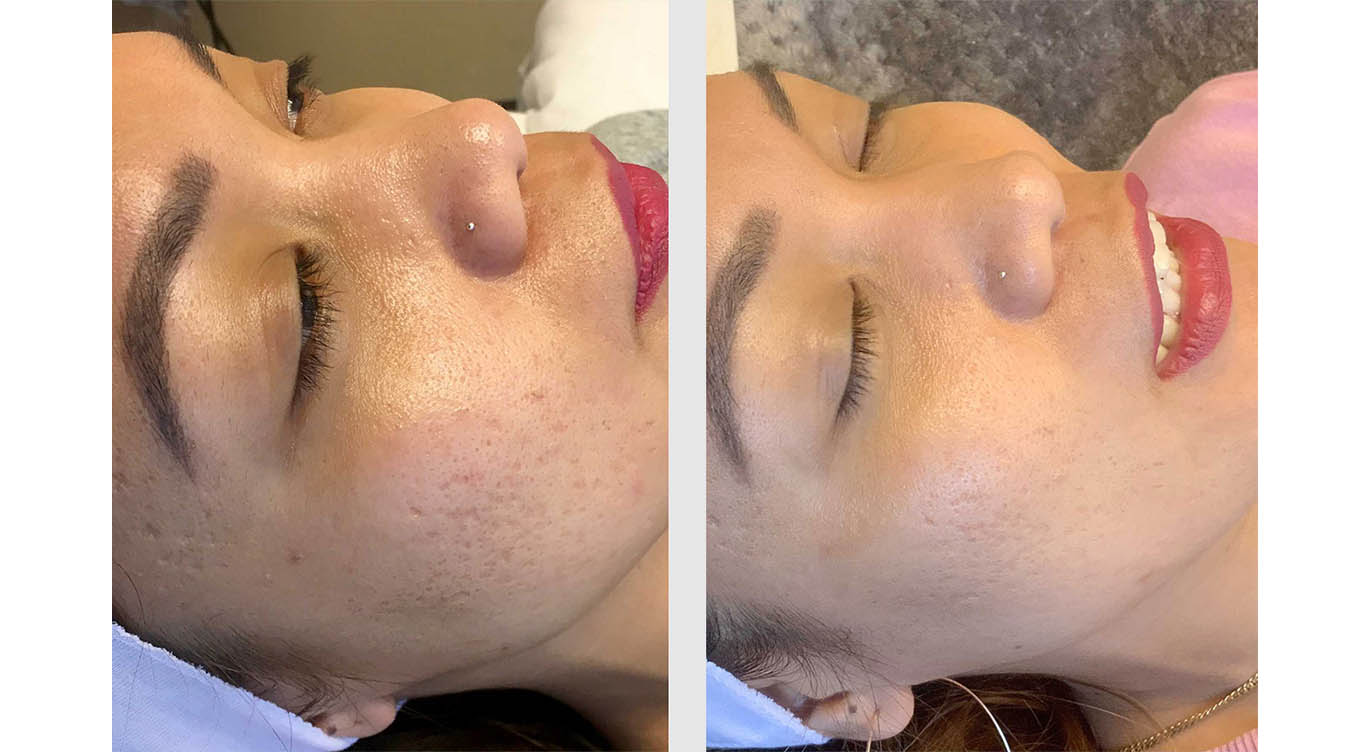 Before & After Microneedling
Treatment
To begin Kirkland RF microneedling, your master esthetician will begin by cleansing and disinfecting the treatment area with alcohol. They will then apply topical numbing cream. It takes about fifteen to twenty minutes to numb. During this time, your master esthetician will prepare the medical grade microneedling device and apply the settings necessary for your treatment.
After properly numbed, your master esthetician will remove the cream from your face and start treatment. They will gently press the microneedling device against the skin. When they activate the device, the needles will penetrate to the pre-set depth. You may notice a flash of light. You should feel little to no pain during this process.
Your master esthetician will adjust the settings of the RF microneedling device to account for problem areas and different skin depths. Typically, microneedling depths range from 0.5 millimeters to 3 millimeters. Your master esthetician may also adjust the settings of the radiofrequency.
It is normal for the skin to become red and for some pinpoint bleeding to occur. The entire procedure takes approximately forty minutes to an hour. Your master esthetician will also apply some soothing products following treatment to ease redness and moisturize the skin deeply.
Aftercare
Kirkland RF microneedling is a procedure that requires no social downtime. Depending on your skin, your master esthetician may recommend avoiding wearing makeup and your usual skincare routine for a day. However, you should still apply and wear broad spectrum sunscreen as your skin will be more sun sensitive during this time.
Patients do sometimes experience redness and a feeling of "hotness" for a few days. This is normal and typically bearable. Swelling can occur, though it is usually minor. Ice packs can be applied if necessary. Strenuous exercise should cease for a day or two. Patients can return to their other daily activities immediately.
FREQUENTLY ASKED QUESTIONS
How Many RF Microneedling Treatments Do You Need?
The number of RF microneedling treatments you need to achieve the results you want will vary from patient to patient. On average, a patient undergoes three to six RF microneedling sessions spaced between four and six weeks apart. Following this, you may only need occasional touch-up treatments.
Is There Anyone Who Should Not Get RF Microneeding?
RF microneedling is safe for all skin types and tones. It comes with relatively little risk for patients and medical conditions typically do not bar a patient from getting the procedure. However, there are certain cases where a patient may not be a good candidate for treatment, or the procedure would come with undue risk. Examples of situations where RF microneedling is not usually recommended include:
Taken harsh acne medications within the past year

Pregnant or nursing

Tend to develop hypertrophic or keloid scars

Active cold sores

Undergoing other radiation therapies or chemotherapy

Current skin infection

Take blood thinners

Certain severe skin diseases such as psoriasis

Have allergies to any component of treatment
Does It Hurt?
Since your master esthetician applies numbing cream before the treatment, RF microneedling tends to cause little pain during the procedure. Patients may feel some pressure, the device touching their skin, and your master esthetician gently pulling the skin tight. None of these should be overly painful, if painful at all.
Are There Side Effects?
RF microneedling can come with some side effects. Generally, they go away with little to no treatment within a few days or two weeks of the procedure. Major side effects that hinder everyday life are extremely rare. Some possible effects include:
Redness

Itchiness

Swelling

Dry skin

Scaling

Acne breakout

Cold sore breakout
Infections or other complications are possible, but rare in an ideal candidate who follows the post-procedure instructions. Your master esthetician will review the risks with you and ensure you have a low risk of complications before RF microneedling.
Do The Results Of RF Microneedling Last?
After your initial round of RF microneedling sessions, results tend to last around one to two years. Yearly treatments and taking good care of your skin can prolong these results.
How Much Does RF Microneedling Cost?
The cost of RF microneedling depends on the specifics of your procedure. Your master esthetician can provide a better idea of the cost of your RF microneedling sessions after a consultation.
THE BEST RF MICRONEEDLING IN BELLEVUE AND KIRKLAND AT THE GALLERY OF COSMETIC SURGERY
RF microneedling is a medical procedure that addresses various skin concerns and conditions. Unlike laser treatments, RF microneedling is compatible with all skin types and tones. Therefore, it is an extremely versatile procedure that can benefit adults of every age. The Gallery of Cosmetic Surgery provides the best RF microneedling Bellevue and Kirkland offers.
Our master estheticians have decades of combined experience and trained specifically in RF microneedling. Along with a general esthetic education, our master estheticians received medical training pertaining to the skin. Many of our master estheticians are also medical assistants. This allows The Gallery of Cosmetic Surgery to offer medical grade treatments to make a real difference in the quality of your skin, not just the outward appearance. 
To learn more and schedule a consultation with a master esthetician, call us at 425-775-3561. You can also reach us online via Price Simulator™, chat, or contact form.