Breast Augmentation
(Gummy Bear Round Implant)
$7,495
Breast Augmentation
(Gummy Bear Anatomical Implant)
$8,495
GUMMY BEAR BREAST AUGMENTATION BELLEVUE, KIRKLAND, & LYNNWOOD
Breast augmentation surgery comes with many choices and options. One of the most important choices you will make concerning Bellevue breast augmentation is the type of breast implant you prefer. As one of the most studied medical devices across the globe, breast implants come in countless varieties and types. Among patients at The Gallery of Cosmetic Surgery, the newest type of silicone implant has become a favorite. Gummy bear breast implants offer a natural look and feel, which is what many women seeking breast augmentation want. Dr. Jonov at The Gallery of Cosmetic Surgery offers the best gummy bear breast augmentation in Bellevue, Kirkland, and Lynnwood.
BREAST AUGMENTATION BELLEVUE: CHOOSING YOUR BREAST IMPLANTS
During a consultation for breast augmentation, you will try on various sizers to determine the right type and size of breast implant for you. You can also speak to Dr. Jonov about the various types of breast implants available. There are many variations on breast implants, but three main types exist: saline, silicone, and gummy bear breast augmentation.
Saline
:
Saline breast implants are the longest used breast implant. They are made up of an outer silicone shell. Unlike other kinds of breast implants, saline breast implants come unfilled. During surgery, the plastic surgeon fills the implant to the specified size with a sterile saline solution. This filling means that ruptures are nearly immediately detectable and pose little risk to your body. However, saline breast implants are more prone to capsular contracture. 
Many women also find that saline implants do not look or feel as natural as their silicone counterparts. This is usually not an issue for women with a significant amount of breast tissue already.
Silicone
:
Silicone breast implants come pre-filled with a silicone gel. These breast implants are arguably the most commonly placed breast implant today. With many size and shape options, silicone breast implants offer the most variety in breast implants. Silicone breast implants come in types like high profile, round, and moderate height.
In general, patients find that silicone breast implants offer a natural look and feel. They are also effective at treating breast conditions like tuberous breasts and volume loss from breastfeeding.
Gummy Bear:
Gummy bear breast implants are a type of silicone breast implant. The difference between gummy bear and silicone breast implants is that gummy bear implants consist of a highly cohesive silicone gel. This cohesive gel is thicker than traditional silicone gel implants. 
Many patients find that gummy bear breast implants offer the most natural looking and feeling results. Additionally, gummy bear implants are unlikely to rupture because the gel is thicker. Thus, they are less likely to leak.
Gummy bear implants have become a popular choice among Bellevue breast implant patients. As the newest and most advanced breast implant currently available, they offer the next generation in breast augmentation results and safety.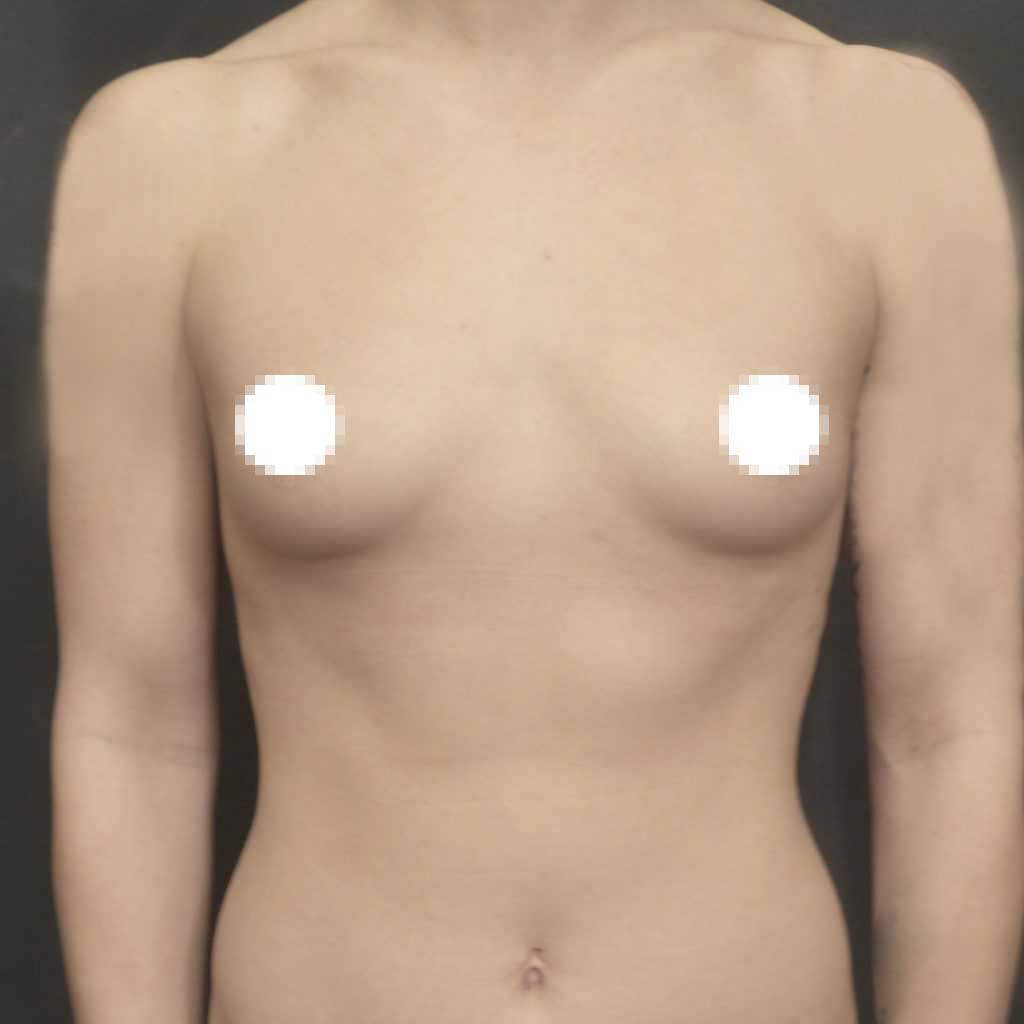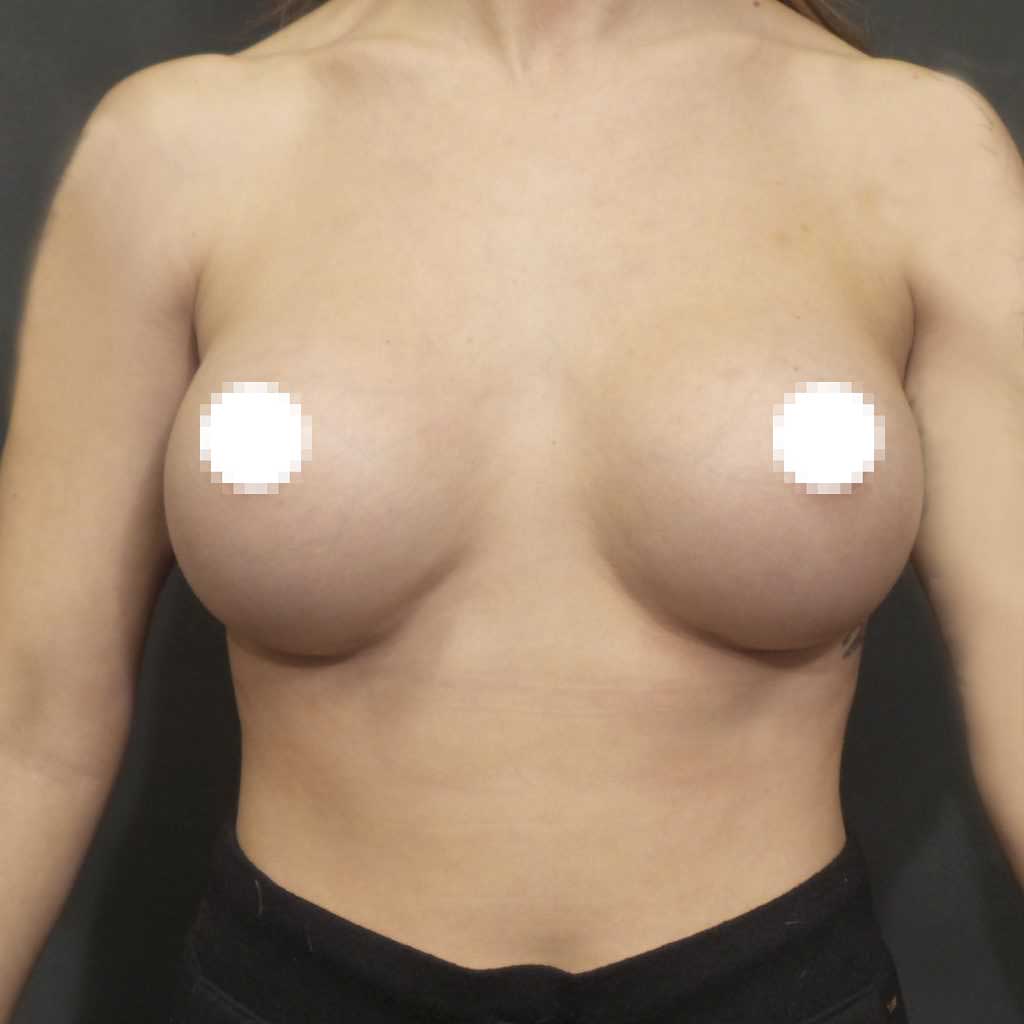 TYPES OF GUMMY BEAR BREAST IMPLANT
Gummy bear breast implants are most known for their coveted teardrop shape that mimics the natural shape of the breast. Less known is that gummy bear implants do come in a round shape. Regardless, patients enjoy the benefits of gummy bear breast implants no matter what shape they choose. 
Round Gummy Bear Implant:
Round gummy bear breast implants are often preferred for patients who want more volume at the top of the breasts. Like all gummy bear implants, the round option comes in various profile and size options to achieve your breast augmentation goals.
Anatomical Gummy Bear Implant:
Anatomical gummy bear implants, also known as teardrop gummy bear implants, utilize the teardrop shape. This teardrop shape follows the natural curves of the breast while providing an increase in breast size. The anatomical breast implant option is often considered the most natural appearing breast implant by patients.
GUMMY BEAR BREAST IMPLANT SAFETY
Gummy bear breast implants are highly regarded for their high standard of safety. In initial studies, gummy breast implants showed a lower rate of many complications like capsular contracture and rupture. Already less likely to rupture, if they do, gummy bear implants are designed to hold their shape. This means that the silicone should not leak into the breast or body. 
For patients concerned about capsular contracture, gummy bear implants are the breast implant with the best track record. Along with this, Dr. Jonov uses techniques like a Keller funnel and minimal incisions to reduce the risk of Bellevue breast augmentation.
Combining gummy bear breast implants and Dr. Jonov's advanced surgical techniques, The Gallery of Cosmetic Surgery offers the best gummy bear breast augmentation in Bellevue and Kirkland.
Contact Us
To schedule a complimentary consultation with Dr. Jonov or with questions Breast Augmentation at The Gallery of Cosmetic Surgery serving Kirkland, Bellevue & Lynnwood, WA.
BENEFITS OF GUMMY BEAR BREAST IMPLANTS
Gummy bear breast implants have many advantages. Benefits of gummy bear implants include:
Natural look and feel

Less shifting than traditional implants

Lower chance of rupture

Likely to hold it's shape for longer than other breast implants and in the event of a rupture

Lower capsular contracture rate

Firmer feel than other implants (some patients may not find prefer this)
There are relatively few disadvantages of gummy bear implants. Some patients may not prefer gummy bear breast implants for a variety of reasons. A few reasons that patients may prefer traditional types of breast implants may include:
Often have a slightly firmer feel

Require a larger incision (this is true for any pre-filled implant)

More expensive than other breast implant types

Do not shift like natural breast tissue (some women may consider this an advantage)
At a consultation with Dr. Jonov, he can discuss the advantages and disadvantages of gummy bear breast implants. Additionally, he can discuss how gummy bear implants will impact your body and goals. Not every woman is a candidate for gummy bear breast augmentation in Bellevue. Dr. Jonov can determine whether gummy bear implants are your best breast augmentation option.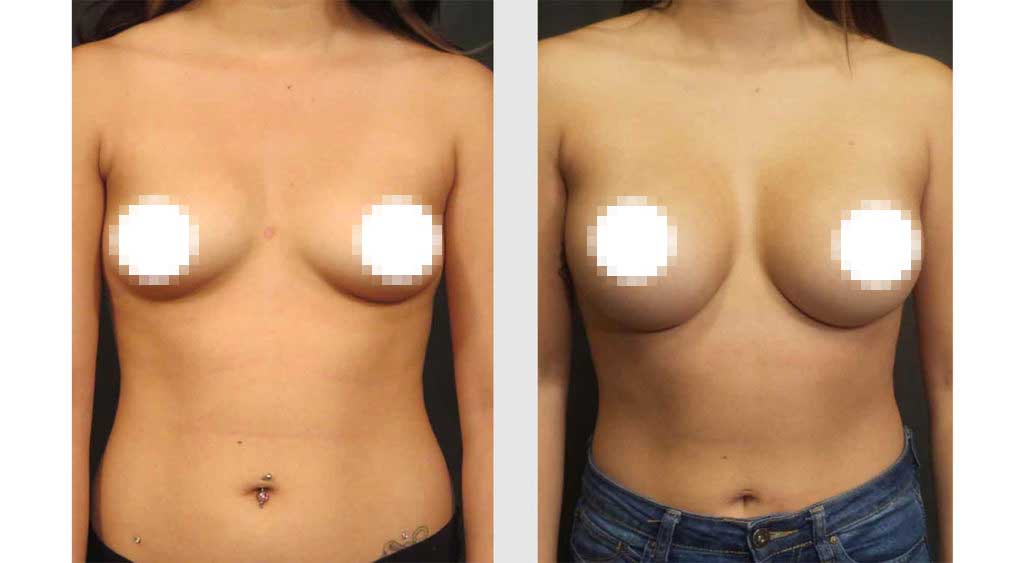 Before & After Breast Augmentation
PLACING YOUR BELLEVUE BREAST IMPLANTS
Dr. Jonov has many techniques and methods he can use during your gummy bear breast augmentation. The placement options are similar to traditional silicone breast implants. As a pre-filled breast implant, gummy bear breast implants are not compatible with the transumbilical incision. However, this is the least commonly utilized breast augmentation method. Dr. Jonov can place gummy bear breast implants using all other breast augmentation incisions.
Inframammary Fold:
Placing breast implants through the breast crease is one of the most common breast augmentation techniques. Especially when it comes to silicone and gummy bear breast implants, this method may be preferred. The inframammary fold incision offers Dr. Jonov ample access to the breast tissue and muscles. He will then place the breast implant carefully through the incision and under the muscle if desired. 
An inframammary incision typically stretches at a maximum of a few inches across the breast crease. Normally, once fully healed, the incision fades significantly and the breast should hide the scars naturally. 
Periareolar:
When performing the periareolar breast augmentation technique, Dr. Jonov makes a half-moon shaped incision where the areola meets the skin. Through this incision, he creates the pocket and places the breast implants. This method allows for submuscular and subglandular placement. 
This technique has begun to fall out of favor with patients because the incision is on the breast and there is more risk to the nipple with this incision. Periareolar scars usually heal well and are camouflaged by the natural pigment change of the areola. This placement can be beneficial for women who want scars easy to hide with clothing.
Transaxillary:
Contrasting the periareolar method, the transaxillary breast augmentation technique is growing in popularity. This method consists of making an incision in the armpit and placing the breast implants. The transaxillary incision offers two distinct advantages. First, the chest muscle does not need to be cut to place implants behind the muscle. Secondly, a transaxillary incision is located away from the breasts and normally heals well.
Gummy bear implants are compatible with transaxillary breast augmentation. Dr. Jonov is experienced in the placement of gummy bear breast implants and transaxillary breast augmentation. At a consultation, Dr. Jonov will evaluate your medical history, goals, and anatomy. He will then conclude if you are a breast augmentation candidate. He can also discuss the different breast augmentation incisions and the one that will best suit your expectations and goals.
THE BEST GUMMY BEAR BREAST AUGMENTATION BELLEVUE & KIRKLAND OFFER
Breast augmentation patients have many options for their gummy bear breast augmentation. Deciding on their plastic surgeon, the size, shape, and incision placement are all major decisions that take time and research. Dr. Jonov and The Gallery of Cosmetic Surgery want to support you through your entire breast augmentation surgery. Our team of experienced professionals offers a higher standard of care. 
Our Lynnwood surgical center is JCAHO-accredited and puts patient comfort and safety first. The Gallery of Cosmetic Surgery spares no expense in ensuring your safety during breast augmentation in Bellevue. 
Dr. Jonov is an experienced cosmetic surgeon with nearly twenty years of experience performing breast augmentation surgeries. In this time, he has become a highly sought out Bellevue plastic surgeon. His refined skill with all breast augmentation techniques and breast implants make him one of the best breast augmentation surgeons in the Bellevue and Kirkland areas.
To schedule a consultation with Dr. Jonov, call us at 425-775-3561. You can also contact us online with our Price Simulator™ app, text, chat, or contact form.