Powder Brows Bellevue & Kirkland | Ombré Brows Bellevue
Microblading comes in many forms. Not everyone's brows look the same. Therefore, different techniques are necessary to provide good and consistent results to everyone. The microshading method–more commonly known as powder brows–provides a soft powder look that resembles powder makeup and boosts the density of the eyebrows. The microblading artists at The Gallery of Cosmetic Surgery offer the best powder brows Bellevue and Kirkland have available.
Overview: Microshading & The Powder Technique
Powder brows is a type of microblading that involves using fine dots of pigment in lieu of hair-like strokes that traditional microblading uses. This results in a softer, almost ombré effect from the inner brow to the tail. While looking slightly less natural, it still tends to take on a makeup-like appearance. For patients that apply themselves every day, having the look longer term with less work is appealing.
Additionally, microshading works on oily skin and is often more effective on aged skin. Therefore, it has a larger candidate pool than regular microblading. This makes it a frequently sought procedure by people hoping for a dramatic, yet, low maintenance brow enhancement.
Candidates
As mentioned above, the powder brows technique has a larger candidate pool than traditional microblading. For example, traditional microblading is not usually recommended for clients with oily skin. This is because during the healing process, the strokes will expand and heal softer than what is ideal for microbladed brows. 
With powder brows though, this expansion of the ink and softer appearance is the goal. This is why the powder technique is usually recommended to those with oily skin. The same concept applies to aged skin. Powder brows also tend to last longer in clients with oily or aged skin.
Otherwise, many of the same contraindications apply to ombré brows as other types of microblading. If you have certain skin conditions, take certain medications, or have other disqualifying health conditions, powder brows may not be the ideal brow enhancement for you.
Benefits
The ombré powder brow microblading technique offers many benefits. Beyond being ideal for people with oily skin, it also creates a look that many people are seeking in semi-permanent makeup. Among the benefits of powder brows can include:
Fuller looking brows

Provides a soft makeup like appearance

Results often look more dramatic

Enhances the brow arch
Highlights the shape of the eyes
Complement face shape and symmetry

Tends to last longer than traditional microblading

Individual strokes and movements less visible

Blends together better

Matches color to your natural brow hairs

Better coverage than other techniques

Great technique for microblading revisions

Safe treatment

Little to no pain

Uses vegan and cruelty-free ink

Semi-permanent results allow for clients to change up brow appearance as trends and their preferences change

May require less frequent touch-ups

Can look more natural for those with little brow hair

Performed by a certified tattoo artist who specializes in microblading
Ombré Brows vs. Powder Makeup Brows
Microshading is supposed to mimic the look of a powder makeup brow look. But, how do the two compare? Is it worth it to just continue applying makeup every day, or is it better to seek out powder microblading? The table below provides some insights into which may be the right option for you. You and your microblading artist can also discuss this during your consultation.
Ombré Brows
Powder Makeup Brows

Semi-permanent (1-3 years)

Requires healing, some risk of adverse effects

Will not smudge after initial healing period

Water safe after healing period

Hard to remove, may not be entirely possible before it natural fades

Goes beneath the skin

Requires professional application

Some pain with application

Works on all skin types

Temporary, reapplied daily

No healing, low risk of adverse effects

Smudging may occur at any time

Usually not waterproof

Easy to remove

Stays on the surface of the skin

Does not require professional application

Less time to apply (for one session)

Not painful

May not be practical for all skin
For most people already seeking permanent makeup, the benefits of the powder technique outweigh that of normal brow makeup. However, for some people on the fence about a semi-permanent procedure, daily makeup application may still be the best option.
I have been very pleased with the services that I have received at The Gallery of Cosmetic Surgery. There is never any pressure to spend money on other services and everything is explained fully. I highly recommend going there for any treatments you feel are necessary.

Grace
Dr. Jonov and staff are very caring and professional. They care about the quality of their work and well being of their patients. I am pleased with my results and the care I received 😊

Melissa
This place was absolutely amazing. From the friendly staff to the expert surgical expertise of Dr. Jonov. I will be back!!

Lynsey
I just wish there was a gallery on my side of the Sound! Thanks for keeping everyone astonished when I tell them my real age.

Robin
Powder Brows From Start To Finish
Initial Consultation
The first appointment will involve a consultation to discuss your goals for the treatment and the right technique. You will meet with your microblading artist where they will ask about what you want your eyebrows to look like. They may also ask a few questions about your medical history, the medications you take, and aspects of your lifestyle. This will help them determine if you are a suitable candidate for microblading.
If you are a good microblading candidate, you and your artist will talk about the different techniques. Once you select powder brows, they will talk about the process, expectations, basic aftercare, and anything you may need to do to prepare. In rare instances, it may be possible to perform powder microblading on the same day. Though, this is not typical for most patients.
Microshading Process
On the day of your appointment, you should come without makeup on or around your brows. Your microblading artist will then cleanse and disinfect the brow area to prevent infection and promote the best results. Following this, they will apply the numbing cream and allow it to sit for about ten to twenty minutes.
Once properly numb and the cream is removed, they will then begin microblading your powder brows. They may use a motorized machine for this process as it allows your artist to create finer dots. Like with other techniques, it takes around two to two and a half hours to complete.
Microblading Aftercare
Microblading, regardless of technique, breaks the skin and requires healing. Your microblading artist will give you instructions on how to properly care for your microbladed brows. This will also include what to expect during healing. Some of the instructions may include:
Do not get the brows wet while healing

Avoid picking at scabs

Protect your brows from the sun

Do not partake in strenuous exercise

Avoid hot environments such as saunas

Do not apply makeup or skincare (some skincare may be okay, but discuss this with your artist first)

Refrain from taking medications or supplements that thin the blood if possible
Microblading Before & After Photos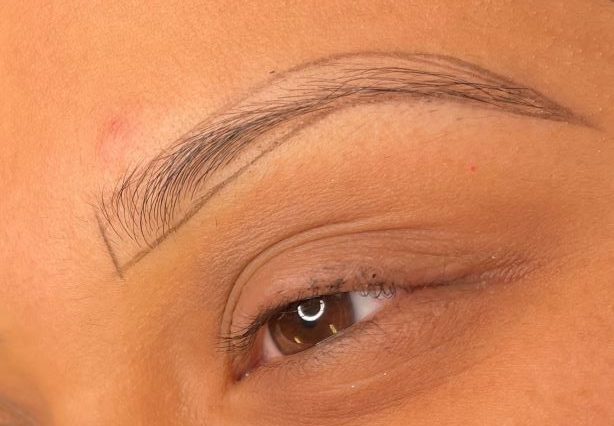 Frequently Asked Questions
Can Men Get Microblading Done?
Absolutely, men do and can get microblading. Men can face certain brow conditions such as alopecia, patchiness, and other brow hair loss for various reasons. Microblading can help disguise this. Your microblading artist will customize your results to the shape of your face. They can also maintain or achieve the masculine standard of eyebrows (if that is what is desired). 
All forms of microblading have benefits for men, but they may consider combo brows for the most natural appearance. Additionally, for transgender patients, microblading can help shape the brow to match their gender identity. It also reduces the amount of work necessary to achieve and maintain the look.
Are Powder Brows Painful?
The pain is controlled and limited with topical numbing cream. However, it is still possible to feel some light pressure and discomfort. Generally, patients find it bearable and manageable. 
When Can I Wet My Powder Brows?
Your microblading artist will instruct you not to get your ombré brows wet for at least one week. However, depending on your healing process and the specifics of treatment, it could be longer. Additionally, you should continue not to submerge your brows for about two weeks.
Getting the brows wet before they adequately heal can risk removing the deposited pigment. Since the ink does not go as deep or into as many layers of the skin as a traditional tattoo, it is more susceptible to water.
After the entire healing process, you do not have to worry about sweat getting in your brows and can continue to exercise and play sports as normal. Unlike brow makeup, microbladed brows are completely smudge proof.
Why Are Powder Brows So Dark At First?
During the healing process, your eyebrows may change color. For example, a few days following the procedure, you may notice the brows darken. This is normal and it will fade over time. It occurs due to scabbing and irritation which can make the ink look darker.
What Do Ombré Brows Cost In Bellevue?
Powder brows in Bellevue start at $450. The cost may vary depending on the specifics of the treatment, the number of touch-ups, and other factors. You can find more pricing information on our price list. Following a consultation, your microblading artist can provide a personalized price quote.
The Best Microshading In Bellevue & Kirkland At The Gallery of Cosmetic Surgery
The microblading artists at The Gallery of Cosmetic Surgery are certified tattoo artists and have years of experience. They specialize specifically in microblading, so they can perform all the major techniques. This helps them personalize each procedure to the patient. The microblading artists at The Gallery of Cosmetic Surgery provide the best powder brows Bellevue and Kirkland offer.
The Gallery of Cosmetic Surgery is a top performing plastic surgery and medical spa. Offering a wide range of surgical, injectable, medical grade skincare, and esthetics, they serve the Bellevue, Kirkland, and Seattle areas. To schedule a consultation, call us at 425-775-3561. You can also reach out online via Price Simulator, chat, and contact us.
Contact Us
Schedule your consultation or ask us a question by filling out the contact form below.