Traditional Microblading
$300
Microblading Bellevue & Kirkland
Permanent makeup started to catch on in the early 20th century. However, it did not become a refined process that was specifically sought out for cosmetic purposes until the mid to late 20th century. This included permanent and or semi-permanent tattoos to create permanent eyeliner, brows, blush, and even lip color. Today, these trends have become even more evolved. Microblading, semi-permanent brow enhancement, is one of the most popular permanent makeup procedures. The Gallery of Cosmetic Surgery offers the best microblading Bellevue and Kirkland provide.
Summarized: What Is Microblading?
Microblading is a form of semi-permanent tattooing that is designed to subtly enhance the eyebrows. It can alter the shape, density, volume, and pigment of the brows. The treatment uses hair-like strokes of ink to fill in sparse areas. It also shapes the brows according to the golden ratio and the patient's goals.
Microblading may use either a single-bladed tool or a motorized tool similar to a traditional tattoo machine. It ultimately depends on the type of microblading you opt for and what tool the microblading artist believes is best based on the client's desired results. Either way, it looks similar to traditional tattooing but aims to enhance the brows. As well as reduce the need for daily brow enhancements such as a brow pencil or powder.
Benefits
Like any medical or cosmetic procedure, there are various benefits and risks of microblading. Based on the individual and the technique used, they may vary, but overall, the risks are minimal and the benefits are generally considered worth it for many people. First, some of the benefits you may enjoy include:
Fuller looking brows

More defined brow arch and shape

Pigment matched to your hair color (sometimes a shade or so darker for enhancement purposes)

Save time on your morning routine

Relatively pain-free procedure

Can last up to two to three years under ideal circumstances

Some form of microblading can work for all skin types and tones

Uses your natural brow hairs to supplement results

Reduces need for makeup

Easy to maintain brow enhancement

Vegan and cruelty-free ink

Semi-permanent results that allow for changing up brow appearance as trends change
Risks
As far as risks go, they are minimal. Like how traditional tattoos can work for most people, so can microblading. Though, there are some cases where one technique is preferred over another. Some of the possible risks of microblading include:
Allergic reaction

Scarring

Unsatisfactory result

Infection

Granulomas

Body rejection

Eyebrow hair loss

Prolonged bruising or swelling
Major complications or risks are exceptionally rare. This is especially true if you have microblading performed by a professional microblading artist in a medical-grade environment. At The Gallery of Cosmetic Surgery, our high-quality ink, experienced providers, client screening, and medical focused environment allow us to minimize microblading risks.
Microblading Techniques
There are multiple microblading techniques available that can create different looks and enhancements. At The Gallery of Cosmetic Surgery, our microblading artists offer the three most popular types of microblading: traditional, powder, and combo. They can help you determine the right technique for you during a consultation.
Traditional microblading involves creating fine hair strokes to enhance the shape and density of the eyebrows. It only uses this stroke technique to mimic the look of your natural brow hairs. Depending on the starting anatomy of your brows, they may look very natural, or somewhat less natural. 
Sometimes in certain types of brows, especially particularly thin brows, the microblading strokes will not look like brow hair. However, most people are likely to believe it is penciled on brows. This technique is often best for people who have fairly substantial brows but want either a longer term enhancement or have a few sparse areas.
Powder brows differ from traditional microblading because they use smaller, more concentrated dots. This often results in a similar look to what is achieved by using brow powder. However, it is a full coverage method and tends to work well on aging skin and those with darker skin tones.
Unlike traditional microneedling, the powder brows technique is compatible with oily skin. One drawback is that it can look less natural along the inside edge of the brow near the glabella/nose. If you are fine with the powder brow appearance though, this generally is not a big deal to most clients.
Combo brows use both the traditional and powder brows technique for a more natural looking enhancement. The more traditional hair-like strokes are placed along the inner edge and widest parts of the brow. Then, the powder technique is applied towards the tail. This often creates a more natural, enhanced look. This is one of the newest and most popular Bellevue microblading techniques currently available.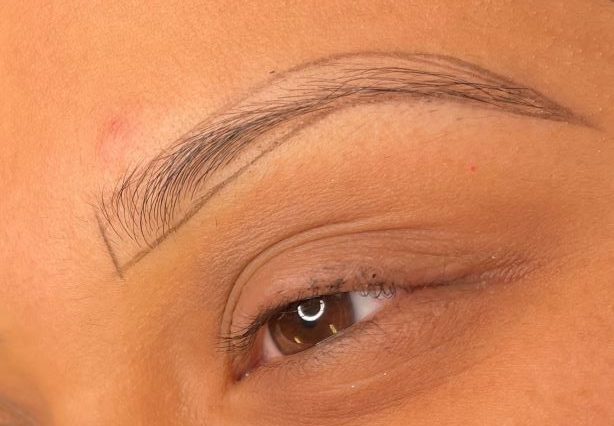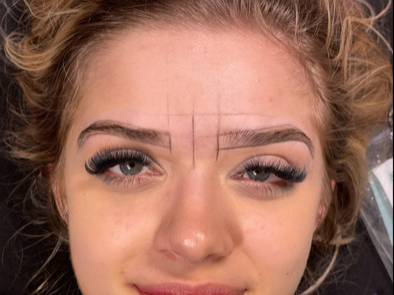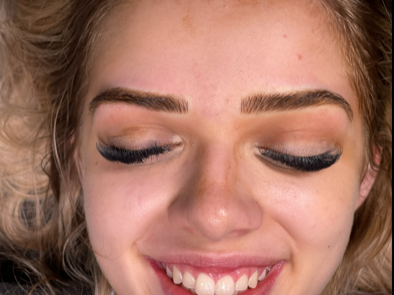 Microblading From Start To Finish
Candidates & Consultation
The first step for getting semi-permanent brow enhancement in Bellevue is to schedule a consultation with a microblading artist. During this initial appointment, you and your microblading artist will discuss the microblading techniques, your medical history, lifestyle, and more. They may also examine your brow area. This can help them judge the right technique.
As far as candidacy goes, as long as you have a viable skin type for the chosen technique and do not have any open wounds in the area, you are likely a candidate. Other contraindications can include the use of harsh acne medications, a tendency to scar, and bleeding disorders.
If your artist believes that you are a good candidate for microblading, they will discuss your chosen technique. As well as what to expect during and after the treatment, and provide any preparation instructions. You will also receive a finalized price quote.
Microblading
After you are brought to our private treatment room, your microblading artist will cleanse and disinfect your brows. This removes any environmental debris or makeup build-up and prevents infection. Be sure not to wear makeup to your appointment as this can affect the results of the procedure.
They will then apply numbing cream. This will sit for approximately ten to twenty minutes. Once properly numb, your microblading artist will then begin. You should feel little to no pain during the procedure. They will use the blade to deposit ink into the first few layers of skin. The entire microblading appointment will take around two hours, give or take depending on the technique and size of the brows.
Aftercare
Microblading does involve some basic aftercare during the healing process. It is comparable to caring for a traditional tattoo. While your artist will provide personalized instructions, some basic aftercare directions tend to include:
Do not get your brows wet or submerge them for at least a week

Avoid hot environments such as saunas

Limit or avoid sun exposure

Do not apply makeup or skincare products to the area (some moisturizers may be okay, but be sure to clear anything with your artist)

Avoid picking at scabs if they form

Do not partake in strenuous exercise or anything that may cause sweating for around one week

Clean or apply moisturizers to the area during healing as instructed by your artist
I have been very pleased with the services that I have received at The Gallery of Cosmetic Surgery. There is never any pressure to spend money on other services and everything is explained fully. I highly recommend going there for any treatments you feel are necessary.

Grace
I go to a master esthetician for my laser hair removal and I absolutely love her. She is very professional, sweet and fun to talk too. When I had a consultation with her, she told me an approximate number of sessions it will take to get rid of my hair and she was spot on. I only have one more treatment to go and noticed that I barely have any hair growth anymore. She knows what she's doing, always very careful while doing the treatment and I feel like I can trust her with my skin.

Diana
Dr. Jonov and staff are very caring and professional. They care about the quality of their work and well being of their patients. I am pleased with my results and the care I received 😊

Melissa
Such a beautiful center and was able to answer all my questions perfectly ❤️

Morgan
Frequently Asked Questions
What Is The Golden Ratio?
The golden ratio is a mathematical concept and pattern that often appears in nature. It accounts for the symmetry and perfect spirals of various plants and animal fur patterns. This mathematical principle can be applied to the brows and upper portion of the face. Using various measurements and markings, your microblading artist will identify and mark your golden ratio for symmetrical, flattering brows.
This technique works for all face shapes and brows. Therefore, this is why it has been adopted as the ideal way to create perfect looking brows regardless of facial features or symmetry.
Can I Get Microblading If I've Recently Had Botox?
It depends. If you have had Botox injections within the last few weeks, then no. Your skin may still be healing and the Botox may not have settled yet. Therefore, it is best to put off microblading. However, if you got Botox four to six weeks before, then it may be okay to proceed with microblading. Ultimately, this is at the discretion of your artist who will examine the area and length of time between treatments.
How Is It Different From A Cosmetic Tattoo?
Beyond being semi-permanent when a tattoo is permanent, microblading also does not break as many layers of the skin as a traditional tattoo does. This is partially why it is semi-permanent and also allows for a more natural result. 
Microblading also tends to use slightly different blades and needles. Additionally, for normal tattoos, you generally have to remove all hair in the area. This is obviously not the case with microblading where the natural brow hair acts as a guide for your artist.
Does Microblading Make You Look Younger?
It can. If you have experienced eyebrow hair loss due to age, microblading can help fill in the lost areas. The procedure may even promote new hair growth. It can also provide more shape and make the brows stand out more. A brow tint may also help darken the existing hairs to create a more youthful appearance. As we age, the brow shape and thickness can recede, which makes a microblading procedure a great anti-aging option. 
How Much Is Microblading In Bellevue?
The cost of Bellevue microblading can depend based on the type, treatment area, and other factors. Below are the basic prices of each microblading type.
Traditional Microblading: $300

Powder Brows: $450

Combo Brows: $475

Touch-Up: $175
You can find more detailed cost information on our price list. You can also find links to financing resources.
The Top Microblading Artists In Bellevue & Kirkland At The Gallery Of Cosmetic Surgery
The microblading artists at The Gallery of Cosmetic Surgery are among the best in Washington State. With years of experience and certified tattoo artists, they know how to get you the brows you want. Our microblading artists customize each treatment to your specific needs and anatomy. The Gallery of Cosmetic Surgery provides the best microneedling Bellevue and Kirkland offers.
Our facility serves surgical, non-surgical, and aesthetic cosmetic patients. Whether you are interested in permanent, semi-permanent, or temporary cosmetic procedures, The Gallery of Cosmetic Surgery has experienced and highly trained providers ready to serve you. 
To learn more and to schedule a consultation, call us at 425-775-3561. You can also reach out online via Price Simulator, chat, or our contact form.