Non-Surgical Chin Augmentation Price
Varies
NON-SURGICAL CHIN AUGMENTATION 
While located at the bottom of the face, our chin surprisingly contributes greatly to the overall symmetry of the face. It can define your profile and easily is one of the most important factors in your face shape. Patients seek chin augmentation for many reasons such as a dimpled chin, an undefined chin, or aging-related changes. However, some patients do not want or need a permanent implant. For these people, a non-surgical chin augmentation in Seattle may best suit their needs. Dr. Jonov at The Gallery of Cosmetic Surgery offers non-surgical chin augmentation to patients in the Seattle, Bellevue, and Kirkland areas. 
HOW DOES NON-SURGICAL CHIN AUGMENTATION WORK? 
A chin augmentation is a procedure that increases the size and definition of the chin. This can include filling in divots or dimples, repairing a recessed chin, or simply sculpting a more chiseled chin. Historically, plastic surgeons used chin implants to solve all of these cosmetic issues. Implants are still widely used by cosmetic surgeons today for chin augmentation, however, the latest developments use injectable dermal fillers to safely and effectively augment the chin.
While this is a temporary solution, you can try out the look of your augmented chin before committing to implants, filler is more customizable, and the treatment is easily reversed.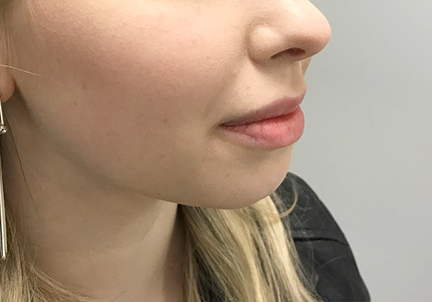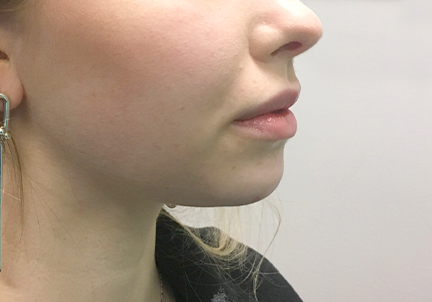 Wanting to define her jawline, this patient came to The Gallery of Cosmetic Surgery for filler. Originally interested in jawline filler, her master injector recommended chin filler instead because it would elongate her jawline to create a slimming effect. Using one syringe of Restylane Lyft, her injector achieved a fantastic result. The patient is thrilled with her new jawline.
What Products Are Used?
Dr. Jonov can use nearly any of our Restylane or Juvederm fillers to create your perfect chin. The four most popular and effective fillers used for non-surgical chin augmentation in Bellevue include: Restylane Defyne, Restylane Lyft, Juvederm Ultra Plus, and Juvederm Voluma. All of these options are hyaluronic acid fillers, which is one of the safest filler materials available because hyaluronic acid is found naturally in the body.
When choosing the right filler for your Bellevue non-surgical chin augmentation, it is important to consider each filler carefully. Among the four most popular options, all are gel hyaluronic acid fillers that provide natural looking results.
Restylane Defyne: This filler is among one of the thickest HA fillers offered from Restylane and it was designed specifically to move with your facial movements, allowing natural movement and results.
Restylane Lyft: This filler from Restylane was made specially for augmentation and works to lift and define your features. It is one of the more cost effective options and can last up to 18 months.
Juvederm Ultra Plus: Thicker than Juvederm Ultra, this filler provides dramatic results for your non-surgical chin augmentation in Kirkland. This is a popular lip filler, but because of its thickly-designed formula, it is perfect for other facial filler treatments as well.
Juvederm Voluma: The longest lasting hyaluronic filler offered for non-surgical chin augmentation, this filler is thick, while remaining malleable. This means your plastic surgeon can sculpt your chin more precisely.
Fillers vs. Implant:
When weighing options for your chin augmentation, it is important to fully understand the benefits of each method. Your cosmetic surgeon can better help you assess which chin augmentation type best fits your needs. Dermal fillers and implants are both effective ways to augment your chin and give your face a more flattering shape.
Fillers
Implant

Temporary

Easily reversible

Noninvasive

Little to no recovery time

Immediate results

More customizable

Simple, quick procedure

Little risk of scarring

Permanent

Only reversible through surgery

Some downtime and recovery 

Visible difference right away, but results will take a few months to set

Provides dramatic results 
Fillers are regarded as a safe way to quickly add volume to the face. They come with little risk or side effects, especially when compared to more invasive surgical procedures. For patients who may not be able to undergo a full surgery, a non-surgical chin augmentation can help them receive the results they want. 
Dr. Jonov can achieve most of the results available with a chin implant using dermal fillers alone. Fillers can also be moved during and after injections to better customize your non-surgical augmentation in Kirkland.  
WHAT IS THE BELLEVUE NON-SURGICAL CHIN AUGMENTATION PROCEDURE?
At a typical non-surgical chin augmentation appointment, your plastic surgeon will begin by reviewing the plan for your filler injections. To begin, they will disinfect the chin and injection sites for a safe procedure. Next, they will apply a topical anesthetic to make your non-surgical chin augmentation in Bellevue a comfortable experience. Finally, once you are adequately numb, they will begin the injections of your chosen filler. The entire procedure should take no longer than about a half hour. 
You should feel little to no pain during the procedure, especially since many Restylane and Juvederm fillers contain lidocaine in their formula. In addition to the topical anesthetic, this helps soothe the injection sites as the filler goes in.
During the injections, you cosmetic surgeon may massage the chin to move the filler into the desired positions. This will allow them to personalize the shape and size of your chin to give you flattering symmetry and proportionate features. This can allow you the chiseled look without implants or major surgery.
WHO IS A CANDIDATE?
As a safe and non invasive cosmetic procedure, most people are good candidates for a non-surgical chin augmentation. However, you should consider your goals, health, and medical history before committing to any cosmetic procedure. 
The ideal candidate for non-surgical chin augmentation in Bellevue is someone who is in good overall health and does not smoke. You will want to be cautious and inform Dr. Jonov of all medications you are taking and medical conditions, so that he can accurately determine how a non-surgical chin augmentation will affect your general health.
In a consultation with Dr. Jonov at The Gallery of Cosmetic Surgery, he will ask about your chin augmentation desires and needs, take a thorough medical history, and examine your chin and surrounding area to decide if you are a candidate for a non-surgical chin augmentation in Bellevue. If he decides you are a candidate, he will educate you on our many filler options, and recommend options that will work for you, your goals, budget, and chin.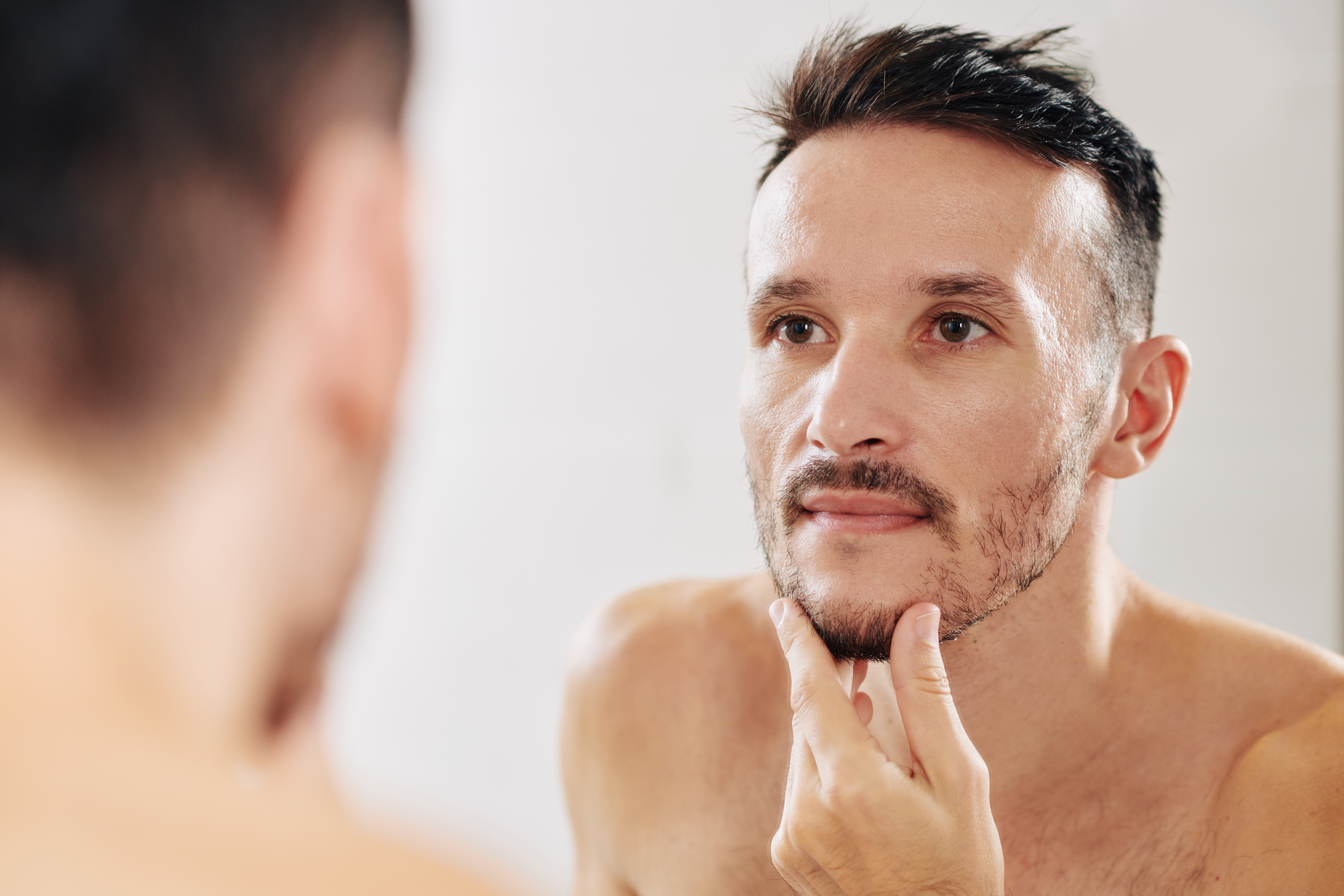 HOW LONG DOES NON-SURGICAL CHIN AUGMENTATION LAST?
As mentioned above, non-surgical chin augmentation is not a permanent solution. Each dermal filler lasts for a different amount of time, but you can expect to undergo a non-surgical chin augmentation roughly every 1 to 2 years depending on your choice of filler.
Even though temporary, a non-surgical chin augmentation can allow patients to try out the look of their new chin before committing to implants. The procedure is also beneficial to people who may not have a major cosmetic they want to address, or people unsuitable for chin implants. A non-surgical chin augmentation offers a chin augmentation option to those who were previously not candidates.  
Can It Be Reversed?
Unlike the more permanent chin implants, a non-surgical chin augmentation is fully reversible. Either through time, or with a safe injectable dissolving solution. This allows you to try out your new chin appearance without fully committing to it. This can also help ease any anxieties or concerns you may feel about your procedure.
Interested in Chin Augmentation?
Fill out the form below to schedule a free consultation or ask any questions you may have.
WHAT IS THE RECOVERY FOR NON-SURGICAL CHIN AUGMENTATION IN KIRKLAND?
Dermal filler treatments–whether for fine lines, augmentation, or lip plumping–are quick and easy treatments that usually require no downtime or recovery. The majority of Kirkland non-surgical chin augmentation patients return to work the day after treatment. Some side effects such as swelling, tenderness, or bruising are possible, but minor. Prescribed painkillers usually are not necessary and side effects should resolve on their own within a few days. 
At your consultation with Dr. Jonov, it is important to inform him of your entire medical history so that he can ensure that your non-surgical chin augmentation is as safe as possible.
SKILLED NON-SURGICAL CHIN AUGMENTATION SCULPTING IN SEATTLE, BELLEVUE, AND KIRKLAND
Dr. Jonov at The Gallery of Cosmetic Surgery is a skilled cosmetic surgeon who specializes in injectable treatments. He has decades of experience performing filler and other injections for patients in the Greater Seattle area. 
This makes Dr. Jonov the perfect choice for your non-surgical chin augmentation. His perfected techniques serve to make your procedure comfortable and successful with results you can see before leaving our office. A non-surgical chin augmentation takes a trained and refined eye to perform which is why it is important to choose an experienced surgeon like Dr. Jonov. 
Our facility is certified by the State of Washington and holds the highest surgery center certification possible. We are constantly working to update our equipment and standards to make sure our patients receive the safest and most state-of-the-art procedures possible.
To schedule a consultation with Dr. Jonov at The Gallery of Cosmetic Surgery, call us at 425-775-3561. Chat using the icon on the lower left of your screen, or contact us online using the form above.