$199
Treatment By: Master Esthetician
DERMAPLANING IN BELLEVUE AND KIRKLAND
Vellus hair, or peach fuzz can be an unwanted nuisance or unsightly for many individuals. This can affect the application of makeup and contribute to acne breakouts and ingrown hairs. Additionally, dermaplaning can help anyone with nearly any skin type restore a healthy looking glow to the skin. Thankfully, the master estheticians at The Gallery of Cosmetic Surgery offer dermaplaning for residents in the Seattle, Bellevue, and Kirkland areas.
WHAT IS DERMAPLANING?
Dermaplaning is a facial treatment that removes dead skin and vellus hair (peach fuzz). This leaves skin feeling softer and smoother. It often can help prevent acne breakouts and physically exfoliates the skin. 
WHAT HAPPENS DURING THE PROCEDURE?
When you come in for dermaplaning in Kirkland, your Master Esthetician will greet you and take you back to one of our private treatment rooms. While you wait, you are welcome to enjoy refreshments and freshly baked cookies.
During the procedure, you will lay back as your master esthetician slowly glides the surgical scalpel across your skin. The scalpel removes thin layers of dead skin and hair on the surface of the skin. You shouldn't feel any pain beyond some light pressure. For the full face, the procedure should take between 30 minutes and an hour.
After your master esthetician finishes dermaplaning, they will apply a facial serum to hydrate, protect and nourish your skin. Following the appointment, your master esthetician will give you directions for the days after dermplaning. Your skin may be more sensitive to the sun and UV rays. Therefore, you should wear sunscreen daily to protect your skin.
BENEFITS OF DERMAPLANING
Dermaplaning is commonly sought because it is a chemical free and safe procedure. Compared to other similar facial procedures, patients see quicker results with dermaplaning. Among these, other benefits include:
Effective and safe for all skin types

Smoother skin

Removal of dead skin
Can improve the appearance of sun damaged skin

Brighter looking skin

Temporary removal of peach fuzz

Easier makeup application

Little to no downtime

Allows for deeper penetration of skincare products

Can be combined with other treatments such as chemical peels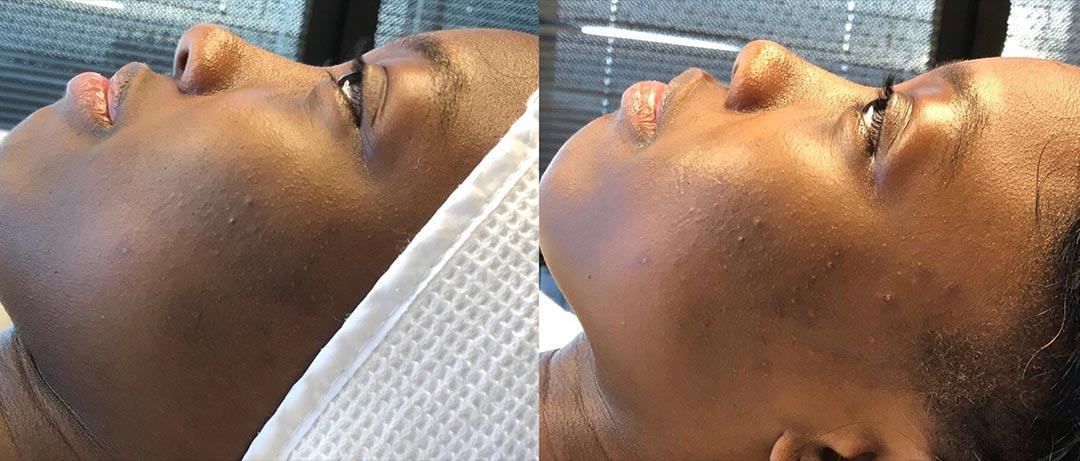 Dermaplaning vs. Laser Hair Removal
Dermaplaning and laser hair removal are both commonly sought treatments to remove unwanted facial hair. Many patients wonder if one treatment is better than the other or if one will offer better results. Both have the same benefits: removal of unwanted hair, little risk of allergic reaction, and they don't carry the same uncomfortable side effects of shaving (like razor bumps). 
The main difference between the two is that hair and peach fuzz removed during dermaplaning will grow back. Dermaplaning is not a permanent hair removal solution. Laser hair removal, however, takes multiple treatments for permanent results and can come with more risks. Laser hair removal also does not work well for those with fair hair (such as those with blond, gray, or white hair) or those with dark skin. For these individuals, dermaplaning is another hair removal solution, but will not permanently affect hair growth.
WHO SHOULD NOT CONSIDER DERAPLANING?
Dermaplaning is a safe and effective procedure for all skin types and tones. However, if you have sensitive skin or certain skin conditions, you will want to use caution when considering dermaplaning in Bellevue. In certain people, it could cause skin irritation, however, this is rare when under professional guidance.  Consulting with a master esthetician at The Gallery of Cosmetic Surgery is the best way to know if you are a good candidate for dermaplaning.
You may not be a candidate for dermaplaning if you have: 
Extremely sensitive skin

A current break out

Keratosis pilaris on the treatment area

Rosacea
Dermaplaning has almost no downtime. Often you can return to work and your normal activities directly after leaving our office.
Smooth, Exfoliate and Glow with 1 session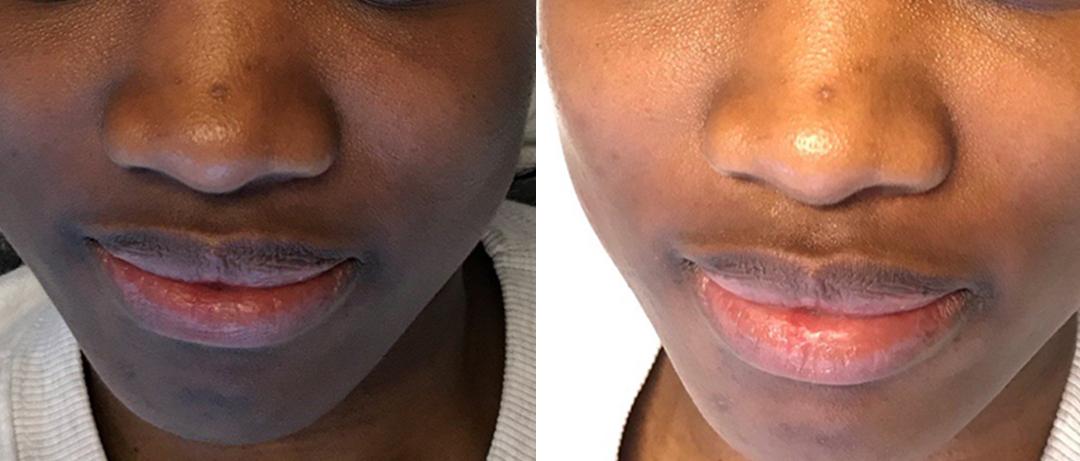 WHAT ABOUT DERMAPLANING AT HOME?
There are many dermaplaning tools available at your local drugstore. But, these tools are not as sharp or effective as the surgical scalpel your master esthetician uses. Trying to dermaplane yourself at home also comes with high risks. At The Gallery of Cosmetic Surgery, we conduct our procedures in a sterile and safe environment. You are laying down and still, and your Master Esthetician can carefully observe as they perform the procedure.
When you attempt dermaplaning at home, you cannot account for all of these variables. It is easier to cut yourself and the treatments are not as effective as dermaplaning in Kirkland by a master esthetician.
When you come to a master esthetician for dermaplaning, they can ensure a safe procedure perfectly catered to your skin concerns and type. The master estheticians at The Gallery of Cosmetic Surgery use the best techniques and equipment available.
Does Dermaplaning Make Hair Grow Back Thicker?
A common misconception is that when you undergo dermaplaning it will make the hair grow back thicker. This is untrue. Dermaplaning does not affect the thickness of peach fuzz or other facial hair. It only temporarily removes it.
For those more concerned with removing hair, laser hair removal can help reduce the amount of hair and discontinue growth in the treated areas. Our master estheticians can recommend the best hair removal treatment for you. In general, dermaplaning only removes hair to allow for smoother foundation application and skin rejuvenation. If you are looking for a more permanent hair removal solution, laser hair removal may be an option for you.
WHAT IS DERMAPLANING AFTERCARE?
Dermaplaning has almost no downtime. Often you can return to work and your normal activities directly after leaving our office. That isn't to say there is nothing you need to do after treatment to take care of your skin and ensure you see the best dermaplaning results possible. Your Master Esthetician will advise you on your specific aftercare regimen. 
After every dermaplaning treatment, it is important to avoid direct and prolonged sun exposure. It is also extremely important to wear sunscreen no matter the season after your dermaplaning facial. After treatment, your skin is more sensitive to the sun and UV rays.
Your Master Esthetician will most likely encourage the use of your normal skin products and continuation of your skin care routine. You should discuss any and all skin products you use so your Master Esthetician can advise you accordingly. Products containing retinol, Vitamin C, or acids can irritate your skin after treatment. Exfoliants you use normally should not be used the same day as treatment. Taking good care of your skin post-dermaplaning and keeping it clean will help prolong your results and help keep that dermaplane glow.
How Often Can I Be Treated?
The length of time between your dermaplaning sessions will depend on if you are having other esthetic procedures performed, your skin type, and other related factors. In general, once the hair grows back, you are probably ready for another treatment. Usually, this is about every six weeks or so.
If you are alternating treatments, you may have two or so months between treatments. Ultimately, how often you have dermaplaning performed by a master esthetician at The Gallery of Cosmetic Surgery, will depend on your specific goals, skin type, and personal preference.
Our Master Estheticians
The Master Estheticians at The Gallery of Cosmetic Surgery are specifically trained in dermaplaning, skin rejuvenation, and hair removal procedures. Also, because they hold the "Master" title, they have more extensive medical training and knowledge than most estheticians. This includes knowledge of medical terminology, skin conditions, and diseases. With their expertise they can advise you of the best ways to treat your skin conditions and concerns.
When seeking out a professional to perform your dermaplaning treatment, a Master Esthetician at The Gallery of Cosmetic Surgery is well qualified and cater dermaplaning to fit your specific skin needs.
WHY CHOOSE THE GALLERY OF COSMETIC SURGERY?
The Gallery of Cosmetic Surgery offers top tier esthetic services and aims to advise you on the best treatment for your skin concerns. Whether you want to improve your skin texture, help treat acne, or fight the signs of aging, our master estheticians are dedicated to finding the treatment options that will best benefit your skin. 
Our office is warm, inviting, and provides a safe environment for all of your esthetic needs. We aim to make you feel comfortable during your time here. You can find refreshments like water, juice, coffee, tea, and freshly baked cookies that you can enjoy before your appointments.
Our Master Estheticians are highly qualified individuals who extensively trained to perform esthetic procedures at The Gallery of Cosmetic Surgery. We want you to leave feeling confident in the procedures and yourself.
WHERE CAN I LEARN MORE?
In a consultation with your Master Esthetician, they will discuss your skin concerns, medical history, and examine your skin. Along with this, they will want to know about your goals for your skin and what you want to achieve with dermaplaning. After determining if you are a good candidate for dermaplaning, your Master Esthetician will provide an individualized plan for your treatment in Seattle.
To schedule a consultation with a Master Esthetician at The Gallery of Cosmetic Surgery, call us at 425-775-3561 or contact us using the form on this page.