Breast Augmentation
(Saline Implant)
$4,995
SALINE BREAST AUGMENTATION BELLEVUE, KIRKLAND, & LYNNWOOD
From 1992 to 2006, silicone breast implants were banned in the United States. This was to allow for FDA testing and eventually re-approval. This has made breast implants–and especially silicone breast implants–the most studied medical device in the world. During this fourteen year period, women seeking breast augmentation received saline breast implants. Saline implants are still an option for breast augmentation today and many women prefer saline breast implants. Dr. Craig Jonov of The Gallery of Cosmetic Surgery offers saline breast augmentation in Bellevue, Kirkland, and Lynnwood.
UNDERSTANDING BREAST AUGMENTATION
Breast augmentation is a cosmetic surgery that uses breast implants to increase breast size. Depending on the choice of implants and the patient's goals, the implants may also provide more roundness, firmness, or alter the shape of the breasts. 
A breast enlargement procedure may also treat a variety of conditions such as asymmetric or tuberous breasts. It is also common with having children, breastfeeding, and aging to lose breast volume. This can result in breast sagging and a complete change in breast appearance and bodily proportions. 
Breast implants can remedy these changes. When it comes to breast implants, women have many choices on the type, size, and specifications. At a consultation, your Seattle plastic surgeon, Dr. Jonov, can discuss the types of breast implants and which may best suit you.
BREAST IMPLANT CHOICES
There are many surgeries that can achieve larger breasts. Fat transfer to the breasts and auto augmentation are two breast enlargement surgeries that do not utilize a traditional breast implant. In many cases, Dr. Jonov will recommend breast implants because they provide the most consistent and best results.
Patients have three main kinds of breast implants to choose from: saline, silicone, and gummy bear. Each breast implant type comes with distinct advantages and all can provide good results in the ideal candidate.
Saline:
All breast implants consist of a silicone outer shell. The difference comes in with what the implants are filled with. Saline breast implants are inserted empty and filled with sterile saline water during surgery. This allows them to be inserted through a smaller incision. 
Patients may also gravitate towards saline implants because of the unlikely event of a rupture. If a saline implant ruptures, the saline absorbs into the body and should not cause any harm. Deflation is also usually apparent with saline implants.
Silicone:
Silicone breast implants are the most commonly used breast implant in the United States. They are widely considered safe and women often believe they provide the most natural feeling and looking results. Filled with silicone gel, silicone implants have more variety and options than saline breast implants.
It has been shown that silicone implants are less likely to ripple or wrinkle than saline breast implants. This means that the breast implant will not push against the skin and become visible, especially when placed under the muscle.
Gummy Bear:
Gummy bear breast implants are the newest generation of silicone breast implants. Made of a highly cohesive gel, the filling of gummy bear implants sticks to itself. This does create a firmer feel, but this is not usually noticeable when placed. The gel is not liquid and therefore is less likely to leak. 
This type of silicone implant has become increasingly popular because many patients find that it provides the most natural results. Studies have also shown that gummy bear implants may have the lowest capsular contracture rate of modern breast implants.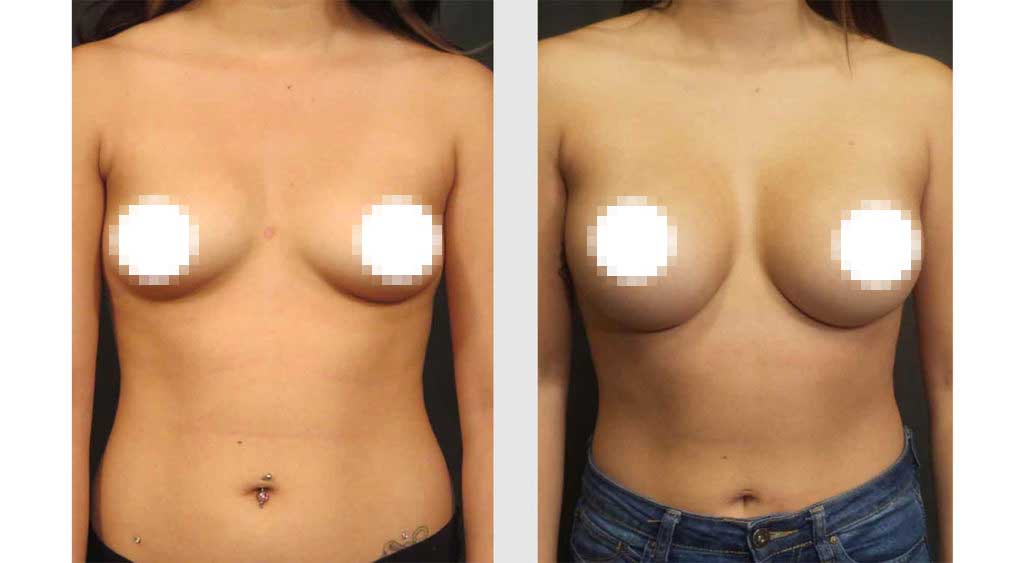 SALINE VS. SILICONE BREAST IMPLANTS
The main decision patients have to make when choosing breast implants is between saline breast implants and silicone breast implants. Over half of US breast augmentations use silicone breast implants. 
Saline implants do hold many advantages and some patients may prefer this type over silicone implants. Based on their goals and body type, some patients may be better candidates for saline breast implants. Dr. Jonov can discuss if saline breast implants are right for you during a consultation at The Gallery of Cosmetic Surgery. Some reasons a patient may choose saline breast implants include:
Preference/desire for a firmer feel

More cost effective option

You have a significant amount of breast tissue and wrinkling is not a concern

Available for patients 18 and older (silicone implants are not available until age 22)

During a rupture, the saline filling will likely leak but should cause no harm to the body

If a rupture occurs, it is apparent quickly

Offer more choice in the incision location

Typically requires a smaller incision
As mentioned, silicone breast implants are the most commonly chosen implant for breast augmentation surgery. It offers many advantages to both surgeons and patients. A few of the advantages of silicone breast implants include:
May provide a more natural look and feel

Offers more implant variety

Provides better results to patients with very little natural breast tissue, or those who are particularly petite

Less likely to ripple or cause wrinkling

Do not deflate

Manufacturers often provide lifetime warranties for silicone implants
Ultimately, choosing between saline and silicone implants is up to your preference. Dr. Jonov has experience placing both types of breast implants. He understands how to cater each saline breast augmentation in Seattle to each individual patient.
SALINE BREAST AUGMENTATION SURGERY OPTIONS
If you decide to undergo a saline breast augmentation, you have many options for the incision location. Dr. Jonov can successfully place saline breast implants using any breast augmentation method. The four breast augmentation techniques are inframammary fold, periareolar, transaxillary, and transumbilical.
Inframammary Fold:
Placing your breast augmentation in the inframammary fold is the traditional method of breast augmentation. This technique places the incision in the breast crease under the breast. This placement allows Dr. Jonov the most control in placing your saline breast implants. The breast crease hides the incision naturally. 
Periareolar:
The periareolar breast augmentation technique uses an incision that follows the bottom half of the areola. This natural change in pigmentation hides the incision well. This incision particularly matches saline implants because it offers a minimal incision. The periareolar technique does come with more risk to the nipples. Therefore, many women are wary of it. Dr. Jonov limits risk to the nipple and makes the smallest incision possible. 
Transaxillary:
The transaxillary breast augmentation technique places the incision in the armpit. This location is becoming extremely popular because it keeps the incision off the breast. It also can lead to an easier recovery because the chest muscle is not cut during submuscular placement. This is a great option for a saline breast augmentation and allows Dr. Jonov to keep the incision small.
Transumbilical:
The least used technique, transumbilical breast augmentation, places breast implants through an incision in the belly button. This method can only accommodate saline breast implants. 
Transumbilical breast augmentation has many benefits such as little or no tension on the incision and possibly a lower infection rate. Few surgeons are fully qualified or trained to perform this method. The plastic surgeons at Seattle Plastic Surgery are experienced and skilled with this technique.
RECOVERY AFTER BELLEVUE SALINE BREAST AUGMENTATION
Recovering after saline breast augmentation is similar to other types of breast augmentation surgery. However, there are a few notable differences. A saline breast augmentation usually entails a smaller incision than silicone or gummy bear breast implants. Saline implants also have more options for placement. Certain placements require less excision and have shorter recovery times (like transaxillary and transumbilical breast augmentation). 
In general, you can expect a similar recovery regardless of breast implant choice. It is normal to experience some pain, bruising, and swelling.  Dr. Jonov will instruct you to massage your breasts to reduce this and prescribe medications to limit discomfort. 
Most breast augmentation patients return to work in about a week. Although, Dr. Jonov can provide a more accurate timeline based on your individual healing following surgery. Patients can expect to return to most activities in about two weeks. Usually, patients resume their full exercise routine in about two or three months.
Risks Of Saline Implants:
Breast augmentation surgeries of all kinds come with some inherent risks. All surgeries have the risk of infection, skin death, complications from anesthesia, and nerve damage. When it comes to the specific risks of saline breast implants, they do come with the risk of some rare complications. 
The risks and complications associated with saline breast implants are rare when placed in an ideal candidate. The specific risks of saline breast implants include:
Capsular contracture

Rupture/saline implant deflation

Rippling/wrinkling

Bottoming out

Unsatisfactory look or feel
Luckily, if saline breast implants rupture, they pose no immediate health risk in most cases. The implant will simply deflate and your Bellevue plastic surgeon can then remove the silicone shell. Overall, the risks of saline implants are low.
THE BEST SALINE BREAST AUGMENTATION IN BELLEVUE, KIRKLAND, AND LYNNWOOD
Dr. Craig Jonov of The Gallery of Cosmetic Surgery provides the best saline breast augmentation Seattle and Tacoma offers. Utilizing advanced techniques to reduce risks, Dr. Jonov performs the safest possible breast augmentation surgery. As a premier cosmetic surgeon, Dr. Jonov has nearly two decades of experience and performs numerous breast augmentation procedures every week. 
Located in Lynnwood, The Gallery of Cosmetic Surgery is a high-end cosmetic surgery practice with a JCAHO-accredited facility. Serving the Bellevue, Kirkland, and Lynnwood areas, The Gallery of Cosmetic Surgery supplies cosmetic surgery, injectables, and esthetic services. Along with cosmetic surgery and esthetics, The Gallery of Cosmetic Surgery offers unique amenities including on-site parking and beverages. 
To schedule a consultation with Dr. Craig Jonov, call us at 425-775-3561. You can also contact us online via our Price Simulator™ app, contact form, and chat.