Combo Brows Bellevue & Kirkland
Permanent makeup is one of the most sought after esthetic treatments of the 21st century. With people's lives busier than ever, cutting out parts of their morning routine can be extremely attractive to time-strapped people. Whether a mother trying to focus on getting the kids to school or a professional who works long hours, everyone deserves to look their best. Microblading, specifically combo brows microblading, allows people to get natural, defined, and enhanced brows without needing to apply makeup every morning. The Gallery of Cosmetic Surgery performs the best combo brows Bellevue and Kirkland offer.
Overview: Combo Brows
Combo brows, also sometimes called hybrid brows, are a form of microblading that utilizes both the traditional and powder brows techniques. This often creates a more natural looking enhancement and lets your microblading artist customize the treatment more based on your existing brows and growth patterns.
The combination technique is among the newest forms of microblading. It takes a skilled microblading artist with the right equipment to successfully apply combo brows in Bellevue. Our microblading artists specialize in combo brows and perform them several times a month.
Like with the other microblading options offered at The Gallery of Cosmetic Surgery, the ink is vegan and cruelty free. It is gentler than regular tattoo ink and specially formatted for the eyebrows.
Benefits
There are several benefits of combination brows, especially for those interested in microblading, but who want to maintain a natural look. Some of the benefits and advantages may include:
Defines brow appearance and shape

Makes brows look fuller and correct sparse brows

Enhance the eyebrow arch

Reshape the brows according to the golden ratio and patient preferences

Applied via the growth pattern of the natural brow hairs

Can complement face shape

May be the longest lasting form of microblading

Little to no pain

Following healing, minimal maintenance needed

Saves time and money

Semi-permanent, which allows for future alterations to fit brow trends and preferences

Personalized to fit each patient's skin type and anatomy

Treatment takes place in a medical grade environment

Performed by a certified tattoo artist who specializes in microblading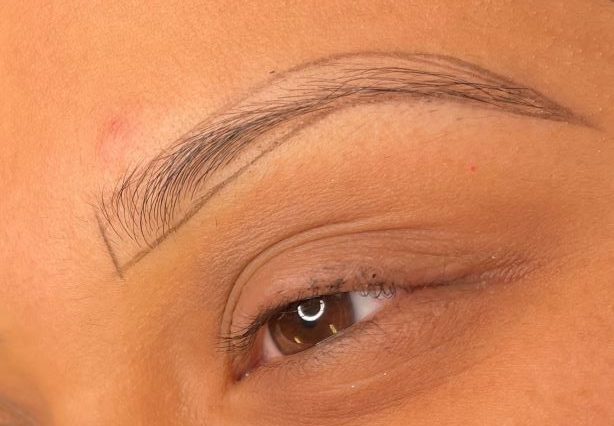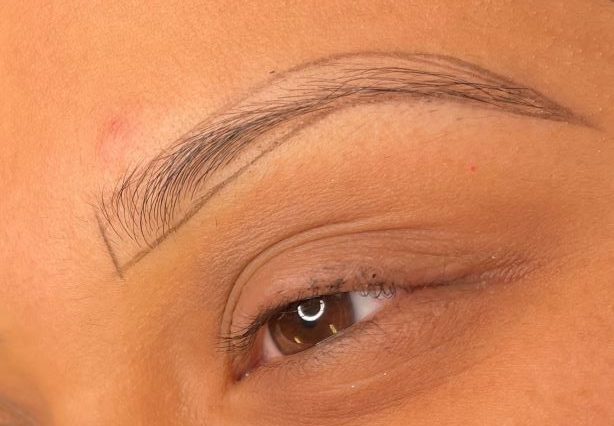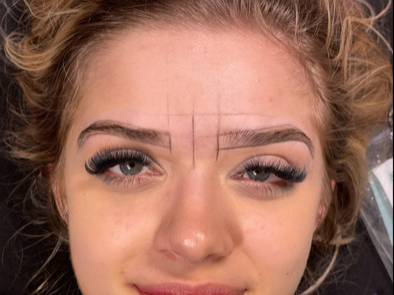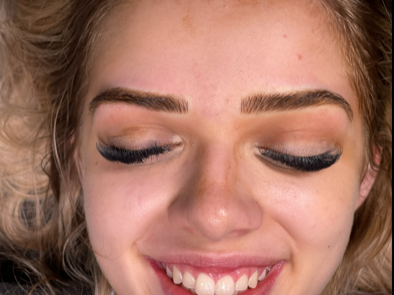 Before & After Combo Brows Microblading
Consultation
To start your microblading journey, you will meet with one of our microblading artists. During this consultation appointment, they will review your medical history, lifestyle, and goals. Your artist may also examine the eyebrow area to determine what is necessary to provide the results you want. They will also present the various techniques and discuss which one may be right for you.
If you and your artist both agree that combo brows are the best option, they will describe the procedure more in-depth and provide you with preparation instructions. In some rare cases, they may proceed with the microblading the same day, though this is unlikely. If you have concerns about allergies, your microblading artist may recommend a patch test.
Microblading Session
On the day of your combo brows microblading session, you will be taken back to one of our treatment rooms. Your microblading artist will instruct you not to wear makeup the day of your appointment. They will start by cleaning and disinfecting your eyebrows. Next, they will apply topical numbing cream. This will sit for around ten to twenty minutes.
After this, they will begin creating your Bellevue combination brows. What makes this technique unique is that it uses the traditional technique along the widest and most inner part of the brow. This is because naturally, this area looks wispier and hair-like strokes look natural. Then, your microblading artist will use the powder technique towards the tail end of the brows and anywhere else you may need fuller coverage.
Generally, this results in an extremely natural looking brow enhancement that will need little to no makeup every day to keep your brows looking their best. This provides more time in the day without having to worry about not having time for makeup. 
Touch-Up & Aftercare
About four to six weeks after your initial treatment, it is highly recommended that you come in for a touch-up. This promotes the longevity of your combo brows. It also allows your artist to go over areas where the ink may not have taken as well. For people with oily skin, this is especially important. This is because sometimes the oil can cause the ink to fade more during initial healing.
Otherwise, following your microblading sessions, your artist will provide aftercare instructions such as:
Limit sun exposure

Do not get the brows wet including in the shower, sweating, or submersion

Refrain from applying makeup or skincare to the brow area that you have not cleared with your microblading artist

Avoid strenuous workouts and activities for at least a week (light working out is generally okay)

Do not touch or pick at the brows or scabs
Healing Timeline
Healing after microblading will look slightly different for everyone. People with major medical conditions, who smoke, or take certain medications may heal slower than others. Below you can find the expected average timeline for healing after combo brows microblading.
One To Two Days
Immediately following your session, you can expect the brows to be a little tender and red. They should not be overly painful or bleed beyond some pinprick bleeding in the office. The brows will likely gradually change color over the coming days. They may also swell.
Week One
During the first week, patients may notice the brows darken or lighten in appearance. They may also start to scab over. All of these changes are normal and expected. Avoid picking at the scabs and getting the brows wet. This stage is important for the healing process.
Week Two
The scabs should start to fall off naturally by or during week two. You may also notice some peeling or flaking in the area. It is still important not to pick at the area as this can ruin the results or cause scarring.
Week Three
Scabs should completely peel off by week three and the brows should start to take on a more final appearance. They may start to darken and usually, patients can return to their skincare routines and getting the brows wet. Though, our artists still advise again unnecessary or excessive exposure to water.
Week Four
All side effects such as redness, itchiness, and flakiness should be gone and the full color should be starting to emerge. Some patients may be ready for a touch-up by week four. Others may need to wait one or two more weeks based on how they are healing. The small abrasions themselves should be fully healed.
I just wish there was a gallery on my side of the Sound! Thanks for keeping everyone astonished when I tell them my real age.

Robin
Friendly and knowledgeable staff. Very happy with my service!

Jen
Great experience. Super friendly staff.

Chynna
Staff very pleasant, professional and nice. This was my first time visiting a cosmetic provider and they made me feel very comfortable.

Deidra
Frequently Asked Questions
How Long Do Combo Brows Last?
Combination brows are expected to last around two to four years. Some people may require yearly or bi-yearly touch-ups to maintain their results. However, even without additional touch-ups, combo brows results should gradually fade over a few years.
Can You Keloid From Microblading?
Yes, though the likelihood is extremely low. Most people will not scar from microblading as it only penetrates a few layers of skin (even fewer than a traditional tattoo). However, if you are prone to developing keloids or hypertrophic scars, your microblading artist may recommend other forms of brow enhancement.
What Happens To Microblading As You Age?
If left untouched, microblading results will eventually fade for a few years. It should gradually lighten and fade and eventually be indistinguishable from your natural brows. However, you can keep and modify your microbladed brows as you age to maintain an enhanced eyebrow appearance.
Combo brows are especially recommended for aged skin because they tend to stay better and adhere to thinner facial skin. With that said, at a certain age, it may become difficult to upkeep your natural brow appearance. Revision microblading is always possible if your skin or the pigment changes drastically.
Are There Alternatives To Microblading?
Yes, if you want to try out non-surgical brow enhancements without the commitment of microblading there are options. Treatments such as brow lamination and brow tinting may be right for you. Additionally, if you need or want a larger scale enhancement, an eyebrow hair transfer can help restore lost brow hairs permanently, in most cases.
You can discuss all of the possible eyebrow enhancement procedures with your microblading artist during a consultation at The Gallery of Cosmetic Surgery.
How Much Are Combo Brows In Bellevue?
Combo brows start at $475 with a touch-up starting at $175. Prices may vary depending on what is necessary for an individual treatment. You can find more pricing information on our price list. 
The Gallery of Cosmetic Surgery also works with outside financing companies such as Care Credit, Alphaeon, and United Medical Credit. You can find more information and links to apply for these resources on our financing page.
The Best Combination Microblading In Bellevue & Kirkland
The Gallery of Cosmetic Surgery is a leading plastic surgery practice and medical spa located in Lynnwood, WA. Situated near all major highways including I-5, I-405, and Highway 99. The convenient location and free onsite parking make the facility the ideal place for combo brows microblading. The Gallery of Cosmetic Surgery offers the best combo brows Bellevue and Kirkland provide.
The microblading artists at The Gallery of Cosmetic Surgery have years of experience and are certified tattoo artists. They specialize in permanent makeup for the brows and are familiar with and well versed in all major microblading techniques. They customize each microblading session to the client and their facial features.
To learn more and schedule a consultation, call us at  425-775-3561. You can also reach out online via Price Simulator, chat, or contact form.
Contact Us
Schedule your consultation or ask us a question by filling out the contact form below.