En Bloc With Auto Augmentation
Varies
PROCEDURE TIME: 2 - 4 Hours
En Bloc Breast Implant Removal With Auto Augmentation  Bellevue & Kirkland
At the time that a patient decides to get breast implants, they often fit the patient's lifestyle and view of themselves. However, as they age and life changes, sometimes breast implants no longer fit this narrative. Also, in less common cases, a patient may develop a complication or symptoms consistent with a breast implant problem such as a rupture or breast implant illness (BII). This may call for breast implant removal which can be achieved using various techniques, including the en bloc technique. Dr. Jonov at The Gallery of Cosmetic Surgery performs his own revolutionary en bloc breast implant removal with auto augmentation to maintain as much breast volume as possible.
Overview: En Bloc Breast Implant Removal With Auto Augmentation
Dr. Jonov can use many different techniques for explant surgery. If you plan on replacing your breast implants with new ones, he will likely perform a partial, capsulectomy as the full amount of scar tissue does not need removing. If you have capsular contracture or mild breast implant illness, he may perform a total capsulectomy which removes all of the scar tissue, but in pieces. 
An en bloc breast implant removal is where the scar tissue capsule surrounding the implant and the implant itself are removed in one piece. It involves a larger incision and generally is a more difficult procedure. However, for those who experienced a rupture or severe breast implant illness, this is often the recommended and preferred technique.
A common concern among these patients is that they do not want to lose too much breast volume which is perfectly understandable. Dr. Jonov only removes the implant and scar tissue, but if a lift is required, may need to remove more tissue. However, he uses a technique known as auto augmentation which repositions existing breast tissue to preserve as much breast volume as possible while still correcting sagging breasts.
Reasons For Breast Implant Removal
Every patient will have varied reasoning for wanting to remove their breast implants. Ranging from personal to medical, there are many valid reasons for wanting to remove breast implants. Dr. Jonov happily obliges patients whatever their reasons. Some of the motivations behind breast implant removal include:
Simply does not want their implants anymore

Breasts have grown overly large due to weight gain, pregnancy, etc.

Want to exchange their implants for newer ones

Capsular contracture

Implant rupture or deflation

Breast implant illness

Unrelated breast cancer diagnosis

Unexplained pain or discomfort of the breasts

Overly large implants were placed

Rippling

Implant shift

Other personal reasons
Benefits
There are several benefits to undergoing an en bloc breast implant removal with auto augmentation surgery. Receiving the advantages of both procedures, the right candidates for an en bloc and auto augmentation often see long lasting, fantastic results. Among some of the benefits of an en bloc breast implant removal with auto augmentation include:
Relief from adverse side effects or symptoms of breast implants

Removal of breast implants for other reasons

Perkier breasts

Maintains as much breast volume as possible

Removes entire capsule of scar tissue related to the implant

Ideal for addressing ruptured breast implants

Reduction or cessation of breast implant illness symptoms

More youthful looking breasts

Breasts that better match the patient's needs and desires

Combined procedure limits recovery time

Minimal side effects

Long lasting results

Future breast surgery is usually still possible

Exercise may be easier

Can relieve chronic back or neck pain if breast implants contributed
Auto Augmentation vs. Breast Lift
An auto augmentation is a breast lift technique that Dr. Jonov created and perfected to maintain as much volume as possible without traditional breast augmentation. It uses the same or similar incisions to a breast lift surgery and usually involves many of the same processes. The table below highlights some of the differences between auto augmentation and breast lift.
Auto Augmentation
Breast Lift

Prioritizes volume

Makes use of extra tissues

Shifts patient's existing tissues into a more lifted and volumized position

Avoids using breast implants

Creates augmented look

Potentially more subtle results

Less risk of numbness

Breasts stay at or close to their current size

Prioritizes perkiness

Discards extra tissues

Moves nipple and removes skin and tissues for a more lifted position

Can accommodate breast implants

Breasts often look smaller after

Results may or may not be dramatic

More risk of numbness

Breast size often reduces significantly
Otherwise, the two procedures are quite similar. They involve roughly the same recovery time, come with similar risks, both will likely reposition the nipple, and both are performed in similar situations. When performing an en bloc surgery, if the patient wants to maintain as much volume as possible, an auto breast lift is the ideal choice. If this is unimportant for the patient, they can choose between the more traditional technique and auto augmentation.
Before & After En Bloc With Auto Augmentation
Consultation
The first step to undergoing an en bloc implant removal with auto augmentation is to attend a consultation with Dr. Craig Jonov. Dr. Jonov will discuss your goals for the procedure, medical history, lifestyle, and other relevant information. He will want to know the details of your original surgery such as implant size and type, the incision used, and how long ago it took place.
Following the discussion, Dr. Jonov will examine your breasts for signs of capsular contracture and other similar issues. He may also look at the surgical scars and if the breasts sag at all. Based on his findings, he will create an individualized plan for your cosmetic breast surgery in Bellevue.
Preparation
To prepare for your en bloc breast implant removal with auto augmentation, Dr. Jonov will provide you with various instructions. The Gallery of Cosmetic Surgery team will also help you with the logistics of your surgery. Some of the preparations to make can include:
Make arrangements for lodging, transportation, and childcare if necessary

Arrange for a caregiver (family, friend, or hired caregiver)

Apply for financing if necessary

Adjust current medications if instructed

Obtain medical clearances if needed

Fill prescriptions

Clean and get groceries to avoid this during recovery

Fill prescriptions

Wear loose clothing on the day of surgery

Shower the night before or day of surgery

Stop smoking for several weeks before surgery
Depending on medical history and lifestyle, Dr. Jonov's specific instructions may vary from patient to patient. You will receive instructions at your pre-operative appointment and potentially at your consultation or upon scheduling surgery.
Surgery
Once placed under general anesthesia, Dr. Jonov will begin by making the necessary incisions. Usually, an en bloc with auto augmentation incision is an anchor incision typically seen in a breast lift. Though, it does not always encircle the nipple. 
First, he will remove the breast implant and scar tissue. This can take time because he needs to ensure that he is removing all of the scar tissue intact and not leaving any behind. Once the implants are removed, he will trim away extra skin and then use the excess tissues to sculpt the breast into a perkier position. He may or may not reposition the nipple depending on your anatomy.
Recovery
Recovering from an en bloc with auto augmentation is similar to the original breast augmentation procedure. Many patients find it easier than the initial surgery. Some of the side effects you may experience include swelling, pain, bruising, chest tightness, redness, and itchiness.
Dr. Jonov typically recommends one to two weeks off work. He will also prescribe prescription painkillers and antibiotics to prevent infection. Dr. Jonov will continue to monitor healing through post-operative appointments.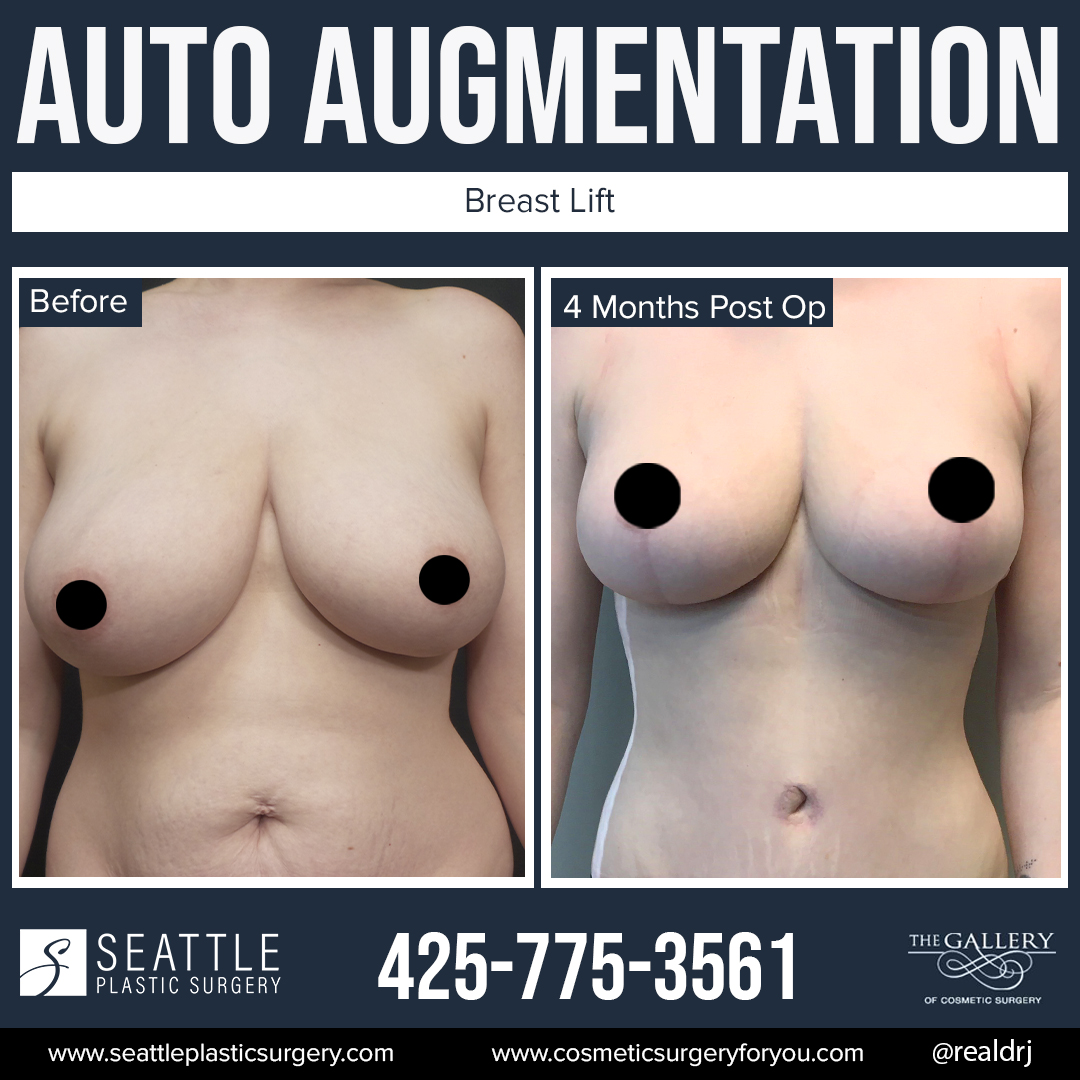 Frequently Asked Questions
Is En Bloc Covered By Insurance?
Not usually, though there are sometimes exceptions. However, exceptions are rare. Regardless, The Gallery of Cosmetic Surgery does not accept insurance for en bloc procedures but does work with outside financing companies including Care Credit, United Medical Credit, and Alphaeon. You can find more information and links to apply on our financing page.
How Much Breast Volume Will I Be Left With?
Several factors influence this such as the implant size, natural breast size, and the amount of skin removal needed. Dr. Jonov can better evaluate the possibilities of auto augmentation during a consultation after getting an understanding of your unique anatomy and situation.
Can You Do Fat Transfer To The Breasts After En Bloc?
Usually, yes. Though, you should likely fully recover from your implant removal before undergoing a fat transfer to the breasts procedure. In some cases, Dr. Jonov may be able to perform them together.
When Do I Know The Right Time To Remove My Breast Implants?
If you believe it is time to remove your breast implants, then it is likely the right time. However, if you are having no problems and still desire your implants then there is no reason to remove them. If you are on the fence, Dr. Jonov can help you know if there may be other alternatives such as ultrasound massage for the earlier stages of capsular contracture.
Is The En Bloc Technique The Right One For Me?
It depends. The only time an en bloc is considered fully necessary is in the case of a rupture and potential leak. However, if a patient is experiencing severe breast implant illness symptoms, it can often bring them peace of mind to know that no part of their breast implants is left behind. In some cases, it may be imperative to remove the implants in such as way. 
Otherwise, en bloc is not always necessary to remove implants experiencing capsular contracture, which are being replaced, or a simple removal for personal reasons. Dr. Jonov can help you explore the options and determine which would be ideal in your case.
The Best En Bloc Breast Implant Removal With Auto Augmentation In Bellevue & Kirkland
The Gallery of Cosmetic Surgery is a premier plastic surgery practice and medical spa located in Lynnwood, Washington. Easily accessible from both major freeways and serving patients from Bellevue, Kirkland, and Seattle, The Gallery of Cosmetic Surgery provides the best en bloc breast implant removal with auto augmentation Bellevue and Kirkland offers.
Dr. Craig Jonov is an experienced and accomplished plastic surgeon. With over two decades of experience in cosmetic procedures and injections, he has performed thousands of breast surgeries during his career. He is frequently chosen to educate others in his field in optimal technique. 
To learn more and schedule a consultation, call us at 425-775-3561. You can also reach online using Price Simulator, chat, and our contact form.