NASOLABIAL FOLD FILLER BELLEVUE AND KIRKLAND
Some of the first signs of aging can appear on the face as early as your twenties. For many people, this is the nasolabial lines or folds. Often referred to as "laugh lines", there are some who may have prominent nasolabial folds or laugh lines from childhood. Others may develop them with age or weight loss. One of the most effective ways to treat the appearance of the nasolabial folds is to inject dermal fillers. The Gallery of Cosmetic Surgery provides the best nasolabial fold filler Bellevue and Kirkland offers.
UNDERSTANDING FACIAL ANATOMY: THE NASOLABIAL FOLDS
The nasolabial fold runs from the base of the nose to the corners of the lips. As aging occurs, the folds can become more prominent and noticeable. Occasionally, when smiling or moving your lips, lines can form alongside the folds. These are known as smile lines.
While lip movements may contribute to the lines that may appear near the folds. Although, the folds themselves have more to do with the cheeks. As the fat in your cheeks descends and the skin produces less collagen, this causes folds to form and deepen. More visible folds can begin to occur in your twenties. Though, some may not see a significant change until their forties or fifties. Smoking and environmental damage can speed up this process.
Filling In Laugh Lines
Patients frequently become distressed when they notice that their nasolabial folds have become deeper. Depending on the way you are aging and other concerns you have, there are a variety of treatments that can lessen the appearance of laugh lines. Some of these may include:
In general, dermal fillers injected into the folds are the best way to disguise the nasolabial folds. Though, many injectors and master estheticians recommend using a combination of fillers and professional skincare procedures for optimal results.
Interested In Smile Line Fillers?
Fill out the form below to schedule your appointment or ask us any questions you may have.
Benefits
There are countless benefits of nasolabial fold filler. Patients often remark after the procedure that it took years off their face and improved their facial appearance. Among some of the benefits of the procedure include:
Younger appearance

Increase collagen production

Decrease shadowing above the mouth

Address other wrinkles and fine lines

Smooth out nasolabial folds and smile lines

Correct asymmetry of the nasolabial folds

Plump the midface area

Can create a more "lifted" look

Maintain natural facial expressions

Safe and effective

Quick procedure, usually under thirty minutes

Few side effects or risks

Little to no recovery

Pain managed via topical numbing creams and/or lidocaine
TYPES OF DERMAL FILLERS FOR THE NASOLABIAL FOLDS
There are many different dermal filler options available for the nasolabial folds. Essentially, the fillers can be broken down into two different categories: hyaluronic acid fillers and semi-permanent fillers. 
Each offers distinct advantages and can create a fantastic result. During your consultation, you and your injector will discuss the various fillers and what they can offer you. Let's look at the two main categories to understand the major differences and the primary fillers in each.
Hyaluronic Acid
Hyaluronic acid fillers are derived from hyaluronic acid, which your body naturally makes and that is found in many skincare products. This is the most common type of filler used across all regions of the face, including the lips, chin, temples, under eyes, and more. Hyaluronic acid fillers come in different consistencies, but are generally malleable and feel and look natural.
This type of filler has a good safety record and few risks. A few examples of hyaluronic acid fillers used for the nasolabial folds include:
Restylane Refyne

Juvederm Ultra Plus

Restylane Defyne

Juvederm Voluma
Both Juvederm and Restylane have other fillers that your injector may recommend. Generally, if you have not had filler before, or filled the nasolabial folds, hyaluronic acid fillers are a perfect solution.
Semi-Permanent Fillers
Semi-permanent fillers are typically made of denser materials and last longer than hyaluronic acid fillers. Another notable quality is that many semi-permanent fillers promote collagen production to naturally plump the area, even after the need for a touch-up comes around. 
The filler in this category used most often is Sculptra. Sculptra is made of poly-L-lactic acid and was originally developed to restore facial volume in those with autoimmune diseases. Therefore, it is a great option for nasolabial fold filler. 
While semi-permanent fillers do have distinct advantages over hyaluronic acid ones, they come with increased risk. They must be only injected into ideal candidates and by a qualified injector.
Choosing The Right Filler
The right filler for the nasolabial folds will vary from patient to patient. Factors that impact what makes the right filler for you include:
Your goals

Skin quality

Medical history

Allergies

Anatomy

Descended or lost fat

Your preferences

Experience with fillers
Your injector will discuss all of this with you during your consultation. Based on your individual needs and goals, they can recommend a filler for you and tailor the injection technique.
NASOLABIAL FOLD FILLER FROM START TO FINISH
Consultation
Before undergoing Bellevue nasolabial fold filler injections, you will meet with one of our expert injectors for a consultation. At this appointment, your injector will want to know your goals and what you hope to achieve with Bellevue filler injections. Next, they will review aspects of your medical history and lifestyle. This is to ensure the procedure is safe for you and determine if you require any additional instructions or specialized techniques. For example, smokers may find their results come in slower or that they experience more side effects.
Finally, your injector will examine the nasolabial area. This allows them to see the severity of your folds and lines. Your injector can then determine if you are a candidate for the treatment. They can also recommend the filler they think will serve you best. If they do not believe you are a good candidate, they will likely provide you with other options that can address your concerns.
Sometimes, your injector can carry out the nasolabial fold filler injections the same day. Otherwise, you can schedule your appointment before you leave the office.
Injections
The first step in the Bellevue nasolabial fold filler process is to disinfect and clean the area with alcohol. They will then offer you topical numbing cream. While not necessary, most patients do choose to take advantage of the numbing cream. After about fifteen to twenty minutes of numbing, you and your injector are ready to begin injections. 
Dermal fillers are injected using either a needle or a cannula. Both techniques can provide great results. If you are a first time filler patient, a cannula may be the right call as it tends to cause little to no bruising and decreases the likelihood of complications. A needle allows for a more precise injection but may cause more side effects and comes with slightly more risk. Your injector can discuss the differences with you and what may work best for your injections. Let's look at how each technique works.
Needle

 The traditional way of administering dermal fillers, the needle method is still widely used. After preparation, your injector will carefully inject the needle just below the skin. They will ensure they are within the mid-dermis, or the middle layers of skin. If you have only superficial lines, they may stay just below the skin. Your injector will then inject the filler and massage away any bumps for a smoother result.
Cannula

A cannula is a thin, flexible tube that prevents your injector from inadvertently going too deep. It also tends to reduce or even eliminate bruising in most patients. After initial preparation, your injector will use a small needle to create an entry point for the cannula. They will then insert the cannula and gently move it along the fold. This technique often only requires two injection sites–one on each side of the face. Like with the needle technique, your injector will then massage the filler into place.
Aftercare
Immediately following your nasolabial filler in Bellevue, your injector will give post-procedure instructions. Generally, patients can return to most aspects of their daily life right after treatment. However, you will want to avoid exercise or activities that may cause sweating as this can increase the risk of infection. Additionally, strenuous exercise can affect the settling of the filler.
It is also best to avoid touching the area, unless instructed to massage or apply ice. Try to sleep on your back if possible. Usually, within a couple of days, patients can return to all regular activities. Any side effects they experience usually resolve within two weeks.
Everyone here was so nice and helpful, really made me feel nice. Offered complimentary drinks and everyone was so friendly. My nurse was soooooo great she made me feel beautiful!

Sara
Staff very pleasant, professional and nice. This was my first time visiting a cosmetic provider and they made me feel very comfortable.

Diedre
The staff has always been very helpful and I'm always pleased with the outcome. The injectors are very professional.
My injector was amazing and so sweet. He is personable and very professional. I look forward to receiving treatment from him again.

Alessandra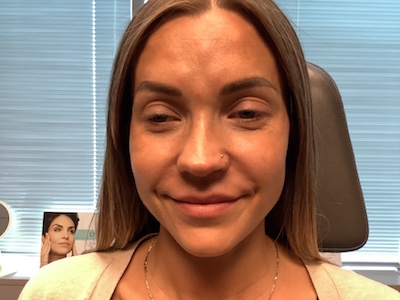 GET THE BEST NASOLABIAL FILLER IN BELLEVUE AND KIRKLAND AT THE GALLERY OF COSMETIC SURGERY
Northwest Face & Body is a full service plastic surgery practice and medical spa. Our injectors handle a high volume of patients and use techniques meant to be safer and minimize side effects. Coming from all educational backgrounds including physicians and registered nurses, our injectors all received hands-on training from our plastic surgeons and filler manufacturers. This is why Northwest Face & Body provides the best nasolabial fold filler Bellevue and Kirkland offers.
Located at Carillon Point on Lake Washington, the beautiful Northwest Face & Body office creates a comfortable and welcoming atmosphere. Within ten minutes of both downtown Kirkland and Bellevue, Northwest Face & Body is the Eastside's top provider of dermal filler treatments.
To schedule a free consultation with one of our expert injectors, call us at 425-576-1700. You can also reach out to us online using our Price Simulator®, chat, or contact form.
FREQUENTLY ASKED QUESTIONS
How Long Do Nasolabial Fold Fillers Last?
Dermal fillers injected in the nasolabial folds can last anywhere from three to eighteen months. Factors that influence longevity include the type of filler used, your lifestyle, and your body's biology. The average patient tends to see their smile line filler last between six months to a year. Your injector will discuss this more with you at your appointment.
Does Laugh Line Filler Hurt?
Topical numbing cream is applied before treatment to keep pain and discomfort to a minimum. Many hyaluronic acid fillers also contain small amounts of lidocaine for a numbing effect during injections. However, some patients may still feel some minor pain or discomfort. Generally, the injections are quick and bearable.
What Are The Possible Risks?
Dermal filler injections are considered some of the safest and most effective cosmetic procedures. When performed by an experienced and trained professional, nasolabial fold filler is an extremely safe procedure. However, even the safest treatments do have some risks. Adverse events after nasolabial filler are rare and usually treatable in the office.
While rare, some of the risks of nasolabial fold filler include:
Infection

Lumps and bumps that do not go away after two weeks

Vascular occlusion

Prolonged side effects such as bruising or swelling

Allergic reaction

Bleeding (behind initial pinprick bleeding)

Scarring
Can BOTOX Correct Laugh Lines?
Yes, though it is usually not as effective as filler. If you only have the slight appearance of smile lines due to the natural muscle movements of the lips and lower face, then BOTOX for smile lines may work. For deeper, more permanent lines, dermal fillers are the better choice for most patients.
What Is The Cost Of Nasolabial Filler In Bellevue And Kirkland, WA?
The cost of nasolabial fold filler will depend on the filler you choose. The prices can range from $489 to over $1,000. At Northwest Face & Body, fillers are priced per syringe. Therefore, if you use more than one syringe, this will add to the cost.
Your injector will provide a more in-depth price quote during your consultation after you discuss the specifics of your treatment. Northwest Face & Body does also works with two outside financing companies, Care Credit and United Medical Credit. Many filler manufacturers also have rewards programs that can save you money on future treatments.