Recovery Time: Little to None
VI PEEL BELLEVUE, KIRKLAND, AND LYNNWOOD
Skin conditions like acne and rosacea can cause pain and interfere with everyday life. There are various options for patients with these conditions for treatment and management. Along with this, most people have cosmetic skin goals. Whether you want to look younger, get rid of acne scars, or simply maintain your skin, our master estheticians can craft a customized skincare plan.  At The Gallery of Cosmetic Surgery, our master estheticians use a variety of treatments and tools to achieve patient's goals and improve the overall quality and look of the skin. One of our most effective treatments for both skin conditions and cosmetic concerns is the VI Peel. The Gallery of Cosmetic Surgery offers the best VI Peel Bellevue, Kirkland, and Lynnwood offers.
ABOUT THE VI PEEL
The VI Peel is a chemical peel designed to treat a variety of skin conditions and concerns. Considered a medium strength peel, it offers the results seen with more invasive peels without the pain or downtime. It also comes with a prepared kit of aftercare for the days following your Bellevue VI Peel. Each peel takes approximately thirty minutes to complete and is fully customized to every patient.
Development & Ingredients:
The creator of the VI Peel originally formulated the skin peel to help treat his teenage daughter's cystic acne. It was among one of the few treatments that relieved her painful symptoms and contributed to clearing up her skin. He accomplished this via a complex and intricate formulation of powerful ingredients.
Like traditional chemical peels, the VI Peel contains a mix of acids. These acids resurface the skin to remove dead skin and impurities and reveal a fresh layer of skin beneath the surface. VI Peels offer a few different versions with slightly different concentrations and blend of ingredients. However, the majority of their peels offer some concentration of:
Salicylic Acid

Trichloroacetic Acid (TCA)

Phenol

Retin-A
Other ingredients that may be present in the VI Peel or it's aftercare products include:
Vitamin C

Hydrocortisone

Kojic Acid

Hydroquinone
VI Peels are paraben free, cruelty free, and the peels themselves are gluten free. The peels are also free of grade seed oil. The VI Peel is safe for all skin types and tones.
Treatments:
Each VI Peel product is specially designed to treat specific conditions or concerns. After a consultation with a master esthetician, they can determine which will most benefit you. The VI Peel may effectively treat or improve:
Fine lines and wrinkles

Loss of skin elasticity

Keratosis Pilaris

Rough skin texture

Uneven skin tone

Sun damage

Age spots

Hyperpigmentation

Increases cell turnover

Overly oily skin

Cystic acne

Rosacea

Acne scarring
Your master esthetician may recommend other treatments or procedures in addition to your Bellevue VI Peel. Combining procedures, especially over several months, often produces the best results. Other treatments your master esthetician may recommend include microneedling, dermaplaning, oxygen facials, rain facials, or dermal fillers for certain types of scarring.
The VI Peel can complement nearly any skin routine. If you choose to combine the peel with other treatments, you may see better results over time. The key to skin rejuvenation is making sure to diversify your treatment.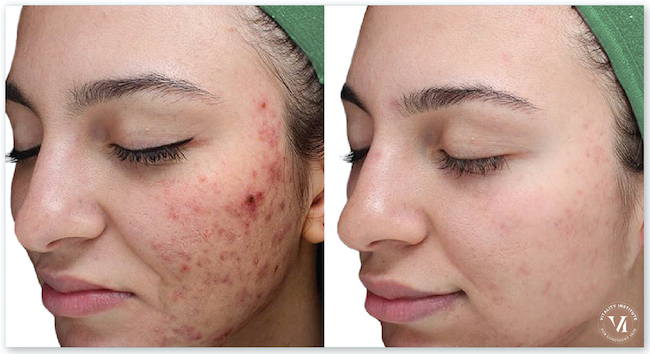 MEDIUM DEPTH CHEMICAL PEELS vs. THE VI PEEL
The VI Peel is a medium depth peel because it uses acids like TCA. Light depth chemical peels usually stick to salicylic acid, glycolic acid, or similar acids. While a medium depth peel, the VI Peel generally does not act like a medium depth peel. There are several differences between the VI Peel and traditional chemical peels. The table below highlights a few of these differences.
Chemical Peels
VI Peel

Peeling can last up to a week

Removed in office or self-neutralize

May need pain medications after the procedure

Burning or stinging common

Moisturizers or other ointments often applied before leaving

May require downtime

Ingredients typically less varied

Peeling usually lasts 2-3 days

Self-neutralized and then removed at home

Comes with a pre-packaged kit of aftercare

Built-in anesthetic soothes pain after a few second 

No products applied before the peel is washed off
Some similarities exist between traditional medium strength peels and the VI Peel. Both treatments come with similar risks and results. The main differences are that the VI Peel comes with less or no downtime and is usually gentler on the skin. Most patients do not need to take time off work and experience little post-procedure following a Bellevue VI Peel.
THE VI PEEL IN BELLEVUE
Finding the right chemical peel and provide for your facial peel treatment can be a stressful and difficult endeavor. If you have skin conditions, it can become even harder to find a qualified provider. The master estheticians at The Gallery of Cosmetic Surgery are master estheticians with training in medical skin conditions and beautification. This allows them to bridge the gap between medical treatment and aesthetics.
Candidates:
Due to the powerful ingredients and efficacy of VI Peels, not everyone is a candidate for a VI Peel in Bellevue. The best way to find out whether you are an ideal candidate is to schedule a consultation with a master esthetician. 
During a consultation, your master esthetician will first want to know about your concerns and goals. Some conditions and goals will not benefit from the VI Peel and your master esthetician can recommend other treatments. Next, they will review your medical history. If you have taken prescribed, harsh acne medications in the past year, you will likely need to wait before having a VI Peel. Also, if you are pregnant or nursing, you will need to wait until you have discontinued both.
Finally, your master esthetician will physically examine your skin and the treatment area. This allows them to understand your anatomy to determine if you are a candidate.
Most people in good health and without allergies to the ingredients are probably good candidates. If you have had a chemical peel before, you are likely a candidate for the VI Peel.
Application:
Applying the VI Peel consists of multiple steps, similar to the normal application of a chemical peel. Unlike a traditional skin peel, it requires you to take some steps at home after your peel. The procedure can vary slightly based on your needs. The steps for administering your peel are as follows:
One: Your master esthetician will cleanse your face to remove oils, toxins, and pollutants on the surface.
Two: Your master esthetician will apply the first layer of the peel. You may feel a stinging which will soon dissipate.
Three: The second layer is applied and your skin will likely begin to frost. At this point, your master esthetician will cease application.
Four: You will leave the office with the peel on. In the meantime, you can go about most of your daily activities. You should avoid sun exposure and exercise.
Five: Roughly five to six hours following application and at least one hour before bed, you will wash off the VI Peel.
Aftercare:
The VI Peel–unlike other medium chemical peels–does not require significant downtime. While should refrain from exercise and sun exposure for a few days, you can largely continue all of your normal activities. Depending on the products you use, you may also need to temporarily alter your skincare routine.
Patients usually begin to see peeling at about day three. Usually, this resolves within two to four days. Some patients notice that the VI peel does not cause as much painful peeling as other peels. Results usually appear at about a week after treatment.
Contact Us
To schedule a complimentary consultation or with questions about facials at The Gallery of Cosmetic Surgery serving Kirkland, Bellevue & Lynnwood, WA.
This office is wonderful. I have been here for invasive as well as noninvasive procedures and the staff and providers are excellent. They provide a variety of services with the upmost professionalism. Highly recommend.
I have been going here for years and love their skin treatments and services!
FREQUENTLY ASKED QUESTIONS
Does The VI Peel Hurt?
The VI Peel may sting or tingle for a few seconds upon application. Usually, this goes away after a few seconds because of the anesthetic in the peel formula. After treatment, you may experience some redness and pain similar to that of a mild sunburn. Compared to most medium depth chemical peels, the pain is minimal and manageable.
Can I Exercise After?
You should avoid exercise and strenuous activity for around two to four days. Sweat and a raised temperature can inflame the skin and cause irritation or even blisters. Normal activities such as walking or shopping can continue as long as you do not get sweaty or exert too much.
How Long Will I Peel After The VI Peel?
Patients typically only see peeling for about two to four days after a VI Peel. The worst peeling usually occurs on days three or four. Everyone's skin will react differently and some patients can peel for up to a week, but this is exceedingly rare with the VI Peel.
How Long Do VI Peel Results Last?
The amount of time you enjoy your results largely depends on what you are treating. The average patient will undergo a VI Peel every three to four months after their skin concerns have been addressed. Patients with more extensive damage may require peels at closer intervals. In general, results can last for weeks or months once the initial conditions are treated. You will also likely notice an overall improvement in your skin following Kirkland VI Peel treatment.
Why A Master Esthetician?
Master estheticians are estheticians who underwent additional training in medical conditions and invasive treatments. They are qualified to administer all types of chemical peels, laser treatments, as well as more traditional procedures like dermaplaning. Due to their experience and knowledge of medical conditions, they can administer treatments for a variety of skin conditions.
PREMIER VI PEELS IN BELLEVUE, KIRKLAND, AND LYNNWOOD
The master estheticians at The Gallery of Cosmetic Surgery perform chemical peels, including the VI Peel, often. Experienced with the treatment of acne, scarring, and sun damage, they administer gold standard non-surgical procedures to improve skin quality. Featuring years of experience and unbeatable expertise, our master estheticians offer the best VI Peel in Bellevue, Kirkland, and Lynnwood.
Serving the areas North and East of Seattle, The Gallery of Cosmetic Surgery is located in Lynnwood with easy access from both I-5 and I-405. Along with top notch esthetic procedures, our plastic surgeons also offer premier plastic surgery services. Our office consists of a cozy waiting room with unique amenities like coffee and bottled water.
To schedule a consultation with a master esthetician, call us at 425-775-3561. You can also contact us online via our contact form, Price Simulator™ app, or chat.