REASONS FOR A BELLEVUE MALE FACELIFT
The reasons that men and women seek facelifts are usually the same or similar. Both men and women want to look their best and more youthful. However, as mentioned above, facelifts performed on men and women often focus on different areas of the face and facial cosmetic issues.  
Facelifts For Men Typically Correct Issues Like:
Sagging jowls

Undefined jawline

Pronounced nasolabial folds

Neck sag
Because some facial features are considered more masculine, certain procedures often complement a male facelift well. For men who have a recessed chin, a facelift surgery with a chin implant may provide an optimal result. For others, a brow lift or neck lift may address other concerns that affect the look of their facelift. Discussing your concerns and goals with your plastic surgeon will help you garner an understanding of which procedures may best suit you and your needs.
Men often feel hesitant to seek out a male facelift in Bellevue because of the results of bad facelifts that frequent the media. A male facelift requires a talented surgeon who understands the unique differences in male faces to achieve a natural look. Dr. Jonov aims to achieve a look that maintains your individual facial features without looking frozen or unreal.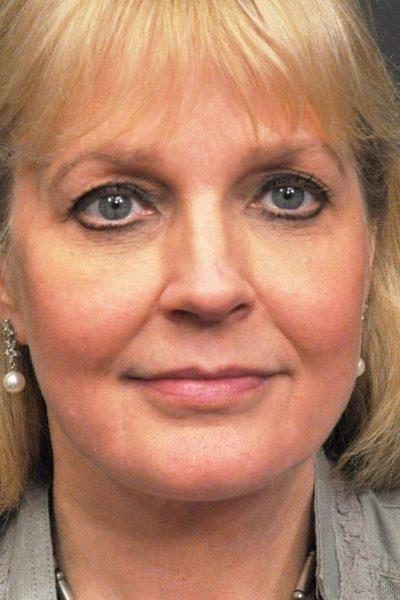 MALE FACELIFT IN SEATTLE, BELLEVUE, AND KIRKLAND
Facelift surgery is a precise and careful art because it requires the preservation of an individual's unique features, while reversing the effects of time. The use of minimally invasive and proven techniques can help deter visible scarring and maintain your individuality. Male facelift procedures vary from those performed on women. This is because men value and possess different facial features that require specialized attention.  Dr. Jonov at The Gallery of Cosmetic Surgery understands the delicate nuances between men and women's faces and skin. He uses this knowledge to plan a customized facelift for men in the Seattle, Bellevue, and Kirkland areas.
WHAT ARE THE DIFFERENCES BETWEEN A FEMALE AND MALE FACELIFT?
The differences between a female and male facelift will change between patients, as not all men require the same corrections or extent of facelift. When it comes to the alterations Dr. Jonov makes between a men's and women's facelifts, the main changes include the incision locations and the features he focuses on. 
Women often have luck hiding their facelift incisions with long hair. Not all men can do this, which makes placing their incisions trickier. Many men also have concerns that their incisions could hinder beard growth. Usually, incisions are placed away from or do not affect facial hair growth, but Dr. Jonov can ensure well placed incisions not likely to interfere with your beard. Popular incision sites for male facelifts include: 
Behind or just in front of the ear (hidden in the natural creases)

Under the chin

Sideburns

Within the hairline
The other major contrast between a female and male facelift is that they often correct completely different issues. Men's and women's faces sometimes show aging differently due to hormonal and skin differences. Typically, men first see aging in the lower face, like the jowls and neck. Consequently, women's faces tend to age in the upper and middle thirds. Men and women can both see aging in all areas of the face, but with a strong jaw and chin important to a masculine looking face, men tend to want and need corrections in these areas.
Why Modify The Procedure?
Beyond the cosmetic differences between male and female faces, a variety of biological and medical factors also contribute to why Dr. Jonov performs male facelifts distinctly from a woman's facelift. Because of higher levels of testosterone, men have thicker skin than women.  This requires different surgical techniques and incision placement to ensure hidden incisions and minimal scarring. 
Additionally, men often take pride in their facial hair and do not want to hinder their ability to have a beard. This requires Dr. Jonov to plan the incision location carefully. Based upon your particular facial features and needs, he will demonstrate the best locations for the incision to provide you ideal results and keep the incision covert.
When a man comes in for a facelift consultation, Dr. Jonov will take his precise needs into account when planning surgery. This includes accounting for male skin and features. Not only does this lead to better results, but it also increases the safety of male patients.
How Do These Techniques Increase Satisfaction For Male Patients?
Male facelift patients require a different surgical approach to ensure patient satisfaction. The main reason for this is the ability to grow a prominent beard. A beard requires more blood flow to sustain. Therefore, Dr. Jonov needs to account for this extra blood flow and to ensure that a beard is not compromised after facelift surgery. This precaution also prevents uncontrolled bleeding, which male patients are more at risk for due to the increased blood flow to support thicker skin and facial hair.
When a man seeks a facelift, they should ensure that the cosmetic surgeon they choose has experience performing male facelifts. Since the male anatomy differs from the female one, it is important to choose an experienced cosmetic surgeon who can achieve the results you want through safe and proven methods.
TYPES OF MALE FACELIFT IN KIRKLAND
Many techniques exist for facelift surgery. When it comes to male facelifts, some of the most common techniques include the mini facelift, endoscopic facelift, and the deep plane facelift. Dr. Jonov can help you determine which type of facelift will best benefit you and your cosmetic goals.
Mini Facelift
A mini facelift is a less invasive procedure compared to a full facelift. It utilizes a smaller incision and typically only addresses the lower face. For younger men, or those with fewer concerns, a mini facelift may provide good results. Some patients do not require a full facelift, therefore, making a mini facelift a compatible procedure with their goals.
Endoscopic Facelift
An endoscopic facelift utilizes an imaging technology called an endoscope to guide the surgeon during surgery. This allows them to make smaller incisions and be more precise. This facelift includes an endoscope inserted into the facial tissues which can aid in lifting and gently repositioning the tissues. It is similar to an endoscopic brow lift.
Deep Plane Facelift
A deep plane facelift goes deeper than just your skin. It moves the underlying tissues as well to provide a structurally younger face. While this type of facelift requires a talented cosmetic surgeon and can sound extensive, there is no separation between the tissues and skin, which often allows for a quicker recovery with optimal results.
Dr. Jonov can help you determine which type of facelift will best suit your needs. Depending on your problem areas and overall health needs, he can recommend the best course of action and work with you to create a customized surgical plan.
WHO IS A GOOD CANDIDATE FOR A SEATTLE MALE FACELIFT?
Most healthy men showing the signs of aging are good candidates for a Seattle male facelift procedure. Because of the many types of facelifts and a few non-surgical options, The Gallery of Cosmetic Surgery can usually find a facial rejuvenation technique for you. As a surgical procedure, not everyone can undergo a male facelift. 
Firstly, as with any elective surgery, you must be in good general health. Discussing your medical history, health conditions, and medications will allow Dr. Jonov to determine if your health is compatible with a male facelift in Seattle.  
Secondly, you and Dr. Jonov will want to use caution if you have certain medical conditions. These diseases or disorders may make you ineligible for a male facelift, or for certain surgical techniques. Conditions such as bleeding disorders, cancer, pulmonary or cardiac issues, and if you have had previous radiation cancer treatment in the head or neck. Informing Dr. Jonov if you have a history of or currently have these conditions, so that he can accurately determine whether you are eligible for a male facelift.
Finally, you must hold realistic expectations for your male facelift in Seattle. Understanding what your facelift can accomplish is essential. For those that hold unrealistic expectations, no surgical result will reach their goals. Knowing your procedure will also allow you to gauge when to contact Dr. Jonov and The Gallery of Cosmetic Surgery during your recovery. 
Contact Us
To schedule a complimentary consultation with Dr. Jonov or with questions about Facelift Surgery at The Gallery of Cosmetic Surgery serving Kirkland, Bellevue & Lynnwood, WA.
HOW MUCH DOES A MALE FACELIFT COST?
A male facelift performed by Dr. Jonov at The Gallery of Cosmetic Surgery is $9,995. Dr. Jonov can provide a better cost estimate at your consultation because he will understand your individual needs. This can affect the price of your male facelift in Kirkland. 
While The Gallery of Cosmetic Surgery does not offer internal financing, we work with outside financing companies like Care Credit and Alphaeon to make your facelift affordable. You can find more information about these options on our financing page.
EXPERIENCED FACELIFT SURGEON IN SEATTLE, BELLEVUE, AND KIRKLAND
Dr. Jonov at The Gallery of Cosmetic Surgery has years of experience performing many types of facelifts on male and female patients. He understands the intricacies of a facelift and how it can differ from person to person. Dr. Jonov has operated in the Greater Seattle area for over a decade and continues to learn and seek education on the newest techniques and procedures in cosmetic surgery. 
Due to male facelifts requiring more skill and considerations, choosing a surgeon to perform it is essential to your results and safety. Dr. Jonov will work with you to craft a facelift plan that accounts for all of your needs. This includes catering the procedure to address your specific concerns and goals, as well as, ensuring the safest facelift surgery possible. 
During your consultation with Dr. Jonov at The Gallery of Cosmetic Surgery, he will first want to know about your goals for the procedure and your cosmetic concerns. After getting a good understanding of what you want, he will review your medical history with you. This will allow him to determine if undergoing a surgery is possible and safe for you. Finally, Dr. Jonov will examine your face, neck, and surrounding areas. After this examination, he will decide if a male facelift in Seattle will benefit you. 
If he decides a facelift is a viable option for you, he will explain your surgical options and recommend the one he believes will best help you. Before the end of the consultation, Dr. Jonov will help you visualize your results and give you basic pre-operative instructions. 
To schedule a free consultation at The Gallery Cosmetic Surgery, call us at 425-775-3561 or contact us using the form above.
"I am so glad I had this Facelift. My skin is just beautiful and smooth. I enjoy coming here to the Gallery w/Dr. Jonov and his staff they make you feel welcome and at ease. Kudos to you Dr. Jonov!

Kim

Glad I made the decision to come here!