Fat Transfer To The Breasts
$6,995
FAT TRANSFER TO BREASTS IN BELLEVUE, KIRKLAND, AND LYNNWOOD
Breast implants have long stood as the best breast augmentation tool. With various options, breast implants can achieve most patient's goals for their breasts. However, some patients have concerns that cannot be addressed adequately with breast implants, or they do not want breast implants made of artificial materials. Luckily, modern advancements have presented fat transfer as a new breast augmentation option. Dr. Craig Jonov at The Gallery of Cosmetic Surgery performs fat transfer to the breasts in Bellevue, Kirkland, and Lynnwood. 
WHAT IS FAT TRANSFER TO THE BREASTS?
Fat transfer to the breasts is a breast augmentation option where fat taken from one area of the body is injected into the breasts. Typically, Dr. Jonov removes the donor fat via liposuction. Some of the most common donor sites include the abdomen, thighs, and lower back. 
Unlike a traditional breast augmentation, fat transfer to the breasts cannot guarantee the size of breasts following surgery. Fat is somewhat unpredictable. The procedure is best for women who only want a moderate size increase, or who want to treat minor shape deformities of the breast. 
Common uses of fat transfer to the breast include:
Small size increase (one to two cup sizes)

Fill in shape irregularities following breast biopsy

Hide breast implant rippling

Provide additional augmentation or correct shape irregularities with existing breast implants
Despite fat transfer to the breasts providing less predictable results, the majority of fat injected stays within the breasts. Dr. Jonov also accounts for some fat loss by injecting slightly more fat than necessary to achieve your goals.
Is It Safe?
Fat transfer to the breasts is considered a safe surgery. While it comes with some inherent risks like any surgery, the body is less likely to reject fat than a breast implant. When performed by an experienced plastic surgeon like Dr. Craig Jonov, fat transfer to the breasts is a perfectly safe procedure. 
Risks of the surgery include general surgery risks such as infection, fluid collection, or blood clots. Dr. Jonov minimizes risks through pre-operative and post-operative instructions as well as refined surgical techniques.
CANDIDATES FOR BREAST FAT TRANSFER
In general, candidates for a breast augmentation procedure are usually candidates for fat transfer to the breasts. Candidates for the surgery should be in good health and managing any major health conditions. It is also recommended that patients maintain a stable weight, as weight loss or gain following a fat transfer procedure can affect results. 
Dr. Jonov may recommend breast implant surgery over fat transfer to the breasts if you do not have enough donor fat. Thin patients with little body fat likely will not have enough fat to transfer. Ultimately, the best way to know if you are a candidate for a fat breast augmentation is to schedule a consultation with Dr. Craig Jonov at The Gallery of Cosmetic Surgery.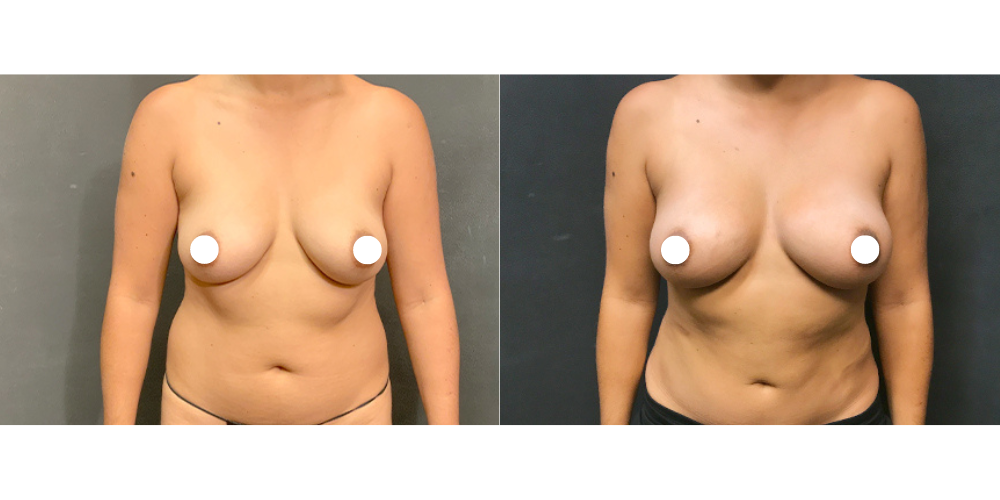 FAT TRANSFER TO THE BREASTS: BEFORE AND AFTER
Your Consultation
When you come in for a consultation with Dr. Jonov, he will want to first understand your medical history and goals for the outcome of your breasts. After gaining insight on what you want to achieve, Dr. Jonov will perform a physical examination of your breasts and the possible donor areas. 
Following this in-depth conversation and exam, Dr. Jonov will determine if you are a candidate for fat transfer to the breasts. If he believes the procedure would meet your expectations, you may be a good candidate for the surgery.
Your Breast Surgery
To begin your surgery, Dr. Jonov will perform liposuction on the donor area(s). He will keep body contouring and aesthetics in mind to ensure a good result from the lipo. The liposuction consists of only tiny incisions to insert the liposuction cannula.
Once Dr. Jonov removes enough fat, he will purify it and prepare it for injecting into the breasts. The purification process separates the fat from the tumescent fluid (used during liposuction) and blood. This leaves only the fat for transfer into the breasts. 
Finally, using a cannula or thin needle, Dr. Jonov will inject the fat strategically into the breasts. He will keep your expectations in mind to determine the best placement for the fat and to promote the best result based on your goals. 
On average the procedure takes around two hours, but can take longer depending on the amount of fat Dr. Jonov transfers. The amount of fat transferred will vary from patient to patient.
Recovery
When you wake up from Bellevue fat transfer to the breasts, your breasts may look slightly bigger than your goal breast size. Dr. Jonov purposely injects extra fat because on average 10% to 40% of the fat will not take hold in the breasts. This is also due to swelling which will gradually go down throughout recovery.
Dr. Jonov will give post-operative instructions and patients usually go home the same day of the procedure. You will require a caregiver for at least the first 24 hours following the procedure and to drive you home. Most patients take at least a few days to a week off work to allow for swelling to go down and to rest adequately. Dr. Jonov will prescribe pain medications and antibiotics to promote healthy and comfortable healing.
Since the only incision is the small liposuction incision, patients generally heal well and experience little to no scarring. Recovery following a breast fat transfer is usually shorter than that of a breast augmentation.
BREAST IMPLANTS VS. FAT TRANSFER
Both major breast augmentation options including breast implants and fat transfer offer various benefits. The option that will best meet your expectations and that is most compatible with your health and anatomy is best determined during a consultation. 
Breast implants remain the most popular breast augmentation option, but fat transfer can offer some patients many advantages. Below you can find the many advantages of both options.
Advantages Of Breast Implants:
Provides the most dramatic results

Can improve the profile of the breasts

Come in many different sizes, shapes, and materials

Can correct conditions such as tuberous breasts

Widely considered a safe surgery

Procedure can suit patients of all body types

Consistent, predictable results
Advantages Of Fat Transfer To Breasts:
Capsular contracture, rippling, or common breast implant complications no possible

Can improve other contours of the body through harvesting of the fat via liposuction

No foriegn implant

Can provide smaller amount of augmentation or shape enhancement where implants are not necessary

No incisions on the breasts (or extremely minimal incisions for the insertion of a cannula)

Can correct mild breast asymmetry

Feels and looks the most natural out of any breast augmentation option

Little to no risk of damage to the nipple or milk ducts
Each breast augmentation technique has it's advantages and drawbacks. However, both procedures are effective methods of breast augmentation. Fat transfer to the breasts can allow patients who do not want breast implants or who only want moderate results. 
"What people want most when they go to a plastic surgeon is an excellent result. That is what I got when Dr. Jonov performed reconstructive surgery on my breasts. I am ecstatic with the results – the doctor exceeded my expectations! In addition, Dr. Jonov is compassionate and kind and took the time to address my concerns and to check in on me the evening of the surgery. Besides the expertise of Dr. Jonov, I also received wonderful service from each and every person that I came into contact with at the Gallery of Cosmetic Surgery; from the beginning of the planning process, through the surgery itself, to post-operative care. I strongly recommend Dr. Jonov and his team to anyone interested in breast surgery!

Sandra

I strongly recommend Dr. Jonov and his team to anyone interested in breast surgery!
Why Do Some Patients Choose Fat Transfer Over Breast Implants?
Every patient has unique motivations. However, many patients choose to undergo a fat transfer breast augmentation because they do not want the risk of complications associated with breast implants. While breast implant complication rates remain low and they are one of the most studied medical devices on the market, fat transfer to the breasts offers a completely natural breast augmentation option.
Other patients may use fat transfer to the breasts to disguise breast implant rippling, or if they want to go up only a cup size or so. In these cases, fat transfer offers many advantages over breast augmentation. 
How Long Do The Results Last?
One of the most common concerns and questions prior to a fat transfer surgery is: How long will it last? 
The answer is not straightforward or simple. The length of time a patient enjoys breast fat transfer results will depend on many factors, including lifestyle, weight loss or gain, amount of initial fat retention, and future procedures. Many patients enjoy their results years following the procedure. 
Dr. Jonov can add additional fat in the future to maintain results or make up for lost fat due to weight loss or other factors. However, many patients only undergo one fat transfer and find amazing, long lasting results.
THE BEST FAT TRANSFER BREAST AUGMENTATION IN BELLEVUE & KIRKLAND
Dr. Craig Jonov is among one of the best breast augmentation surgeons in Bellevue and performs hundreds of breast augmentation procedures using varying techniques every year. He knows how to achieve the best results from a fat transfer to the breasts procedure. Along with precise injection of fat into the breasts, Dr. Jonov will ensure the donor area complements your body contours.
The Gallery of Cosmetic Surgery's facility is located just off Interstate 5 and meets the highest standards of accreditation. Dr. Jonov and The Gallery of Cosmetic Surgery team place your safety above all else and use only the best techniques for Kirkland fat transfer to the breasts.
To schedule a consultation at The Gallery of Cosmetic Surgery, call us at 425-775-3561. Additionally, you can contact us via chat, text, or the contact form on this page.