Breast Augmentation
(Saline Implant)
$4,995
Breast Augmentation
(Silicone Implant)
$6,495
Breast Augmentation
(Gummy Bear Round Implant)
$7,495
Breast Augmentation
(Gummy Bear Anatomical Implant)
$8,495
BREAST AUGMENTATION WITH LIFT IN BELLEVUE, KIRKLAND, & LYNNWOOD
With age and having children, it is natural for the breasts to lose volume and sag. Women often do not like these changes and wish they could restore the look of their breasts. These changes can also cause self esteem issues and negatively impact a woman's life. For women ready to rejuvenate their breasts, a Bellevue breast augmentation with lift can return some of the lost volume, enhance the shape, and correct sagging breasts. Dr. Craig Jonov at The Gallery of Cosmetic Surgery offers breast augmentation with lift in Bellevue, Kirkland, and Lynnwood.
OVERVIEW: BREAST AUGMENTATION WITH LIFT
Breast augmentation with lift, as the name implies, is a surgery that combines a breast augmentation with a breast lift. This adds breast volume while also removing extra skin and tissue that causes the breasts to sag. The procedure is commonly performed on women who have breastfed because it can cause volume loss in the breasts. Breastfeeding can also result in the breasts sagging due to the stretching of the skin on and around the breasts with milk production. 
For women where volume loss and breast sagging are both concerns, a breast augmentation with lift in Bellevue may meet their needs. 
Bellevue Breast Augmentation:
Using breast implants, breast augmentation increases the size and alters the shape of the breasts. With a variety of breast implant sizes and shapes, Dr. Jonov can achieve complete breast rejuvenation.
The two most common breast implants include saline and silicone. Depending on an individual patient's needs and goals, Dr. Jonov may use fat for breast augmentation or a procedure known as "auto augmentation". Both of these procedures do not require a foreign implant.
During a consultation, Dr. Jonov can discuss the many breast augmentation procedures, breast implants, and options. For patients undergoing a breast lift with augmentation, Dr. Jonov can usually place the breast implants through the breast lift incisions.
Benefits of Breast Augmentation
Nearly any woman unhappy with the appearance of her breasts may benefit from a Bellevue breast augmentation. Benefits of breast implants can include:
More cleavage

Rounder breasts

Improved breast symmetry

Breasts better complement body proportions

Restoration of lost breast volume or tissue

Correction of mild breast sagging or pseudoptosis

Treatment of tubular breasts

Improvement of self esteem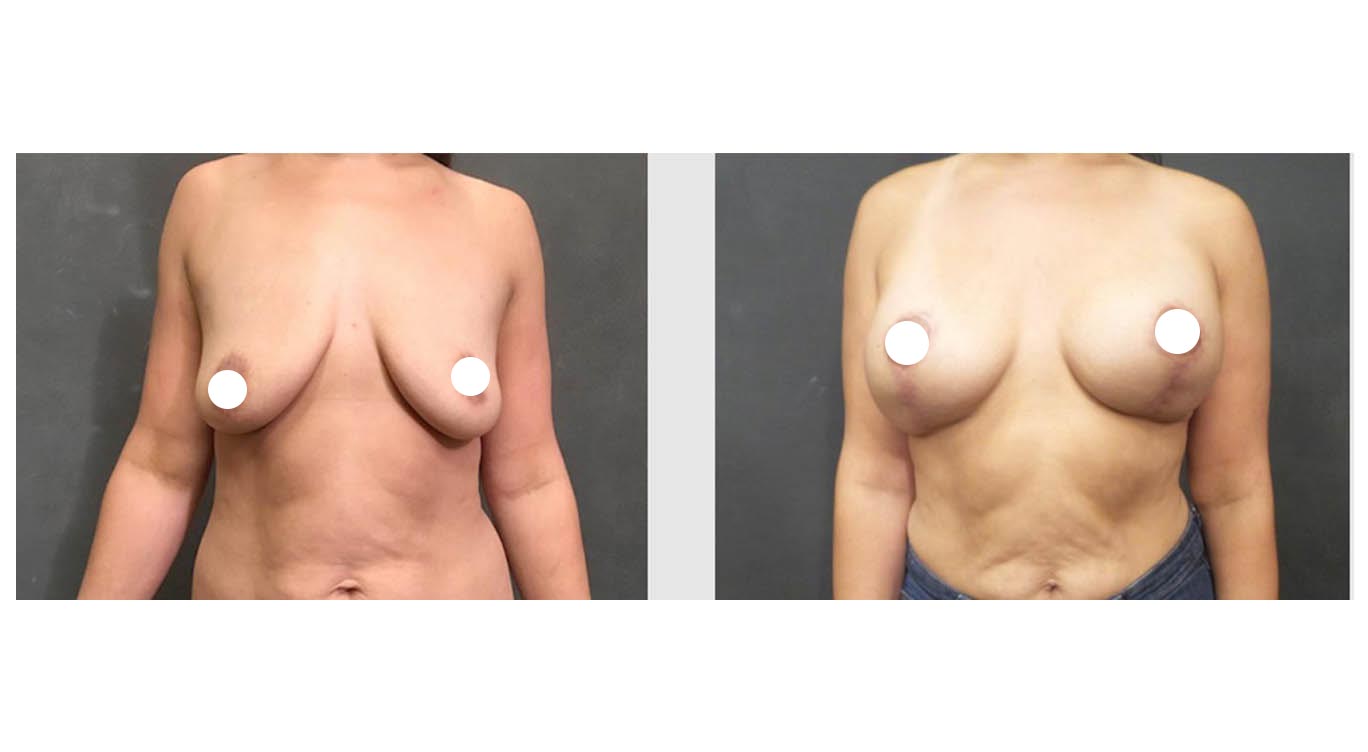 Before & After Breast Augmentation with Lift
Bellevue Breast Lift
A breast lift is a plastic surgery that corrects sagging breasts through the removal of extra skin and tissue. Oftentimes, a breast lift will also reposition the nipple to a more natural position on the breasts for a more youthful and perkier look.
There are various methods and techniques used to perform a breast lift in Bellevue. Most require an incision around the nipple and down to the breast crease. The breast lift technique that will provide the best result will depend on the grade of breast ptosis.
Grades of Breast Ptosis:
Breast ptosis–also known as breast sagging–refers to when the nipple hangs below the breast crease. Nipples may also point downward which a breast lift can also address. There are three grades of breast ptosis:
Grade I: Nipple is even with or just barely below the inframammary fold (breast crease)

Grade II: Nipple is positioned below the inframammary fold, but still above the lowest contour of the breast. In general, Grade II usually does not sag more than three centimeters over the fold

Grade III:  The nipple sags below the inframammary fold and lower breast contour. This is typically the most severe form of breast ptosis. 
Other types of breast sagging do exist such as pseudoptosis. Pseudoptosis refers to when the nipple is above the breast crease, but the breast itself is either underdeveloped or lost volume, so the glandular portion of the breast hangs over the fold to varying degrees. 
Benefits of a Breast Lift:
Like a breast augmentation, a breast lift can completely change the look of the breasts. For women who develop saggy breasts, it can become mentally taxing and upsetting. A breast lift can restore breasts to a more youthful position and appearance. A breast lift can have many benefits such as:
Correction of sagging breasts

Repositioning of nipples

Easy to combine with other procedures

Improvement of self esteem

Removal of excessive skin on the breasts
When Can I Tell If I Need A Breast Lift And Augmentation?
A breast augmentation alone will usually not correct significant sagging. Occasionally with mild sagging or pseudoptosis, high profile breast implants may provide adequate correction of breast sagging. 
If your breasts sag over the inframammary fold, nipples point downward, or the lower natural curve of the breasts has descended, a breast lift may benefit a Bellevue breast augmentation surgery. 
Breast augmentation with lift comes with many advantages over undergoing the procedures separately. The recovery time for both procedures is about a week and recovering from them at the same time does not typically add on additional recovery time. It also allows Dr. Jonov to plan your breast lift around the new size and shape of your breasts for the best results.
BEFORE AND AFTER: BREAST AUGMENTATION WITH LIFT
The decision to undergo a breast augmentation with lift in Kirkland can take years to make. Researching the procedure and plastic surgeons is always a good place to start. At The Gallery of Cosmetic Surgery, we value patient education and strive to always provide the fullest scope of our plastic surgery procedures. Your breast augmentation with lift with Dr. Craig Jonov at The Gallery of Cosmetic Surgery will begin with a consultation.
The Consultation
At your consultation with Dr. Jonov, he will first want to understand your medical history and expectations for the procedure. Knowing whether you have breast fed, had previous breast surgeries, and about your lifestyle will help him determine if you are a candidate for a breast augmentation with lift in Kirkland.
Dr. Jonov will then examine your breasts. During the examination, he will determine the degree of breast ptosis you have and demonstrate the results you can expect. At this appointment, you will also try on breast implant sizers to determine the size, shape, and type of breast implant that will provide the results you want.
Preparing For Surgery
Three weeks before surgery, you will have your pre-operative appointment. At this appointment, a pre-op coordinator will give you specific instructions on how to prepare for your breast augmentation with lift. Your pre-op coordinator may also provide some directions for after surgery. 
Instructions for before surgery may include:
Stopping the use of certain medications or supplements

Make arrangements for a caregiver, childcare, and a driver to and from the surgical facility

Obtaining clearances

Day before/of surgery instructions
Pre-operative instructions can vary based on the specifics of your procedure and medical history. For example, patients who smoke must quit for a number of weeks before surgery and continue to refrain for smoking for some weeks after.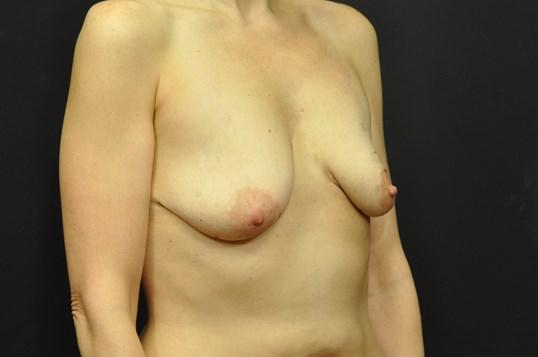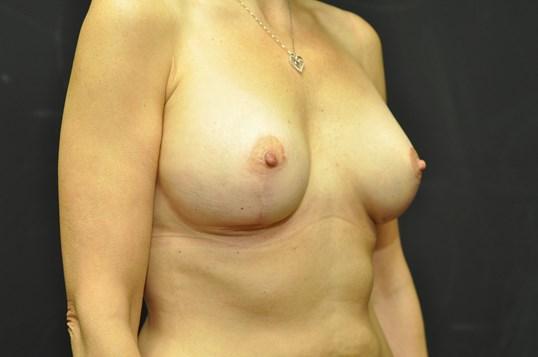 Breast Augmentation With Lift Surgical Technique
On the day of your breast augmentation with lift, you will arrive at The Gallery of Cosmetic Surgery and our team will check you in. After taking your vitals and running any required tests, Dr. Jonov will make markings to prepare for surgery. At this point, a licensed anesthesia provider will place you under general anesthesia.
Dr. Jonov will likely place your breast implants first, although this will depend on the specifics of your procedure. He will make an incision either in the areola or inframammary fold (to complement the breast lift incision) and create a pocket to place the breast implant. Once the breast implant is secured and positioned, Dr. Jonov will then begin the breast lift portion of surgery.
The breast lift incision can range from a small incision at the top of or encircling the nipple to an anchor shaped incision from the nipple through the breast crease. The extent of the breast lift incision heavily correlates to the grade of breast ptosis. 
Regardless of the type of breast lift, Dr. Jonov will remove extra skin and tissue that is contributing to breast sag. He will then reposition skin and tissues as necessary. Once Dr. Jonov finishes the breast lift, he will close the incisions using surgical sutures.
Recovery After Kirkland Breast Surgery
Once you wake up from surgery, you will likely notice an immediate difference in the size and look of your breasts. Dr. Jonov will release you to go home with your caregiver after a brief monitoring period. 
Patients may experience side effects like swelling, pain, redness, and itchiness. These are all normal and should subside over time. Dr. Jonov will prescribe a pain medication and antibiotics to keep you comfortable and reduce the chance of infection. 
Following surgery, you should refrain from strenuous exercise for at least two weeks and lifting anything over ten pounds. Some exercise and lifting restrictions may last longer than a month depending on the healing process. 
Most patients return to work within a week after the procedure. Attending all post-operative appointments and keeping in good contact with Dr. Jonov will ensure you return to work as soon as possible.
Final Results
Results following Kirkland breast augmentation with lift usually take at least seven to nine months to become apparent. While many patients are pleased with their results in less time, swelling and the movement of anatomical structures can take months to settle. Breast implants also need time to fully settle in place. 
"What people want most when they go to a plastic surgeon is an excellent result. That is what I got when Dr. Jonov performed reconstructive surgery on my breasts. I am ecstatic with the results – the doctor exceeded my expectations! In addition, Dr. Jonov is compassionate and kind and took the time to address my concerns and to check in on me the evening of the surgery. Besides the expertise of Dr. Jonov, I also received wonderful service from each and every person that I came into contact with at the Gallery of Cosmetic Surgery; from the beginning of the planning process, through the surgery itself, to post-operative care. I strongly recommend Dr. Jonov and his team to anyone interested in breast surgery!

Sandra

I strongly recommend Dr. Jonov and his team to anyone interested in breast surgery!
THE BEST BREAST AUGMENTATION WITH LIFT IN BELLEVUE AND KIRKLAND
Breast augmentation with lift requires a plastic surgeon skilled in both procedures. Dr. Craig Jonov of The Gallery of Cosmetic Surgery regularly performs cosmetic breast surgery and caters each surgery to the individual patient. He has performed hundreds of breast augmentation with lift surgeries and continually refines his techniques.
The Gallery of Cosmetic Surgery's JCAHO-accredited ambulatory surgery center utilizes advanced technology to ensure patient safety. As a state-of-the-art plastic surgery center, Dr. Jonov and The Gallery of Cosmetic Surgery prioritize patient safety at every point of your breast augmentation with lift journey. Additionally, they have a program to help patients from Vancouver, BC travel for the best breast augmentation.
To schedule a consultation with Dr. Craig Jonov at The Gallery of Cosmetic Surgery, call us at 425-775-3561 or contact us online through chat, text, or the contact form on this page.