ARM LIFT IN SEATTLE, BELLEVUE, AND KIRKLAND
Saggy arms can dramatically affect your appearance. Especially after large weight loss or other transformation, your arms may look disproportionate. Conversely, you may have extra skin that is impossible to get rid of with diet and exercise. In these cases, you may benefit from a brachioplasty, or arm lift. Dr. Craig Jonov at The Gallery of Cosmetic Surgery offers arm lift surgery to the Seattle, Bellevue, and Kirkland areas.
WHAT IS BRACHIOPLASTY?
Brachioplasty surgery is more commonly known as an arm lift. Cosmetic surgeons perform this operation to remove excess skin and fat build up in the arms. The procedure provides a graceful and contoured look to the upper arm. Because it corrects cosmetic issues over such a large area, an arm lift scar can reach from armpit to elbow. The full extent of your scar will depend on the amount of correction you need. For some patients who only need minor corrections, liposuction or a mini arm lift with less scarring may be better options.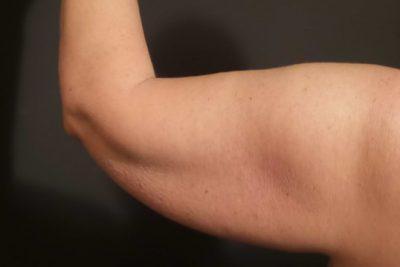 ARM LIFT SURGERY: BEFORE AND AFTER
Before
Before your Seattle plastic surgeon performs your arm lift, they will need to deem you a good candidate for surgery. In your consultation at Seattle Plastic Surgery, your cosmetic surgeon will ask you questions about your lifestyle, medical history, and goals for the procedure. Using this information, they can decide if an arm lift in Seattle is a safe and suitable procedure to meet your cosmetic goals. Finally, they will do a physical exam of your arms to determine the cause of your saggy arms and to determine if an arm lift is the best route for you. 
If you are a good candidate for surgery, they will brief you on your surgical options. A consultation is not just a chance for your plastic surgeon to understand your needs; we encourage asking your plastic surgeon all the questions you have about the procedure. Our goal is to keep you informed throughout the entire process.
If you decide to move forward with the procedure, your surgeon will help you design a treatment plan adjusted to your body, goals, and health. Depending upon the medications you take, they may recommend certain pre-operative protocol, like discontinuing the use of certain medications or supplements, if possible.
During
Dr. Jonov will begin your arm lift surgery with an incision starting in your armpit and possibly extending down to your elbow. The length of your incision will depend upon the amount of correction needed. Your plastic surgeon will ensure you understand the location and length of your incisions before surgery. 
He will then remove extra skin and fat. Dr. Jonov may utilize liposuction for fat removal, or other techniques. After he finishes clearing away skin and fat, he will tighten the skin to fit the new contours of your arm. For the final step, he will carefully suture the incisions to minimize scarring.
Arm lifts in Seattle are precise procedures that can vary between people because everyone has different needs and anatomy. Your plastic surgeon will fully describe your surgery to you and will ensure your comfort before the procedure date.
After
When you come out of your Seattle arm lift surgery, you can expect to notice that your arms look smaller, but you may not see your final results until the swelling goes down and the incisions heal. Your cosmetic surgeon will likely prescribe antibiotics and pain medication to help manage your postoperative side effects and prevent infection. 
Side effects of a Bellevue arm lift are similar to other plastic surgery procedures. Bruising, swelling, redness, itching, and pain are normal and you can expect them to subside as you recover. This will slowly reveal your results. 
Contact Us
To schedule a complimentary consultation with Dr. Jonov or with questions about Arm Lifts, contact us at The Gallery of Cosmetic Surgery serving Kirkland, Bellevue & Lynnwood, WA.
WHAT ISSUES CAN AN ARM LIFT SOLVE?
An arm lift in Bellevue can address many issues of the upper arms. While mainly used to improve the look of saggy arms, an the procedure can consequently rectify other concerns. Among some of the cosmetic troubles an arm lift can solve are:
Excess skin and fat

Saggy appearance to the arms

Disproportionate arm appearance

Lack of arm definition
"The best plastic surgeon in Seattle/Washington, hands down. I went to six other doctors before I found Dr. Jonov for my arm lift. He is friendly and knowledgable and the staff was great each time I went in to the office. I have and will continue to recommend Dr. Jonov to my friends, family and coworkers.

Kathy

AMAZING and so satisfied with the results... SO HAPPY!
HOW DO I KNOW IF I NEED ARM LIFT SURGERY?
Not all cases of saggy arms warrant a full arm lift surgery. Other procedures can often provide the results you want with a less invasive procedure, however, it all depends on the state of your arms and the causes of the sag. 
If fat is causing your issues, but you skin is still fairly tight, a liposuction procedure may work better to serve your needs. Liposuction requires only a small incision and less recovery than an arm lift. 
But, if skin (or a combination of skin and fat) is causing your arm sag, an arm lift or mini arm lift may be the best procedure for you. Both procedures remove fat and tighten the skin to different degrees.
What Are Alternative Procedures?
As mentioned above, liposuction or a mini arm lift are the most popular alternatives to a traditional arm lift surgery. However, depending upon your concerns with your upper arms, other procedures may work better to address these issues. Occasionally, J plasma skin tightening may be enough to see the results you want.
Ultimately, during your consultation, Dr. Jonov will help you determine which procedures will help you see the results you want. The right procedure for you will depend on the causes of your saggy arms, what you want from the procedure, and your overall health. 
Am I A Candidate?
The main factor that will help Dr. Jonov decide if you are a candidate for Bellevue arm lift surgery is your overall health. You must be in good health and able to withstand anesthesia and a surgical procedure. Usually, this means that you have no medical conditions that could interfere with either of these or your end result. Some diseases and disorders can influence the way our body heals, including slowing down or halting the body's healing processes. In these cases, Dr. Jonov will determine if surgery is possible and beneficial for you.
You must also have achievable and realistic expectations for your arm lift in Kirkland. Unrealistic expectations can mean that you will not be happy with your results or that they are simply not possible with an arm lift surgery. Dr. Jonov will show you before and after pictures as well as thoroughly explain what you can expect from your surgery. At The Gallery of Cosmetic Surgery, we advocate for patient education and want you to feel confident in your surgery
WHAT CAN I DO TO MINIMIZE SCARRING?
When it comes to arm lifts, patients are usually concerned about postoperative scarring. Arm lifts have the potential to leave a scar from armpit to elbow. For many patients, the scarring is a small price to pay for slimmer, better contoured arms. However, it can make many hesitant to undergo the procedure, even as ideal candidates. This is understandable because scarring can negatively affect how you feel about your appearance, even with fantastic results.
At The Gallery of Cosmetic Surgery, Dr. Jonov uses many methods to reduce scarring. Firstly, he will use surgical techniques that minimize scarring and will ensure your incision is as small and short as possible. After you come out of surgery, Dr. Jonov will recommend our proprietary scar protocol that works to reduce scarring from the day of your procedure. It aims to reduce scarring as you heal, rather than after the scar has already formed. 
WHAT IS THE PRICE OF AN ARM LIFT?
The cost of an arm lift at The Gallery of Cosmetic Surgery is $8,995. The total price of your arm lift in Bellevue will depend on the extent of the surgery you need and other factors Dr. Jonov will determine during your consultation. The best way to know the most accurate estimation of your arm lift procedure is to schedule a consultation with Dr. Jonov so that he can evaluate your individual needs.
Financing is available through outside companies like Care Credit and Alphaeon. You can find more information and links to apply for these options on our financing page.
BEST ARM LIFT SURGEON IN SEATTLE, BELLEVUE, AND KIRKLAND
Throughout the past few years, arm lift procedures have grown in popularity because of increasing weight loss successes and the desire to improve the contours of the body. Finding the right surgeon to perform can be a long and arduous process. The right plastic surgeon will fully understand your goals and you should feel confident that they can achieve optimal results. 
Dr. Jonov will create an honest atmosphere where he will help you understand the results he can accomplish. He will also thoroughly explain the surgical techniques and options that accompany and arm lift and which ones may best serve your anatomy and goals. Dr. Jonov is an experienced cosmetic surgeon who has served the Greater Seattle area for over a decade. His knowledge and expertise concerning the body and cosmetic procedures will help you receive the best arm lift Seattle offers. 
No two arm lifts that Dr. Jonov performs are exactly the same because everyone's body and goals are slightly different. He will customize your Seattle arm lift surgery to fit you and address all of your concerns. An arm lift is not a one-size-fits-all procedure because no standardized surgery can provide everyone optimal results every time. Dr. Jonov alters every arm lift to the specific patient.
To schedule a consultation at The Gallery of Cosmetic Surgery, call us at 425-775-3561 or contact us online using the form above.