Kybella Injections
Submental fat, or a double chin, is a common concern among patients of all ages. It can have many causes like weight gain, genetics, and aging. Certain surgical procedures like a neck lift, liposuction, or sometimes chin implants, may help correct or remove a double chin. Depending on your particulars, they may not be best or time or cost effective. Some patients simply do not want to undergo invasive surgery. Luckily, there is a simple, non-surgical solution for submental fat: Kybella. First FDA-approved in 2015, it has been widely used by providers around the world since then. The Gallery of Cosmetic Surgery offers Kybella to patients in the Seattle, Bellevue, Kirkland, and surrounding areas. 
WHAT IS KYBELLA?
Kybella is an injectable treatment that works to dissolve unwanted submental fat. It is comprised of deoxycholic acid–a substance that naturally breaks down fat in our bodies. When Kybella is injected, it targets the fat cells collected underneath the chin and works to break them down. This can reduce or eliminate your double chin, because Kybella works to totally destroy the fat cells in the area. 
Kybella usually requires multiple treatments to see your final results. However, you can choose to stop injections when satisfied with the results. Everyone seeking Bellevue Kybella typically require a different amount of treatment sessions and vials. It is important to note that Kybella only addresses fat under the chin, it does not remove excess skin. Surgical approaches are typically better in these cases.
Interested In Kybella?
Fill out the form below to schedule your appointment or ask us any questions you may have.
Before Kybella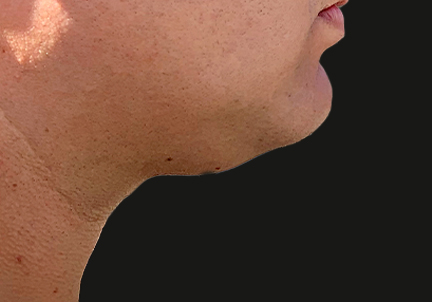 After Kybella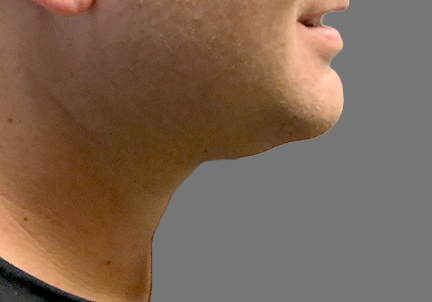 HOW MUCH ARE KYBELLA INJECTIONS IN BELLEVUE?
Kybella varies in price depending on who you choose for your provider. With Dr. Jonov, Kybella starts at $1000 a vial and with one of our qualified nurse injectors, Kybella starts at $530 per vial. The number of vials you need varies by how your body responds to treatment and the final results you want to see. On average, our patients usually need around 2-3 treatments. 
Our treatment costs include one vial of Kybella, facility fees, and the cost of the procedure. We also work with financing companies like Care Credit to help make your Kybella affordable and fit your budget.
KYBELLA: BEFORE AND AFTER TREATMENT
When you come in for your consultation with one of the providers at The Gallery of Cosmetic Surgery, they will ask about your concerns with your chin, your medical history, and to determine your expectations for the treatments. They will then examine your chin to determine the causes of your double chin and if you are a candidate for Bellevue Kybella. If you are a candidate, they can often administer your first round of Kybella injections in the same appointment. 
After your consultation appointment, subsequent Kybella treatments will be quicker. They can take as little as fifteen or twenty minutes. Your provider will apply a topical anesthetic for each treatment to make the injections more comfortable.  You should begin seeing subtle results after your first treatment. The deoxycholic acid takes time to break down the fat, therefore, your results will continue to improve between and after treatments. Most of the time, our provides will administer a Kybella treatment every 3-4 weeks until you are satisfied with the results.   
Since Kybella is a non-invasive, non-surgical procedure that requires no incisions or stitches, most patients can return to work or their regular routines after Kybella in Bellevue. You should use some caution the day of your procedure, simply for your own comfort, but there is no reason your Kybella injections should interrupt your life. 
Side Effects
There are some rare, minor side effects from Kybella treatments. Commonly reported side are minor and rarely of concern. Side effects after Kybella can include: 
Redness

Bruising

Itching

Swelling

Skin tightness

Pain
These side effects typically appear at or around the injection sites and subside on their own a few days after treatment. Bruising or swelling can be hidden easily by makeup, if needed. Our providers use gentle and safe injection techniques that work to prevent side effects.
Your Results
When it comes to maintaining your Kybella results, it is imperative that you stay at a steady weight, because while Kybella destroys fat cells, the existing fat cells can still expand with weight gain. However, the appearance of your double chin will often still be less pronounced after Kybella treatment.  Otherwise, Kybella produces long lasting and permanent results that should not require touch up treatments once you reach your desired look.
Who Does The Injections?
At The Gallery of Cosmetic Surgery, we offer Kybella with board-certified cosmetic surgeon, Dr. Jonov, or with our qualified nurse injectors. Dr. Jonov has decades of experience providing injectable products to the Greater Seattle area. All of our providers offer premier injections to Seattle, Bellevue, and Kirkland areas.
Our nurse injectors trained extensively in office and developed gentle, safe injection techniques because our nurse injectors want to help you achieve the best outcome. They have the experience and expertise necessary for you to see optimal Bellevue Kybella results.   
BENEFITS OF KIRKLAND KYBELLA
Kybella is the only FDA-approved fat dissolver injection on the market. No other non-surgical treatment can replicate the results of Kybella. As a non-invasive treatment, there are many benefits to Kybella in Bellevue including: 
Quick 15 minute procedure

Non-invasive and non-surgical

Little to no downtime

Painless

Improvement of facial profile

Permanent results

No more double chin

Improvement of self esteem and confidence
For many patients, these benefits are worth mild side effects because they do not require more invasive procedures and can provide similar results to double chin liposuction. You may also find personal benefits from losing your double chin. Sometimes patients will even look like they have lost weight, simply because the submental fat made them appear heavier than they are. 
WHO IS A CANDIDATE FOR KYBELLA?
As a non-invasive treatment, Kybella in Kirkland is a great option for those who want to get rid of their double chin non-surgically, or who cannot undergo surgery. Because of this, most people with increased submental fat are good candidates for Kybella. However, like any medication or medical treatment, some people may not be compatible with the procedure. 
First off, you should be in good general health and have fat under the chin that persists with a healthy diet and exercise. Those with certain medical conditions should avoid or use caution when seeking Kybella treatments. After providing Dr. Jonov with a full medical history, he can better determine if you are a candidate for the best Kybella Kirkland offers. A few conditions or situations you may not be a candidate for Kybella include if you: 
Are pregnant or nursing (or plan to be during or soon after treatment)

Have or had certain cancers

Have a blood or bleeding disorder

Suffer from an unmanaged medical conditions

Are taking blood thinners (including prescription or supplements)
You must also have realistic expectations for your Kybella treatment. As mentioned before, Kybella can only treat submental fat, it will not remove or tighten extra skin that may contribute or cause your double chin. Therefore, if fat is not the only cause of your double chin, you may consider other treatment options in addition to or instead of Kybella. Your provider can better help you address your needs and customize a treatment plan that is right for you.
THE KYBELLA EXPERTS IN SEATTLE, BELLEVUE, AND KIRKLAND
When you choose The Gallery of Cosmetic Surgery for your Kybella treatment, we ensure your comfort and safety at every step. While you wait, you are welcome to enjoy a beverage and freshly baked cookies. You should only have a short wait before your provider brings you back to one of our private treatment rooms. 
The treatment rooms provide a comfortable environment for your treatment. Our providers have the utmost experience and skill when it comes to Seattle Kybella. Overall, Dr. Jonov and the nurse injectors work to offer optimal Kybella results in the fewest treatments possible. During treatment, they will specifically target the areas of your chin where the submental fat has collected the most. This allows for the most dramatic results, while maintaining the natural look of your chin. 
The Gallery of Cosmetic Surgery offers only the latest technology in cosmetic procedures and surgeries. We spare no expense in procuring state-of-the-art equipment and techniques because we want to provide only the premier and safest care to patients. We will personalize your treatment plan to fit your goals and anatomy.
To schedule your consultation at The Gallery of Cosmetic Surgery, call us at 425-775-3561 or contact us online using the form above.