Lash Lift & Tint
One Session
$160
Lash Lift & Tint Bellevue & Kirkland
From a biological standpoint, eyelashes exist to keep debris out of the eyes. However, modern beauty standards now make them a focal point of eye makeup. Mascara and eyeliner are the primary methods used to enhance the look of the lashes and lash line. Usually, people focus on making them darker, longer, and have a curl. A combined lash lift and tint is a way to temporarily perm and darken lashes to reduce daily maintenance. The Gallery of Cosmetic Surgery performs the best lash lifting and tinting Bellevue and Kirkland offers.
Overview: Lash Lift And Tint
As referenced, a lash lift is essentially a perm for your lashes. It uses solutions to temporarily curl the lashes as determined by you and your master esthetician. This can range from a natural to dramatic curl based on the length of your lashes and goals. Additionally, while a lash lift is not an extension, it can make the eyelashes look longer.
Along with an eyelash lift, many clients opt to undergo a tint at the same time. An eyelash tint darkens the eyelashes and makes it look like you have mascara on all the time. This is especially dramatic and noticeable on people with blond or light-colored lashes.
While each of these treatments can be performed on their own, they are often combined because they provide optimal, dramatic results. Your master esthetician can help you determine the optimal curl and color for your lash lift and tint in Bellevue.
Benefits
There are many benefits to undergoing a lash lift and tint. People who want to enhance the look of their lashes, beyond what an eyelash curler and mascara can provide are likely good candidates. Some of the benefits and advantages are:
Volumized lashes

Darkened lashes without the use of makeup

Longer looking lashes

Uses your natural lashes without adding extensions

Works on all lash lengths

Temporary, but lasts several weeks

Low maintenance

Can still wear makeup if desired

Fewer restrictions than eyelash extensions

Complements an eyebrow tint
"Staff very pleasant, professional and nice. This was my first time visiting a cosmetic provider and they made me feel very comfortable.

Diedra
Lash Lift vs. Lash Extensions
An eyelash lift is a popular alternative to eyelash extensions. As the name implies, eyelash extensions involve adding thin fibers to your lashes to make them longer and fuller. However, lash extensions are fragile and clients have to avoid various environments and substances, whereas, with an eyelash lift, clients can return to their normal routines and lives within 48 hours. The table below addresses more differences between lash extensions and lifts.
Lash Lift
Lash Extension

Uses natural lashes

Helps tangled or clustered lashes

Less chance of irritation

Can wear makeup

Tend to last longer

Shorter procedure

No change to skincare or makeup routines needed

Sometimes requires a break after results cease to prevent chemical damage

Results limited to length and stretch of your lashes

Combinable with a tint

Uses false lashes and natural lashes

Higher maintenance

Works on lashes of all lengths

Larger risk of lash thinning

Can last indefinitely, but only with regular maintenance

May need to change skincare or makeup routines

Next session can occur before extensions are gone

Ability to achieve more dramatic results

Longer appointments

Not combinable with a tint
The two do have some similarities. Beyond having many of the same goals and providing similar results, our master estheticians recommend avoiding waterproof mascara and eye makeup as it can damage the lashes and results. With a lash lift, regular mascara and eye makeup is okay.
Before And After Lash Lift And Tint
Consultation
Before your lash lift and tint, you will come for a consultation with one of our master estheticians. They will first discuss your goals and the various treatments available for your lashes. Your master esthetician may then also ask about your medical history and the products you regularly use to determine if a lash lift with tint is safe and viable for your lifestyle. Finally, they may physically examine the lashes to ensure they are long enough for a lift.
Depending on the day, they may be able to proceed with your treatment the same day. If not, you can schedule your appointment. Your master esthetician will let you know of any steps to take in preparation.
Treatment
When you come to your appointment, it is recommended that you do not wear any eye makeup. This can affect the results and efficacy of the lift and tint. If you do wear eye makeup, your master esthetician will remove it. After cleansing your lashes and the surrounding area, your master esthetician will apply a cotton pad on your lower lid. Next, they will secure a silicone pad to the upper lid with temporary, water soluble glue.
Your master esthetician will then curl the lashes up onto the pad to create the desired curl effect. Applying perming and dyeing solution, the entire process will take about an hour to complete. Your eyes will stay closed most of the time and you should not feel more than some gentle tugging.
Aftercare And Results
Immediately after your Bellevue lash lift with tint, your master esthetician will give you instructions on how to care for your lashes in the ensuing days and weeks. For the first 24 hours you will need to:
Refrain from applying eye makeup (preferably all makeup)

Avoid getting your lashes/face wet (including water, sweat, and products)

Do not use skincare products for 24 hours

Avoid rubbing your eyes/lashes

Sleep on your back the first night

Do not undergo any other facial procedures or treatments
After the first one to two days, you can return to your normal routines including skincare, makeup, swimming, and exercising. Depending on your hair type, lifestyle, and environmental factors, you can expect you lash lift and tint to last around four to six weeks.
"Great experience today at #670 , everyone was friendly and professional! Thank you.

Amelia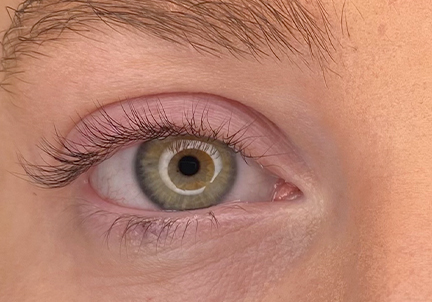 This wonderful patient wanted voluminous lashes and came to The Gallery of Cosmetic Surgery for a lash lift with tint. She loves her results.
Frequently Asked Questions
Are They Safe?
When you see a qualified provider, yes, lash lifts and tints are perfectly safe. The shields on your lower and upper lids protect the eye and the solutions applied are thick. Therefore, they will not run down onto the face or into your eyes.
There are some risks. If you have concerns that you may be allergic to the substances used during the lift or tint, a patch test can be performed a few weeks before to ensure no reaction. Even if you are unsure, a patch test is always a good idea to ensure safety.
Can I Wear Eye Makeup After A Lash Lift And Tint?
Yes, after 24 hours you can wear eye makeup. With eyelash extensions, you have to avoid wearing oil based makeup products. You do not have to do this with a lash lift and tint. However, using gentle makeup is not a bad idea to keep your lash lift and tint as long as possible.
Are Lash Tints Worth It?
Most people find lash tints worth it. However, those most likely to find the most value in lash tints are those with naturally light colored lashes. A lash tint can make a major difference and essentially looks like you have mascara on all the time.
Lash tints are also customizable. Depending on the starting color of your eyelashes, you have various options on the tint color. While most people tend to choose black, if you want a subtler effect, there are brown tints as well. 
Will It Thin My Lashes Over Time?
Not usually, but it is a risk. As long as you go to a qualified provider with at least six weeks between sessions, you run little risk of damaging or thinning your lashes. Having lash lifts too close together or performed by an unskilled provider can chemically damage the lashes or skin. 
Can You Tint Bottom Lashes?
Yes, you have the choice during your tint service whether or not to tint your bottom lashes. A cotton pad will be placed on the lower eyelid regardless. The lower lashes will sit above this pad to keep them separated from your skin and fully visible when applying the tint.
The Best Lash Lift And Tint In Bellevue And Kirkland
The master estheticians at The Gallery of Cosmetic Surgery have years of experience performing medical grade, professional skincare services. Their combination of aesthetic and medical training makes them unique qualified to provide optimal skincare and lash services in Bellevue and Kirkland. Combined, our master estheticians have decades of experience performing skin, lash and brow, waxing, and laser procedures.
The Gallery of Cosmetic Surgery is a plastic surgery practice and medical spa in Lynnwood, WA. Located near the convergence of I-5 and I-405, The Gallery of Cosmetic Surgery is perfectly positioned to serve patients from the Greater Bellevue, Kirkland, and Seattle areas. There is also free onsite parking, food and shopping nearby, and a welcoming, knowledgeable staff. 
To learn more and schedule a consultation for the best lash lift and tint in Bellevue and Kirkland, call us at 425-775-3561. You can also reach out online via Price Simulator, chat, or contact form.