Chin Augmentation In Seattle, Bellevue, & Kirkland
The chin is a fundamental part of our facial appearance and proportions. A small or recessed chin can make the face look unbalanced and create an unflattering profile. Many patients choose to seek chin augmentation to achieve the larger and more defined chin shape they want. Seattle cosmetic surgeon, Dr. Craig Jonov, offers chin augmentation surgery for patients who desire a stronger jawline in the Seattle, Bellevue, Kirkland, and surrounding areas.
What Is Chin Augmentation?
Chin augmentation is a cosmetic procedure that aims to enhance the size and shape of the chin. This is most often achieved through the use of implants made of silicone, plastic, Gor-Tex, or bone. Dr. Jonov offers numerous sizes and shapes depending on the individual aesthetic goals of the patient. There are a variety of results you can see from a Bellevue chin augmentation, but among the most common changes in appearance you can expect after your chin implants are:
More defined chin and jawline
Chiseled appearance
Larger, more prominent chin
Improved facial profile
More proportionate facial features
Improved balance and symmetry of the face
What About Genioplasty?
In addition to chin augmentation with implants, some individuals may be candidates for genioplasty. This procedure, while a bit more complex, reshapes the chin by surgically repositioning the chin bone. Typically, during a genioplasty, Dr. Jonov will make an incision inside the mouth and reposition the bone of your chin. He will then use a steel plate to secure the bone into position.
Some patients will benefit from a genioplasty alone, while others may require an implant along with a genioplasty procedure.Dr. Jonov will assess the chin and create a surgical plan that will produce the most optimal outcome.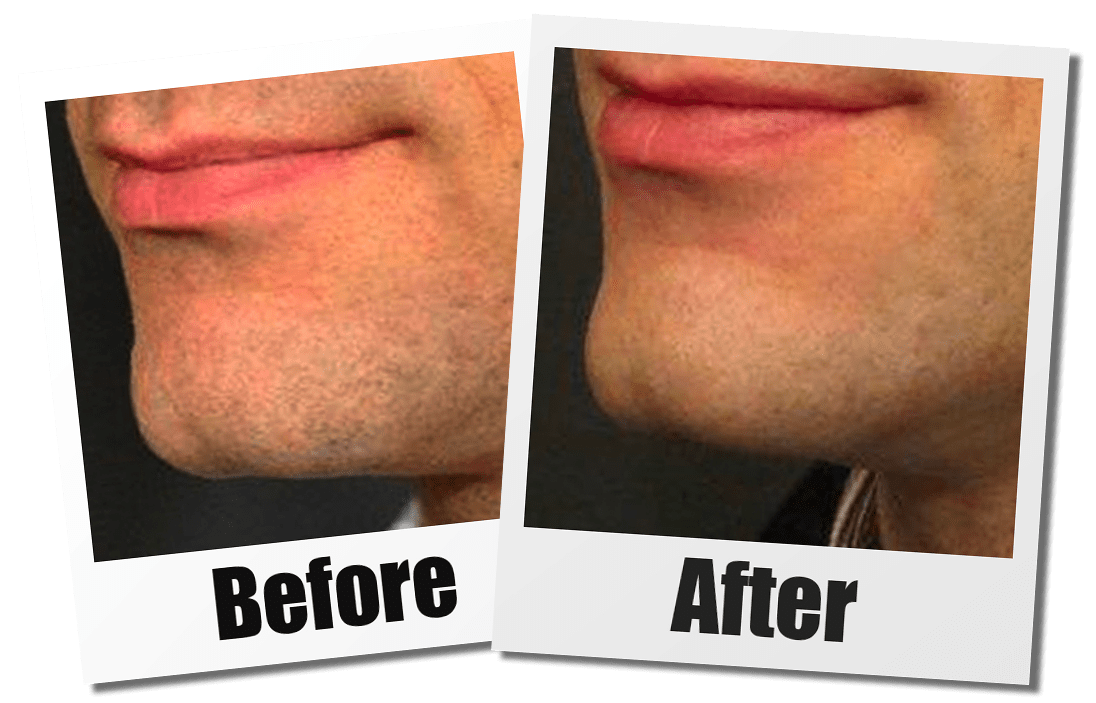 The Chin Augmentation Surgical Technique
A common technique for this procedure uses a silicone implant that is moved through an incision made under the chin. The implant is then placed directly over the bone along the lower jaw. Dr. Jonov might construct a pocket to hold it, which may involve shaving the jawbone to help fit the implant in place. He will use surgical sutures to attach the implant to the chin bone. Immediately after surgery, the surgeon will apply medical tape or a compression dressing to help protect the implant while the jaw recovers.
Questions about Chin Augmentation
What About a Double Chin?
Chin implants are designed to offer patients a sharper, stronger look to their jaw line. Those who have a "double chin" may be better candidates for a liposuction procedure where the fat within the chin and neck is removed. Sometimes this technique alone creates a new profile and look without needing an implant procedure.
Will Sensation Return?
Following chin augmentation surgery, patients often experience numbness and a change in skin sensation. As the implant gets used to its new habitat, nearby tissue and jaw line structures will get used to having it there. Several weeks after surgery, this heightened sensation begins to subside and, over time, normal sensitivity will gradually reappear. It may take up to a full year for patients to regain full sensitivity.
Visible Scars?
Scarring is minimal with chin augmentation surgery because Dr. Jonov places the incision either on the inside of the mouth, where it is completely hidden, or under the chin. Even the incision under the chin is barely visible during social situations.
Are There Non-Surgical Options?
In recent years, non-surgical chin augmentation using dermal fillers has become a popular option for many patients seeking a more defined chin. The results are temporary, but are a great way to test out the look of your implant before committing or can provide a solution when implants are not necessary or viable.
Still Have Questions?
To schedule a complimentary consultation with Dr. Jonov or with questions chin augmentation, call us at 425-775-3561 or fill out the contact form above.
During/After Chin Augmentation Surgery
Chin augmentation is an outpatient procedure. We perform this surgery on patients under general anesthesia at an accredited surgical facility.  The entire surgery typically takes about an hour, but it could take longer depending on the technique used. Recovery from this surgery usually takes about 4-6 weeks.  During this time, the swelling, discomfort and numbness that occurs in the chin and lower lip will gradually improve.  Most patients are pleased with their results and feel that they have a stronger, more defined profile because of the surgery.
State-Of-The-Art Chin Augmentation In Seattle, Bellevue, and Kirkland
"They answered all my questions before and after my surgery. It has only been two weeks since my Chin Augmentation and I am very happy with my results so far. They listened to my concerns and did everything they could to help with it the process from beginning to end. Everything has been great! Big thanks to everyone in the office that has been involved in my process.

Kevin

These guys are the best!