AUTO BREAST AUGMENTATION BELLEVUE, KIRKLAND, LYNNWOOD
Breast implants are the breast augmentation option that provide the most consistent results. With so many shape and size options, nearly anyone wanting larger, fuller breasts can find an option that works for them. Some women may not want breast implants, or are not good candidates for a traditional breast augmentation. Dr. Craig Jonov offers another breast augmentation for women who need a breast lift, but also want a breast augmentation. This technique is known as auto augmentation. The Gallery of Cosmetic Surgery auto breast augmentation in Bellevue, Kirkland, and Lynnwood.
WHAT IS AUTO BREAST AUGMENTATION?
Auto breast augmentation is a technique often performed alongside a breast lift. Without placing breast implants, auto augmentation provides a natural looking increase in breast size by rearranging and reshaping the breast tissue. This, in turn, creates a perkier, more shapely breast.
The procedure is also sometimes called an auto breast lift because it is usually performed as part of a breast lift. Sagging breasts often carry excess skin and tissue. A breast lift removes these extra structures. When part of an auto breast augmentation, Dr. Jonov repositions portions of breast tissue in a way that augments the breasts.
Who Are Good Candidates?
Since the procedure is often performed as part of a breast lift, not every patient is a candidate for auto breast augmentation in Bellevue. Most patients who undergo the procedure require a traditional breast lift and like the added benefit that an auto augmentation can offer. Others may initially seek a breast augmentation with lift and determine an auto augmentation will better serve their needs.
Along with being a good candidate for auto breast augmentation, you must be a good surgical candidate. You may be a good candidate for surgery if you:
Do not smoke (or are willing to quit well in advance of surgery)

Have no major health conditions (or they are well managed)

Know what to expect from the surgery and have realistic expectations

Understand the surgical procedure

Are in good general health
To be a candidate for auto breast augmentation, patients should have at least a moderate amount of breast tissue and good skin elascity. Patients with little breast tissue or who have little to no breast sag may be better candidates for breast implants. Auto augmentation is best performed when breast volume is not adequately or ideally distributed.
AUTO AUGMENTATION VS. BREAST IMPLANTS
For patients that are good candidates for both auto breast augmentation and breast implants, it can be a difficult decision. Each surgical procedure comes with a similar amount of risk and it often comes down to patient preference. In the table below, you can find a comparison of the two procedures.
Auto Augmentation
Breast Implants

No foreign implant

Size increase is normally moderate, but noticeable

Addresses breast sagging

No risk of capsular contracture or rippling

Larger incision on the breasts

More chance of nipple related complications
Auto breast augmentation does not carry the same risks as a traditional breast augmentation because the procedure does not involve breast implants. This means complications associated with breast implants like capsular contracture and rupture are not possible. However, an auto augmentation does require incisions on the breast, usually mirroring an anchor incision used for a breast lift.
Breast augmentation with implants does not require incisions on the breast. The incisions to insert breast implants are generally smaller and easily hidden in the natural folds of the body. These are all factors to consider when choosing between a traditional breast augmentation and auto augmentation.
BEFORE & AFTER AUTO BREAST AUGMENTATION BELLEVUE
At The Gallery of Cosmetic Surgery, we encourage patients to thoroughly research the procedures they are interested in. This is why we offer information and tools like our Price Simulator™ app to aid in patient research. Ultimately, the way to know if you are a candidate for auto breast augmentation in Bellevue is to consult with Dr. Craig Jonov.
The Consultation
At a consultation, Dr. Jonov will first want to garner a good idea of your goals and medical history. This allows him to conclude if you are a viable surgical candidate and which procedures may benefit you most. After this, he will physically examine your breasts. He will determine the level of breast ptosis you have and if your breast tissue would respond well to auto augmentation. 
After the physical exam, he will discuss your options and recommend the one he believes will benefit you most. Dr. Jonov will explain the results you could expect for each procedure. If Dr. Jonov believes an auto breast augmentation will best meet your goals, a surgical coordinator will provide a price quote. It may also be possible to schedule surgery at the time of your consultation.
Preparing For Surgery
Once you schedule surgery, you can prepare for surgery by eating well, exercising, stopping smoking, and obtaining any necessary medical clearances. About three weeks before your surgery, you will come to The Gallery of Cosmetic Surgery office for your pre-operative appointment.
At your appointment, your pre-operative coordinator will give you instructions for before and after your auto breast augmentation Bellevue. They will also explain the procedure fully and can answer questions or concerns you may have about surgery day. 
Some instructions your pre-op coordinator may give include:
Wearing loose clothing that you do not have to pull over your head on surgery day

When you shower, eat, and drink before surgery

What medications you can take before surgery

Medications or supplements that you may need to stop before surgery
The Auto Augmentation Surgery
Beginning the auto breast augmentation, Dr. Jonov will likely begin with the breast lift. In most cases, he will use an anchor shaped incision that allows him to cut away extra skin and breast tissue. Depending on the size of your breasts and the desired results, he may utilize liposuction during the procedure. 
After Dr. Jonov removes the necessary tissue and skin, he will reposition the leftover breast tissue to create a perkier breast shape. Once the tissue is properly placed, Dr. Jonov will close the incisions.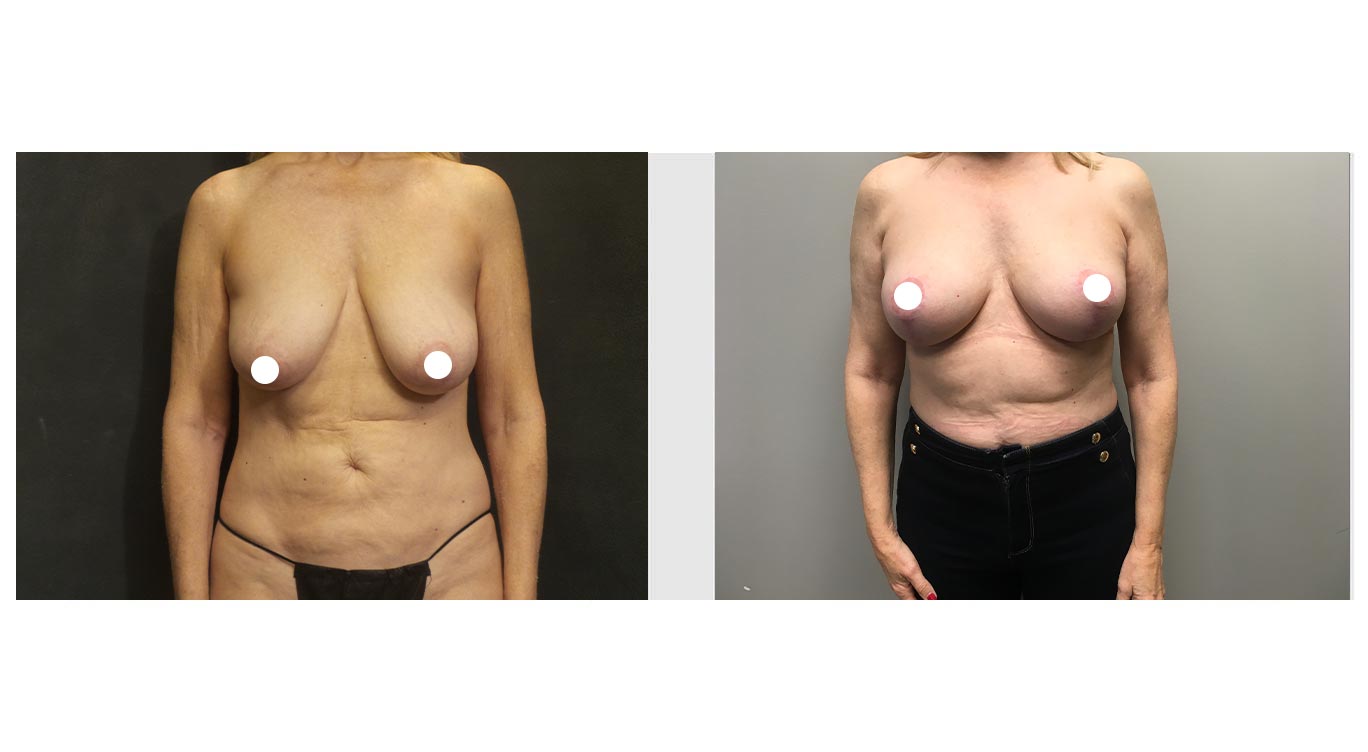 Before & After of Auto Breast Augmentation
The Auto Augmentation Recovery
Immediately after your auto breast augmentation in Bellevue, you may notice that your breasts look perkier. They may also sit higher on the chest than before surgery. When you leave the office following a brief monitoring period, your caregiver will drive you home to begin the recovery process.
It is normal to experience side effects like:
Bruising

Redness

Swelling

Pain

Discomfort

Temporary numbness and loss of sensation
Dr. Jonov will prescribe an antibiotic and pain medication to keep you comfortable following the procedure. Most side effects should subside within a week or two. Patients usually return to work in about a week, depending on the physical demands. Dr. Jonov instructs patients to avoid strenuous activities for at least two weeks. He may restrict heavy lifting for six or more weeks.
What Can You Expect From Your Results?
Since auto augmentation uses your own tissues, it typically does not provide the dramatic results that breast implants can. However, auto breast augmentation often results in perkier breasts that are better positioned on the body. Breast sag is also addressed. This can result in a complete transformation for some patients with moderate to severe breast sag.
Many patients love their auto augmentation results because they feel and look natural. Since a breast implant is not used and the structures consist of natural breast tissue, an auto breast augmentation is one of the options that provides the most natural results.
As far as your results, it can take months for the final results to come in. Your skin and tissues must contract and settle into their new positions. Dr. Jonov will see you for the first year following your Bellevue auto breast augmentation to gauge healing and results.
ADVANCED BREAST AUGMENTATION TECHNIQUES AT THE GALLERY OF COSMETIC SURGERY
Dr. Craig Jonov is a renowned plastic surgeon that specializes in breast surgery. The auto breast augmentation technique requires precision and skill that Dr. Jonov has perfected over his two decades of experience. He is an expert in all forms of breast augmentation including using saline breast implants, silicone breast implants, fat transfer, and auto augmentation. 
With a variety of techniques available, a JCAHO-certified surgical center, and a higher standard of care, The Gallery of Cosmetic Surgery provides the best breast augmentation Bellevue offers. Along with meeting rigorous safety standards, our office upholds a luxurious waiting area, treatment rooms, and consultation spaces. The Gallery of Cosmetic Surgery combines high safety standards with a luxury in-office experience. 
To schedule a consultation with Dr. Craig Jonov, call us at 425-775-3561. You can also reach us online through the contact form on this page, chat, or text.