Breast Augmentation
(Saline Implant)
$4,995
Breast Augmentation
(Silicone Implant)
$6,495
Breast Augmentation
(Gummy Bear Round Implant)
$7,495
Breast Augmentation
(Gummy Bear Anatomical Implant)
$8,495
Overview: Breast Augmentation
Dr. Jonov offers Seattle area women the opportunity to have beautiful, shapelier breasts through breast augmentation surgery. During this procedure, Dr. Jonov places either silicone or saline implants directly behind the breast or behind the pectoral muscle. During the initial consultation, he assesses the breasts and works with the patient to determine if silicone or saline is right for them. He will also discuss certain considerations such as implant size, shape, profile, and incision placement. Breast augmentation continues to be one of the most popular cosmetic surgeries in the U.S. today.
Breast Enhancement Guide
View our detailed Breast Enhancement Guide to learn about how Dr. Craig Jonov approaches breast augmentation surgeries.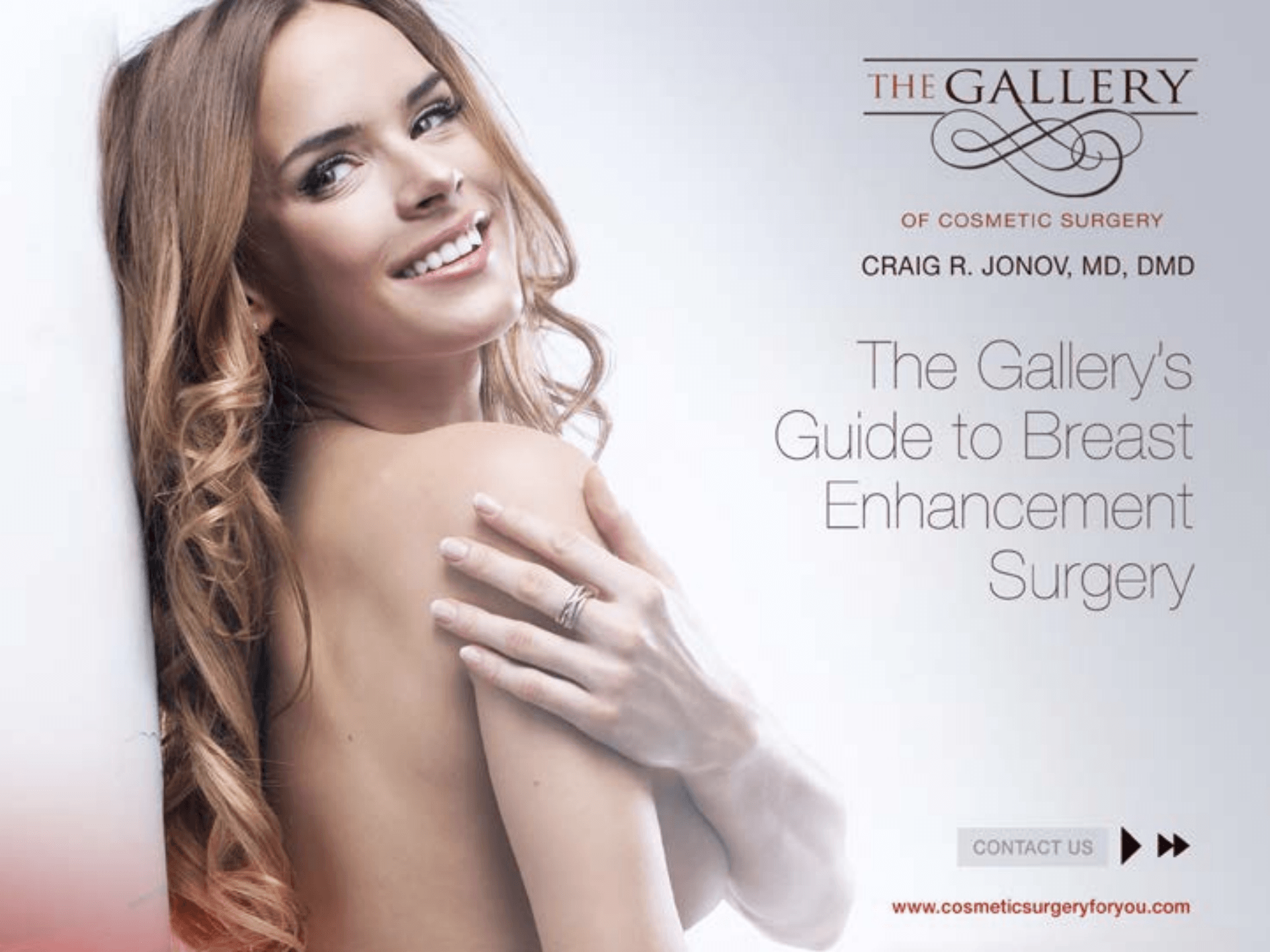 Other Implant Information
Manufacturers
Saline: MENTOR®
Silicone: Mentor (branded as MemoryGel®)
Profiles
An implant profile depicts the distance the breast will project forward from the chest wall. Implants are made in low, moderate, high and extra high profiles.
Shape
Breast implants come in two shapes. Round implants tend to offer more fullness on the top of the breast, while teardrop implants mimic the shape and look of natural breasts.
Texture
Breast implants are made with a smooth or textured surface. Round implants can be chosen with either surface, while teardrop implants are made with a textured surface only.
Saline VS. Silicone
The two implant options in the United States consist of saline implants and silicone implants. Both are safe and effective options for achieving fuller breasts. However, some woman may find more benefit from one implant type over another. Dr. Jonov can help you make an informed decision on saline vs. silicone implants will best suit your body and goals.
Saline Breast Implants
Saline breast implants are filled with a sterile saltwater solution and offer no risk to the patient in terms of extracapsular spread or silicone leakage. These implants are appealing to many because they generally cost less than silicone implants. In some patients, silicone may be a better option due to the rippling that may occur along the edges of the saline implant that can become visible in thin-chested women. Patients considering saline implants must be at least 18 years of age.
Silicone Breast Implants
Silicone breast implants are filled with a gel substance that looks and feels similar to natural breast tissue. They are ideal for women who are thin-chested. Silicone implants are specially engineered so that if the shell becomes compromised (a surface crack), the silicone remains intact within the implant (known as cohesive gel implants). Although rare, an MRI is required to find silicone implant defects, unlike saline implants which will deflate. Patients must be at least 22 years of age to receive silicone implants.
Implant Placement
Submammary (Retromammary): Under the mammary gland, over the muscle (sometimes called 'subglandular')
Subfascial (Retrofacial): Under the fascia of the muscle
Dual Plane: Along two planes/layers
Submuscular (Retromuscular): Mostly under the muscle
Complete Submuscular (Full retromuscular): Completely under the muscle
Incision Type
Inframammary: The doctor makes an incision in the breast crease where the breast meets the torso
Periareolar: Dr. Jonov makes the incision just under and along the areola
Transaxillary: The surgeon makes the incision in the armpit
Transumbilical: Dr. Jonov makes the incision in the belly button
Additional Information
Breast Augmentation – Complete Guide Benefits of Breast Augmentation for Women
"What people want most when they go to a plastic surgeon is an excellent result. That is what I got when Dr. Jonov performed reconstructive surgery on my breasts. I am ecstatic with the results – the doctor exceeded my expectations! In addition, Dr. Jonov is compassionate and kind and took the time to address my concerns and to check in on me the evening of the surgery. Besides the expertise of Dr. Jonov, I also received wonderful service from each and every person that I came into contact with at the Gallery of Cosmetic Surgery; from the beginning of the planning process, through the surgery itself, to post-operative care. I strongly recommend Dr. Jonov and his team to anyone interested in breast surgery!

Sandra

I strongly recommend Dr. Jonov and his team to anyone interested in breast surgery!
Questions about Breast Augmentation
Saline or Silicone?
Both saline and silicone implants are popular choices among surgeons and patients. In general, patients with a decent amount of breast tissue are good candidates for saline implants, while those with limited tissue and thin chest walls will benefit from silicone.
Many patients believe that silicone implants look and feel more natural. Gummy bear implants are the most modern breast implant on the market. Patients who choose Seattle gummy bear implants often remark on the natural look and feel of their breasts.
The implant option best suited for your goals will depend on your bodily anatomy, age, and what you want the end result to look like. During a consultation, Dr. Jonov can evaluate your goals, health, and anatomy to help you determine the implants for your breast augmentation in Seattle.
Is Silicone Safe?
Patients sometimes have concerns about the safety of silicone breast implants because of the attention they received in the media years ago. However, the FDA did approve their safety. In addition, no evidence links silicone breast implants to cancer, auto-immune deficiency disease, or any other illness. Ultimately, 62% of today's breast augmentation patients choose silicone over saline. For reconstruction cases, they choose them 3 times more often.
Breast Augmentation or Lift?
Breast augmentation helps with size, but it will not correct sagging. If you are happy with the shape and laxity of your breasts, then implants alone may meet your cosmetic goals. However, if sagging is what is most bothersome to you, then you may consider a breast lift. During your consult, we will determine if you are better suited for breast augmentation, a lift, or a combination of the two.
Risk of Rupture?
Modern engineering creates strong and durable implants. With proper care and regular check-ups, the risks for rupture are rare. If a saline implant does rupture, the solution will be absorbed by the body and the implant will deflate, becoming visibly noticeable. If a silicone implant ruptures, the cohesive gel will likely stay intact and not leak into the body. An MRI will be necessary to detect a silicone defect.
How Long Do Implants Last?
In short, there's been discussion or concern that implants only last about ten years. Actually, when the implants are made – whether they are silicone based or saline based or anatomical or gel – they are not made as a lifetime type of device; however, they may still last a lifetime. The most important factors in the longevity of breast implants is how well you maintain them and how well the breast tissue and the body heals to the site. The long term adverse effects are about 1% a year.
Normally, that's where the discussion after about ten years comes into play. Typically, the situation that occurs that requires implant replacement is something such as a rupture or capsular contracture where the scar around the implant becomes hardened to the point where it's uncomfortable or deforming. Most of today's silicone breast implants come with a lifetime warranty from the manufacturers.
Other Removal Situations
Other situations require removal due to potential infection, but are usually identified early. With normal maintenance and no concerns in the way the breast looks, feels, and presents itself with any changes of any breast volume due to weight change, pregnancy, or any other changes, implant removal is not necessary. The FDA recommends an MRI every 3 years to evaluate the integrity of the shell because sometimes with silicone implants, you can't tell if there is any leakage around the implant because of the cohesiveness. If a doctor monitors a patient for these conditions, a patient can maintain their implants.
Saline, on the other hand, if they deflate, it's pretty obvious that there's a deflation that occurs and requires removal of the implant. The majority of the time the risk for adverse reaction is about 1% per year over the lifetime of the implant. While not made to last a lifetime, your breast implants often will.
During/After Breast Augmentation Surgery
Dr. Jonov performs breast augmentation under general anesthesia in an accredited surgical facility and typically takes between 1-2 hours to complete. It is considered an outpatient procedure. After surgery, patients will need to rest for a couple of days, but encouraged to move around in order to promote circulation.
As the skin adjusts to the new breast size, it is normal for patients to feel tightness in the chest area. Patients may resume their normal exercise routines within 4-6 weeks. It typically takes around 6 months for the breasts to fall into their final position. The result is a softer, natural looking breast appearance.
Dr. Jonov will provide a surgical bra to wear during your recovery and recommends six ultrasound massages with our master estheticians to relieve swelling and side effects. Additionally, this promotes healthy healing and may prevent capsular contracture. Attending your post-operative appointments and following the individualized instructions that Dr. Jonov gives you will help you heal well and see the results you want.
The Gold Standard Of Breast Augmentation In Seattle, Bellevue, and Kirkland
The Gallery of Cosmetic Surgery offers the highest end breast implants and an experienced cosmetic surgeon with two decades of experience. Dr. Jonov is a double board-certified cosmetic surgeon and specializes in breast procedures. In a consultation, he will ask about your goals for your Seattle breast implants. Based on your goals and preferences, he will then help you craft a customized plan for your breast augmentation.
At The Gallery of Cosmetic Surgery, you will find a welcoming waiting area with freshly baked cookies and refreshments. Our team strives to make every appointment from your consultation to post-operative appointments smooth and comfortable.
Choosing a surgeon for your breast augmentation in Seattle is a daunting task that takes time and research to make. Dr. Jonov works to make this process simple. Along with serving Washington-based breast augmentation patients, The Gallery of Cosmetic Surgery accommodates patients from Vancouver, BC, and around the world.
To schedule a complimentary consultation with Dr. Jonov, call us at 425-775-3561 or contact us online using the form above.