Brazilian Butt Lift
(non-surgical)
$4,000
Brazilian Butt Lift
(With Lower Back Liposuction)
$4,995
Brazilian Butt Lift
(ZOMBIE Non-Surgical)
$6,000
SKINNY BRAZILIAN BUTT LIFT BELLEVUE AND KIRKLAND
Rounded, plump, and sculpted buttocks have become one of the most sought after beauty standards in the last decade. Men and women alike have turned to cosmetic procedures–both of the surgical and non-surgical varieties–to enhance their buttocks. The demand for these procedures led to the increased popularity of the fat transfer procedure, the Brazilian butt lift. Since then, advancements on BBLs themselves have made the surgery safer and more accessible to all body types. Dr. Craig Jonov at The Gallery of Cosmetic Surgery is a BBL expert. He provides the best skinny Brazilian butt lift Bellevue and Kirkland offers.
OVERVIEW: WHAT IS A SKINNY BBL?
A Brazilian butt lift is a butt augmentation technique that transfers autologous fat from one area of the body to another. During a typical Brazilian butt lift surgery, the average amount of fat transferred into the buttocks is somewhere around 2000ccs total. Of course, this varies from patient to patient. Though, around 1000ccs per side can provide most patients with a satisfactory outcome. 
What happens if you do not have 2000ccs of fat to spare? It depends, but for rather thin patients, a traditional BBL can be adapted into a procedure known as a skinny Brazilian butt lift. In a skinny BBL, the patient is usually rather petite, and less fat is transferred and harvested. Although, a "skinny BBL" can also refer to only a small amount of fat transfer.
Skinny Brazilian butt lifts require a skilled surgeon to perform to find the best liposuction areas and perform lipo safely. In a routine BBL surgery, the most common fat harvest areas are the lower back, abdomen, and waist. With a skinny BBL, it may require getting more creative and taking fat from elsewhere on the body.
History Of The BBL
The idea that a rounded, plump booty represented a high level of beauty and femininity goes back centuries. Though, unlike breast augmentation which began to see early forms of non-surgical and surgical enhancement before the 20th century. However, surgical buttock augmentation did not become viable until the 1960s. Though surgeries to remove extra skin from the buttocks did exist, these were largely reconstructive surgeries. They were not performed to augment the buttocks.
Brazilian surgeon, Dr. Ivo Pitanguy published a paper in 1964 about these early butt lift techniques that remove sagging, extra skin. Around the same time, plastic surgeons around the world experimented with butt implants by placing new silicone breast implants in the buttocks. While butt implants evolved, they became the main way to augment the buttocks, though they posed many problems due to the necessity the buttocks serve in walking and movement.
By the 1990s, Dr. Ivo Pitanguy eventually created the precursor to the modern BBL. It involved taking liposuctioned fat and transferring these fat grafts into the buttocks. Buttock augmentation began to catch on more in the ensuing years and nearly three decades later it is among one of the most popular plastic surgeries around the world.
More recently, the Brazilian butt lift was modified to include safer techniques for injecting the fat. This lowered the risk of the procedure significantly. Other advancements also allowed for patients who may not originally have been good candidates (such as thin patients) to undergo the surgery. Non-surgical forms have also been pioneered.
Benefits Of Skinny BBL Surgery
For thin patients wanting a bigger booty who are good candidates, there are many benefits of a skinny Brazilian butt lift. Among some of the benefits include:
Rounder buttocks

Increased upward and/or outward projection

Plumper buttocks

Creates lifted, perkier buttocks

Can result in younger looking physique

Improved body portions

Removal of stubborn or unwanted fat around the body

Natural looking results

Approximately 70-80% of the transferred fat expected to survive

Permanent results

Patient's own fat used, no foreign implants or bodies

Correct buttock asymmetry

Performed by BBL specialist who performs multiple BBLs every month

Surgery is fairly low risk when performed by a qualified provider

Can take fat from nearly anywhere on the body
SKINNY BBL vs. NON-SURGICAL BBL
Many thin patients hoping to augment their booty end up with a recommendation for a non-surgical Brazilian butt lift. This procedure can also produce results, but is not always the right technique depending on the patient and their body type. Knowing whether a skinny BBL or a non-surgical BBL is right for you requires a consultation with an expert such as Dr. Jonov. 
The table below compares the two procedures to help you get an idea of which may provide you with the best results or fit your lifestyle.
Skinny BBL
Non-Surgical BBL

Surgical

Injects fat harvested from patient's own body

Addresses entire body contour via liposuction areas

Comes with required recovery and downtime

Permanent

More predictable, consistent results

Results typically achieved in one surgical session

Non-surgical

Injects collagen stimulating filler and sometimes organic growth factors

Only addresses hip and buttock contour

Minimal recovery and downtime

Can last up to a few years

Results less dramatic and consistent

May require multiple sessions to get desired results
BEFORE AND AFTER SKINNY BBL
Consultation With Dr. Jonov
Before having Bellevue skinny Brazilian butt lift surgery, you will first need to meet with Dr. Craig Jonov for a consultation. During your consultation, Dr. Jonov will ask you about your goals for the procedure, medical history, and relevant aspects of your lifestyle. He will then conduct a physical examination to identify harvest areas and compare your anatomy with your goals. 
If Dr. Jonov believes that your goals are possible and you are in good health, he will determine you are a good candidate for a skinny BBL. Dr. Jonov will go on to describe your skinny BBL in detail and discuss any other necessary information.
Finally, before leaving, you will receive a formal price quote for your skinny Brazilian butt lift. Your surgical coordinator can also provide financing information.
Skinny Butt Lift Surgery
On the day of your skinny Brazilian butt lift in Bellevue, you will arrive at The Gallery of Cosmetic Surgery. Your care team will begin taking vitals and tests to confirm you are fit for surgery. In the meantime, you will change and Dr. Jonov will make preliminary marks for surgery. Around the same time, you will meet with your anesthesia provider as well. Finally, you will be taken back to the operating room and sedated via general anesthesia.
Dr. Jonov will start by removing fat from the donor areas. Using liposuction, he will make a tiny incision, insert the liposuction cannula, and remove the excess fat. He will repeat this process in all the predetermined areas, removing as much fat as is possible and safe. Once he has enough fat to transfer, Dr. Jonov will purify the fat which involves separating it from blood, oils, and damaged fat cells.
The purified fat is then precisely and carefully injected into the buttocks. The exact injection points will vary depending on the individual patient. However, the transferred fat can be placed nearly anywhere in the buttocks and hips. Once finished, Dr. Jonov will ensure an optimal result and that all viable fat has been successfully transferred.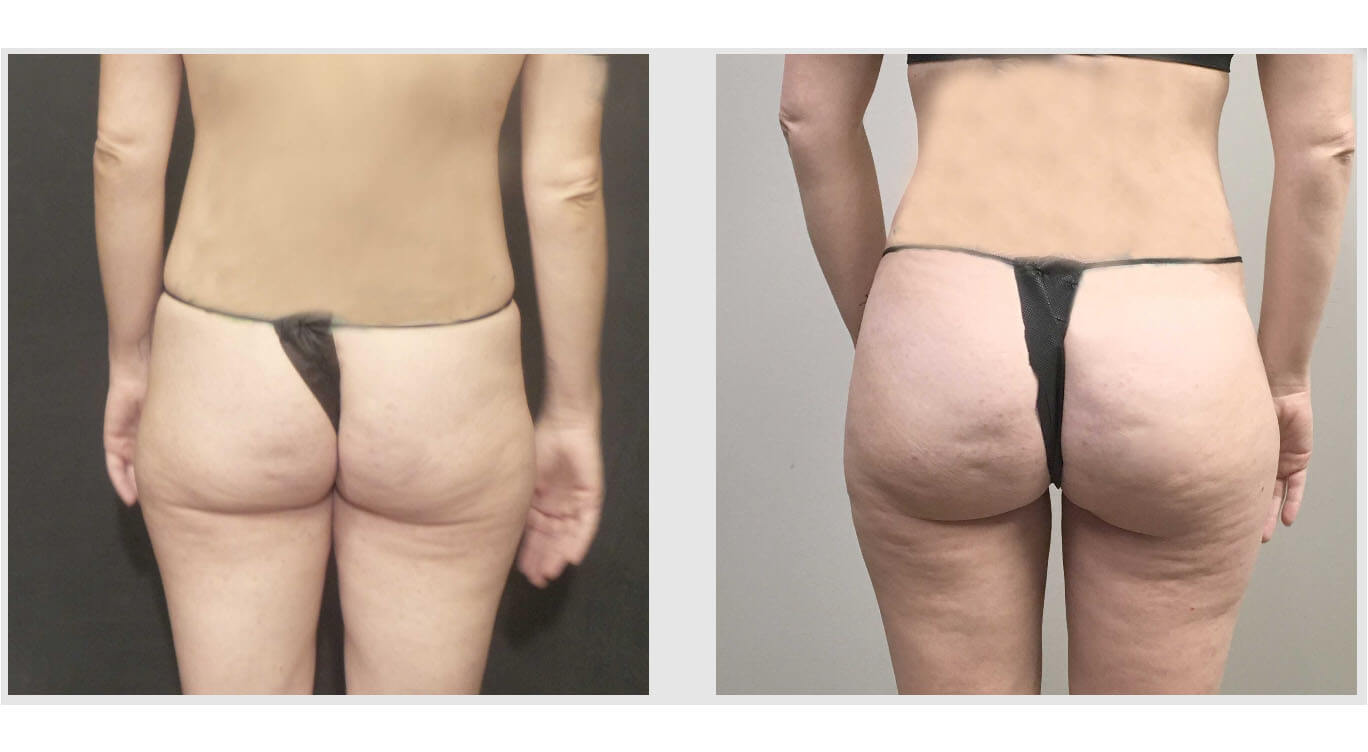 Before & After Skinny BBL
Contact Us
To schedule a complimentary consultation with Dr. Jonov or with questions about Brazilian Butt Lifts at The Gallery of Cosmetic Surgery serving Kirkland, Bellevue & Lynnwood, WA.
Recovery & Aftercare
The recovery for a surgical BBL generally involves around one to two weeks off work. From there, patients can expect around four to six weeks of an altered exercise routine. Patients will also need to refrain from sitting on their buttocks without a BBL pillow for several weeks. In general, you can expect protocols and instructions for your skinny BBL recovery like:
Take prescribed antibiotics to prevent infection

Sleep on your stomach

Do not sit on your buttocks until instructed by Dr. Jonov, and only do so with a BBL pillow until further notice (usually about six to eight weeks)

Refrain from strenuous exercise beyond walking and some daily activities for around two weeks

If okayed by Dr. Jonov, some light exercise can begin at around two weeks

Expect bruising, swelling, and some post-operative pain

Do not smoke or drink during recovery

Attend all post-operative appointments

Wear your compression garments

After the first few days, resume a normal diet and avoid salty foods as this can prolong swelling
I Loved my experience! The Dr was so gentle and kind, my results are exactly what I wanted!!

Ashley
Dr. Jonov was incredibly kind along with the staff!! They care about their customers and you can tell!

Eileen
If you are looking for top notch service this where you need to go. Doctor Jonov and his team were hands on and provided the best service. Highly recommend!

Cortney
I always had good experiences here. The staff are amazing and Dr Jonov is an amazing surgeon. I'm always coming back for new improvements and I'm more than happy to recommend them!

Aline
See More Reviews
FREQUENTLY ASKED QUESTIONS
What Is The Minimum BMI For A BBL?
Body Mass Index, or BMI, is not the best indicator of candidacy for a BBL. While there are no BMI requirements at The Gallery of Cosmetic Surgery, if a BMI is especially high or low, a patient may not be a good elective surgery candidate. 
BMI on its own does not measure how much fat exists on a person's body. For example, a patient with a perfectly healthy BMI can have plenty of fat to liposuction. However, a muscular person with little body fat and a high BMI may not have enough fat for a BBL.
Will I Get Dramatic Results?
A common concern when it comes to a skinny BBL procedure is that it will not provide dramatic enough results. Considering most skinny Brazilian butt lift patients are generally petite, even a small augmentation of the buttocks can create the coveted 'S' shape. A little can go a long way when transferring fat during a Kirkland skinny BBL. 
Though, the exact results you can expect will vary based on your anatomy and goals. When compared to a traditional BBL, the results of a skinny BBL generally do look more natural. However, when taking the patient's anatomy and body type into account, this is often a dramatic difference.
Should I Choose Butt Implants Over A Skinny BBL?
Butt implants were once the primary way to augment the buttocks. However, they have largely fallen out of fashion for a variety of reasons. First, they do not look or feel as natural as transferred fat. Secondly, any implant in the body can cause issues. Though, butt implants showed a tendency to create more problems, both over time and during recovery. Finally, butt implants require lifting the muscle of the buttock which involves a much more painful recovery.
There are still a few surgeons who specialize in buttock implant surgery. Additionally, there are still a few rare instances where butt implants may be the preferred augmentation method. However, as buttock enhancement methods advance, this is becoming less true.
How Long Does A BBL Last?
After totally healing from a skinny Brazilian butt lift, the surviving fat will have created a healthy blood supply. This means that it will essentially act like all the other fat in your body. Therefore, assuming you maintain a fairly stable weight, you can expect BBL results to be permanent.
What Is The Cost Of A Skinny Brazilian Butt Lift?
At The Gallery of Cosmetic Surgery, a skinny Brazilian butt lift starts at $4,995. This price includes one area of liposuction. The exact cost of your Brazilian butt lift procedure can be more accurately provided after a consultation with Dr. Jonov. You can find more pricing information on our price list and Price Simulator®. We also offer financing information and direct links to apply.
THE BEST SKINNY BRAZILIAN BUTT LIFT IN BELLEVUE AND KIRKLAND BY DR. CRAIG JONOV
The Gallery of Cosmetic Surgery is a premier plastic surgery practice and medical spa serving the Bellevue and Kirkland areas. Located just across I-5 and at the end of I-405 in Lynnwood, The Gallery of Cosmetic Surgery provides the top skinny Brazilian butt lift Bellevue and Kirkland offers.
Dr. Craig Jonov is a renowned plastic surgeon with decades of experience. He performs all types of Brazilian butt lifts including surgical and non-surgical BBLs. Dr. Jonov caters every procedure to each patient's needs and anatomy. Performing among the most Brazilian butt lift surgeries in Washington State, Dr. Jonov is one of the best Bellevue plastic surgeons.
To schedule a free consultation, call us at 425-775-3561. You can also reach out online via Price Simulator®, chat, or contact form.