Platysmaplasty Bellevue & Kirkland
The face and neck are largely sighted as the two body areas to age the quickest. However, individuals tend to address their face more than their neck, leading to their neck giving away their true age. Addressing and preventing neck aging is imperative for those who want to consistently look their youngest. When surgical intervention becomes necessary one of the most effective surgical techniques is the platysmaplasty. Dr. Craig Jonov provides the best platysmaplasty Bellevue and Kirkland offers.
Overview: What Is A Platysmaplasty?
A platysmaplasty is a surgical technique that resects and tightens the platysma muscle in the neck. This smooths out the contour of the neck and can lead to a more youthful appearance. While it can be performed on its own, a platysmaplasty is most often combined with a traditional facelift or neck lift procedure.
The platysmaplasty procedure only addresses the muscle. It does not remove extra skin. Therefore, skin or fat removal is usually another procedure such as a facelift or facial liposuction. It is comparable to muscle plication where Dr. Jonov tightens the abdominal muscles during tummy tuck surgery. Significantly less than half of the facelifts and neck lifts Dr. Jonov performs do not involve a platysmaplasty.
Anatomy Of The Neck
The neck contains more than twenty muscles. Neck muscles help support the spine and head as well as the necessary movement needed for everyday life. They are even involved in jaw and lip movement. The muscles in the neck often move in repetitive ways which is one of the reasons the neck is susceptible to aging.
The platysma muscle is in the rough shape of an X. It extends from the jaw down to the collarbone. The middle portions usually do not meet, but run closely together. The platysma is a rather large muscle and helps to move the jaw and lower lip. In general, it is mainly responsible for helping move the skin of the lower face and neck. This causes creasing and aging over time.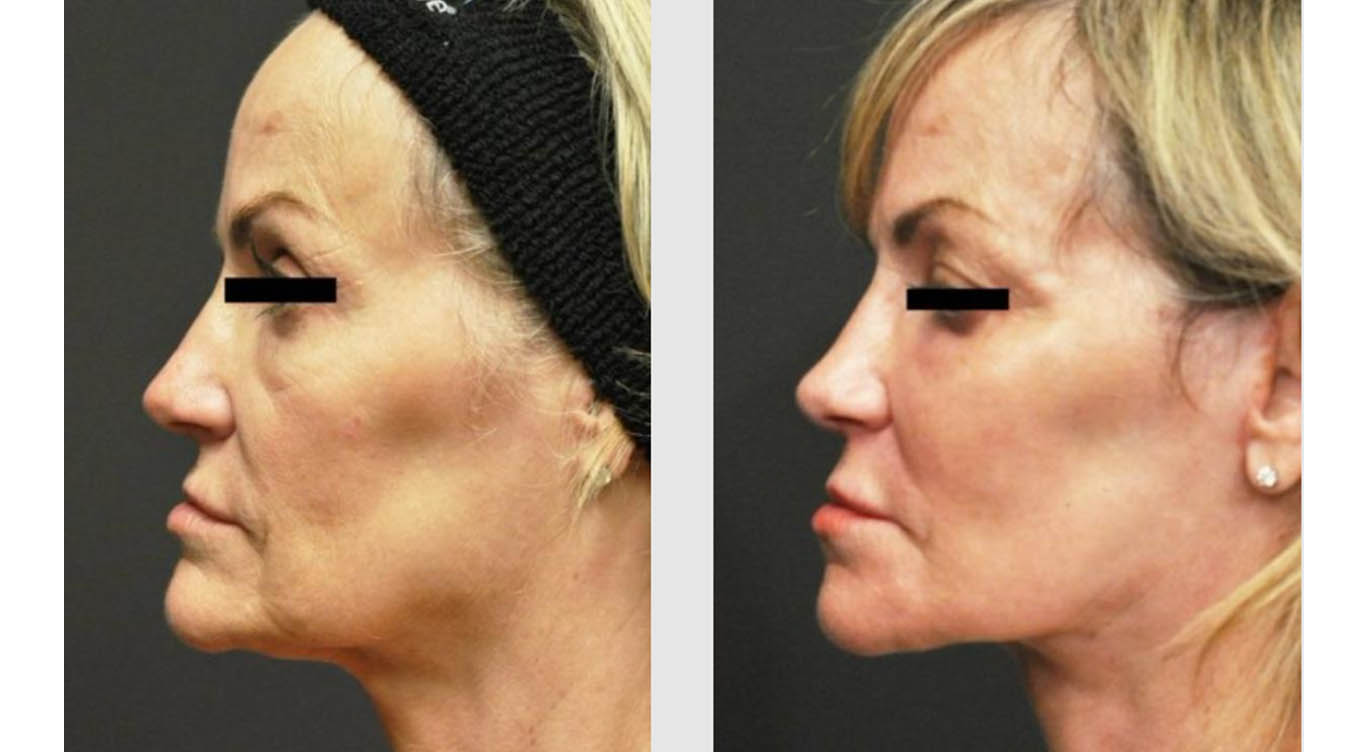 How The Neck Ages
The neck ages similarly to the face. The primary factors that contribute to neck aging include:
Repetitive muscle movements

Loss of collagen and elastin

Environmental damage

Low skin quality

Weakening of neck muscles (particularly the platysma)

Genetics

Some medical conditions
Neck aging is usually due to multiple factors including extra skin, lessened skin quality, increased muscle laxity, and weight fluctuations. It will differ widely between patients due to genetics and other individual factors.
Benefits
There are various benefits of platysmaplasty surgery whether or not you undergo another procedure at the same time. Some of the benefits include:
Smooth neck contour

More youthful appearance

Addresses sagging skin

Extra skin removal

Treat the appearance of fine lines and wrinkles

Improve jaw contour

Reduce the appearance of neck bands

Tighten the platysma muscles

Slow aging process

Minimize the look of thinning skin

Improved facial profile
Before & After A Platysmaplasty
Consultation
Your first appointment at The Gallery of Cosmetic Surgery will involve a consultation with Dr. Craig Jonov. Dr. Jonov will ask about your goals and the look you want to achieve. He will also want to review your medical history and perform a physical exam of the area. This will help him determine if you are a candidate for a neck lift and/or platysmaplasty.
If Dr. Jonov believes that you are a good candidate, he will describe the procedure and the results you can expect. You will receive instructions for anything you need to do to prepare, a finalized price, and financing information.
Surgery
A platysmaplasty is most commonly performed with a neck lift. Dr. Jonov will make small incisions behind the ears and potentially one in the fold where your neck and chin meet. From there, he will tighten the muscles which involve pulling the two halves of the platysma muscle closer together. Dr. Jonov may also remove a portion of the muscle if necessary.
Dr. Jonov will then remove extra skin and fat deposits before pulling the skin tightly across the new contours. This corrects the neck and lower face contour. Depending on your needs and anatomy, Dr. Jonov may also perform a facelift at the same time.
Recovery
Recovery following platysmaplasty surgery in Bellevue is often considered minimal. Patients often return to work in one to two weeks and their full activities within four to six weeks. Though, this will vary from patient to patient based on their health, medical history, and specific procedure. 
Some of the instructions Dr. Jonov may give include:
Avoid strenuous activity for at least two weeks

Use ice packs to reduce swelling in the first couple of days

Wear a wrap if instructed

Elevate the head of the bed

Attend post-operative appointments

Take medications as needed/prescribed
Dr. Jonov was my third consult. From the first time I walked into his office to my one year follow-up, the whole staff has been amazing! Dr. Jonov listened to me, he heard what I asked for and helped me decide what was going to be the best options for me and my lifestyle, my money and MY BODY! The first two consults I went to would only do it "their way"...I understand not wanting someone walking around making your work look bad but it was a choice I should have been making myself. He was personally available after surgery for any questions (which I did end up having the night after my surgery). He is more on the conservative side with recovery instructions which I really appreciated! I couldn't imagine having been cleared for normal activity any earlier than I already was. Plus, mega bonus, my results are SPECTACULAR!

Annie
I loved my experience! The Dr was so gentle and kind, my results are exactly what I wanted!!

Ashley
I want to recommend Alderwood Surgical Center and Dr. Jonov he's the best! He changed my life

Diana
Staff very pleasant, professional and nice. This was my first time visiting a cosmetic provider and they made me feel very comfortable.

Deidra
Frequently Asked Questions
What Is The Difference Between A Neck Lift And Platysmaplasty?
The major difference between a neck lift and platysmaplasty is that a neck lift surgery removes skin while a platysmaplasty tightens the muscle. While often performed together, they are technically different operations. They do also complement each other and often lead to better results for both procedures.
How Long Does A Platysmaplasty Last?
Unfortunately, no amount of surgical correction can completely stop the aging process. However, the muscles often do take longer to lose laxity than the skin. Therefore, it is not uncommon for patients to enjoy the results of their platysmaplasty for a decade or more. 
Certain factors may impact how long your platysmaplasty lasts. This includes significant weight gain or loss, injury, genetics, and lifestyle. Smokers tend to see their results come undone at a much faster rate.
Can You Prevent Neck Sagging?
There are ways to help prevent neck sagging. Aging is inevitable, but you can help slow it down by taking good care of your skin and body. Some ways you can prevent neck sagging include:
Eating well and exercising

Using skincare products and caring for the skin on your neck like you would your face

Always wearing sunscreen/protection, especially in direct sunlight

Botox for treating fine lines and wrinkles

Do not smoke and limit alcohol consumption

Control and limit stress

Maintain a stable weight



How Much Does A Platysmaplasty Cost?
Since a platysmaplasty is rarely performed on its own, the cost fluctuates dramatically. You can find full pricing for all of our facial plastic surgery procedures on our price list and Price Simulator app.
Are There Non-Surgical Options?
Depending on your anatomy and the correction needed, some non-surgical procedures help improve the appearance of the neck area. First off, Botox can reduce the appearance of neck banding or fine lines. Several medical grade skincare procedures may help improve the look and quality of the skin on the neck.
A few examples of skincare that may help improve the appearance of the neck include:
The Best Platysmaplasty In Bellevue & Kirkland
Dr. Craig Jonov is a plastic surgeon with years of experience in both facial and body plastic surgery. As an educator in his field, Dr. Jonov frequently educates other providers on proper techniques for surgical and non-surgical procedures. He performs both facial and body plastic surgeries. Dr. Craig Jonov offers the best platysmaplasty Bellevue and Kirkland offers.
Located at the junction of I-5 and I-405, The Gallery of Cosmetic Surgery is a state-of-the-art facility located in Lynnwood, Washington. It serves all major cities in the Greater Seattle area. To learn more and schedule a consultation with Dr. Jonov, call us at 425-775-3561. You can also reach out online via chat, online form, or Price Simulator.