Pre-Event Glam Package
(4 full treatments; 1 Chemical Peel, 1 Microneedling, 1 Dermaplaning, Choice of 1 Rain Facial OR Oxygen Facial)
$599
Glow Up Package
(3 peels & 3 Microneedling Sessions)
$950
Make It Rain Package
(5 full treatments; 3 Rain Facials, 1 Dermaplaning, Choice of 1 Enzyme Peel OR 1 Zombie Carbon Laser Peel)
$699
Procedure Time: 30 Min - 1 Hr
Recovery Time: Little to None
FACIALS BELLEVUE, KIRKLAND, AND LYNNWOOD
Facials come in many forms. As one of the most sought after luxury experiences and treatments, facials serve many purposes. Some facials purely cleanse the skin. While others are meant to relax you and your skin, medical-grade skin care can treat skin conditions and concerns. Furthermore, some facials can achieve all of these purposes. At The Gallery of Cosmetic Surgery, our master estheticians offer medical-grade facials that can improve the quality of your skin and may address skin concerns. The Gallery of Cosmetic Surgery provides the best facials Bellevue, Kirkland, and Lynnwood have to offer.
OVERVIEW: FACIALS IN BELLEVUE
Facials are a treatment that can clean, exfoliate, and contribute to healthier looking skin. It is common to undergo facials at a spa, or even perform them at home. These treatments have little risk. A typical spa facial will not treat medical or skin conditions and only used for temporary improvements, or to calm the skin. 
Our master estheticians perform medical-grade facials that can improve your skin quality, may treat certain skin concerns, and provide the same relaxing benefits as a usual facial. Similarly, our facials are a step above a spa facial or at-home facial. Standard facials usually only yield the general benefits of cleansing and exfoliation. Medical-grade facials penetrate deeper, use better ingredients, and are performed by highly trained master estheticians.
Why Regular Facials Are Important
Facials not only clean the skin, but professional facials also contribute to the health of the skin. Undergoing regular facials with a skin expert like a master esthetician can improve and maintain the quality of your skin. Long term this can prolong the initial signs of aging and treat skin concerns like acne, dry skin, and others.
Regardless of if you frequently have acne breakouts, regular facials help keep the pores clean, which naturally reduces acne. Most facials at The Gallery of Cosmetic Surgery are safe for sensitive skin, all other skin types, and every skin tone. Based on your unique skin, our master estheticians can recommend the best Bellevue facial protocol for you.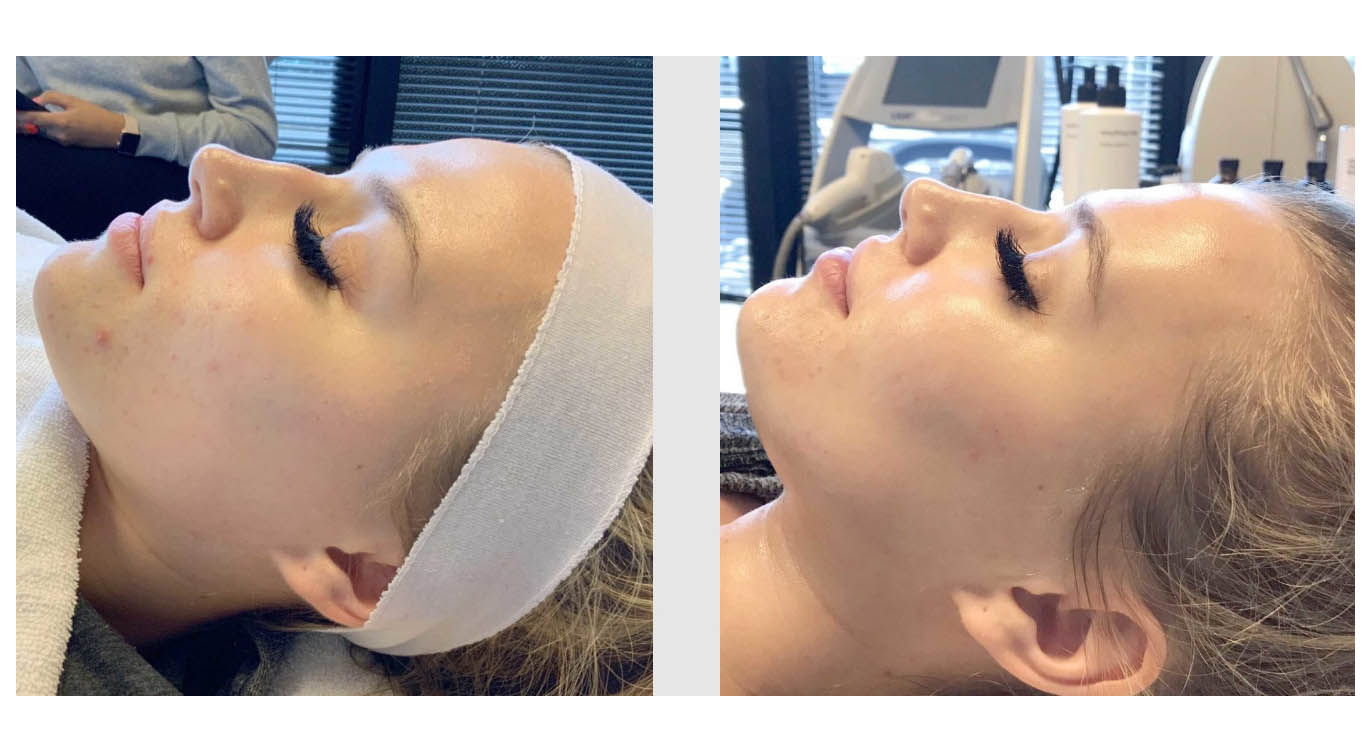 Before & After Glow Up Package
Benefits Of Facials
Some benefits of facials have already been mentioned. Individual patients may also experience varying advantages. Benefits of Bellevue facials can include:
Clean, fresh feeling skin

Brighter complexion

Deep cleansing of the skin

Improvement in skin pigmentation

Smoother skin texture

Treatment of wrinkles and fine lines

Removal of environmental pollutants and free radicals

Moisturize skin

Clear clogged pores

Dead skin removal

May stimulate collagen production

May induce lymphatic drainage

Achievement of a natural looking glow

Relaxing and may reduce stress

Quick procedure (usually less than one hour)

Non-invasive treatment
TYPES OF FACIALS
There are many available facials in Kirkland. Some facials involve deeper exfoliation than others. Your master esthetician will specially cater your facials to your skin and goals. Each type of facial is customizable and features exceptional benefits.
Spa Facials
Spa facials are what most people think of when they think of a facial. This type of facial cleans and relaxes the face. However, it does not require medical training to perform and comprises a small percentage of facials at The Gallery of Cosmetic Surgery. These facials are relaxing and a great primer for medical-grade skincare and treatments. 
Rain Facial
The rain facial is a proprietary facial system that offers nine different unique treatments in one. Each rain facial will not consist of every feature. However, this allows your master esthetician to personalize your rain facial to your skin.
A few of the treatments featured in the rain facial include ultrasonic treatment, red light therapy, and microdermabrasion. All of these treatments have individual functions that offer a unique benefit to your skin. For example, blue light therapy targets the most common bacteria that causes acne. This treatment can greatly benefit patients who see frequent acne breakouts.
Every rain facial will vary in technique. Your master esthetician will customize each facial to your skin needs at the time. The rain facial is safe for every skin type and tone. It often can be performed on irritated skin depending on the cause. 
Rain facials are known for leaving skin moisturized and glowing. They are a great finishing touch on a facial protocol and the perfect facial prior to an event. Along with using a unique system that uses a gentle stream of water to remove pollutants and dead skin, the rain facial infuses nutrients deep below the skin's surface.
Types Of Rain Facial
At The Gallery of Cosmetic Surgery, we offer two types of rain facial: the monsoon and tsunami facials. Nonetheless, your Bellevue master esthetician may customize your rain facial from there to fit your goals.
Monsoon Facial:

The monsoon rain facial is a type of rain facial that focuses on treating the signs of aging. It utilizes the rain facial's unique water microdermabrasion, lymphatic drainage, red light therapy, and skin scrubber treatment. This can treat the appearance of fine lines, wrinkles, sun spots, poor skin elasticity, and sun damage.
Tsunami Facial:

The tsunami rain facial is another rain facial offering meant to offer benefits to all skin types. The tsunami facial is an all-around, medical-grade facial treatment that delivers hydration and nutrients directly into the skin. It can reduce the appearance of dull, dry skin and provide a healthy glow.
Oxygen Facial
An oxygen facial is a professional Bellevue facial that uses pressurized oxygen to clear pores and supply nutrients to the skin. Similar to the rain facial, the oxygen facial uses highly pressurized oxygen instead and is not likely to irritate the skin.
Oxygen is vital for our skin structures to remain healthy and supple. As we age and with various types of damage, the oxygen in our skin depletes. The oxygen facial aims to slow this depletion and manually deliver oxygen to the skin structures. 
Following an oxygen facial in Bellevue, patients often find that their skin looks healthier and carries a glow. Regular oxygen facials can maintain this glow and offer benefits like collagen stimulation, a reduction in acne, and skin tone improvements. 
An oxygen facial can benefit most skincare routines and requires no substantial changes afterward. Your master esthetician can discuss whether an oxygen facial will supplement your skincare and skin goals.
Microneedling
Microneedling–while not a facial in the traditional sense–complements facials well and often paired with a rain or oxygen facial. This procedure uses a medical-grade microneedling device consisting of tiny needles that make small holes in the skin. These microscopic holes cause your body to ramp up collagen production and can make subsequent facials more advantageous.
While not right for every patient, microneedling offers immense benefits to patients wanting to treat acne scarring. The stimulation of collagen and elastin can promote the filling in of scars and longer term advantages. Additionally, microneedling has also shown to reduce the appearance of some surgical scars.
Contact Us
To schedule a complimentary consultation or with questions about facials at The Gallery of Cosmetic Surgery serving Kirkland, Bellevue & Lynnwood, WA.
BELLEVUE FACIAL SPECIALS AT THE GALLERY OF COSMETIC SURGERY
At The Gallery of Cosmetic Surgery, our master estheticians have compiled facial specials that allow you to get the most from your facials in Bellevue. Each package offers customized options and a special price that makes them more cost effective than purchasing individual facials.
Pre-Event Glam Package:
The Pre-Event Glam package is designed for optimal facial rejuvenation before an event. Celebrities often undergo facial protocols ahead of an event. Our master estheticians offer a protocol with some of the same procedures to get your skin red carpet ready.
A Pre-Event Glam facials package consists of a six-week protocol:
Make It Rain Package:
The Make It Rain Facials package features the rain facial as the main treatment component. This package focuses on overall skin rejuvenation. Each treatment is spaced about two to three weeks apart because that scheduling has shown the best results. The Make It Rain package protocol includes:
First Treatment Session: Rain Facial, Dermaplaning
Second Treatment Session: Rain Facial
Third Treatment Session: Rain Facial, Choice of Enzyme Peel or Zombie Carbon Laser Peel
Generally, the Make It Rain facial includes three rain facials, dermaplaning, and either an enzyme peel or zombie carbon laser peel. This combination of treatments can benefit most patients and can complement most skincare regimens.
THE BEST FACIALS IN BELLEVUE, KIRKLAND, & LYNNWOOD
The Gallery of Cosmetic Surgery offers more than a regular spa facial. With rigorous and hands-on medical training, our master estheticians provide medical-grade facials that improve skin quality. While some do provide the same effects as a spa facial, our Kirkland facials are part of a larger plan that addresses your skin concerns. 
At a consultation with a master esthetician, they will want to understand your medical history and skin concerns. Your master esthetician will also ask you what your goals are for your skin. Following this discussion, your master esthetician may examine the skin closer if necessary. They will then put together a personalized plan for your skin and goals. Furthermore, depending on the treatment, they may administer your procedure the same day. 
To schedule a consultation with a master esthetician, call us at 425-775-3561. You can also reach us online via our Price Simulator™ app, contact form, chat, or text.