Overview: Injectable Fillers
Dr. Craig Jonov and the injectors at The Gallery of Cosmetic Surgery proudly offer the latest advancements in injectable fillers for those desiring a nonsurgical facial rejuvenation. Due to weight loss and aging, the face naturally loses some of its laxity and volume. This results in facial hollowness, fine lines, and shadowy crevices. An injectable filler adds volume under the skin to create a smoother, younger appearance on the surface. Dr. Jonov uses a variety of fillers such as hyaluronic acid based options like Restylane and Juvederm. He also provides semi-permanent injectable fillers like Radiesse® and Sculptra to provide effective and lasting results for patients. Injectable fillers, when combined with other anti-aging treatments, such as BOTOX®, have been labeled the "liquid facelift" of our time. The Gallery of Cosmetic Surgery provides the best injectable dermal fillers Bellevue and Kirkland have to offer.
Types of Dermal Fillers
The market for injectable fillers exploded over the last decade; offering numerous options and brands for patients to consider. Dermal fillers are generally a temporary treatment that lasts anywhere from a few months to a few years. Some options are considered semi-permanent because they can make long lasting changes to the treatment site. Additionally, fat transfer–while not a traditional dermal filler–can often provide permanent results.
Fat Transfer
A fat transfer is a process that takes fat from one body part and directly transfers it to an area of the face with lost volume. This type of filler offers good results, but may not last as long because the body will naturally absorb some of the injected fat. The fat that does survive–on average about 70%–will act like all other fat on your body and offer a more permanent result.
Fat transfer does require a surgical procedure, which can make it unappealing to some. Patients who have had filler for several years and the results they like, often find more value in this procedure.
Collagen
Collagen is a protein made up of amino-acids. It can be derived from the human body or animals (known as bovine collagen). Collagen feels very natural when injected. Bellafill is the only FDA approved collagen filler in the United States. It is most commonly used to address the nasolabial folds. Collagen is not as commonly used anymore because Sculptra induces collagen production. It also may require an allergy test prior to injection.
Calcium Hydroxylapatite
Calcium hydroxyapatite is a substance found naturally in human bones. It is a mineral-like compound and one of the heavier dermal fillers. This particular filler treatment is generally used for deep crevices and creases. This is the main component of Radiesse.
Hyaluronic Acid
Hyaluronic acid is a natural substance that exists in the human body. It can be found in connective and skin tissue and cartilage. The hyaluronic acid is extracted, reformulated, and then offered as a dermal filler. It is a popular choice because of its compatibility.
Hyaluronic acid fillers are the most common filler, safest filler, and used all around the face. Restylane and Juvederm are the two most popular hyaluronic acid filler manufacturers and each makes fillers for the lips, cheeks, chin, and wrinkles. They are also safe for use in the nose, temples, and hands.
Polylactic Acid
Polylactic acid is a synthetic substance created and used as a filler. This particular substance works differently than the other fillers because, once injected, it stimulates collagen production. Therefore, results appear gradually over time. Sculptra is a polylactic acid filler and provides gradual results. It can leave behind plumpness at the treatment site even after it absorbs because Sculptra promotes collagen production.
PMMA
The primary semi-permanent filler on the market today is polymethylmethacrylate fillers (PMMA). This filler contains a low concentration of microspheres suspended in a larger amount of purified collagen gel. PMMA is more solid and heavier than most other fillers. It is used for deep wrinkles and deep contours. Sometimes it is used as a permanent implant during reconstructive surgery. Combined with the collagen gel, this also makes up Bellafill.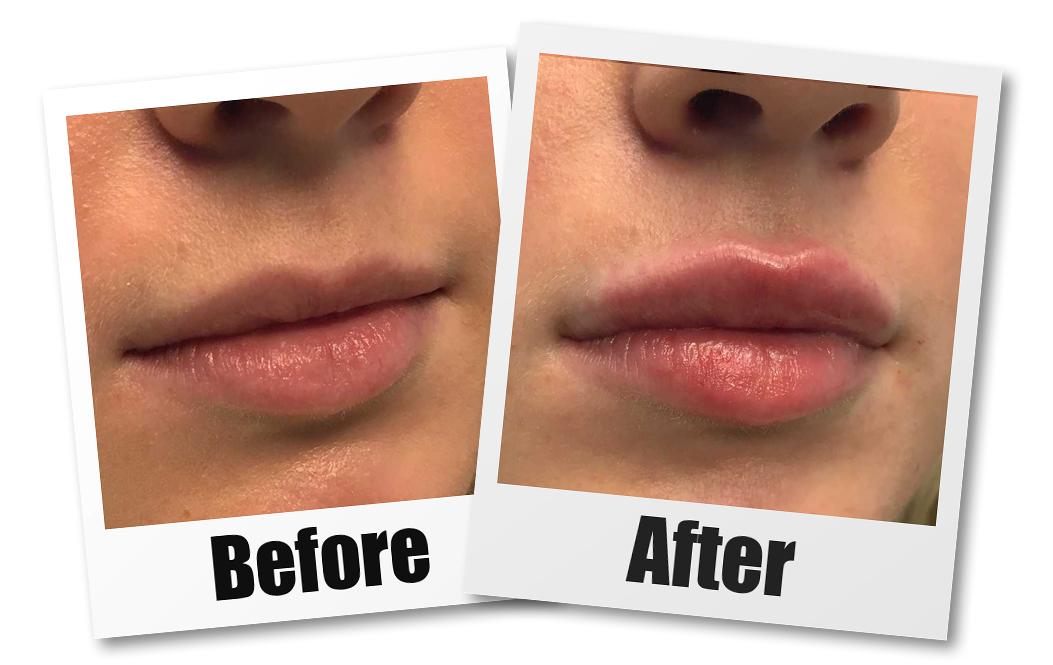 Contact Us
To schedule a complimentary consultation with Dr. Jonov or with questions about Injectable Fillers at The Gallery of Cosmetic Surgery serving Kirkland, Bellevue & Lynnwood, WA.
Our Injectors
The injectors at The Gallery of Cosmetic Surgery have decades of combined experience and from a variety of backgrounds. Aesthetic physicians, plastic surgeons, physician assistants, and registered nurses. All have trained directly under Dr. Craig Jonov. As well as by the manufacturers of major dermal fillers.
The Gallery of Cosmetic Surgery's injectors are among some of the most experienced and qualified individuals in the state. With expertise concerning the fillers themselves and the most advanced injection techniques, the injectors work to achieve every patient's cosmetic goals. They provide the best filler in Bellevue and Kirkland.
Filler injections of all types and areas are a speciality at The Gallery of Cosmetic Surgery. Examples of procedures performed every day include lip filler, under eye filler, smile line filler, and more. Furthermore, undergoing filler injections with one of our injectors comes at a lower cost than our plastic surgeons. We also work with the reward programs of dermal filler companies.
Injectable Filler Locations & Procedures
Dermal fillers are primarily used to restore or add volume to the face and facial features. Some fillers do have uses in parts of the body such as the hands and buttocks. Though, most of the treatment areas are on the face. Below, let's explore the most popular filler treatments.
Under eye filler, also known as tear trough filler, address under eye hollowing, bags, and darkness. Plumping this area can make you look more awake and younger. For many this can transform the entire face and even make them look more approachable. Hyaluronic acid fillers are the safest and most popular choice for this site. Conversely, semi-permanent fillers like Sculptra are not safe or advisable under the eyes.
An underrated procedure, temporal filler can achieve many cosmetic goals. For one, you can get the trending cat eye look with this type of filler. It also can lift the brows slightly and provide a more heart-shaped face. Frequently, temple filler fills in temples that have hollowed due to age, weight loss, or genetics. This can make patients look less gaunt, healthier, and younger.
Nose filler, or a non-surgical rhinoplasty, primarily treats the bridge of the nose. It strengthens the look of the bridge, straightens the shape of the bridge, and can improve the facial profile. Sometimes, fillers are injected into the tip of the nose to alter the shape or projection as well.
Filler is one of the top anti-aging procedures in the country. When BOTOX can no longer treat deeper wrinkles, filler is often the next step. While it is not commonly used for forehead wrinkles, it is often used for smiles lines, marionette lines, lip lines, and chin wrinkles. In these areas, it can smooth and plump out the wrinkles for a more youthful look. This is easy to combine with BOTOX for the ultimate non-surgical makeover.
When dermal fillers are injected into the cheeks, this can define the cheekbones and create a slimmer looking face. Many men and women today want a well contoured face, which can include prominent cheekbones. Cheek filler is a great option to achieve a contoured look. Furthermore, cheek filler can correct asymmetry, aging, and wrinkles.
In the 2010s, lip filler saw a surge in popularity. Due to many celebrities, thick, plump lips became a highly coveted feature that many are not naturally born with. Lip filler then became the top way to augment the lips, especially because it is non-surgical, safe, and quick. It continues to be the top filler procedure at The Gallery of Cosmetic Surgery. Like the under eyes, hyaluronic acid fillers are the best option.
Chin filler is an alternative to a chin implant for people who need only minor corrections or do not want to commit to surgery yet. Using injectable fillers, an injector can increase the projection of the chin, improve facial symmetry, reduce the appearance of unwanted dimples or wrinkles, and strengthen the jawline. Therefore, in a quick fifteen-minute procedure, chin filler can provide fantastic results.
Jaw filler usually widens the jaw to make it look more chiseled and square. Some women may prefer a softer, rounder look which jaw filler can also achieve. Occasionally, dermal fillers are injected into the jawline, but this is fairly rare. Jaw filler requires a very specific type of patient with anatomy that would benefit from the injections.
Along with the face, the hands are one of the first places that show our age. The hands can lose fat and become gaunt and fragile looking. This is often due to changes in skin quality and elasticity and the natural fat loss that occurs with aging. An injector can use injectable fillers to plump up these areas for more youthful looking hands.
During/After Injectable Fillers
Prior to treatment, your injector will assess various aspects of the face and make marks directly on the skin to note the injection sites. They will clean the face and apply a local anesthetic to numb the top layer of the skin. This process usually takes around fifteen to twenty minutes.
Using a syringe with a fine needle or thin cannula, your injector will inject the filler into the marked areas until the achievement of desired fullness. Most patients are pleased with their results. While this varies by filler product, most produce results lasting from 3 months to a full year.
Immediately following filler injections, patients can return to work and daily activities. Generally, your injector will advise you to refrain from exercise or strenuous activities for at least a day. Sweating or too much movement can increase the risk of infection or an unsatisfactory outcome.
Overall, filler requires no downtime or significant recovery. Patients rarely have to alter their lives dramatically following injectable filler treatment. Your injector will go over aftercare instructions based on your specific treatment and medical history during your appointment.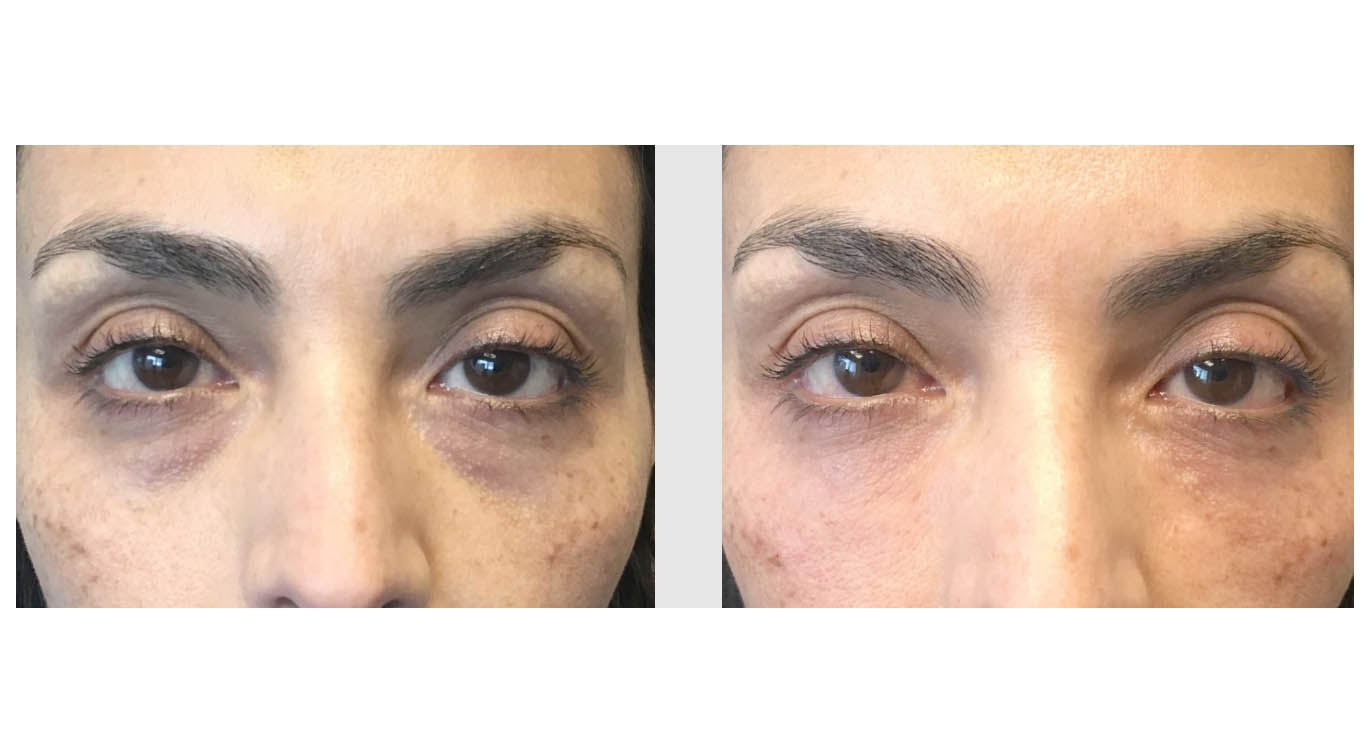 Before & After Under Eye Filler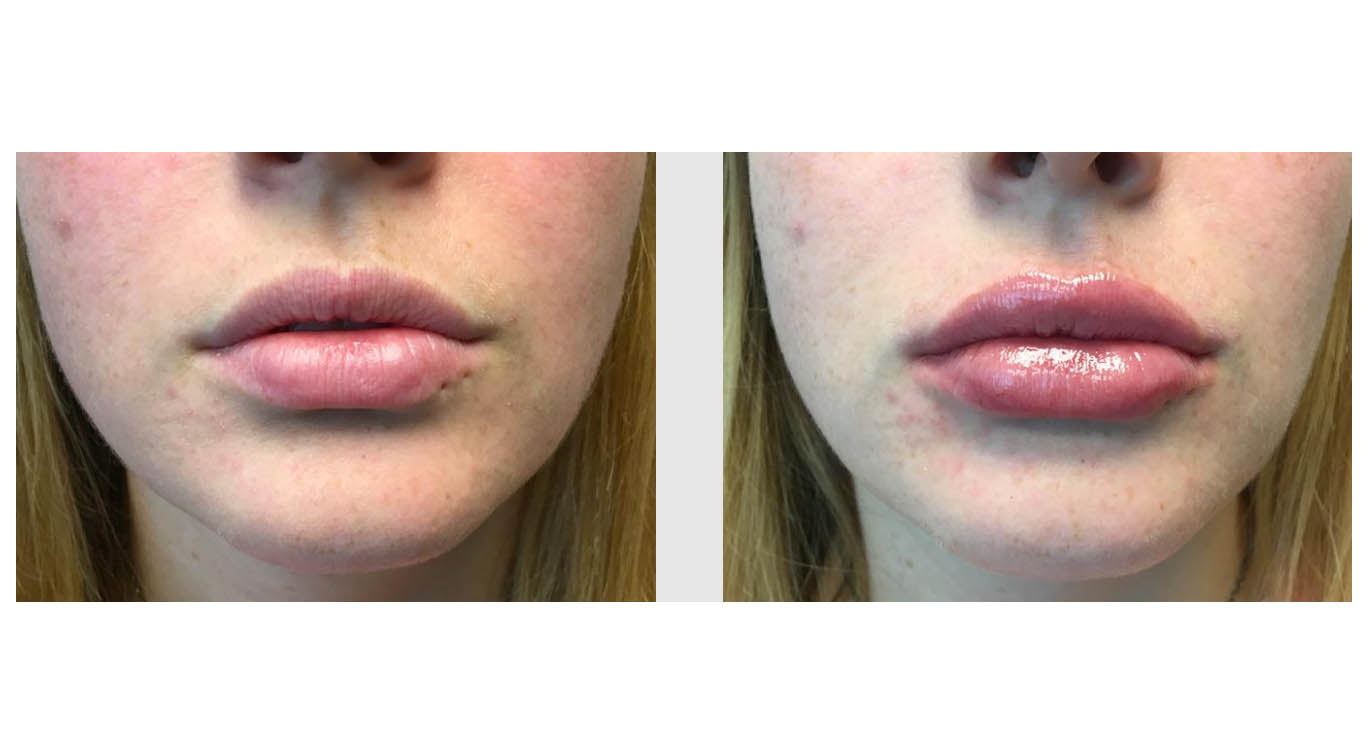 Before & After Lip Filler
Questions About Injectable Fillers
Are Fillers Safe?
All injectable fillers on the market today are FDA-approved and safe to use. Fillers do come with risks, but they are fairly minimal. Certain patients may be at an increased risk of adverse effects or complications. It is important to discuss the differences between each filler treatment to decide the best choice for you.
Long Lasting Results?
The results of each injectable filler treatment will vary. On average, most last between 3 months and a full year. Restylane, Juvederm, and Perlane are among some of the most common fillers and usually last 6 months or longer. Fat injections have the potential to be the longest lasting filler if enough fat survives transfer.
Fillers vs. BOTOX?
Injectable fillers add volume to smooth the skin's surface and decrease wrinkles. BOTOX, Dysport, and Xeomin offer a result that looks and acts similar, but with a different approach. These treatments use a neurotoxic agent injected into the skin to temporarily freeze overactive muscles causing wrinkles. When the muscles relax, the visible wrinkles on the outer layer of the skin relax and soften, resulting in a smoother, younger appearance.
How Many Days Does It Take Filler To Settle?
The amount of time filler takes to settle depends on a few factors: the filler you received, treatment area, your anatomy, and your lifestyle, among others. As a general rule, after two weeks most filler results are considered final and be assessed for touch-ups at this point. There are exceptions to this with some fillers such as Sculptra that work over several weeks.
Do Fillers Hurt?
Dermal filler injections do come with some moderate discomfort and pain. Your injector will offer topical numbing cream and will use techniques meant to minimize pain. Additionally, many hyaluronic acid fillers contain small amounts of lidocaine to ease the injection process.
Most patients do not find the treatment overly painful and overall tolerable. Some treatment sites like the lips and under eyes are more sensitive than others. Your injector can discuss what to expect from the injections during a consultation at The Gallery of Cosmetic Surgery.
Restylane vs. Juvederm?
One of the most frequently asked questions injectors hear is, "What is the difference between Restylane and Juvederm? What is the difference?" The answer depends on individual patient goals, treatment area, and several other factors. First, let's look at the similarities of Restylane and Juvederm. Both are:
Hyaluronic acid based
Suitable for most treatment areas
Gel consistency
Temporary
Multiple filler options
FDA approved
Used for many of the same procedures and areas
Contain lidocaine
Similar risks and possible side effects
Short treatment time
Administered in the same way
Designed only for adults
These similarities can leave people wondering what exactly the differences are and if it matters which filler they choose. In general, Juvederm fillers tend to be on the thicker side, while Restylane makes a few thinner options. Additionally, there are also some ingredient and manufacturing differences between the two products.
The right filler for your needs depends heavily on a few factors. Some fillers are made for a specific area–such as Restylane Kysse which is designed for the lips. However, this does not mean that this is your only option for lip filler. Your injector will discuss your options with you during a consultation.
How Much Are Dermal Fillers?
Dermal fillers are usually priced by the syringe and each filler can come at a different price point. The average cost for one syringe of filler is about $500 to $550. Though, prices can range from $489 to $950. Fillers do come at a higher cost when having them performed by Dr. Craig Jonov versus one of our injectors. This is something to consider when considering dermal filler injections in Bellevue.
For more detailed filler information and a breakdown of the cost per syringe of each of our filler offerings, visit our price list or Price Simulator™ app.
I got my lips done today! I had an awesome experience she was super friendly and knowledgeable. Answered all my questions and best of all the procedure was almost painless

Angie
Everyone here was so nice and helpful, really made me feel nice. Offered complimentary drinks and everyone was so friendly. My nurse was soooooo great she made me feel beautiful!

Sara
Very nice and took extra time explaining everything and made sure my comfort was a top priority!!

LeMae
Great patient care! They make injections painless. Highly recommend the Gallery!

Deb
Excellent service, and knowledgeable. I've been coming here for years! Highly recommended.

Francine
The Best Injectable Fillers Bellevue & Kirkland Offer
The Gallery of Cosmetic Surgery offers only FDA-approved fillers and uses techniques designed to improve results and minimize side effects. Our injectors are also adept at both the needle and cannula methods which each can offer unique benefits when injecting filler. They do not simply administer filler haphazardly. Your injector examines every patient individually to determine if they are a good candidate for the procedure.
Located just off I-5 in Lynnwood, The Gallery of Cosmetic Surgery features private, comfortable treatment rooms. Their waiting room is luxurious and features amenities not often seen in a medical office such as coffee and chocolate. We do not rush patients and want to ensure that every patient feels at home in the office.
To schedule a consultation, call us at 425-775-3561. You can also connect with us online via Price Simulator™, chat, or contact form.