EN BLOC WITH BREAST LIFT BELLEVUE AND KIRKLAND
From year to year, breast augmentation remains one of the most popular plastic surgery procedures performed around the world. In 2020, nearly 200,000 breast augmentations were performed in the United States (down from 2019, but likely only due to the pandemic). This made it the fifth most popular plastic surgery in the U.S. Comparatively, plastic surgeons only removed 36,367 sets of breast implants. While breast implant removal surgery is much less common, it did not see a drastic decline in 2020 like augmentation. For a few people with breast implants, removal may become necessary. Furthermore, for the best cosmetic appearance after removal, some patients may need a breast lift. Dr. Craig Jonov at The Gallery of Cosmetic Surgery provides the best en bloc resection with breast lift Bellevue and Kirkland offers.
REMOVING BREAST IMPLANTS
Breast implant removal happens. However, unlike the early days of breast implants, it is not an eventuality. Many modern breast implants can and will last decades without causing problems. If a patient wants to remove their breast implants for cosmetic or health reasons, Dr. Jonov can accommodate and provide a personalized plan for breast implant removal in Bellevue.
Breast Implant Illness & Other Reasons
There are many reasons a patient may want their breast implants removed. Largely, the patient's motivation is personal, but there are many recurring reasons seen in patients who seek implant removal. Some of these reasons include:
No longer want breast implants

Implants no longer fit their lifestyle

Want to change to a different size/type/style

Capsular contracture

Outdated implants

Rupture

Changes in the look of the breasts (often due to aging, nursing, etc)

Breast cancer (rarely related to the implants. Though textured implants are linked to a form of lymphoma. This is exceptionally rare and developing unrelated breast cancer is more likely)

Experiencing symptoms of breast implant illness
Breast implant illness (BII) is a controversial illness that not all plastic surgeons give credence to. This is largely because there is no one set of identifiable symptoms. Symptoms can vary widely, affect multiple parts of the body, and there's not a definitive way to diagnose it. The theory behind BII is that some patients' bodies respond negatively to breast implants and, as a result, various symptoms ensue. Breast implant illness can arise at any time following breast augmentation surgery.
As discussed, many surgeons will dismiss BII as psychosomatic. Even if that is true, implant removal appears to improve or completely alleviate symptoms. Though, a full examination should be performed to make sure no other conditions or disorders are causing the symptoms because many symptoms of BII are associated with other autoimmune diseases.
Techniques
There are three primary techniques plastic surgeons use for breast implant removal: partial capsulectomy, total capsulectomy, and en bloc capsulectomy. Each of these techniques results in the removal of breast implants, the difference is how much scar tissue is left behind and the exact technique in which the implant and scar tissue are removed.
Partial capsulectomy involves removing the breast implant and some of the scar tissue. With this method, some of the scar tissue is left behind. This may be preferred if placing new implants. Total capsulectomy removes the breast implant and the scar tissue separately from one another. Any scar tissue that is too risky to remove is usually destroyed via cauterization. Finally, en bloc breast implant resection removes the entire implant and surrounding scar tissue as one, intact piece.
Each technique has its benefits. Many BII patients prefer the peace of mind of an en bloc procedure, even if a full capsulectomy would resolve their symptoms. Partial capsulectomy is more common when exchanging breast implants or addressing an identified, localized issue. Both total capsulectomy and en bloc can relieve BII symptoms in most patients. Another consideration to make is that en bloc requires a scar at least twice as big as either capsulectomy.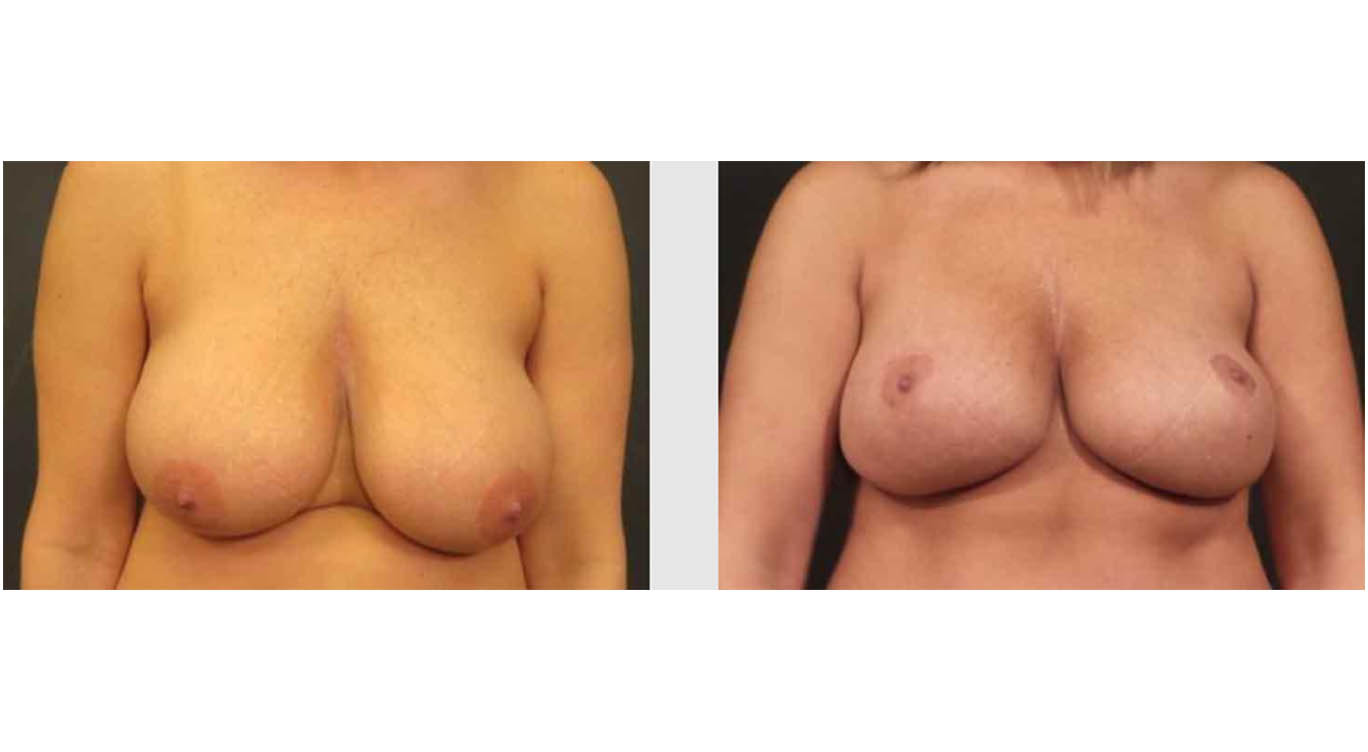 EN BLOC BREAST IMPLANT REMOVAL: WITH A LIFT OR WITHOUT?
If the en bloc technique is preferred or warranted in your case, how can you tell if you need a lift? There are a few factors that make it likely you will benefit from a breast lift at the same time as your breast implant removal in Bellevue. The table below details the factors that may make you more likely to find advantages by adding a lift.
May Benefit From A Lift
May Not Need A Lift

Implants placed several years ago

Extra skin

Aged or damaged skin

Have nursed children

Nipple drooping

Not a lot of natural breast tissue

Implants being removed are particularly large

More recent implant placement

Good skin quality

Exchanging implants

No major changes in breast projection

Smaller breast implants

Do not mind saggy breasts and do not want breast lift scars
Benefits
There are many benefits to undergoing a breast lift at the same time as an en bloc removal surgery. Not only does it often result in a better cosmetic result, but it can also leave patients relieved of symptoms of BII or rupture. Some of the benefits of an en bloc with lift include:
Better cosmetic result

Perkier breasts

Removal of breast implant and scar tissue in full

En bloc removal can be performed through traditional breast lift scars

Restores breasts to more youthful projection

Repositions nipple to fit new breast shape

Can alter the nipple size if desired

Keeps breasts looking full and lifted after implant removal

May alleviate pain from overly large breasts (this particularly occurs in patients who have gained weight since getting their implants)

Less recovery time than undergoing each procedure separately

Make it easier to exercise

Improve patient's quality of life

Alleviate symptoms of BII

Address rippling

Remove ruptured implant(s)
EN BLOC WITH LIFT SURGERY FROM START TO FINISH
Consultation With Dr. Jonov
Your breast implant removal journey will begin with a consultation with Dr. Craig Jonov at The Gallery of Cosmetic Surgery. At this appointment, Dr. Jonov will ask about your previous surgery, implants, medical history, and goals. Considering there are a wide variety of reasons why a patient may seek an en bloc lift surgery, Dr. Jonov will want to understand your concerns. After this in-depth discussion, he will examine your breasts and anatomy to formulate a customized surgical plan.
Dr. Jonov will describe your options and what he recommends for your surgery. He will also detail the results you can expect and the basic recovery parameters that would come with the procedure. At this point, a surgical coordinator will take over and provide you with pricing and financing options.
En Bloc With Lift Surgery
Proceeding with surgery, you will come to The Gallery of Cosmetic Surgery's outpatient surgery center. After preliminary surgical clearance, Dr. Jonov will greet you, describe the procedure technique, and make surgical markings. Following this, a licensed anesthesia provider will place you under general anesthesia.
The exact en bloc technique can vary based on the patient's anatomy and the size of the implants. Generally, Dr. Jonov will start by making an incision in the inframammary fold. From here, he will cut through the necessary structures to reach the scar tissue covered breast implant. Usually, this involves breast tissues, breast glands, and the pectoral muscle.
Once he reaches the breast implant, he will carefully create space to remove the implant and scar tissue as one. This requires delicate precision and careful planning. Once he takes out the implant and ensures that he has removed the capsule completely, he will continue with the breast lift portion of the surgery.
A breast lift involves a vertical incision and moving the nipple upward on the breast. Dr. Jonov will also reposition breast tissue and remove extra skin if necessary. The combined en bloc with lift procedure can take anywhere from three to eight hours depending on the complexity and extent of the procedure.
Recovery
The recovery following an en bloc breast implant resection with breast lift is similar to the original one for breast augmentation. However, the procedure involves larger incisions. Therefore, there are more chances for infection which can sometimes result in a long recovery. Some of the basic recovery instructions include:
Do not partake in strenuous exercise

Avoid lifting over five pounds for several weeks

Do not get incisions wet 

Take prescribed antibiotics to prevent infection

Have a caregiver for the first 24 hours after surgery

Attend all post-op appointments
Dr. Jonov and the staff at the Gallery were so helpful and supportive. I felt comfortable from start to end, and I love the results!

Caroline
Staff very pleasant, professional and nice. This was my first time visiting a cosmetic provider and they made me feel very comfortable.

Diedra
The Gallery of Cosmetic Surgery was such an amazing experience!! All staff members were so sweet and helpful! Dr. Jonov is a great surgeon and recommend him to anyone! I am SO HAPPY with my results, and recovery has been great! Such an easy and fun experience!

Kelsey
Dr Jonov is a compassionate and skilled surgeon. My experience was fantastic and my results above expectations! I would recommend him to my friends & family. Thank you Dr Jonov for all you've done for me and for taking on my complicated surgery!!

Debra
FREQUENTLY ASKED QUESTIONS
When Is En Bloc The Preferred Breast Implant Removal Method?
En bloc is the best method for removing a ruptured implant or one where tissues are believed to be cancerous. In some cases, it may also be used for capsular contracture. Many patients prefer the en bloc technique for treating BII and it is usually safe to be performed in the right candidate for this purpose.
Is It Safe To Do An En Bloc Procedure And Breast Lift At The Same Time?
Yes, in the right patient. Not all patients are candidates for combined procedures such as this one. Dr. Jonov will assess this during your consultation and may request further clearances. As long as the patient is fit for the particular surgery, it is not riskier than either surgery on their own.
When Will Breast Implant Illness Symptoms Go Away After Surgery?
It is uncertain and varies for every patient. Some may never see their symptoms cease (which likely shows that there is probably also another factor at play). A few patients report immediate relief from symptoms while for others it may take a few weeks or months. The cosmetic results will take anywhere from nine months to a year to fully appear. 
Can I Do Fat Transfer At The Same Time?
If you are concerned about losing too much volume but do not want new breast implants, fat transfer to the breast can often be performed. The viability of the procedure is extremely individualized and does not always work with a breast lift. Sometimes a fat grafting procedure can occur as a separate operation later on. Dr. Jonov can also perform auto augmentation with en bloc to maintain natural volume. You can discuss this possibility with Dr. Jonov during your consultation.
How Much Is An En Bloc With Lift?
Since en bloc with lift surgery is so individualized, the cost is nearly impossible to estimate without seeing a particular patient. You can find preliminary pricing on our price list and through Price Simulator®.
THE BEST EN BLOC LIFT IN BELLEVUE AND KIRKLAND
Dr. Craig Jonov is a highly trained plastic surgeon who specializes in cosmetic breast surgery, including en bloc removal and breast lift. He pioneered the auto augmentation technique which helps patients keep fullness with a breast lift. Dr. Jonov has two decades of experience and has performed thousands of breast surgeries alone.
The Gallery of Cosmetic Surgery is an upscale outpatient cosmetic surgery center that offers the highest standards of safety and care. Located just north of Seattle in Lynnwood, WA, Dr. Jonov and The Gallery of Cosmetic Surgery provide the best en bloc lift surgery in Bellevue and Kirkland.
To learn more and schedule a free consultation, call us at 425-775-3561. You can also connect with us online via Price Simulator®, chat, and contact form.