CO2 Laser Resurfacing
(Full Face)
$4,675
CO2 Laser Resurfacing Bellevue And Kirkland
The skin receives exposure to dangerous and harmful free radicals every single day. While some of this exposure can be mitigated through daily skincare, it is impossible to completely prevent skin damage. Especially for people who live in warmer areas where the sun stays out all year. Luckily, modern technology allows for patients to treat and prevent much of the damage the skin endures. One of the best treatments for sun damage and general aging is CO2 laser resurfacing. Dr. Craig Jonov at The Gallery of Cosmetic Surgery provides the best CO2 laser resurfacing Bellevue and Kirkland provides.
CO2 Laser Resurfacing Summarized
CO2 laser resurfacing comes in two different forms: surgical and non-surgical. Non-surgical CO2 laser resurfacing is often performed by a master esthetician or aesthetic medicine physician. It generally uses a non-ablative CO2 laser, though some forms may use a gentler ablative laser. This can treat milder aging, sun damage, and tighten the skin. 
Surgical CO2 laser resurfacing, however, uses an ablative laser and provides the best results. It can treat more extensive aging and sun damage. It also comes with a longer recovery time and is typically performed under general anesthesia or some form of sedation. Surgical CO2 laser resurfacing is performed by a plastic surgeon, such as Dr. Craig Jonov.
How Laser Resurfacing Works
CO2 laser resurfacing works by using a combination of laser beams and technology to remove the top layer of skin. This stimulates your body to create new skin by producing more collagen, elastin, and other formative proteins and molecules. This can improve or sometimes absolve many concerns such as sun damage, fine lines and wrinkles, hyperpigmentation, loss of laxity, and rough texture.
Since CO2 laser skin resurfacing surgery uses an ablative laser, it creates damage to the skin. However, Dr. Jonov controls where and how much damage occurs. This is why CO2 laser resurfacing is effective for skin rejuvenation and requires a skilled provider to perform. 
Benefits
For patients with moderate to severe aging or sun damage, CO2 laser resurfacing can improve the look and quality of the skin. Among some of the many benefits of CO2 laser resurfacing include:
Reduces and treats sun damaged skin

Addresses acne scars

Improves the appearance of fine lines and wrinkles

Promotes a more even skin tone and complexion

Smoothes skin texture

Can firm and tighten skin

Increases overall collagen production (often for a few months following surgery)

Skin improvements are typically long lasting

Combinable with a facelift and other plastic surgeries

Customizable settings to suit different skin types and concerns
Laser Resurfacing vs. Chemical Peels
Plastic surgeons and master estheticians can use many different methods for resurfacing your skin. When it comes to deeper, more intensive skin exfoliation, there are two procedures generally considered: laser resurfacing and chemical peels. From a surface standpoint, the two could not be more different, but depending on the specifics, can achieve similar results. 
Laser resurfacing is generally more intense than a chemical peel unless you undergo a phenol peel or deep chemical peel. Even non-ablative lasers do tend to come with more discomfort and recovery than a chemical peel. However, laser resurfacing is usually recommended for those who would not have their goals met with chemical peels, or older patients who need more aggressive treatment.
Chemical peels induce skin peeling and collagen production. While lasers can cause skin peeling, this is not the main mode in which they improve the skin. They tend to remove skin altogether or otherwise create more targeted damage. Chemical peels usually do not require general anesthesia or sedation and have little to no major downtime. 
Determining whether laser resurfacing or chemical peels is right for you warrants a discussion with your provider. Based on the existing state of your skin and goals, they can determine the right treatment for you.
Before And After CO2 Laser Resurfacing
Consultation
Before undergoing CO2 laser resurfacing surgery in Bellevue, you will meet with Dr. Jonov to discuss your concerns and goals. Following this, he may ask about aspects of your medical history and health such as previous surgeries, medical conditions, and if you smoke. At this point, he may conduct a brief exam of the skin in the treatment area to determine if you are a candidate for CO2 laser resurfacing.
If you are a good candidate, Dr. Jonov will describe the procedure in detail. Then, you will receive a finalized price quote before you leave. Dr. Jonov may also decide that CO2 laser resurfacing is not the best procedure to help you achieve your goals. In this case, he may recommend another surgical or non-surgical procedure.
Surgical Skin Resurfacing
A Bellevue CO2 laser resurfacing surgery will begin with the check-in process on the day of surgery. After performing the necessary tests and preparations, a licensed anesthesia provider will place you under anesthesia. While commonly performed under general anesthesia, it is occasionally performed under local anesthesia with some mild sedation. 
The surgical team will cover your eyes and Dr. Jonov will calibrate the laser based on your skin and needs. He will then slowly move the laser across your face in a smooth and patterned motion. Dr. Jonov will continue this process until he has treated the entire treatment area. He may also go over certain areas more than once, or adjust the settings throughout. The laser will penetrate and damage the outer layers of skin, resulting in the damaged skin's removal. 
The entire procedure will take around an hour. However, it is common for patients to combine CO2 laser resurfacing with other facial plastic surgeries such as a facelift. In this case, it usually averages around two hours. Though, the exact surgical time will depend on the specifics of your procedure.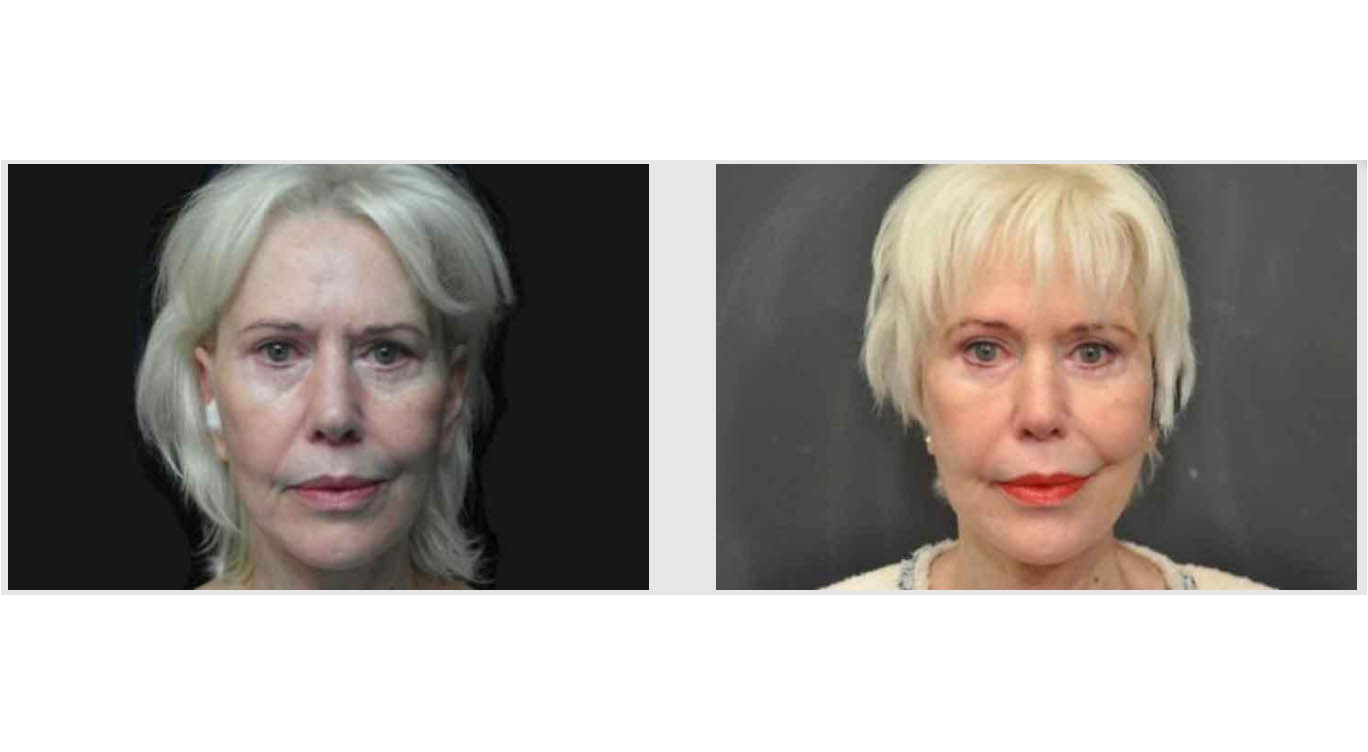 Before & After CO2 Laser Resurfacing
Interested In Laser Resurfacing?
Fill out the form below to schedule a free consultation or ask any questions you may have.
Recovery
Following surgery, you will wake up and likely find that bandages are covering your skin. Once home, you will need to refrain from driving, watching TV, or reading for about two to four days. This is because these activities can put undue stress on the skin around your eyes. 
Your skin will appear red and slowly fade to pink over the coming weeks. Immediately after surgery, you may notice swelling, pinpoint scabbing, and continued redness or pinkness. After about a week, most patients can cover their redness with makeup and return to social activities, work, and some exercise. 
Following surgery, Dr. Jonov may instruct you to apply Vaseline or medical grade moisturizer at least once a day. For the first two days, you can also use cold compresses to address discomfort. Other instructions may include:
Avoiding strenuous exercise for two weeks

Start or stop certain prescribed medications

Elevate the head of the bed

Do not use any rejuvenating or resurfacing skincare products for about six weeks

Only apply pre-discussed products and cosmetics during your initial recovery

Do not scratch or pick at the treated areas

Apply sunscreen consistently after two weeks

Avoid sun exposure completely for two weeks
Staff very pleasant, professional and nice. This was my first time visiting a cosmetic provider and they made me feel very comfortable.

Deidra
I Loved my experience! The Dr was so gentle and kind, my results are exactly what I wanted!!

Ashley
If you are looking for top notch service this where you need to go. Doctor Jonov and his team were hands on and provided the best service. Highly recommend!

Cortney
I always had good experiences here. The staff are amazing and Dr Jonov is an amazing surgeon. I'm always coming back for new improvements and I'm mor than happy to recommend them!

Aline
Frequently Asked Questions
Is CO2 Laser Worth It?
Sun damage is among one of the most difficult skin conditions to treat or alleviate. CO2 laser resurfacing is the most effective treatment for sun spots and damage. Additionally, it is can help tighten the skin and treat a variety of other signs of aging and skin conditions.
Will You Need Repeat Treatments?
Potentially, however, ablative CO2 laser treatment tends to improve the quality of the skin long term. This is especially true when combined with other facial plastic surgeries such as a facelift. Though no cosmetic procedure can completely stop aging, it can reverse some of it and slow the process.
Can It Be Done Under Local Anesthesia?
Yes, occasionally, some plastic surgeons will perform CO2 laser resurfacing under local anesthesia. This can reduce recovery time and lead to fewer side effects following surgery. Generally, patients are also given an oral sedative to keep them comfortable along with the numbing applied beforehand. Dr. Jonov does not commonly use local anesthesia for laser resurfacing. Though, it is an option for patients who are good patients for a procedure under local anesthesia.
Is CO2 Laser Compatible With All Skin Tones?
CO2 laser resurfacing is an ablative laser procedure. While lasers have come a long way from the early days where no person with a darker skin tone could safely undergo a laser procedure, ablative lasers are still one where it is on a case-by-case basis. 
Non-ablative lasers can usually treat darker skin tones safely, sometimes requiring the use of a brightening cream beforehand. However, CO2 laser resurfacing usually cannot treat skin above a III or IV on the Fitzpatrick scale. Dr. Jonov will examine your skin during a consultation to determine if you are a candidate. If not, he will suggest alternatives to help you see the results you want.
How Much Does CO2 Laser Resurfacing Cost?
The cost of CO2 laser resurfacing will depend on the areas treated. In general, it is used to treat the entire face, which starts at $4,675. Adding the neck or treating other areas will have different associated costs. Following your consultation, you will receive a finalized price quote for your CO2 laser resurfacing in Kirkland.
The Best CO2 Laser Skin Resurfacing In Bellevue And Kirkland
Dr. Craig Jonov is an accomplished and award winning plastic surgeon who serves the Bellevue and Kirkland areas at The Gallery of Cosmetic Surgery. He has decades of experience performing advanced laser procedures including surgical and non-surgical ones. Dr. Jonov also performs many facial plastic surgeries including facelifts, facial feminization, and liposuction. He also is an educator in the best filler injection techniques to other physicians on the West Coast.
The Gallery of Cosmetic Surgery is located near the conjunction of Interstate 5 and Interstate 405. This makes it the ideal location to serve patients from the Bellevue, Kirkland, and Seattle areas. This convenient location also allows us to offer free parking, on-site parking.
To learn more and schedule a consultation, call us at 425-775-3561. You can also reach out online using Price Simulator, chat, or contact form.