Traditional Microblading
$300
Traditional Microblading Bellevue & Kirkland
Most people consider tattoos to be a way of decorating the body for aesthetic or personal reasons. For many decades, tattoos have been seen this way. However, as tattoos gained popularity and acceptance, more practical forms of tattooing began to emerge. For example, tattooing nipples on mastectomy patients and covering scars. Tattoos as permanent makeup also started to earn popularity. Microblading has developed into a form of semi-permanent tattooing for eyebrow enhancement. The Gallery of Cosmetic Surgery offers the best traditional microblading Bellevue and Kirkland provide.
Overview: Traditional Microblading
The term "traditional microblading" refers to the first and most basic form of microblading. Typically, using a single blade, it deposits vegan, cruelty-free ink just below the first few layers of skin. It does not reach as deeply as a traditional tattoo. This brow artistry technique usually does not use a motorized machine.
Using precise, hair-like strokes, your microblading artist can fill in patchiness, address brow loss, or simply define the shape of your brows. Since the pattern mimics your natural hair growth pattern and color, it tends to look natural. The treatment is highly customizable. It is based on the golden ratio for the ideal symmetry and placement.
History
Tattoos go back hundreds of years in many cultures. Sometimes tattoos are part of religious or societal practices and other times are considered taboo. In the 1800s, many tattooed people appeared in sideshows due to their colorful appearance. Permanent makeup started in the early 20th century. Though, it did not become more common until the mid-20th century. This is when celebrities sought out permanent forms of eyeliner, lipstick, and brow makeup.
Pioneered in Asia, microblading gained popularity in the United States with the broader public in the early 2000s. Now, microblading has evolved to include different techniques. Also, it is designed to be semi-permanent versus permanent to allow for changing trends. Today, microblading is still performed by certified tattoo artists. However, they typically specialize specifically in microblading because they aim to create the perfect brow of your dreams.
Benefits
Traditional microblading carries several benefits for clients. Whether you want to define your natural brow appearance or treat more extensive eyebrow loss, microblading offers a non-surgical, long lasting form of eyebrow enhancement. Among the benefits of traditional microblading include:
Increased definition of brow shape

Fill in of patchy areas

Define the brow arch

Create full brows

Alter brow shape

Treatment for brow alopecia

Fill out the overall brow shape according to the golden ratio

Address brow asymmetry

Highlight the shape of your eyes
Complement facial symmetry
Lift emotional expression
Help shape and contour the face

Natural looking

Matches brow hair color

Little to no pain during treatment

Lasts around two years

Low maintenance

Saves time during makeup application

No worry about perspiration in your brows (after initial healing)
Can still exercise and play sports

Customized for each client

Performed by a certified tattoo artist who specializes in microblading
Candidates & Contraindications
Most people who understand and want microblading are often good candidates for the procedure. Since it is non-surgical and requires no sedation, it can safely be performed on adults of almost any age. 
With that said, microblading is not right for everyone. Often, it is temporary and after some time, patients can undergo traditional microblading. Some of the conditions or situations that may affect your candidacy for traditional microblading may include:
Active infection in the brow area

Immune suppressing medications

Recent Botox injections or chemical peels

Eczema

Oily skin type

Tendency to form raised scars

Allergies to any of the ingredients used during the process

Cystic acne breakout in the area

Untreated major health conditions

Bleeding disorders

Certain medications (particularly harsh prescription medications used for acne treatment)

Pregnancy or nursing

Cancer treatment (or similar)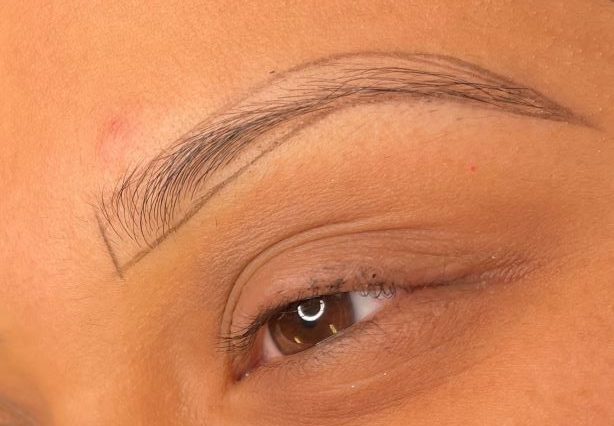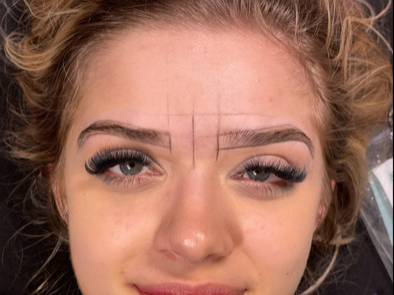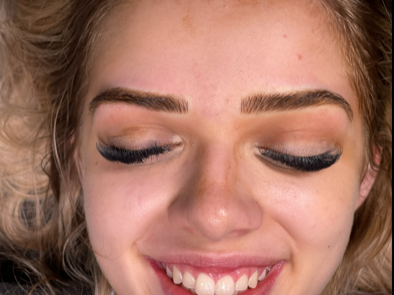 Before & After Microblading Procedure
Consultation
First, you will meet with your microblading artist for a consultation. At this appointment, they will ask about your medical history, lifestyle, and goals for the treatment. They will also discuss the different types of microblading and discuss the one that may work best for you. Our artists offer traditional, powder brows, and combo brows. They may also briefly examine the brow area to definitively determine if you are a candidate for traditional microblading in Bellevue.
If your artist believes you are a good candidate, they will describe the procedure and give you preparation instructions. In some cases, they may perform the treatment on the same day, but this cannot be guaranteed. You will then receive a finalized price quote and can schedule your Bellevue microblading appointment (and touch-up if you like).
Microblading
The beginning of your microblading appointment will start with cleansing and disinfecting your brows. For the ideal results and your safety, do not wear makeup to your microblading session. After this, your artist will apply numbing cream. Generally, this will sit for between ten and twenty minutes.
Once numb, your microblading artist will begin the traditional microblading procedure. Using a fine, single blade, they will create small abrasions in the skin and deposit ink. They will do this using small hand strokes that mimic the look of real hair. To produce good results, this will take around two hours to complete.
Healing Process
For the first few days following the procedure, you may experience some minor itchiness, redness, swelling, and rarely, bruising. It will often begin scabbing. Do not pick at these scabs as this is a normal part of the healing process after microblading. The results may also lighten and darken over the next few weeks before a touch-up.
The key to healing after traditional microblading is to give it time and avoid touching the area or applying makeup. Your artist will also provide you with guidance about what to expect and aftercare instructions to promote the best results.
I have been very pleased with the services that I have received at The Gallery of Cosmetic Surgery. There is never any pressure to spend money on other services and everything is explained fully. I highly recommend going there for any treatments you feel are necessary.

Grace
I go to a master esthetician for my laser hair removal and I absolutely love her. She is very professional, sweet and fun to talk too. When I had a consultation with her, she told me an approximate number of sessions it will take to get rid of my hair and she was spot on. I only have one more treatment to go and noticed that I barely have any hair growth anymore. She knows what she's doing, always very careful while doing the treatment and I feel like I can trust her with my skin.

Diana
Dr. Jonov and staff are very caring and professional. They care about the quality of their work and well being of their patients. I am pleased with my results and the care I received 😊

Melissa
Such a beautiful center and was able to answer all my questions perfectly ❤️

Morgan
Frequently Asked Questions
Can Microblading Cause Scars?
It can. However, it is exceptionally rare. Since microblading only breaks a few layers of skin, the chance of scarring is low. Though, if you are prone to scarring, especially hypertrophic or keloid scars, microblading may not be recommended for you.
Will It Change Color As It Fades?
It is possible, though the semi-permanent nature of the ink allows it to fade subtly. Additionally, if you undergo regular touch-ups (usually about once a year), you should not experience any significant fading. With older inks, the color may fade to yellow, white, or a generally lighter color that made microblading more obvious. This is fairly unlikely. 
Though, if you are using traditional microblading to replace brows that have lost a large amount of hair, then fading will be more noticeable. Regular touch-ups and aftercare can prevent this.
Is A Microblading Touch-Up Necessary?
At least one four to six weeks after your initial session is recommended. This is because it helps solidify the pigment and yields the best results. It can also allow your microblading artist to see how your brow hairs grow. Then, make adjustments based on your natural hair growth.
While you technically do not have to schedule a touch-up at any point, this first one is highly recommended for the best results. Otherwise, it is up to your discretion when or if to schedule touch-ups.
Can You Undo Microblading?
Yes, though it takes a significant amount of time. Laser tattoo removal can help remove traditionally microbladed eyebrows. However, many clinics will not perform laser tattoo removal so close to the eyes. Additionally, it may inadvertently affect the brow hairs. It does work though and often requires fewer sessions than when removing a regular tattoo.
Also, if you experience discoloration or visible hair strokes, microblading revision is an option for you that does not require fully requiring removal of your microbladed brows.
Do You Still Have To Pluck Eyebrows After Microblading?
Yes, microblading does not stop your eyebrow hairs from growing. In some cases, it can even stimulate their growth. Regularly waxing and plucking may still be needed. Though the microblading will make your desired brow shape more defined and prominent. Therefore, you can remove the hair only from the unwanted areas and trim it as necessary. Microblading does reduce the amount of regular brow maintenance necessary.
How Much Is Microblading In Bellevue?
The cost of traditional microblading at The Gallery of Cosmetic Surgery starts at $300. Other types of microblading or other factors may increase the cost. Subsequent touch-up appointments are $175. You can find more detailed pricing information on our price list.
The Gallery of Cosmetic Surgery does also works with outside financing companies including Care Credit, Alphaeon, and United Medical Credit. This can help make all of your surgical and non-surgical procedures more affordable and fit your budget. You can find links to apply on our financing page.
The Best Traditional Microblading In Bellevue & Kirkland
Microblading of any type requires a trained professional prepared to personalize your treatment. Our microblading artists have years of experience and how to adjust microblading to fit your needs and anatomy. Performing microblading in a medical-focused environment promotes higher safety and lower complication rates. The Gallery of Cosmetic Surgery offers the best microblading Bellevue and Kirkland has available.
The Gallery of Cosmetic Surgery is one of Bellevue and Kirkland's leading plastic surgery practices and medical spas. Located close to both I-405 and I-5, the facility is easily accessible and offers free on-site parking. With medical providers always in the office, you can feel peace of mind during your microblading session.
To learn more and to schedule a consultation, call us at 425-775-3561. You can also reach out online via chat, contact form, or Price Simulator.