Why BOTOX Treatment Works
BOTOX is an anti-aging skin rejuvenation procedure that treats facial wrinkles without surgery. Manufactured under the name Botulinum Toxin Type A, this agent temporarily relaxes muscles residing under the skin by blocking the nerve impulses. This causes the visible wrinkles to soften, resulting in a smoother, younger appearance. More than 6.1 million BOTOX injections were given in 2012. When done correctly and consistently, BOTOX can eliminate the fine lines and wrinkles between the eyebrows and along the forehead, as well as address crow's feet and laugh lines.
Injection Technique
Immediately following a series of BOTOX injections, you will experience some mild swelling and redness at the injection site. This will subside a few hours after the procedure. Patients can resume their normal activities immediately, but you should avoid exercise for a few hours. It is also recommended that patients keep their heads elevated for the first 8-10 hours. Results following BOTOX will become apparent within 4-7 days. About a week after treatment, patients will notice an inability to fully move portions of their forehead. With limited movement, wrinkles will cease to appear. The result is skin that appears smooth and soft.
Get your BOTOX Appointment Today
"If I had known how well Botox was going to work for me, I would have done it years ago. It made a difference in how I see myself!"
★ ★ ★ ★ ★
Maria Davis
My favorite Botox location!
Questions about BOTOX
Is it Safe?
The FDA approved BOTOX and it has a long, safe history. It is administered in over 75 countries and consistently ranks as the most popular cosmetic procedure in America. However, even with its popularity, BOTOX is a drug and only administered by a qualified medical practitioner. Individuals who receive injections from someone inexperienced run the added risk of bruising, over medicating and ultimately, obtaining undesirable result.
Comparable Medication?
In 2009, BOTOX gained competition when Dysport (abobotulinumtoxinA) was developed, approved by the FDA, and made available to the general public. Both drugs relax the facial muscles that cause wrinkles and frown lines. Some practices lean towards BOTOX to address forehead lines, while considering Dysport for crow's feet. Much debate exists as to which drug is superior. Both have their advantages.  We can discuss some distinct differences during the consultation.
How Many Months Does BOTOX Last?
On average, BOTOX lasts between three and four months. Though, this will vary for every patient. Some patients may see BOTOX last as little as two months, while others could potentially see BOTOX last for six months or more. It depends on many factors including your lifestyle, the number of units you receive, the treatment area, your biology, and various other factors.
Once you meet with your injector for a consultation, they can provide a better estimate of how long you may see your BOTOX last based on the treatment areas and your medical history. For most, they can expect to refresh their BOTOX three or four times a year.
Does It Hurt?
BOTOX injections typically do not hurt more than the average vaccine. However, since BOTOX is injected in some sensitive areas, your injector will offer a topical anesthetic cream to make the injections more comfortable. Any discomfort or pain felt during the treatment is typically minimal and bearable.
Are There Medical Uses Of BOTOX?
Yes, there are many medical uses of BOTOX. Medical studies into the use of Botulinum toxin actually led to the discovery that it had a cosmetic application. The neuromodulation injection is used to treat medical conditions such as:
Lazy eye
Cervical dystonia
Overactive bladder
Involuntary muscle spasms
Eye twitching
New medical uses continue to be studied and tested. Neuromodulators are an extremely versatile type of injectable that revolutionized aesthetic medicine in the 21st century. It also provides a low risk option for many patients suffering with painful medical conditions. Along with our cosmetic offerings, The Gallery of Cosmetic Surgery also offers BOTOX for migraines and BOTOX for hyperhidrosis. Jaw BOTOX has also shown some use in treating TMJ.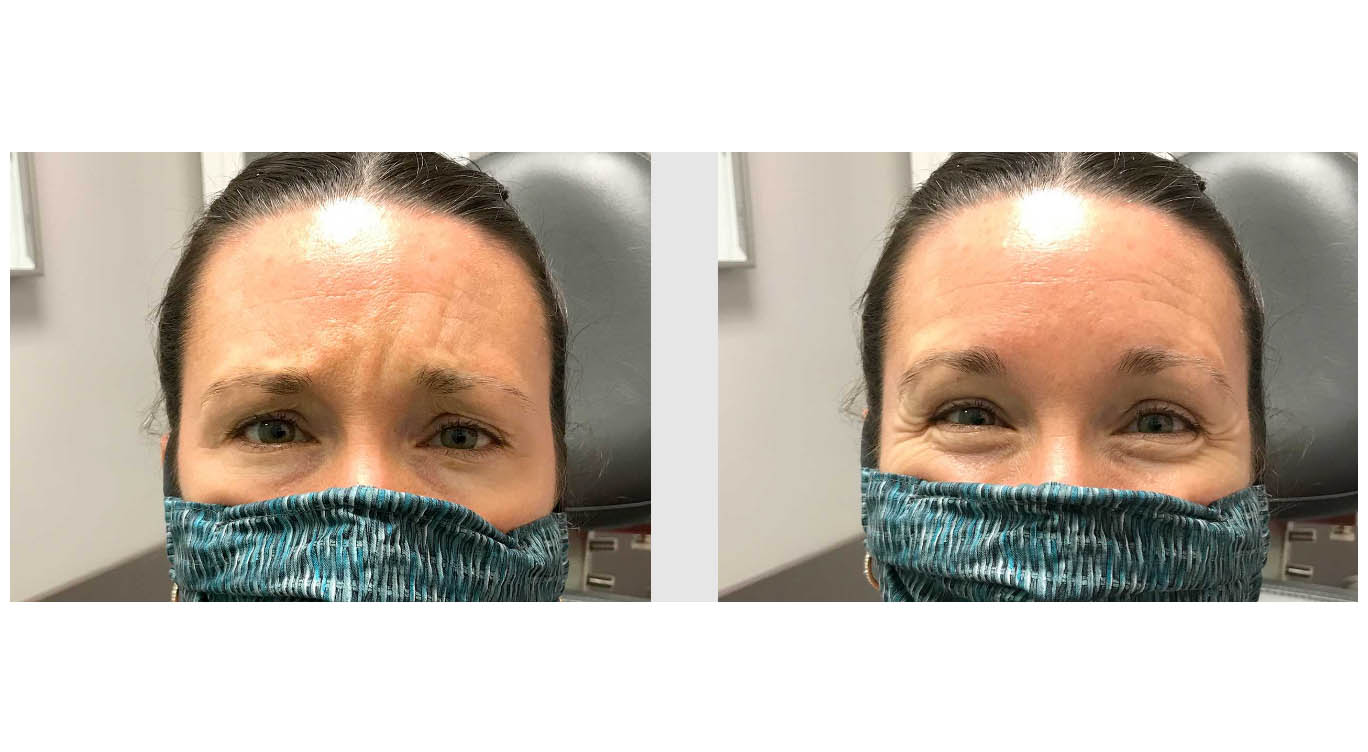 Before & After BOTOX Injections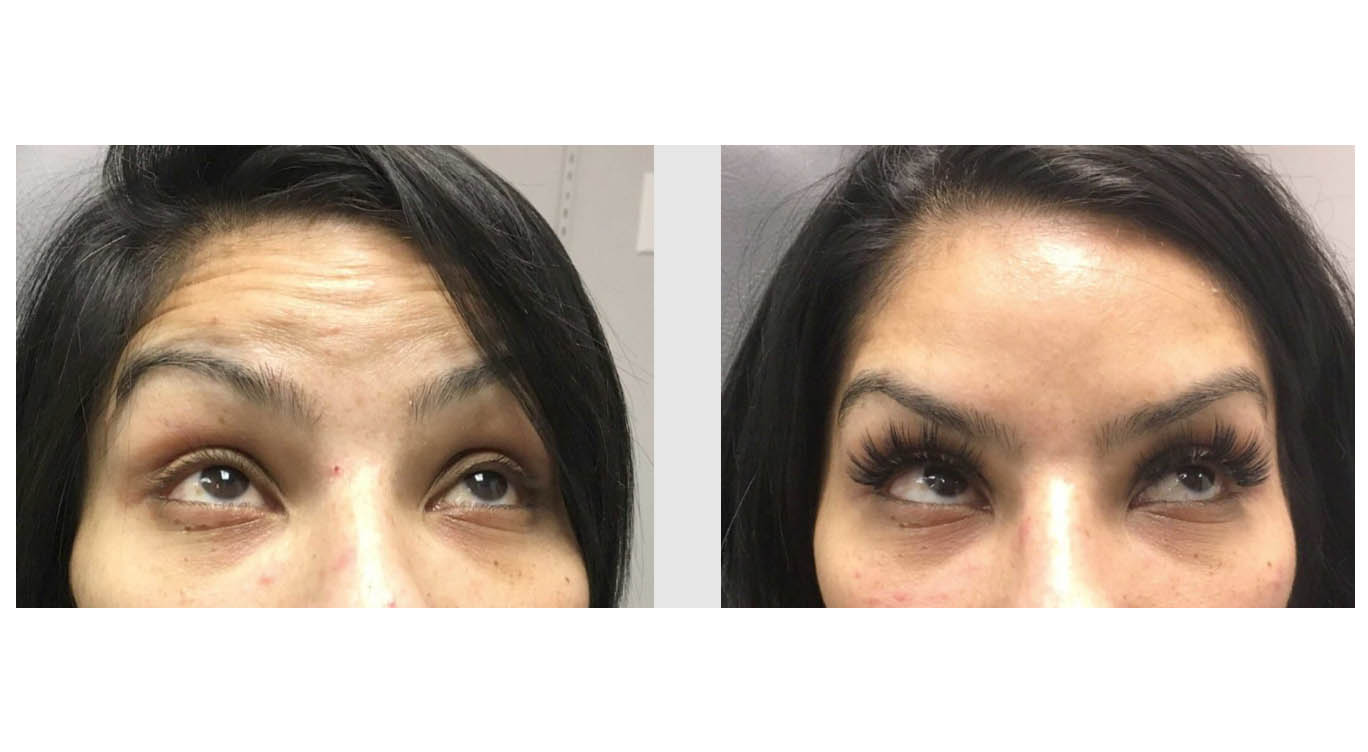 Before & After BOTOX Injections
BOTOX or Filler?
Injectable fillers such as Restylane, Juvederm, and Sculptra help decrease wrinkles by adding volume to certain facial structures, which creates the appearance of smooth skin. BOTOX, which temporarily freezes the underlying muscle, offers a similar result with a different approach. A skilled practitioner can determine if a filler material or neuromodulator like BOTOX would garner the best results.
Best Age?
Individuals who wish to soften and decrease facial lines and wrinkles may be candidates. The most common age to receive BOTOX injections is between 30-55. However, it is also common for patients younger and older to receive injections.
Long Lasting?
BOTOX is not a permanent fix. Results will last for several months – sometimes longer – but they will not last forever. Qualified injectors will tell you there is good news and bad news when it comes to BOTOX. The good news is, if you are not happy with your results, the results will only last a few months. Likewise, the bad news is, if you love your results (which most people do), the results will only last a few months. Regardless, many patients recognize even the temporary results are worth feeling and looking younger.
So called, "baby BOTOX" or "microtox" is growing in popularity among the younger generation. This form of preventative BOTOX uses smaller than average doses to prevent wrinkle formation later in life. Micro dosage treatment usually starts sometime when the patient is in their 20s.
Where Can You Use BOTOX?
In aesthetics, BOTOX is primarily used on the face. However, in medicine, it has applications across the entire body. Some of the most common treatment areas include:
Forehead
Glabella
Eyes (corner of the eyes)
Brow
Jaw
Upper lip
Temples
These are not all of the possible BOTOX treatment sites. The procedure is usually performed to address a variety of wrinkles including frown lines, forehead lines, smile lines, marionette lines, and more. BOTOX can also treat other cosmetic concerns such as a thin upper lip, a gummy smile, slightly lowered brow, and widening of the face.
During and After BOTOX Injections
A qualified injector administers BOTOX during an in-office appointment that typically takes about 30 minutes. The depth, length, quantity and location of wrinkles varies for each patient. Therefore, the injection treatment, including the dosage and injection location, is tailored during the procedure. Injectors will mark the treatment areas on the face. The injection is given through a syringe to localized areas on the face. Patients will feel a small prick as the needle inserts through the skin, but a cold compress controls any pain or discomfort.
After BOTOX injections, patients can return to most of their daily activities, including work, shopping, households, chores, etc. Though, your injector may advise you to avoid working up a sweat or exercise that is too strenuous. You will also want to refrain from bending over or laying down for a few hours.
Patients sometimes experience some minor side effects over the next few days. These can include:
Bruising
Swelling
Tenderness
Redness
Stiffness (more common in procedures such as masseter BOTOX)
Headache
Some patients may experience absolutely no side effects, while others may see noticeable bruising or swelling. Compared to other non-surgical treatments, BOTOX does not often cause major or concerning side effects. Your injector will discuss if you are at risk for certain side effects.
About Our Injectors
Our injectors come from many backgrounds and experiences. They consist of aesthetic physicians, physician assistants, and registered nurses. All of our injectors trained rigorously under Dr. Jonov and learned the best techniques for BOTOX injections in Bellevue and Kirkland.
Dr. Craig Jonov is one of the foremost injection experts on the West Coast. Frequently called upon by manufacturers to demonstrate proper injection techniques, Dr. Jonov is a leader in both cosmetic surgery and non-surgical cosmetic injections.
You can learn more about our team of injectors on our injectors page.
The BOTOX Bellevue And Kirkland Has To Offer
The Gallery of Cosmetic Surgery is a cosmetic surgery center and medical spa located across from Alderwood Mall in Lynnwood, WA. This convenient location allows for them to provide the highest end injectable treatments to the Bellevue, Kirkland, and Seattle areas.
BOTOX is one of our specializations and we offer not only the best BOTOX in Bellevue and Kirkland, but also the skillful and customized experience. Along with BOTOX, The Gallery of Cosmetic Surgery offers comparable injections of Dysport. They also are one of the top dermal filler providers in the state.
To schedule a consultation with an injector at The Gallery of Cosmetic Surgery, call us at 425-775-3561. You can also reach out to us online via Price Simulator™, chat, or one of our contact forms.
I've been coming to The Gallery Of Cosmetic Surgery to see Dr. J for a while now. I see him for fillers and botox and he always had the gentlest hand. My results have always been just as I would hope they would be.AMAZING! I recently had Ultherapy at his office as well and the staff are all fun, professional and highly skilled at what they do.

Julie
Everyone here was so nice and helpful, really made me feel nice. Offered complimentary drinks and everyone was so friendly. My nurse was soooooo great she made me feel beautiful!

Sara
It's my third visit here. I come for Botox only at this point. I'm always happy with the results. The ladies always suggest fair unit amount. Plus you get little discount if come back. I would suggest this place to anyone who is interested in Botox.

Katerina
This office is wonderful. I have been here for invasive as well as noninvasive procedures and the staff and providers are excellent. They provide a variety of services with the upmost professionalism. Highly recommend.

Marie
Enjoy Absolute Value, With our High Quality BOTOX Services
To schedule a complimentary consultation with an injector or with questions, call us at 425-775-3561. You may also reach us via Price Simulator™, chat, or contact form.