Tummy Tuck In Seattle
Are you looking for a slim waist, tight abs, and a more beautiful silhouette? Do you have excess belly fat or skin from changes in your weight, maternity, or aging? If so, a Tummy Tuck in Seattle at the Gallery of Cosmetic Surgery will help you look stunning and regain your youthful figure.
What is a Tummy Tuck?
A Tummy Tuck, also called Abdominoplasty, is a cosmetic procedure that reshapes your abdominal area, from your lower belly up to the area below your chest.  It flattens your stomach and makes your abs look smooth, firm, and toned. It can remove excess skin, and tighten your loose or separated muscles.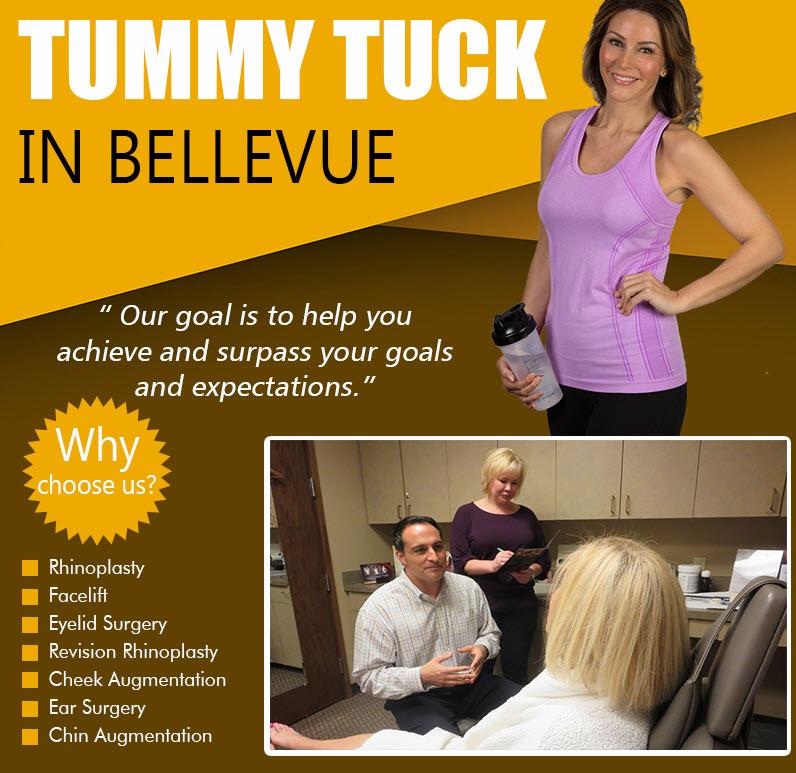 Would I be a good candidate for a Tummy Tuck?
If you have any of the following qualities, you may be an excellent candidate for a tummy tuck:
Loose skin in the abdominal area, possibly from pregnancy or weight loss
Weakened abdominal muscles, from pregnancy or other injuries
Belly fat that remains persistent despite efforts to exercise and eat healthy
Extra skin in the stomach area that prevents your stomach from looking flat
Any belly that does not have a flat, toned appearance that you wish to improve
While liposuction is the procedure that removes excess fat from any area of the body, a Tummy Tuck specifically focuses on your abdominal area, including both the skin and muscles. Your skilled plastic surgeon, Dr. Craig Jonov, would perform your Tummy Tuck at the Gallery of Cosmetic Surgery in Seattle and provide you with results for your body that diet, exercise, and weight loss alone are not giving you.
What types of Tummy Tucks are available?
The type of Tummy Tuck you choose is important to help you reach your ideal figure. The Classic tummy tuck, also referred to as a Full tummy tuck, will provide you with the naturally looking result of a flat stomach. Excess fat and skin can be removed from the area spanning from your belly button up to the top of your abdominal wall.
You can also request a Mini tummy tuck, which addresses just the area below the belly button and above the pubic area. It is an ideal option for you if you only have a "pooch" or a little excess skin beneath your belly button that you wish to get rid of. Generally the Mini tummy tuck uses a smaller incision, with a scar that is comparable to those from C-section births.
Finally, the Extended tummy tuck is a great choice for women in Seattle if you wish to transform your abdomen from all angles. Fat can be removed from the flanks and hips in addition to the abdomen. The abdominal wall is tightened and the muscles are pulled back together. An Extended tummy tuck can be especially impactful if you have been overweight in the past and lost significant weight, or have had multiple pregnancies. When you pursue any type of Tummy Tuck in Seattle from an experienced, top plastic surgeon you can achieve beautiful, lasting results.
What is the procedure for a Tummy Tuck like?
You may be wondering how a skilled plastic surgeon even performs a Tummy Tuck. The overall procedure can take anywhere from two to five hours, depending on your unique body. First, you will be placed under general anesthesia. Then the surgeon will make an initial incision; the length and direction of the incision depend on the type of tummy tuck you are receiving.
After that, a second incision will be made, parallel to the first one, such that any excess skin can be removed and the abdominal muscles can be pulled together more tightly. After the muscles are repaired and tightened, the excess skin is removed. The belly button is repaired and reconstructed, and the abdominal skin is pulled back down against the body. The incision is closed using sutures, stitches, and surgical tape. Then the surgery is complete, and the abs can rest and recover.
What other procedures can be combined with a Tummy Tuck?
Many patients would like to transform their entire body, not just their stomach. Often patients who wish to receive a Tummy Tuck in Seattle combine other procedures such as Liposuction or Breast Augmentation with a Tummy Tuck to provide a total body transformation. For women who have had children and want to restore their pre-pregnancy body, this combination of procedures is referred to as a Mommy Makeover.
What can I expect after my Tummy Tuck?
A compression surgical garment may be used during the recovery process, to ensure proper healing and reduce swelling. You will be able to walk, even the day of your surgery, but it is recommended to plan on resting and recovering for at least three to five days following the surgery. Your recovery period before you resume your normal daily activities may span from one to six weeks. From there your scar will heal slowly, and your swelling will reduce to reveal your final result- a flat belly that is toned and stunning.

Why should I consider getting a Tummy Tuck?
Perhaps you once had toned abs, but due to natural aging and weight gain you have lost your hourglass shape. Or, maybe due to your genetics you have never had a trim, slim waistline. The effects of heredity, aging, prior surgeries, weight gain or loss, and pregnancy can all be combatted by receiving a Tummy Tuck in Seattle from expert plastic surgeon Dr. Craig Jonov.