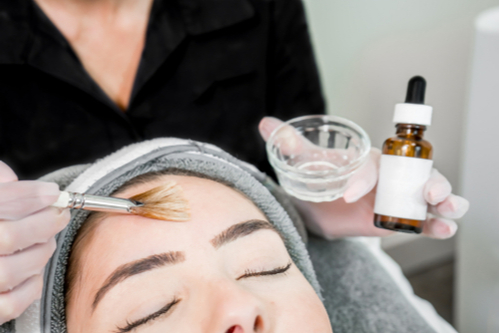 Chemical peels are an esthetic procedure that exfoliates and chemically resurfaces the skin. Skin peels come in many different varieties because some will utilize different ingredients and strengths. Enzyme peels are similar to a chemical peel and applied in much the same way. But, what is the difference between enzyme peels and chemical peels?
Chemical peels use a blend of acids such as salicylic acid, glycolic acid, and lactic acid to penetrate deep into the skin and generate dead skin removal. Typically, a patient's skin will begin to peel within a few days of treatment, exposing a fresh layer of skin beneath. When performed and used by a professional like our master estheticians, these ingredients are perfectly safe. Some patients may prefer treatment without acids, have sensitive skin, or prefer a more routine procedure.
Enzyme peels are like chemical peels in that they exfoliate the skin. The main difference is that enzyme peels use all natural ingredients such as enzymes from fruit. This is gentler on the skin and provides many of the same benefits as a traditional chemical peel. However, because it does not penetrate the skin as deeply, chemical peels provide longer lasting and better results. Enzyme peels can still be a great addition to any skincare routine. 
To schedule a consultation, call us at 425-775-3561. You can also reach us online via our contact form, Price Simulator™, or chat.