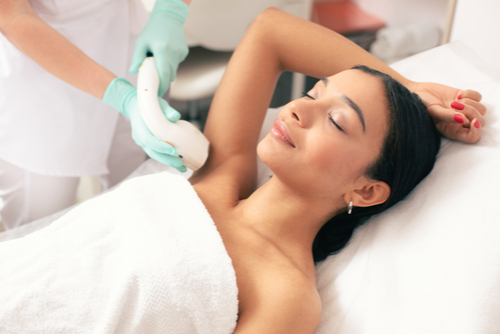 Laser hair removal is a hair removal treatment that requires around four sessions to see lasting results. Understandably, patients often want to finish these sessions as quickly as possible. Traditionally, laser hair removal sessions are spaced four to six weeks apart to account for every hair growth cycle. It is a common question during laser hair removal consults: how often can you do laser hair removal?
Hair grows in cycles. This means that not every follicle produces hair all the time. During your first session, the laser will address the active hair follicles. Varying hair follicles are active during different cycles. Therefore, laser hair removal requires multiple sessions for the best results.
Hair has four growth cycles. This is why your master esthetician usually recommends at least four treatments to treat each cycle. Depending on the thickness of your hair and the area, you may need extra sessions. Typically, hair cycles shift every four to six weeks. Hence, the reason why there are usually four to six weeks between sessions. 
Some people have differing cycles depending on their body and the treatment area. At a consultation, your master esthetician will examine the area to determine your hair type and other factors that influence the number of sessions and how far they are spaced. To schedule a consultation, call us at 425-775-3561. You can also reach us through our Price Simulator™ app and social media.